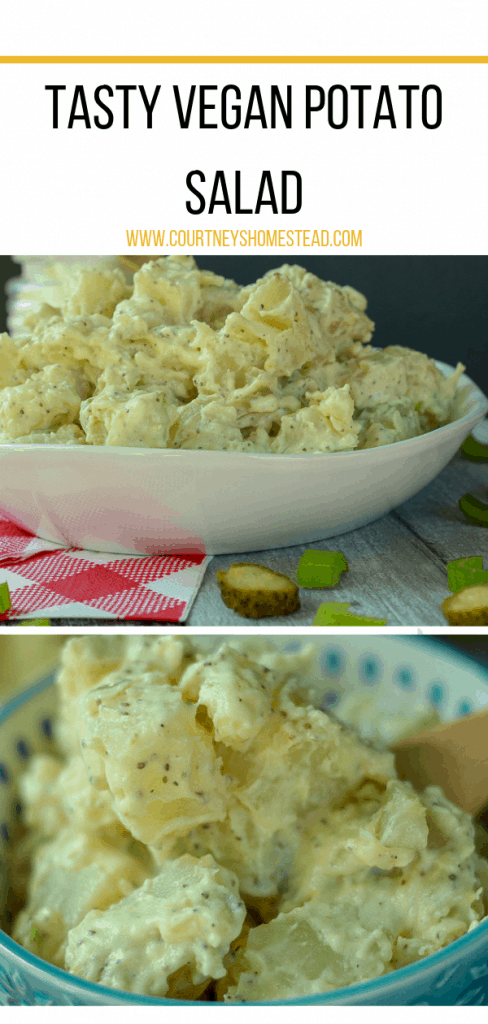 Whether you are vegan or not this vegan potato salad is delicious. No one would ever be able to tell it's vegan, except for the fact there are no eggs, but you won't miss them!
I love a good potato salad, something about the creaminess all up in the potatoes makes it so tasty. And maybe the fact that it screams summer to me. I love summer and BBQ's.
We always have this vegan potato salad on the 4th of July.
The base of any good potato salad starts with the mayo. They have a lot of great vegan mayo alternatives. We love Just Mayo, Best Foods Vegan Mayo, or Vegenaise. There are a ton of vegan mayos out there I have yet to try. Maybe you have a favorite?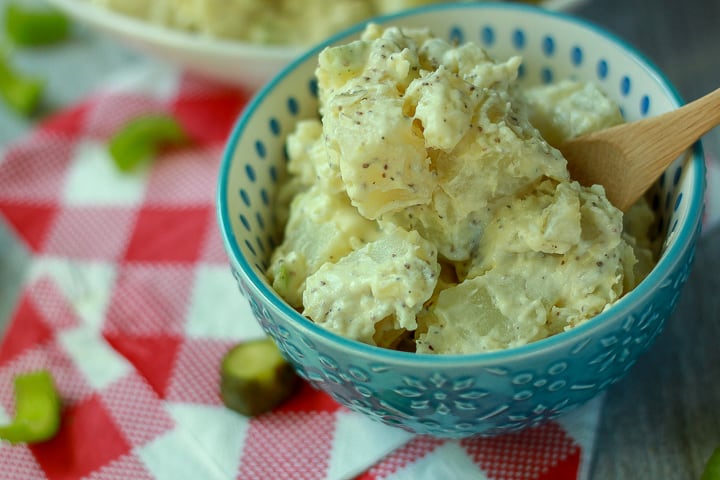 Let's talk potatoes-
You can use whatever kind of potato you like. I think it tastes best with Yukon golds, or even a mix of potatoes is good.
You use about 2.5 pounds of potatoes for this recipe. You don't need to peel them until after you cook them. Cook them in a salted pot of water and let them come to a boil with the potatoes already in the pot.
You want them to be fork-tender, the time is going to vary depending on how big your potato is. Once they are done you want to strain them, wait for them to cool enough to handle so you can remove the skins.
Once the skins are removed you can chop them into bite-sized pieces.
I like to get a big bowl while my potatoes are cooking and mix the rest of the ingredients. I usually add all the seasoning and liquid, give it a good stir and then add the vegetables.
Once it's all mixed up you can add your still warm, chopped potatoes and make sure all the potatoes are coated.
The key to potato salad is resting time.
It needs time for the potatoes to really absorb the flavors.
If you are running short on time you could make this in the morning and eat it that afternoon, but know it will likely be better and more flavorful the next day.
What's your favorite summer BBQ dish? Let me know the comments!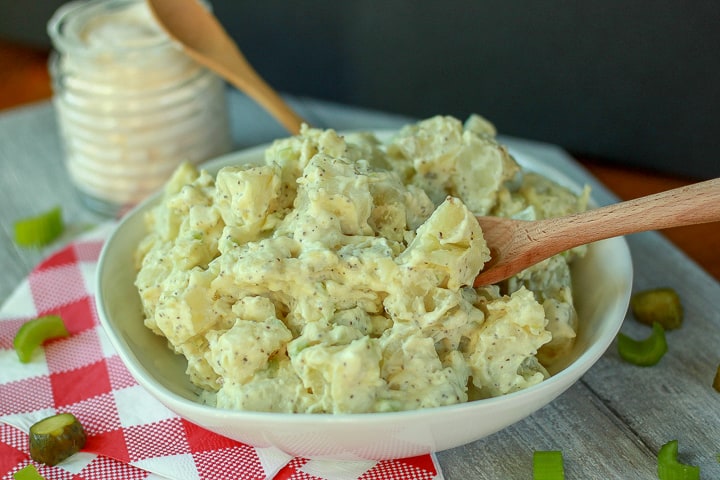 Vegan Potato Salad
Yield:
5 -6 as a side dish
This easy vegan potato salad will trick any non vegan. Perfect for your next summer BBQ.
Ingredients
2.5-3 pounds potatoes, any variety (around 6 russets)
2-3 ribs celery,chopped
1/2 cup dill pickles, chopped
1 1/4 cup vegan mayo
2 TB yellow mustard, prepared
1 TB dill pickle juice
2 TB white vinegar
1 tsp salt or to taste
3/4 tsp pepper, ground
1 tsp dill, dried
2 TB onion,chopped small
Instructions
Cook your potatoes. Fill a large pot with your cleaned and scrubbed potatoes then cover them with water. Let the water come to a boil with the potatoes in the water, then turn down to medium. Let the potatoes cook until they are fork tender. Once cooked, strain them in a colander. When they are cool enough to handle- remove the skins and chop into bite-size pieces.
You can also do this in the microwave if you prefer *I find the potatoes are usually perfectly cooked in the microwave.
While the potatoes are cooking you can mix all of your ingredients in a large bowl. Stir everything so it's all nice and incorporated. Set aside until the potatoes are ready. Once the potatoes are chopped up, mix the potatoes into your mayo mixture. This needs time for the flavors to develop. Put in the fridge either all day or a full day for the best flavors.
Nutrition Information:
Yield:

6
Serving Size:

1 serving
Amount Per Serving:
Calories:

510
Total Fat:

28g
Saturated Fat:

5g
Trans Fat:

0g
Unsaturated Fat:

21g
Cholesterol:

0mg
Sodium:

822mg
Carbohydrates:

57g
Fiber:

5g
Sugar:

6g
Protein:

10g
The calories are computer generated and may not be 100% accurate.

<3 Courtney