This is the best vegan macaroni salad recipe I've ever had. It is the perfect summer side dish to accompany you to your next get-together. This vegan pasta salad is super easy to make. You can whip it up in less than 30 minutes, but the magic doesn't happen until it has time to marinate in the fridge, so plan accordingly.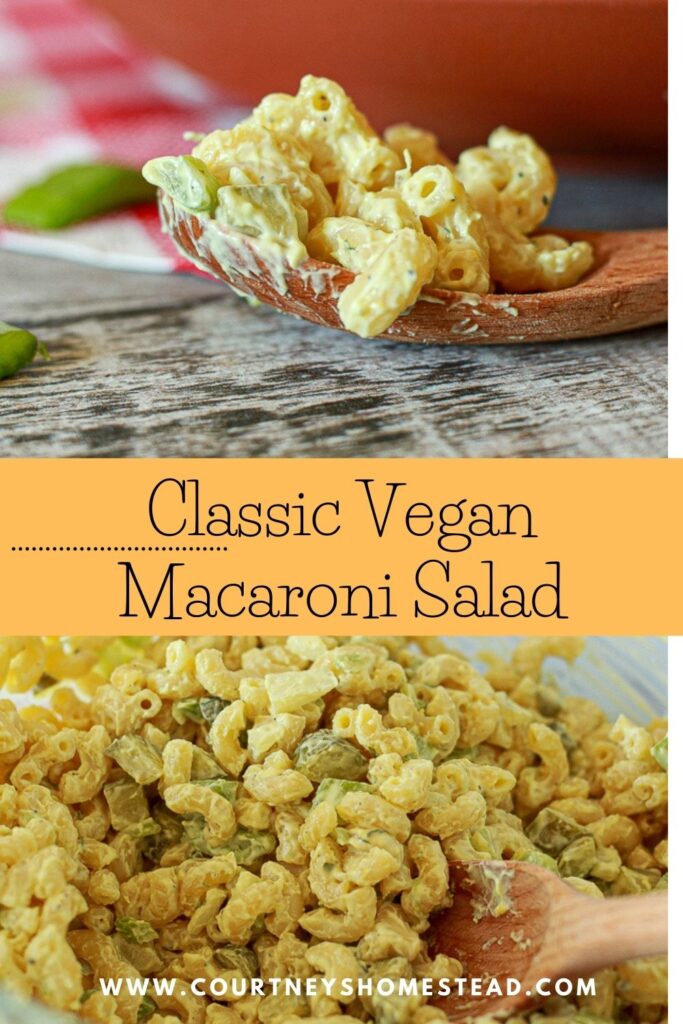 This is the best vegan macaroni salad recipe I've ever had. It is the perfect summer side dish to accompany you to your next get-together.
This vegan pasta salad is super easy to make. You can whip it up in less than 30 minutes, but the magic doesn't happen until it has time to marinate in the fridge, so plan accordingly.
One of my favorite parts of summer is BBQs. They scream summer, family, and or friend time.
I'm a big fan of potlucks, and this vegan classic macaroni salad is always front and center, that and vegan potato salad.
Some people may say it's unnecessary to have two carb-heavy sides, and I say we don't care, and these are both delicious and need their spot at the table.
I serve this every 4th of July. So, if you're ever coming over, you know what we're having!
What should I serve this vegan creamy macaroni salad with?
vegan black bean burgers
store-bought vegan burgers like; beyond meat, impossible foods
veggie burgers
vegan hot dogs
calico vegan beans
vegan potato salad
salads
corn on the cob
fruit salad
Whatever you like for side dishes.
How much does this serve?
This makes a smaller batch, not enough for a big potluck but perfect for a small gathering. I would do a double batch if you bring it for a big summer barbecue.
What's the best vegan mayonnaise?
We like Best Foods vegan mayo, Veganaise, or Just Mayo.
The mayonnaise you pick is very important because it is the main ingredient, and the flavor will shine through.
Ask me how I know this; let's just say a particular store brand of vegan mayo is not too great. And I may have ruined the macaroni salad that night.
Can I cut down on the vegan mayo to save calories?
If you want to cut some fat and calories from the recipe, feel free to do half mayo and half a plain unsweetened vegan yogurt.
It won't be quite as rich, but it will still be delicious!
There are also recipes out there that use silken tofu for a mayo substitute, or you can always make a cashew mayo as well.
Can I use other colorful veggies?
The only vegetables I like to put in mine are celery, pickles, and onion.
I like to chop these into pretty small pieces, so it doesn't overpower a bite, just a subtle crunch and flavor burst.
You can always try different vegetables, but I can't vouch for them.
Here's a list of vegetables or extras people like to add to their salad- those people not being me, haha.
green onion
black olives
red Pepper
green Pepper
sweet pickles
vegan cheese chunks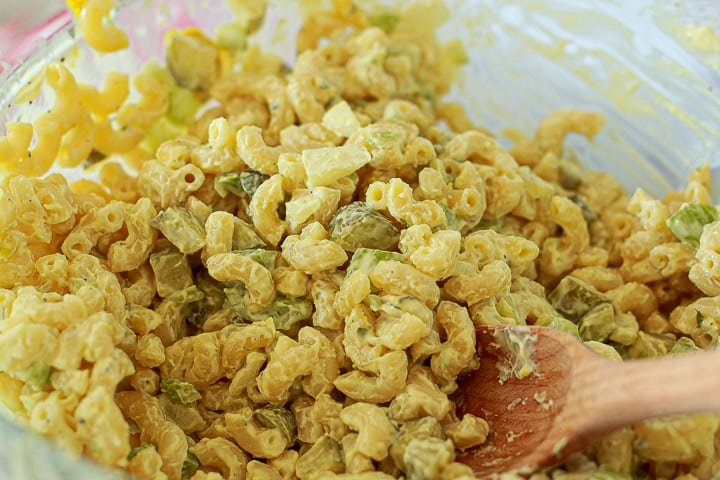 Can I use fresh herbs instead of dried?
Yes, you can; the amount will be different.
The typical substitution is 1 tsp dried herbs= 1 TB fresh herbs, so keep that in mind when converting the recipe.
How do you store this perfect side dish?
This is best stored in an air-tight container in the fridge for up to 4-5 days.
This dish does not freeze well.
How early can I make this easy recipe?
If you want to make this ahead of your event, I recommend only making it 24 hours in advance at most.
This dish is best after it sits; I would let it sit for at least 6-8 hours or overnight.
Make it up and place it in the fridge in a covered container until your event.
Do I have to use macaroni noodles for macaroni salad?
I always use elbow macaroni noodles because it just feels right, but feel free to use another noodle if macaroni noodles don't feel right to you.
However, you want to stick to smaller pasta and not something like a spaghetti noodle or anything like that.
The pasta needs to be able to be coated well.
If you need to use gluten-free pasta to make this a vegan, gluten-free macaroni salad, then do it; it works great.
Just follow the package instructions on whatever pasta you choose to make.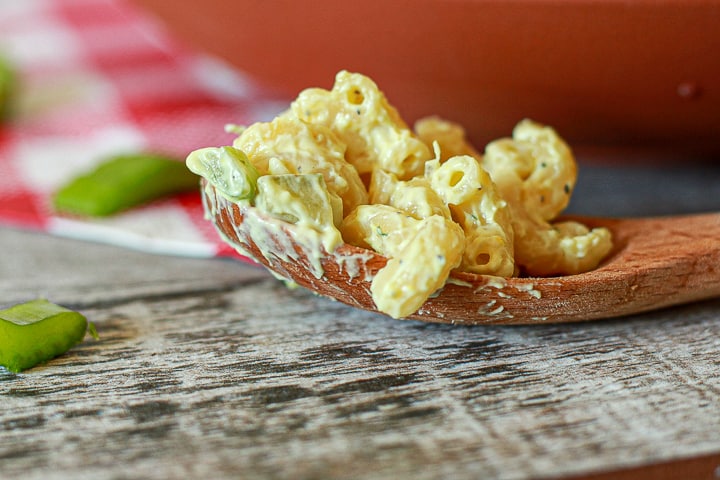 What ingredients do you need for this easy vegan macaroni salad?
Macaroni Noodles
Vegan mayonnaise
Celery
Yellow Mustard (not dijon mustard)
Onion ( I prefer yellow or white onion over red onion)
Dill Pickles + 1 TB Juice
Celery
Dried Dill
Dried Parsley
Salt + Pepper
How do you make this vegan macaroni salad recipe?
Follow these simple steps, and you will be on your way to enjoying this classic vegan macaroni salad.
Let's start by making the pasta.
Make your pasta according to the package directions for the al dente version.
Let's make the creamy dressing.
While you're making your noodles, you can make your creamy sauce.
Get a large bowl and add vegan mayo, yellow mustard, dill pickle juice, dried dill, dried parsley, salt, and black pepper; stir this until it's combined.
Then add your crunchy veggies -chopped dill pickles, chopped celery, and chopped onion.
I always use either Just Mayo, Veganaise, or Best Food Vegan Mayo.
Once your pasta is done and strained, you can add it ( yes, while it's still warm) to your sauce + vegetable mix and stir until well combined.
Now stick that baby in the fridge and let it do its thing.
If you're looking for more questions on this creamy vegan pasta salad, take a look above, where I've answered many common questions.
Tips for the best macaroni salad-
Cook your noodles for the right amount of time. You don't want mushy or crunchy noodles, pay attention to the cooking time.
Mix the pasta and the dressing together while it's still warm. The sauce will absorb into the warm pasta, but some will still hang out on the outside of the noodles as long as you didn't add too many noodles.
Make sure you pick the correct noodle; you want a small noodle, not anything too big to have it appropriately coated.
Give enough time for the flavors time to marry. It needs good six-plus hours for the flavors to soak in.
Cut your vegetables very small, so everything is bite-sized and not too overpowering in one bite.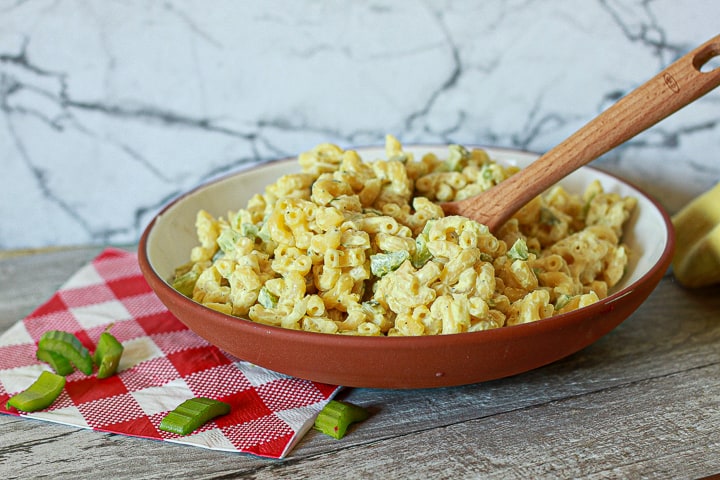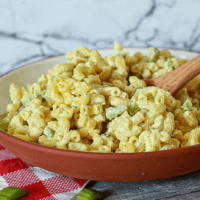 Ingredients
1 1/2

cup

dry macaroni noodles

3/4

cup

vegan mayo

1

TB

dill pickle juice

1/2

cup

celery

chopped

1/4

cup

dill pickles

chopped

2

TB

yellow mustard

1/4

tsp

dried dill

1/4

tsp

parsley

2

TB

onion

chopped

1/4

tsp

ground pepper

1/2

tsp

salt or to taste
Instructions
Start by cooking your noodles in boiling salt water according to the package directions. Once done, strain and set aside.

Take a medium bowl and mix all your ingredients, but the pasta. Once it's all mixed add your pasta and set in the fridge until ready to serve. This is best made 6-24 hours in advance.
Nutrition
Serving:
1
serving
|
Calories:
194
kcal
|
Carbohydrates:
16
g
|
Protein:
2
g
|
Fat:
14
g
|
Saturated Fat:
2
g
|
Polyunsaturated Fat:
11
g
|
Sodium:
485
mg
|
Fiber:
1
g
|
Sugar:
3
g
If you loved this recipe then give it a 5 star rating and leave a comment! I love to chat with you all. Please feel free to share on social media and tag #courtneyshomestead. I would love to see you over on Instagram or Facebook.