One of my favorite parts of summer is BBQs. They just scream summer, family and or friend time. This Vegan Classic Pasta Salad is the perfect summer side dish to accompany you to your next get together.
This vegan pasta salad is super easy to make. You can whip it up in less than 30 minutes, but the magic doesn't happen until it has time to marinate in the fridge. I don't like waiting for things, but this is worth the wait. It seems that most pasta or potato salads you have to wait it out.
I serve this every 4th of July. It's always a favorite and I am indecisive so I serve both this classic pasta salad and potato salad, I like people to have options.
This doesn't make a ginormous batch, but it makes a decent sized one, if you are taking it for a large crowd you will likely want to double it. But it fed 6 adults as a side with leftovers.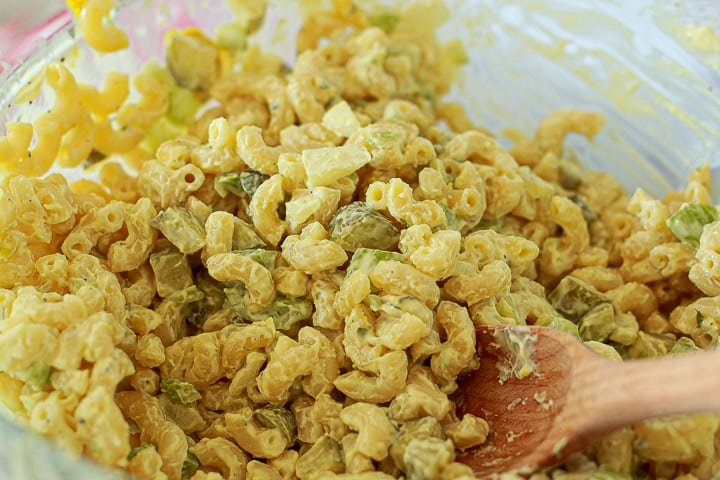 Let's get to making this delicious pasta salad.
What you'll need:
Macaroni Noodles
Vegan Mayo
Celery
Yellow Mustard
Onion
Dill Pickles + 1 TB Juice
Celery
Dried Dill
Dried Parsley
Salt + Pepper
I always use a macaroni noodle because it just feels right, but feel free to use another noodle if macaroni noodles don't feel right to you.
Make your pasta according to the package.
While you're making your noodles you can make your sauce. Take all your ingredients and mix them together in a medium-size bowl, that way you don't make a mess of any unnecessary dishes. I always use either Just Mayo, Veganaise, or Best Food Vegan Mayo.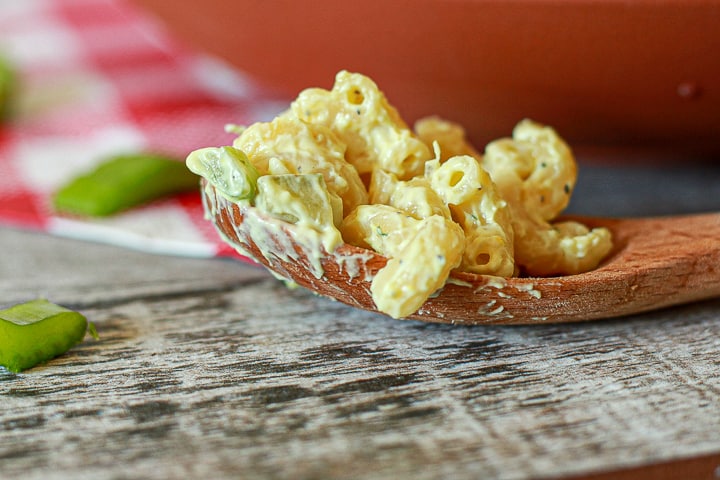 The only vegetables I like to put in mine are celery, pickles, and onion. I like to chop these into pretty small pieces so it doesn't overpower a bite, just a subtle crunch and flavor burst. You can always try different vegetables, but I can't vouch for them.
Once your pasta is done and strained, you can add it to your sauce + vegetable mix and stir until well combined. Now stick that baby in the fridge and let it do its thing.
I could eat this for breakfast, lunch, and dinner. It's so good. I am a big fan of all sorts of summer salads. But this classic always gets me!
What's your favorite summer pasta salad? Let me know in the comments!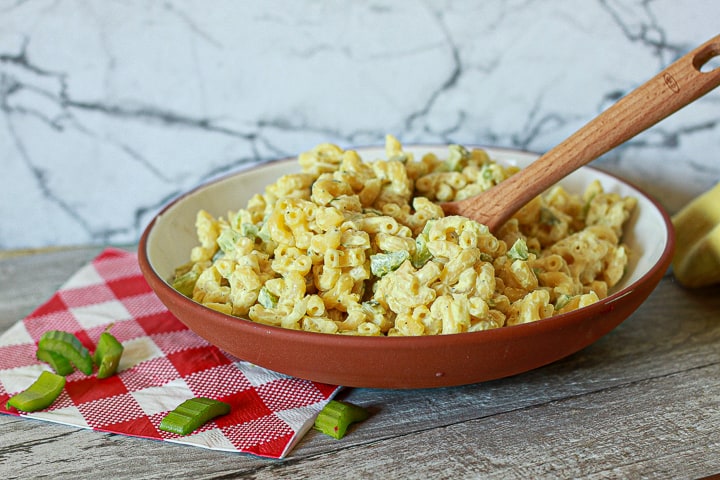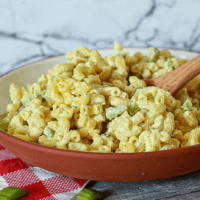 The BEST Vegan Pasta Salad
This is the best Vegan Pasta Salad around. It has all the classic flavor for your next BBQ.
Ingredients
1 1/2 cup dry macaroni noodles
3/4 cup vegan mayo
1 TB dill pickle juice
1/2 cup celery, chopped
1/4 cup dill pickles, chopped
2 TB yellow mustard
1/4 tsp dried dill
1/4 tsp parsley
2 TB onion, chopped
1/4 tsp ground pepper
1/2 tsp salt or to taste
Instructions
Start by cooking your noodles in boiling salt water according to the package directions. Once done, strain and set aside.
Take a medium bowl and mix all your ingredients, but the pasta. Once it's all mixed add your pasta and set in the fridge until ready to serve. This is best made 6-24 hours in advance.
Nutrition Information:
Yield:

6
Serving Size:

1 serving
Amount Per Serving:
Calories:

194
Total Fat:

14g
Saturated Fat:

2g
Trans Fat:

0g
Unsaturated Fat:

11g
Cholesterol:

0mg
Sodium:

485mg
Carbohydrates:

16g
Fiber:

1g
Sugar:

3g
Protein:

2g
The calories are computer generated and may not be 100% accurate.

<3 Courtney