This is the best taco salad. It is filled with wholesome ingredients, easy homemade Catalina dressing and sure to please a crowd!
---
I love tacos, there are so many different taco combinations. I could eat tacos multiple times a week if the small children in my life would allow it. But unfortunately, they get weird about having tacos everyday, weird, right? This vegan taco salad however it's just as good as tacos. That's a bold statement, but for real, it is delicious! I have been making this vegan taco salad for years. It comes from one of my favorite ever nonvegan blog. You should definitely check her out and you will totally love her- https://www.melskitchencafe.com/. I have altered her version to be vegan-friendly.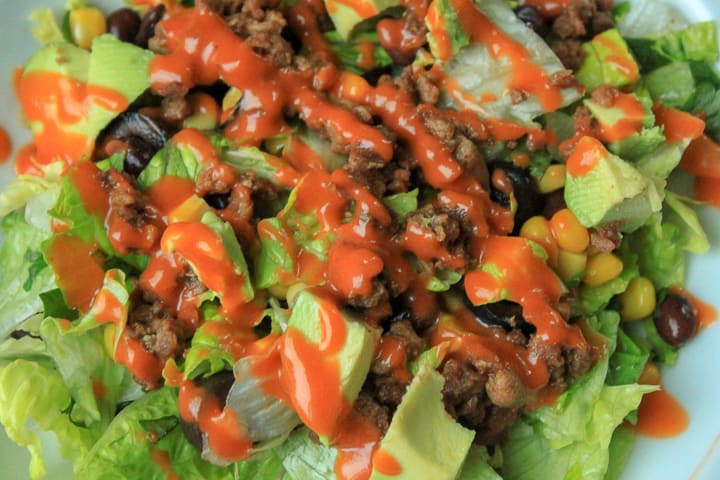 Onto more about this salad. Let's say my husband LOVES it when I make this, my 8 year old gets excited, my 5-year-old turns his nose up at it ( that's nothing new around here). Everyone that I have made this salad for absolutely loves it, and I am pretty positive you will also.
It has a homemade Catalina dressing that is just amazing and so easy to make. You just throw everything in the blender and you have the perfect dressing. We have served this alongside tacos, burritos, taquitos or had it by itself for dinner.
If you have kids do your kids eat salad? Let me know in the comments, I would love to connect with you! <3
-Vegan Taco Salad-
This vegan taco salad is so good even my kids ask for it! You make homemade catalina dressing that's not only delicious but easy.
Ingredients
1 package vegan ground beef (optional), My favorite is simple truth
3/4 cup water
3 tablespoons taco seasoning (check to make sure it's vegan)
1 15 oz can black beans
1 15 oz can corn
1 6 oz can chopped olives
1/2 cup cilantro, chopped
1 head romaine lettuce
1/2 head iceberg lettuce
2-3 whole avocados,chopped
Tortilla chips
Catalina Dressing
1/4 cup ketchup
1/4 cup white sugar
1/4 cup red wine vinegar
1/4 cup chopped onion
1/2 teaspoon smoked paprika (or regular)
1/4 teaspoon worcestershire sauce (make sure it's vegan, can omit if needed)
1/2 cup olive oil
salt and pepper to taste
Instructions
1. Start by cooking your vegan beef crumbles. Put them in your skillet with the 3/4 cup of water and 3 TB of your taco seasoning ( this will vary based on your taco seasoning, this is the instructions on mine for 1 pound of "beef"). Cook until water is absorbed and the "beef" crumbles are cooked. Set aside.
2. Drain your black beans, corns, and olives and set aside.
3. Chop up your lettuces and put them in a large bowl. Chop your cilantro and add it to your lettuce. Now you can add the strained black bean mixture to your lettuce and mix. Set aside.
4. Make your dressing. Chop up your onion, and add all the ingredients into a blender and blend until smooth. Pour into your desired serving container for the dressing.
5. You can now add your "beef" mixture to the salad. If you are going to eat all the salad in one sitting you can add the dressing to the whole salad and mix, or you can let people add their own amount. Top with Chopped of avocados, and crushed tortilla chips.
Notes
This recipe has been adapted from; https://www.melskitchencafe.com/chopped-taco-salad-with-homemade-catalina-dressing/ <---- here for the original recipe
Nutrition Information:
Yield:

6
Serving Size:

1 serving
Amount Per Serving:
Calories:

407
Total Fat:

23g
Saturated Fat:

3g
Trans Fat:

0g
Unsaturated Fat:

19g
Cholesterol:

0mg
Sodium:

1166mg
Carbohydrates:

44g
Fiber:

11g
Sugar:

17g
Protein:

11g
The calories are computer generated and may not be 100% accurate.
If you made this and enjoyed it, I would love to hear about it in the comments or #courtneyshomestead. Thanks so much for your support! <3
<3 Courtney