When you have mountains of zucchini and you are scouring the web for ways to use it up, try these vegan Cashew Zucchini rounds. My husband isn't a huge lover of all things Zucchini, but he enjoys these.
I guess you have to coat it with some cracker crumbs and cashew parmesan to get his attention. I love finding other ways to eat vegetables. Especially if I can get the small ones to eat it. I can tell you my 8 year old ate this up no problem and I don't even want to talk about what happened with my ultra picky 5 year old, lets just say he didn't care of it. So if you have a very picky child like mine, good luck, I am here for you!
This recipe uses the Garbonzo bean "juice" also known as aquafab as a binder. You could use something else like gelled up flax seed if you don't want to pull out a can.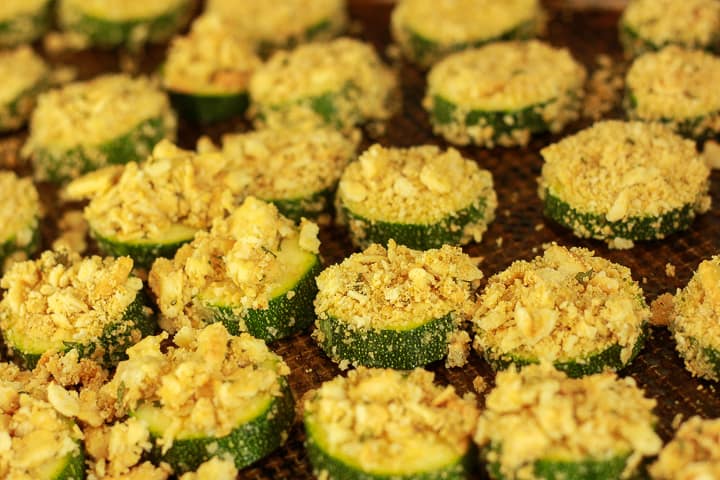 What do you need to make these tasty vegan cashew zucchini rounds?
zucchini
can of garbanzo beans for the liquid
Ritz or saltine crackers
dried parsley
onion powder
garlic powder
Italian seasoning
How do you make it these?
This is a pretty easy recipe to make, but it can be a little messy. I made this in the oven, but next time I want to try it in the air fryer. Go ahead and preheat you oven to 425 degrees. Take a cookie sheet and spray it with cooking oil or just use a Silpat whichever makes you happy.
You'll want to cut the ends off of the zucchini and disregard, then cut them into rounds. You can leave the skin on.
Take that can of garbanzo beans and pour all the liquid into a bowl. You can save the garbanzo beans for another recipe or throw them in the freezer.
I always have my Cashew Parmesan in the fridge, but if you don't then you need to make it. Lucky for us it takes less than 5 minutes. The recipe can be found here. Or you could use an alternative.
Now take your crackers and crush them.
Mix your seasonings, cashew parm, and crackers together in a small bowl.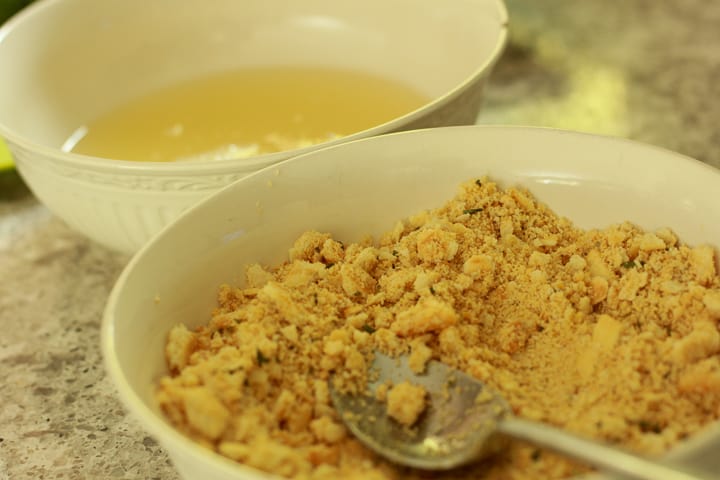 Now you'll start breading your zucchini take a round and dip it in the aquafab, then cracker mixture. You may have to help this process out. I used my fingers and kind of put a heaping amount on the zucchini round and then place it on your cookie sheet and repeat with all of the rounds.
Bake those bad boys for 20-25 minutes. This is going to depend how soft you want your zucchini. Then serve warm. These are still fine cold, but warm fresh out of the oven is going to give you the best flavor.
What is your favorite way to eat zucchini? Let me know in the comments I love to chat with you! <3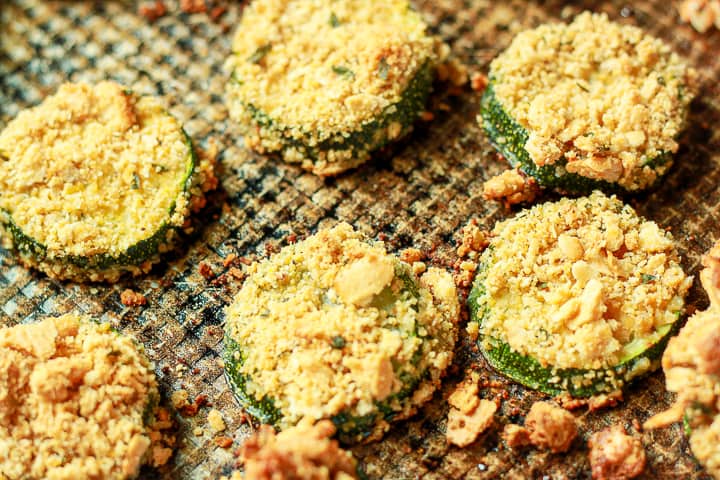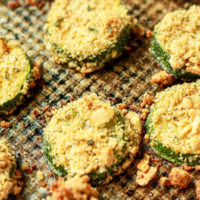 Cashew Zucchini Rounds
Yield:
4 people as side dish
These Cashew Zucchini rounds are a great way to use up summer squash.
Ingredients
3-4 zucchini, chopped into rounds
1 can liquid of canned garbanzo beans
1 cup crushed cracker crumbs, ritz or saltines
1 tsp parsley,dried
3/4 cup cashew Parmesan *recipe below
1/4 tsp onion powder
1/4 tsp garlic powder
1/4 tsp Italian seasoning
Instructions
Preheat your oven to 425 degrees. Take a cookie sheet and spray it with cooking spray and set aside.
Cut your zucchini into rounds and set aside.
Make your cracker parmesan mixture. For the Parmesan Cashew Cheese- 3/4 cup raw cashews, 2 tablespoons nutritional yeast,1/2 teaspoons garlic powder,3/4 teaspoon salt. Process into a food processor until crumbs. Now take 3/4 cup of this and put it in a bowl. Then take your crackers and crush them as well until you have one cup and mix with the Cashew parm. Then add the seasonings and mix.
Take your garbanzo beans and remove the liquid into a bowl, you can keep the garbanzo beans for another night.
Now take your zucchini rounds one at a time and mix them in the liquid, then dip them into the cracker mixture. you might have to help the coating get onto the zucchini. Then place the coated zucchini on the cookie sheet. Repeat until all the rounds are done.
Bake in the oven for 20-25 minutes depending on how tender you want the zucchini. Serve immediately.
Nutrition Information:
Yield:

4
Serving Size:

1 serving
Amount Per Serving:
Calories:

348
Total Fat:

18g
Saturated Fat:

2g
Trans Fat:

0g
Unsaturated Fat:

13g
Cholesterol:

0mg
Sodium:

458mg
Carbohydrates:

38g
Fiber:

7g
Sugar:

9g
Protein:

12g
The calories are computer generated and may not be 100% accurate.

<3 Courtney