These delicious vegan apple cider donuts have all the delicious apple flavor you're looking for in a donut. They are lightly sweet, fried to perfection, and coated with cinnamon and sugar.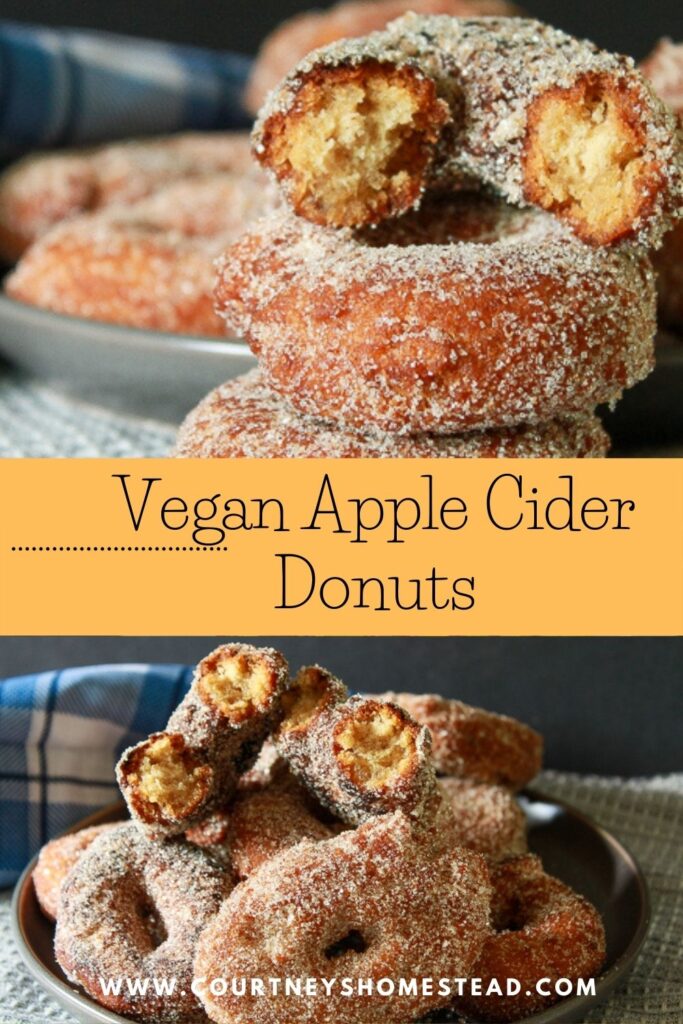 I LOVE fall-inspired donuts. They remind me of all things fall, which may be my favorite season. It's a real toss-up between summer and fall. I know this is a debatable topic.
But Fall days are warm and gorgeous but get crisp and cool at night. The rain hasn't set in it; it's just perfect.
And these vegan apple cider donuts seal the deal when it comes to one of my favorite fall activities.
They are like the kinds you get at the pumpkin patch. The ones that people wait all year to get.
Unfortunately for me, there are no pumpkin patches around here that sell vegan donuts. So, I have to make my own.
These are fried donuts, I know they aren't high up on the healthy list, but it's worth it for a treat. If you have never fried donuts, you need some kind of thermometer so you can track the temperature of the oil.
Trust me on that one, once I tried to make donuts without a temperature gauge, and I ended up throwing the whole batch out. It was a sad day.
Vegan Apple Cider Donut Recipe Q&A-
What are apple cider donuts?
Apple cider donuts are donuts that are typically made with an apple cider reduction. They have an apple flavor with a coating of cinnamon and sugar.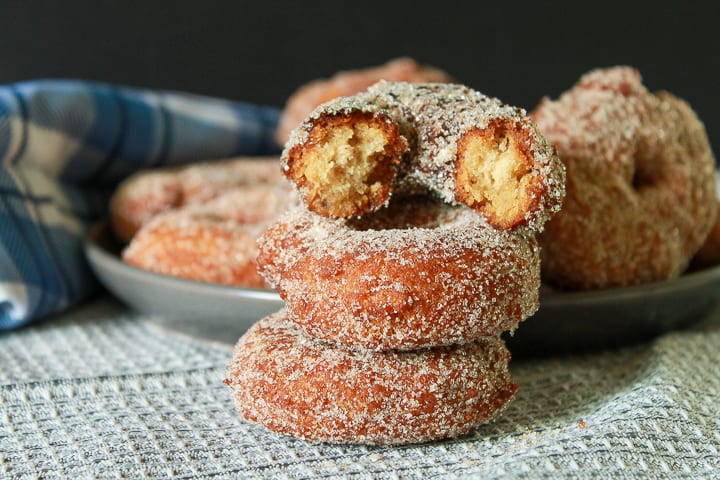 Why doesn't this apple cider donut recipe have apple cider in it?
Most apple cider donuts use apple cider. Although I genuinely love apple cider, I don't want to take any more time than I have to to make these donuts.
Typically donut recipes require that you reduce down the apple cider (not regular apple juice), which isn't hard but does require time.
So instead of cider, it has apple sauce in it. It's close enough to the apple flavor, and the spices help it out. I don't think you'll miss having to reduce the liquid in the apple cider in this recipe.
If you would rather use an apple cider reduction, you can go ahead and do so and replace the amount of apple sauce.
You may need to add a little bit more flour if your donut batter is too wet.
Can you turn these into apple cider muffins?
I haven't tried to make this recipe into muffins. But if you'd like to give it a try, fill a lined muffin pan, and sprinkle with the cinnamon sugar mixture before baking.
Can I make these into baked donuts?
I have never tried that with this particular recipe. So I can't say for sure. You can always try it.
You would want a donut pan and piping bag or plastic bag with a hole cut into it to pipe the donut batter into the donut pan.
I would bake them at 400 degrees F for 8-12 minutes.
Can you make a gluten-free version of these vegan apple cider doughnuts?
It should work if you replace the regular flour with all-purpose gluten-free flour. But I haven't tried it.
Whatever your favorite gluten-free flour blend that behaves like all-purpose flour.
What's the best oil for frying donuts?
You want to use an oil neutral in flavor like canola oil or sunflower oil.
These are affordable and easy to find at your local grocery store.
You don't want to use olive oil; that would be too strong.
What's the best temperature for frying donuts?
You want to keep your oil at a consistent temperature so that your donuts cook evenly. The best temperature is between 365 F to 380 F depending on what your recipe calls for.
What's in these homemade vegan apple cider donuts?
For the full recipe with the ingredient amounts, look at the recipe card at the bottom of the post.
unsweetened applesauce
all purpose flour
white sugar
brown sugar
baking powder
baking soda
cinnamon
nutmeg
salt
non-dairy milk (almond milk, soy milk, oat milk, whichever you prefer)
apple cider vinegar
melted vegan butter
vanilla extract
oil for frying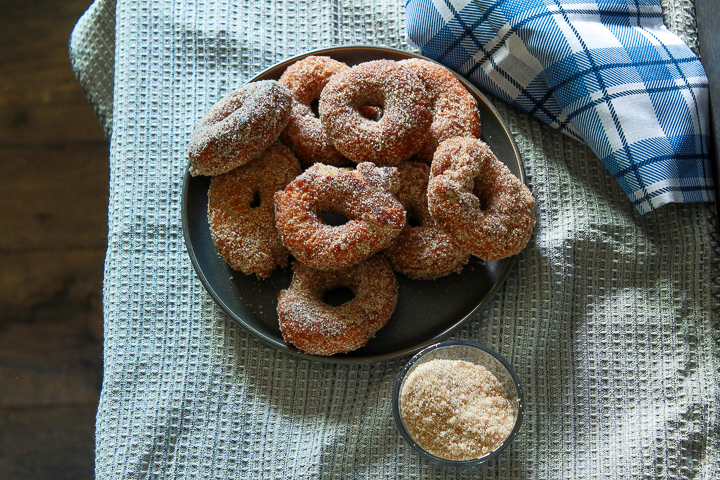 How do you make these vegan apple cider donuts?
You're going to start by making your vegan buttermilk.
This is super easy to make.
Put your vegan milk into a measuring cup and then add the 2tsp of apple cider vinegar, let it sit, and curdle while you prepare the rest.
Take a stand mixer ( or it can be done by hand), place all dry ingredients into the large bowl, and mix.
Then you're going to add all your wet ingredients, including the vegan buttermilk and extra 2 TB plant milk.
Mix this until it's combined.
You can either start heating your oil now or when you get the donuts cut out.
You need a heavy pot or cast iron pan.
Fill it partway up with oil and use your thermometer to get it up to 375 degrees F.
You'll want to monitor the heat while you cook them to make sure it stays around there and adjust your temperature as you go.
Make your cinnamon sugar coating in a small bowl and set aside.
Take a Silpat and put it on your counter; you can throw a little flour down to make the dough a little easier to work with.
This is a somewhat sticky dough.
Split the dough in half, and place one half back in the bowl and the other half on the Silpat.
I like to take a piece of saran wrap and place it over the dough before rolling it out. This keeps it from sticking.
It's also a good idea to sprinkle some flour on the Silpat to help with the donut dough from sticking.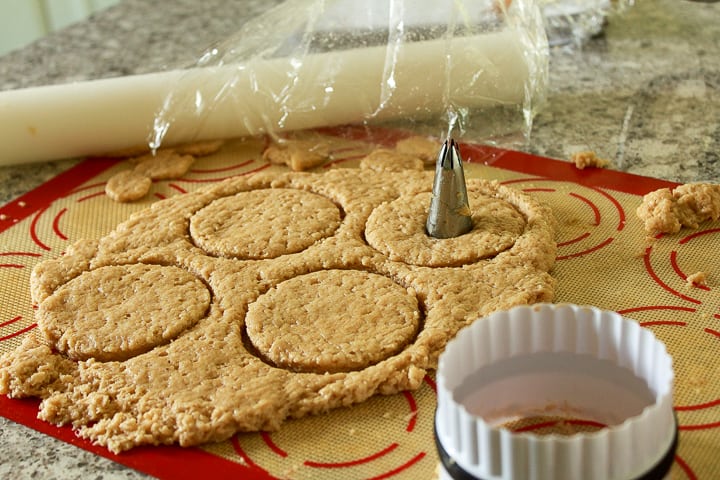 Roll your dough to about 1/2 to 3/4 inch thick.
You can use a donut cutter or a large rimmed cup and a small circle to cut the doughnut shape out.
Now you'll want to carefully move the donuts to remain their shape into the oil.
You only want to fry a few at a time.
Fry for 1 minute and then flip to the other side for 1 minute. They should be a nice golden brown.
The amount of time will depend on the thickness of your donuts.
Take a brown paper bag and place it next to where you are working.
Take your donuts from the oil to the bag; the bag will help absorb some of the oil.
When they are able to cool for a minute or so, toss them in a bowl of cinnamon and sugar.
Then place the cinnamon sugar donuts onto a cooling rack.
Repeat the process for the rest of the donuts. I usually recruit my kids to help because it's a bit of a step process.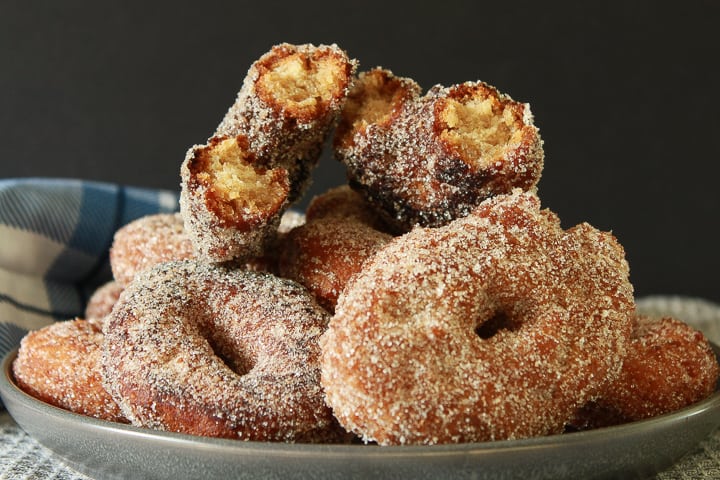 How do you store these vegan homemade donuts?
These are best to store at room temperature in an airtight container on the counter for up to 5 days.
Donuts are best eaten the same day.
Can you freeze donuts?
You can, but they don't taste great after freezing. If you still want to freeze them, you can do so by; taking a cookie sheet, lining it with parchment paper, and placing the donuts on it; to freeze. Then take your frozen donuts and put them in a freezer-safe container or freezer gallon Ziploc bag.
To defrost, remove however many donuts you want to eat and place them on the counter until it comes to room temperature.
Want some other vegan donut recipes?
Want some more vegan apple desserts?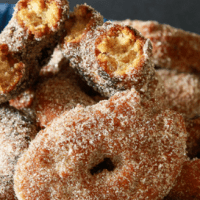 Ingredients
Donuts
1/2

cup

applesauce

3 1/2

cup

all purpose flour

3/4

cup

white sugar

1/4

cup

brown sugar

2

tsp

baking powder

1

tsp

baking soda

1

tsp

cinnamon

1/4

tsp

nutmeg

1/2

tsp

salt

1/2

cup

+ 2 TB plant milk

2

tsp

apple cider vinegar

1/4

cup

Earth Balance Vegan Butter

melted

1

tsp

vanilla extract
Others
Cinnamon and sugar for coating

Oil for frying
Instructions
Start by making your vegan buttermilk by taking your half cup milk and 2 TSP apple cider vinegar. Mix and let sit while you get the rest of the donuts ready.

Take a stand mixer, place all dry ingredients into the bowl, and mix. Then add all your wet ingredients, including the vegan buttermilk and extra 2 TB plant milk. Mix until combined. This can be done by hand as well.

Make your cinnamon and sugar mixture for when the donuts are done cooking—about 1 cup of sugar to 2 TB Cinnamon.

Take a Silpat and put it on your counter, then take the part of the dough to add flour as needed to keep it from sticking. Then take a sheet of saran wrap and place it over the dough roll it out to the desired thickness. I wish I rolled mine out thicker; your donuts will be tastier the thicker they are. Then take a donut cutter or a large cup and cut a hole in the middle. Set aside on a Silpat and repeat until you are ready to fry. If your dough is too sticky, you can use some flour to help coat it.

Take a heavy pan and fill it part way up with oil. Take a thermometer and let the oil come to 375 degrees on medium heat. You will have to cook the donuts in batches. Cook each donut side for about 1 minute until golden brown. Remove from oil and put them on a paper bag to soak up extra oil. Once it's cool enough to handle 30 seconds to 1 minute, you can toss the donut in the cinnamon and sugar mix. Best eaten when fresh.
Notes
See blog post for recipe q&a
Nutrition
Serving:
1
donut
|
Calories:
188
kcal
|
Carbohydrates:
37
g
|
Protein:
2
g
|
Fat:
4
g
|
Saturated Fat:
1
g
|
Polyunsaturated Fat:
3
g
|
Sodium:
195
mg
|
Fiber:
2
g
|
Sugar:
18
g
If you loved this recipe then give it a 5 star rating and leave a comment! I love to chat with you all. Please feel free to share on social media and tag #courtneyshomestead. I would love to see you over on Instagram or Facebook.
General donut questions
Is apple cider vegan?
Yes, apple cider is vegan. It's made of apples fresh from an apple orchard. It only has one ingredient; apples. They take fresh apples, smash them, and then run them through a fine cloth that squeezes the juice, and what you're left with is apple cider.
Why do they call them apple cider donuts?
They call them apple cider donuts because they are typically made with apple cider. It gives these donuts an apple flavor resembling apple cider.
Do apple donuts taste like apple cider?
Yes, they are delicious. They taste like a cinnamon sugar apple donut.
Is there any dairy in apple cider?
No, the only ingredient in apple cider is apples.
<3 Courtney