I LOVE fall inspired donuts. They remind me of all things fall, which mayyyyy be my favorite season. It's a real toss up between summer and fall. I know this is a debatable topic. But Fall days are warm and gorgeous, but get really crisp and cool at night. The rain hasn't set in it, it's just perfect. And these vegan apple cider donuts seal the deal.
They are like the kinds you get at the pumpkin patch. The ones that people wait all year to go get.
Unfortunately for me, there are no pumpkin patches around here that sell vegan donuts. So, I have to make my own.
Most apple cider donuts use apple cider, and although I truly love apple cider, I don't want to take anymore time than I have to, to make these donuts.
So instead of cider, it has apple sauce in it. It's close enough to the real deal and the spices help it out. I don't think you'll miss having to reduce the liquid in the apple cider in this recipe.
These are fried donuts, I know they aren't high up on the healthy list, but for a treat, it's worth it. If you have never fried donuts you need some kind of thermometer so you can track the temperature of the oil.
Trust me on that one, once I tried to make donuts without a temperature gauge and I ended up throwing the whole batch out. It was a sad day.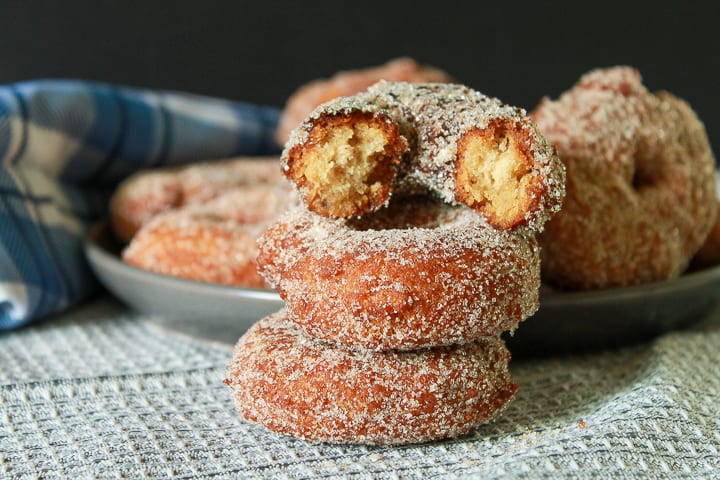 What's in these vegan apple cider donuts?
applesauce
flour
white and brown sugar
baking powder and soda
cinnamon
nutmeg
salt
plant milk
apple cider vinegar
earth balance vegan butter
vanilla extract
oil for frying
How do you make these vegan apple cider donuts?
You're going to start by making your vegan buttermilk. This is super easy to make.
Put your vegan milk into a measuring cup and then add the 2tsp of apple cider vinegar, let it sit and curdle while you prepare the rest.
Take a stand mixer ( or it can be done by hand) and place all of the dry ingredients into the bowl and mix.
Then you're going to add all your wet ingredients including the vegan buttermilk and extra 2 TB plant milk. Mix this until it's combined.
You can either start heating your oil now or when you get the donuts cut out. You need a heavy pot or cast iron pan.
Fill it partway up with oil and use your thermometer to get the oil up to 375 degrees. You'll want to monitor the heat while you cook them to make sure it stays around there and adjust your temperature as you go.
As far as oil goes, you want a mild oil, you wouldn't want to use olive oil.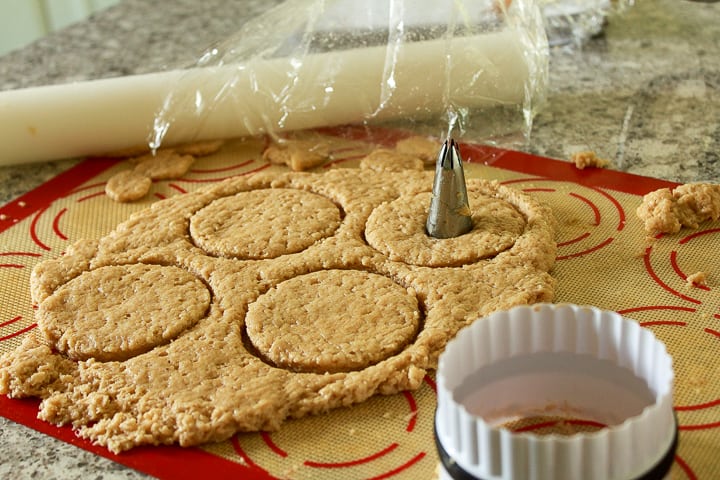 Take a Silpat and put it on your counter, you can throw a little flour down so that the dough is a little easier to work with.
This is a fairly sticky dough. Split the dough in half, and place one half back in the bowl and the other half on the Silpat.
I like to take a piece of saran wrap and place it over the dough before rolling it out. This just keeps it from sticking.
Roll your dough to about 1/2 to 3/4 inch thick. You can use a donut cutter or a large rimmed cup and a small circle to cut the doughnut shape out.
Now you'll want to carefully move the donuts to remain their shape into the oil. You only want to fry a few at a time.
Fry for 1 minute and then flip to the other side for 1 minute. They should be a nice golden brown. The amount of time will depend on the thickness of your donuts.
Take a brown paper bag and place it next to where you are working.
Take your donuts from the oil to the bag, the bag will help absorb some of the oil.
When they are able to cool for a minute or so, toss them in a bowl of cinnamon and sugar.
Repeat the process for the rest of the donuts. I usually recruit my kids to help, because it's a bit of a stepy process.
If you want a classic vegan pumpkin donut try this recipe!
.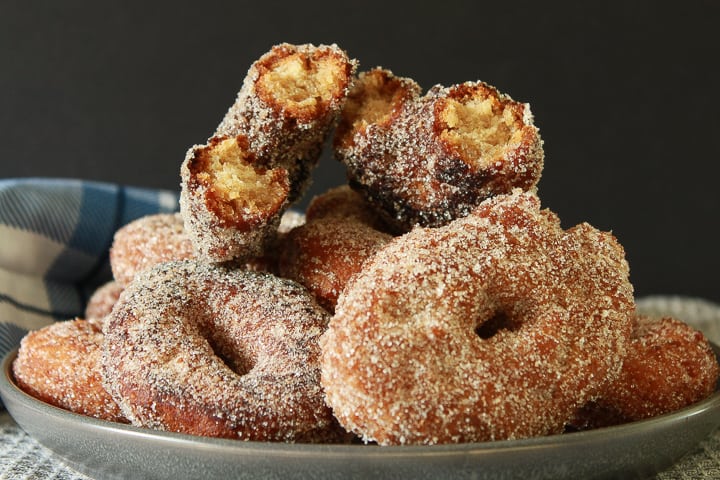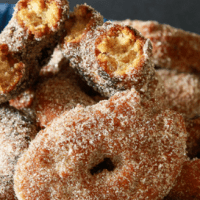 Amazing Vegan Apple Cider Donuts
Yield:
20 or more donuts depending on size
These amazing vegan apple cider donuts taste like the ones you get from Pumpkin Patches in the Fall.
Ingredients
Donuts
1/2 cup applesauce
3 1/2 cup all purpose flour
3/4 cup white sugar
1/4 cup brown sugar
2 tsp baking powder
1 tsp baking soda
1 tsp cinnamon
1/4 tsp nutmeg
1/2 tsp salt
1/2 cup + 2 TB plant milk
2 tsp apple cider vinegar
1/4 cup Earth Balance Vegan Butter, melted
1 tsp vanilla extract
Others
Cinnamon and sugar for coating
Oil for frying
Instructions
Start by making your vegan buttermilk by taking your half cup milk and 2 TSP apple cider vinegar. Mix and let sit while you get the rest of the donuts ready.
Take a stand mixer and place all dry ingredients into the bowl and mix. Then add all your wet ingredients including the vegan buttermilk and extra 2 TB plant milk. Mix until combined. This can be done by hand as well.
Make your cinnamon and sugar mixture for when the donuts are done cooking. About 1 cup of sugar to 2 TB Cinnamon.
Take a Silpat and put it on your counter, then take the part of the dough add flour as needed to keep it from sticking. Then take a sheet of saran wrap and place it over the dough roll it out to the desired thickness. I wish I rolled mine out thicker, your donuts will be tastier the thicker they are. Then take a donut cutter or a large cup and cut a hole in the middle. Set aside on a Silpat and repeat until you are ready to fry. If your dough is too sticky you can use some flour to help coat it.
Take a heavy pan and fill it partway up with oil. Take a thermometer and let the oil come to 375 degrees on medium heat. You will have to cook the donuts in batches. Cook each donut side for about 1 minute until golden brown. Remove from oil and put them on a paper bag to soak up extra oil. Once it's cool enough to handle 30 seconds to 1 minute you can toss the donut in the cinnamon and sugar mix. Best eaten when fresh.
Nutrition Information:
Yield:

20
Serving Size:

1 donut
Amount Per Serving:
Calories:

188
Total Fat:

4g
Saturated Fat:

1g
Trans Fat:

0g
Unsaturated Fat:

3g
Cholesterol:

0mg
Sodium:

195mg
Carbohydrates:

37g
Fiber:

2g
Sugar:

18g
Protein:

2g
* This does not take into account the oil they are cooked in. The calories are computer generated and may not be 100% accurate.

<3 Courtney