We have been living on these Vegan Not Chicken Caesar Salad Wraps! They are seriously delicious. I could probably serve these three nights a week and not even get a complaint. They are great for the summer because they taste light, but still filling.
I was unsure how my kids would take to them. Well, I already knew the 5 year would be a hard no. He won't even give it an honorable mention to try it. But my 8-year-old mobs on these. He ate one for dinner then asked for one for a bedtime snack, then again for a after-school snack. I was shocked how much he enjoyed them.
They are easy to make. This uses a homemade dressing, but it whips up in a jiffy. I wish I could say the actual salad dressing I use for this is my own recipe, but it's not. The dressing is altered slightly from Oh She Glows, which is a fabulous vegan blog.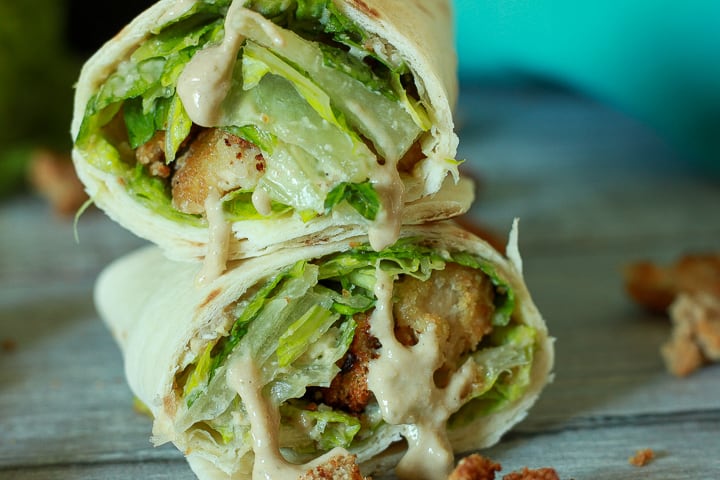 I also use bread crumbs for croutons in this. They are easy to make and seasoned just like croutons. In writing this it made it sounds like I am unaware that bread is croutons, but I am aware =) Just roll with it
What do you need?
Cashews
Water
Oil
Lemon Juice
Dijon Mustard
Onion Powder
Garlic
Vegan Worchestire sauce
Capers
Salt
My Cashew Parmesan Recipe *optional
2 bread slices
Parsley, dried
Oregano, dried
Garlic Powder
Black Pepper
Cooked Vegan Chicken Strips- like Gardien
1-2 heads romaine lettuce
Tortillas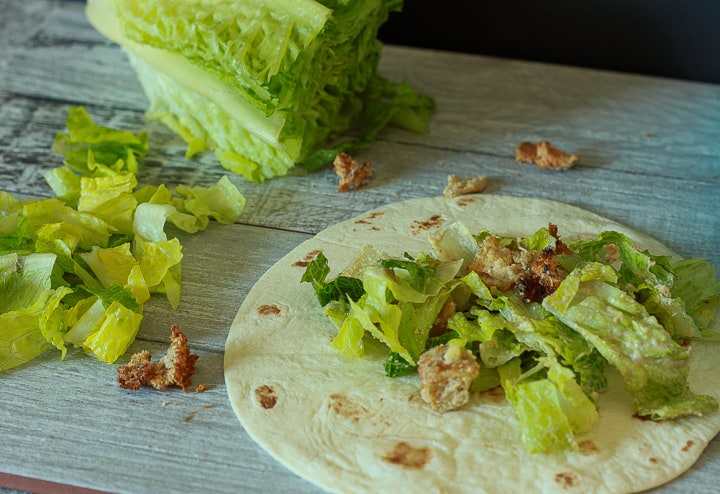 How do you make these Vegan Caesar Salad Wraps?
I start with the salad dressing. It's made with cashews to make it nice a creamy. You need a high-speed blender. If you do not have one you can soak your cashews ahead of time to get them soft enough for a regular blender.
Throw your cashews, water, oil, lemon juice, dijon mustard, onion powder, garlic, Worcestershire, capers, and salt in a blender and blend until smooth. I usually set this in the fridge at this point and let the flavors come together a bit.
Next start with your bread. I like to give them a little toast in the toaster. Then crumble them up on a baking sheet. Take the oil and seasoning and mix it up with the crumbs. You'll bake this for 8 minutes in a 400 degree preheated oven. Set aside.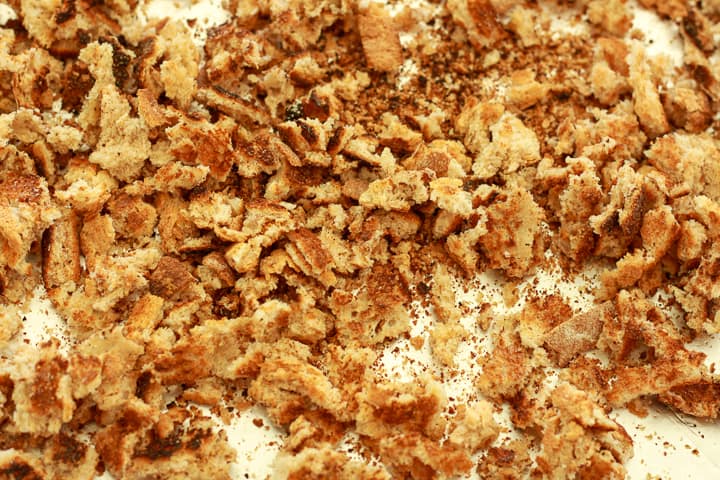 I used cooked vegan Chicken strips for this. It tastes absolutely delicious. But if you aren't into faux meat you could use chickpeas and season them.
I almost always have my favorite Cashew Parmesan made up an in the fridge. So it's easy for me to add this extra bit of flavor to these wraps. If you don't want to go the extra step of making it, it's okay. It won't change the flavor too much, but it is a little tastier with it.
We just use a standard flour tortilla, but you could make your own using this tasty tortilla here, but store bought works great as well.
There are two ways you could make these wraps. I personally like to make them up indidually. That way you get an even amount in each wrap. But if you were serving them to a crowd it would be better to just make up a salad in a big bowl and then fill your wrap with the salad. Whatever works for your family works for me.
Have you ever had a salad in a wrap? Let me know the comments!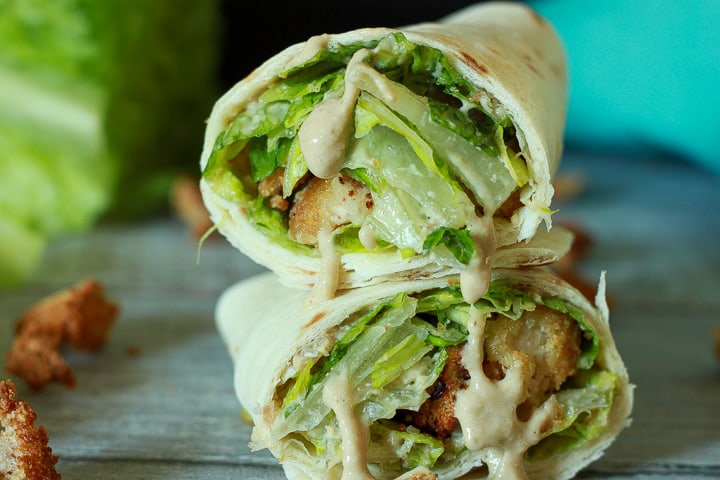 Vegan Chicken Caesar Salad Wraps
These vegan chicken caesar salad wraps are a great lunch or summe dinner.
Ingredients
Caesar Dressing
1/2 cup raw cashews
1/4 cup water
2 TB olive oil
1 TB lemon juice
1/2 TB Dijon mustard
1/2 tsp onion powder
2 cloves garlic, peeled
1/2 TB vegan worcestershire sauce
2 tsp capers
1/2 tsp salt
Bread crumbs
4 pieces of bread, toasted
2 TB oil
1/2 tsp parsley, dried
1/2 tsp garlic powder
1/2 tsp oregano, dried
1/8 tsp salt
1/8 tsp pepper
Other Ingredients
1-2 heads romaine lettuce, chopped up
1 bag vegan chicken strips, cooked and chopped
1 bag tortillas of your choice
1/4-1/2 cup Cashew Parmesan cheese (recipe link below)
Instructions
Preheat your oven to 400 degrees f
Start by making your dressing. Throw everything into a highspeed blender. I use a Blendtec Twister jar for this. When it's all combined, put in a jar and set aside.
Clean out your twister jar and make your cashew parmesan- 3/4 cup raw cashews, 2 tablespoons nutritional yeast,1/2 teaspoons garlic powder, 3/4 teaspoon salt- Instructions mix all ingredients into a food processor or small blender (like a twister Blendtec) and process until it's a little finer than cornmeal.
Make your bread crumbs by toasting your 4 pieces of toast until crispy. Then crumble the pieces of toast on a baking sheet. Mix the crumbs with the oil and seasoning and bake in a preheated oven for 8 minutes. Remove and set aside.
You can make a big salad by mixing your lettuce, vegan chicken strips, Caesar dressing, 1/4-1/2 cup cashew Parmesan, and bread crumbs. Then fill your Tortilla with the salad mixture and enjoy. Alternatively, you can make them up individually. I like to take a small bowl. Mix each portion and then throw it in a wrap, that way you can eat them for leftovers.
Nutrition Information:
Yield:

6
Serving Size:

1 wrap
Amount Per Serving:
Calories:

372
Total Fat:

25g
Saturated Fat:

0g
Trans Fat:

0g
Unsaturated Fat:

19g
Cholesterol:

0mg
Sodium:

622mg
Carbohydrates:

31g
Fiber:

6g
Sugar:

5g
Protein:

11g
The calories are computer generated and may not be 100% accurate.

<3 Courtney