This amazing vegan beef and broccoli is the perfect busy weeknight dish made in 30 minutes, tastes like restaurant quality, plus kid-friendly!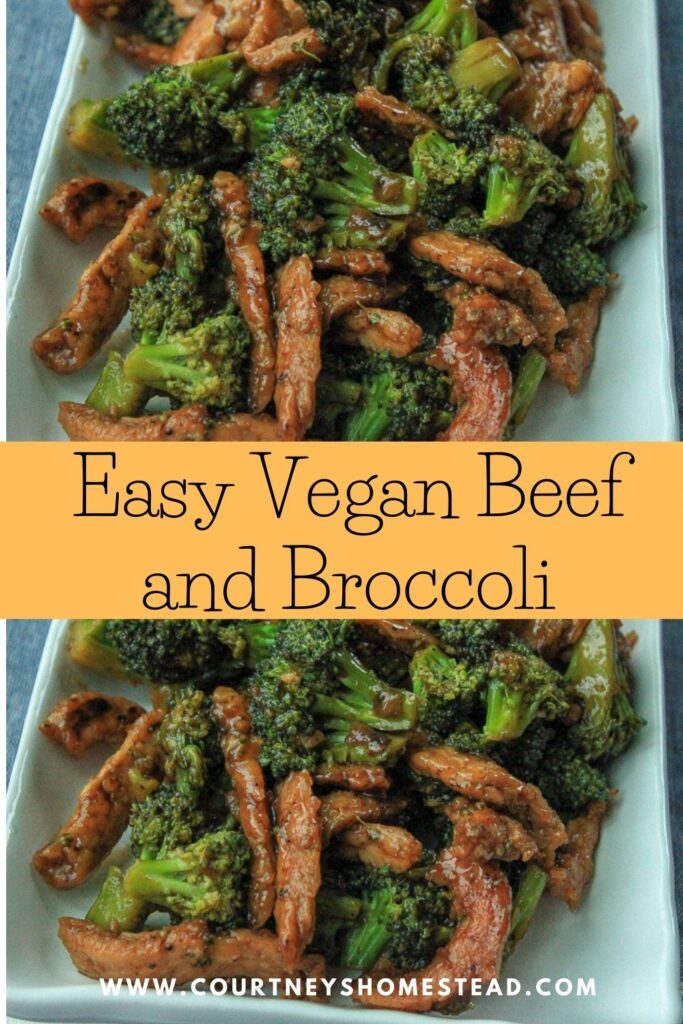 Vegan Beef and Broccoli Recipe
I am really into soy curls. They taste SO good when they are made properly and the perfect meat alternatives.
They soak in whatever flavor you're infusing it with; they are full of protein and just so good.
It's the perfect mock meat for this vegan beef and broccoli dish.
Everyone in my family loves this vegan beef and broccoli.
And if you have been following along, you know my 5-year-old likes pretty much nothing, so this is big. I LOVE a night that I don't have to beg the kids to eat; it makes dinner time so much more pleasant!
This is also a 30 minutes or less vegan recipe, which is amazing for a quick weeknight meal; I love quick vegan recipes!
Beef and broccoli used to be my favorite dish to get at a Chinese restaurant.
Now even better, I can make it homemade without the red meat being involved.
Quick, painless, and not too many dishes. I call that a win!
Recipe Q&A
Can this be made gluten free?
Yes, if you use tamari or liquid aminos this can be made fully gluten-free.
What are soy curls?
Soy curls are dehydrated soy. You rehydrate them for about 10 minutes, squeeze out the excess water and then cook them up. They are my favorite more natural meat substitute.
Where do I find soy curls?
You can find them on Amazon or a lot of health food stores carry them.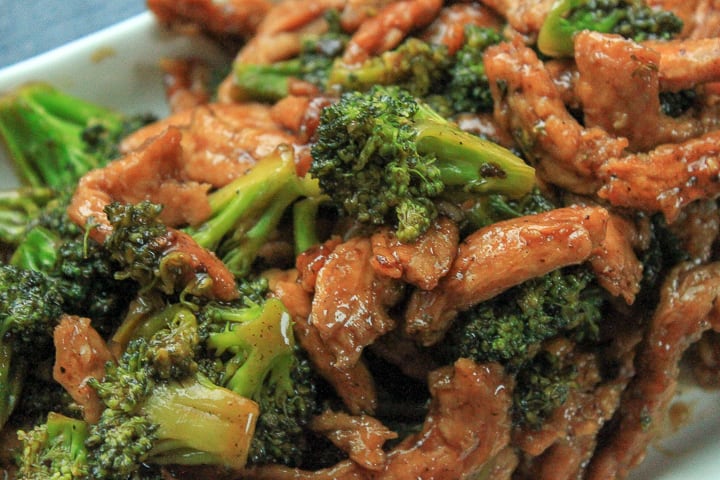 Can you freeze this dinner?
This dinner tastes best fresh, mainly because the broccoli can get a little funky.
How do you like your broccoli for "beef" and broccoli? Let me know in the comments!
Can I add extra veggies?
Yes, you can add whatever vegetables you want to make this more of a stir fry if you want, an onion mixture or green peppers, whatever sounds good in this broccoli stir-fry.
What do you need for this vegan dinner recipe?
dry soy curls
fresh broccoli florets chopped
water or more (for cooking broccoli)
oil neutral
Cooked rice for serving
low sodium soy sauce
brown sugar
corn starch mixed with 1TB water
sesame oil
ginger powder (you can use fresh ginger, I just prefer the ease of powder)
cloves garlic, minced
no beef broth or vegetable broth
You can add green onions, sesame seeds, and or red pepper flakes to garnish if you would like.
How do you make it this vegan beef and broccoli?
Start by soaking your soy curls.
Put 2 cups of soy curls in a bowl and cover them with warm water- let sit for 10 minutes.
While your soy curls are soaking, make your sauce.
Get a separate bowl and mix all your sauce ingredients except for the cornstarch.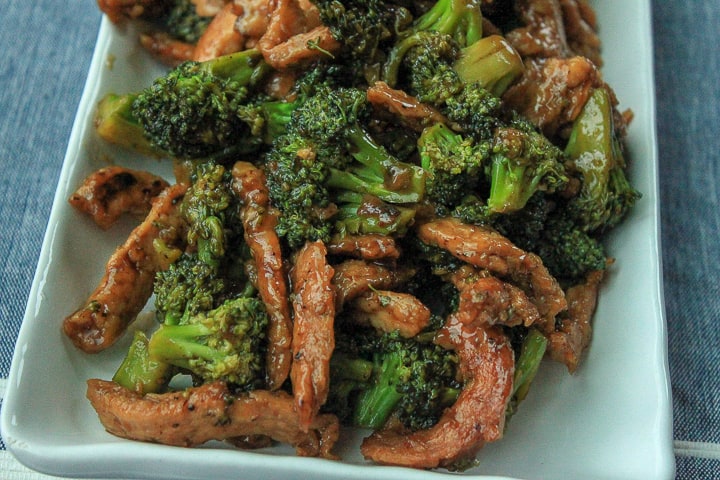 Mix the cornstarch separately by taking 1 TB of water and 2 tsp cornstarch, mix until smooth, then add to your sauce and stir. Set aside.
Now strain your soy curls.
Remove all the water by squeezing them until they stop producing water.
Take your 2 TB cornstarch and mix it with your soy curls. Add your soy curls to a hot large skillet and cook over medium-high heat until the soy curls are browned. Remove them from the pan.
Then add your chopped-up broccoli to the pan with a half cup of water, so it steams the broccoli and doesn't stick, cook this until it starts to turn bright green, not overly cooked, but the texture you want it for the dish.
Add back your soy curls with the broccoli, and add the vegan beef stock and the sweet sauce.
Mix until the sauce is thickened; this only takes a few minutes. And you're ready to serve.
Serve with white or brown rice.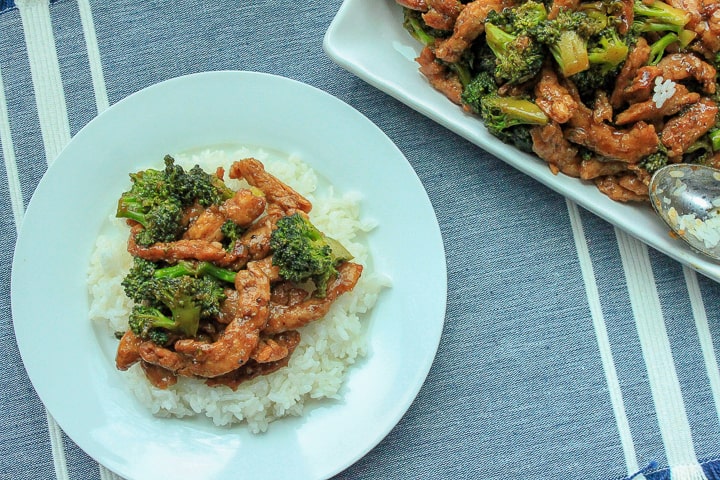 Want some other easy vegan dinner recipes?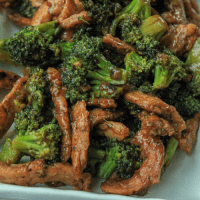 Ingredients
2

cups

dry soy curls

2

heads broccoli chopped

1/2

cup

water or more

for cooking broccoli

2

TB

cornstarch

2

tsp

oil neutral

Cooked rice for serving
Sauce
1/2

cup

soy sauce

low sodium

1/4

cup

brown sugar

2

tsp

cornstarch mixed with 1TB water

1

tsp

sesame oil

1/2

tsp

ginger powder

4

cloves

garlic

minced

1/2

cup

no beef broth or vegetable broth
Instructions
Start by soaking your soy curls. Put 2 cups of soy curls in a bowl and cover them with warm water- let sit for 10 minutes.

While your soy curls are soaking, make your sauce. Mix all your sauce ingredients except for the cornstarch. Mix the cornstarch separately by taking 1 TB of water and 2 tsp cornstarch, mix until smooth then add to your sauce and stir. Set aside.

Now strain your soy curls. Remove all the water by squeezing them until they stop producing water. Take your 2 TB cornstarch and mix it with your soy curls. Add your soy curls in a hot large skillet and cook the soy curls until they are browned. Remove them from the pan. Then add your chopped up broccoli to the pan with some water so it steams the broccoli and doesn't stick, cook this until it starts to turn bright green, not overly cooked, but the texture you want it for the dish. Add back your soy curls with the broccoli, add the vegan beef stock and the sauce. Mix until the sauce is thickened, this only takes a few minutes. And you're ready to serve.

Serve with rice
Notes
See blog post for recipe Q&A
Nutrition
Serving:
1
serving
|
Calories:
191
kcal
|
Carbohydrates:
35
g
|
Protein:
7
g
|
Fat:
4
g
|
Polyunsaturated Fat:
3
g
|
Sodium:
1206
mg
|
Fiber:
5
g
|
Sugar:
11
g