These vegan pancakes are the perfect fluffy pancakes. These are easy to make with simple ingredients, all pantry staples, and are melt-in-your-mouth perfect pancakes.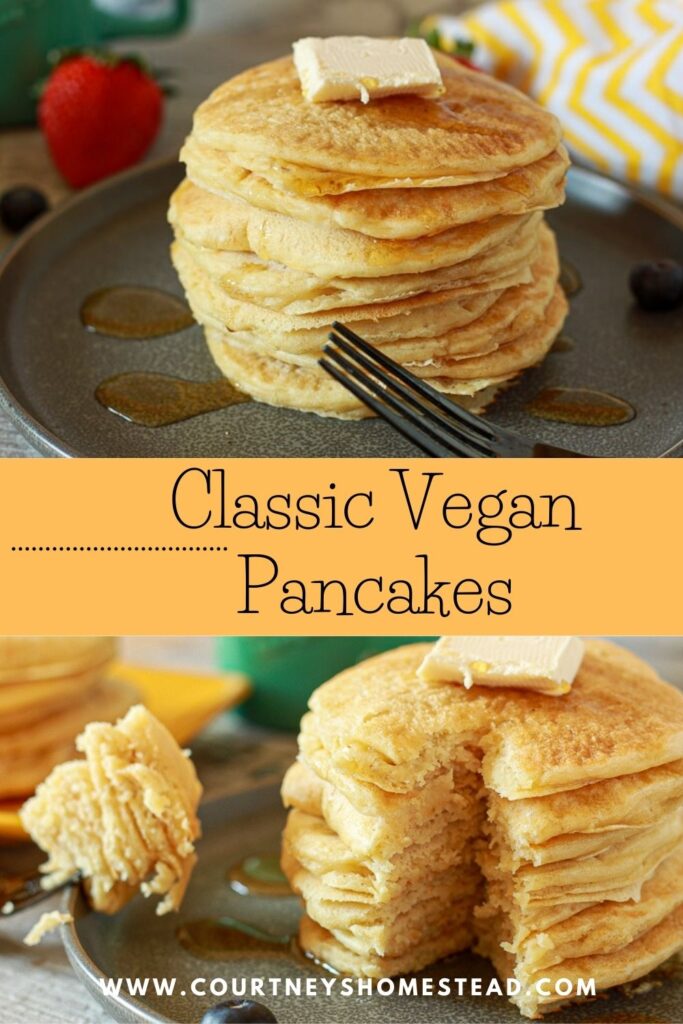 Pancakes are a classic breakfast staple. We have pancakes on Sunday every week.
And my family had to endure a lot of mediocre recipes to land on this one.
I was so excited when I finally got it right.
I love that pancakes can have so many different toppings. And these vegan pancakes are the perfect base for whatever direction you want to go with them. If you're looking for some more pancake ideas, check out these easy vegan blueberry pancakes or these vegan poppyseed pancakes.
I am usually a pure maple syrup and vegan butter classic kind of girl.
But I do love some fresh berries or even jam on my pancakes as well. It's hard to decide!
I love that my kids are growing up with a Sunday tradition.
Hopefully, they will want to pass that down to their families.
The only pancakes I ever grew up on were Bisquick.
I'm not going to lie; I still would probably like them for the nostalgia.
But I haven't had Bisquick in 13 years.
Perfect vegan pancake recipe Q&A-
What are the best toppings for pancakes?
warm maple syrup
vegan butter (such as Earth Balance, Country Crock, Miyokios, whichever you like)
fresh fruit or berries
vegan chocolate chips
vegan whipping cream
jam
chocolate sauce
vegan ice cream
Whatever your favorite pancake toppings are.
Can you make these vegan gluten-free pancakes?
Yes, you can sub out the white flour for all-purpose gluten-free flour in a 1:1 ratio.
Can you make this oil-free?
Yes, you can replace the oil with applesauce if you want to make it oil-free.
Can you make a double batch of this great recipe?
Feel free to double the ingredients if you need to feed a crowd, but you'll be flipping pancakes for a while.
Can you make other kinds of pancakes with this batter?
You can add whatever mix-ins you like to a pancake. Here are some ideas-
Blueberry pancakes
Chocolate chip pancakes
Banana pancakes
Just mix it in when the batter is ready, or drop it into the batter while it's on the skillet.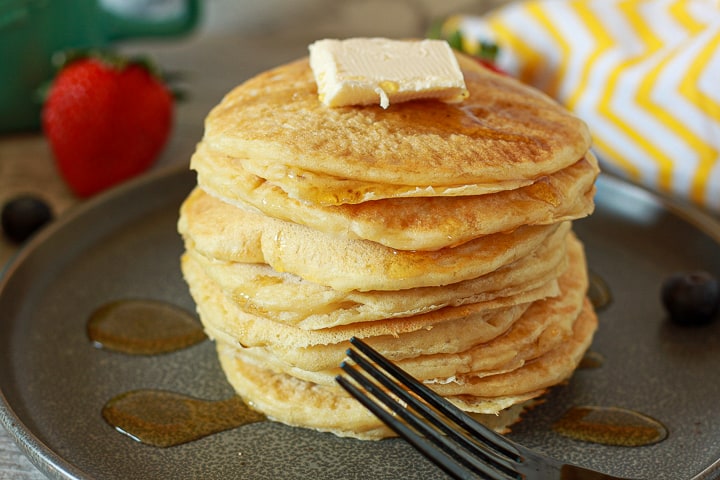 What ingredients do you need for these Perfect Vegan Pancakes?
Check out the recipe card for the full ingredient amounts at the bottom of the post.
All-Purpose Flour
Baking Powder
Salt
Brown Sugar
Vanilla Extract
non-dairy milk (soy milk, almond milk, oat milk, coconut milk, whichever your favorite is)
white vinegar or apple cider vinegar
Neutral oil- vegetable oil or canola oil is best (not olive oil, it's too strong). You can use coconut oil melted, but it will have a coconut flavor.
How do you make this fluffy vegan pancake recipe?
This easy vegan pancakes recipe comes together in a jiffy which is excellent for Saturday morning.
Start by making your vegan buttermilk. Take a liquid measuring cup or small bowl, combine your plant milk and vinegar, and stir and set it aside.
Take a medium bowl and mix all your dry ingredients.
I use brown sugar to lend a very moist pancake, plus I feel like brown sugar goes well with breakfast foods.
Once that's all mixed, add the vanilla extract and oil to the vegan buttermilk and then add these wet ingredients to the flour mixture, stir until just combined.
At first, the vegan pancake batter will seem too thin. Let the batter rest for about 5 minutes. It will thicken and be the perfect pancake consistency.
I always use a large nonstick skillet; it just makes it easier, and I can bust out six delicious pancakes at a time. Who doesn't love that?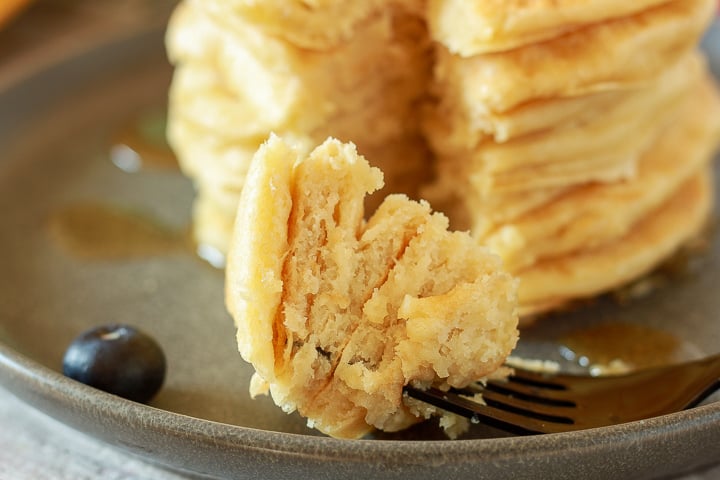 You can use a nonstick griddle pan or even a frying pan if you don't have one.
If you don't have a nonstick pan, you'll want to make sure to use cooking spray or melted vegan butter to the pan, so your pancakes don't stick.
It's still good to grease or vegan butter a nonstick pan. However, you won't need as much or have to do it between batches unless you want to for flavor.
Heat the skillet to medium-high heat.
I like to make my pancakes pretty uniform, so I use a ¼ cup of batter on the skillet.
These cook just like any pancake recipe. Wait for the small bubbles and then flip to cook the second side.
They should be a perfect golden brown.
Repeat this with all the batter, and then enjoy with your favorite toppings!
How do you keep pancakes warm while you're making the rest of the batch?
You can place your pancakes on a baking sheet in the oven at 200 degrees until you're ready to serve them.
How do you store leftover pancakes?
Leftover pancakes are best stored in an airtight container or Ziploc bag in the fridge for up to 5 days.
Can you freeze pancakes?
Yes, pancakes can be frozen and brought out individually as needed. It's best to flash freeze them. To do this, follow these instructions;
Take a cookie sheet lined, place vegan pancakes in a single file, and freeze them; after they are frozen (an hour or so), put them in the freezer bag and freeze for up to 3 months.
How do you reheat them?
Let them come to room temperature on the counter, and then you can toast them or put them in the oven at 200 F until warm.
You can also microwave them if you'd prefer, but they taste better with the other methods.
Want more vegan pancake recipes?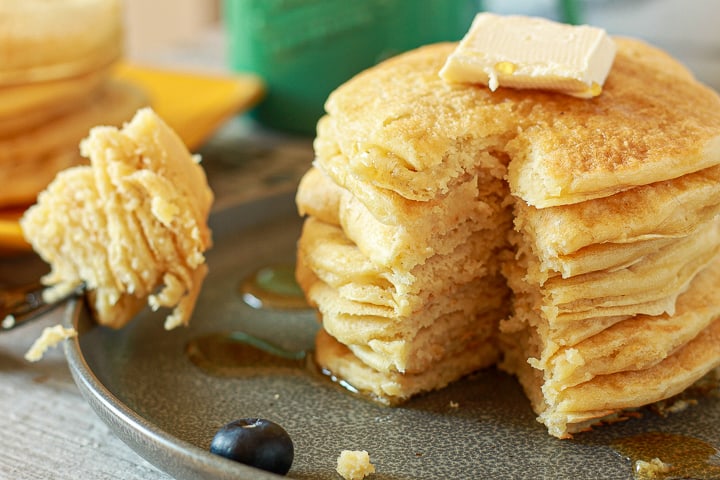 If you loved this recipe then give it a 5 star rating and leave a comment! I love to chat with you all. Please feel free to share on social media and tag #courtneyshomestead. I would love to see you over on Instagram or Facebook.
General pancake questions-
Is Log Cabin syrup vegan?
Yes, the majority of syrups are vegan.
Is Bisquick original vegan?
Yes, it has been vegan for years, don't follow the traditional instructions for making pancakes. Make sure to check the label for ingredients as recipes to change.
Is Aunt Jemima pancake mix vegan?
The original pancake mix is considered vegan. Their whole line isn't, so make sure to read the label to see if anything has changed.
Can vegans eat pancakes?
Yes, they sure can as long as they don't have eggs and dairy in them. Typically you'll want to make your own as most restaurants will not be vegan.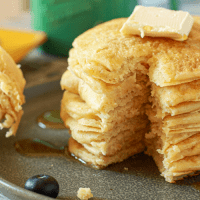 Classic Vegan Pancakes
These easy vegan pancakes are the perfect breakfast treat.
Print
Pin
Rate
Servings:
30
pancakes *¼ cup batter
Ingredients
2 ½

cups

all purpose flour

½

teaspoon

salt

1.5

teaspoon

vanilla extract

1

TB

baking powder

¼

cup

brown sugar

2 ¾

cup

plain plant milk

¼

cup

neutral oil

1

TB

White Vinegar
Instructions
Preheat your pancake skillet.

Mix all the dry ingredients and stir. Add your plant milk, extract, vinegar, and oil, stir until incorporated.

Take your hot skillet and ¼ cup measuring cup, fill with batter and pour onto pancake skillet. Cook until small bubbles appear and then flip. Let cook for a minute or two and remove from heat. Do this until all the batter is gone. Enjoy with your favorite toppings.

**If you have a nonstick surface, you will need a cooking spray or vegan butter, so they don't stick.
Notes
See blog post for recipe Q&A
Nutrition
Serving:
1
pancake
|
Calories:
73
kcal
|
Carbohydrates:
11
g
|
Protein:
2
g
|
Fat:
2
g
|
Polyunsaturated Fat:
2
g
|
Sodium:
100
mg
|
Sugar:
2
g