Pancakes are a classic breakfast staple. We have pancakes on Sunday every week. And my family had to endure a lot of mediocre recipes to land on this one. I was so excited when I finally got it right.
I love that pancakes can have so many different toppings. And these vegan pancakes are the perfect base for whatever direction you want to go with them. I am usally a syrup and vegan butter classic kind of girl. But I do love some fresh berries or even jam on my pancakes as well. It's hard to decide!
I love that my kids are growing up with a Sunday tradition. Hopefully, they will want to pass that down to their families. The only pancakes I ever grew up on were Bisquick. I'm not gonna lie I still would probably like them for the nostalgia. But I haven't had Bisquick in 13 years.
What do you need for these Perfect Vegan Pancakes?
All-Purpose Flour
Baking Powder
Salt
Brown Sugar
Vanilla Extract
Plant milk
1 TB vinegar
Neutral oil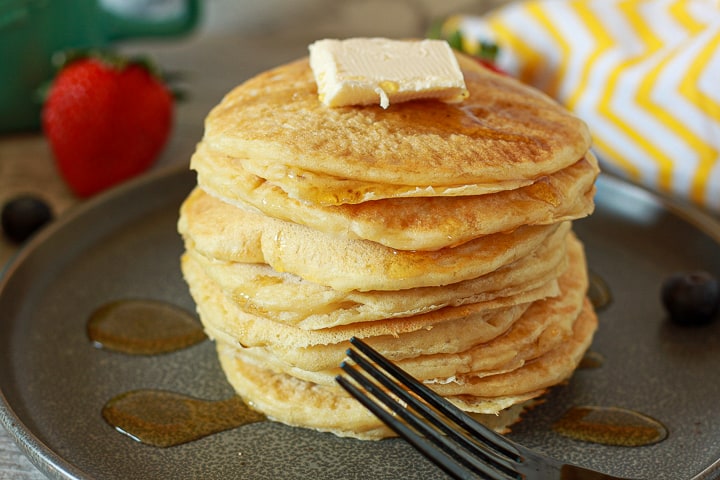 These come together in a jiffy which is nice!
Take a medium bowl and mix all your dry ingredients. I use brown sugar in these to lend a very moist pancake, plus I feel like brown sugar goes well with breakfast foods.
Once that's all mixed, add the extract to the vegan milk and then add that to the flour mixture with the oil, stir until just combined.
At first this batter is going to seem to thin, let it rest for about 5 minutes and it will thicken and be the perfect pancake consistancy.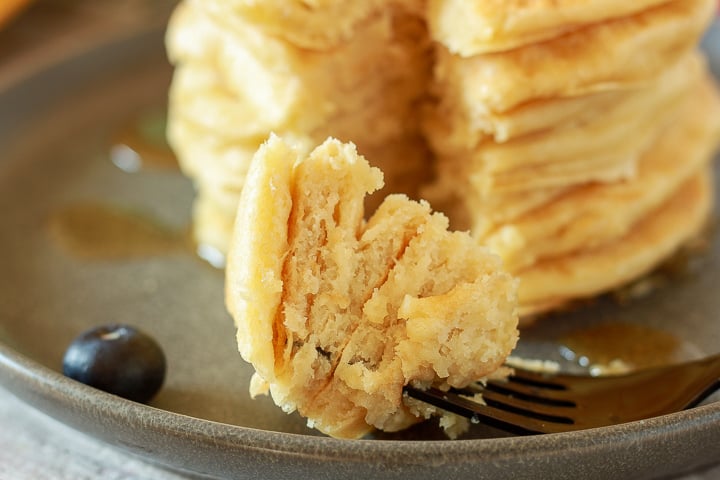 I always use a long breakfast skillet, it just makes it easier and I can bust out six pancakes at a time. Who doesn't love that. I use a non stick surface so you don't have to worry about using any spray or vegan butter, but if you want to add to the flavor you can certainly use vegan butter.
I like to make my pancakes pretty uniform so I use a 1/4 cup measuring cup to put the batter on the skillet.
These cook just like any pancake recipe. Wait for the bubbles and then flip. Repeat this with all the batter and then enjoy with your favorite toppings!
What's your favorite vegan pancake topping? Let me know in the comments!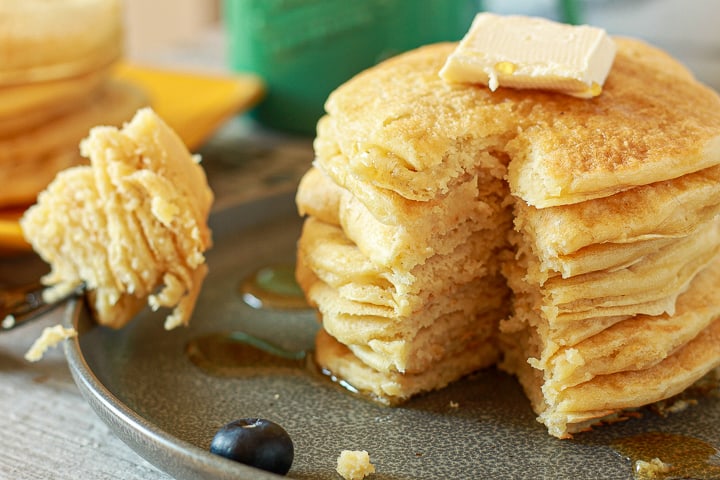 Classic Vegan Pancakes
Yield:
30 pancakes *1/4 cup batter
These easy vegan pancakes are the perfect breakfast treat.
Ingredients
2 1/2 cups all purpose flour
1/2 tsp salt
1.5 tsp vanilla extract
1 TB baking powder
1/4 cup brown sugar
2 3/4 cup plain plant milk
1/4 cup neutral oil
1 TB White Vinegar
Instructions
Preheat your pancake skillet.
Mix all the dry ingredients and stir. Add your plant milk, extract, vinegar, and oil, stir until incorporated.
Take your hot skillet and 1/4 cup measuring cup, fill with batter and pour onto pancake skillet. Cook until small bubbles appear and then flip. Let cook for a minute or two and remove from heat. Do this until all the batter is gone. Enjoy with your favorite toppings.
**If you have a nonstick surface you will need a cooking spray or vegan butter so they don't stick.
Nutrition Information:
Yield:

30
Serving Size:

1 pancake
Amount Per Serving:
Calories:

73
Total Fat:

2g
Saturated Fat:

0g
Trans Fat:

0g
Unsaturated Fat:

2g
Cholesterol:

0mg
Sodium:

100mg
Carbohydrates:

11g
Fiber:

0g
Sugar:

2g
Protein:

2g
The calories are computer generated and may not be 100% accurate.

<3 Courtney