This vegan brownie oatmeal is the perfect breakfast if you have a sweet tooth or want something decadent and delicious. I mean, who doesn't want fudgy chocolate brownies for breakfast?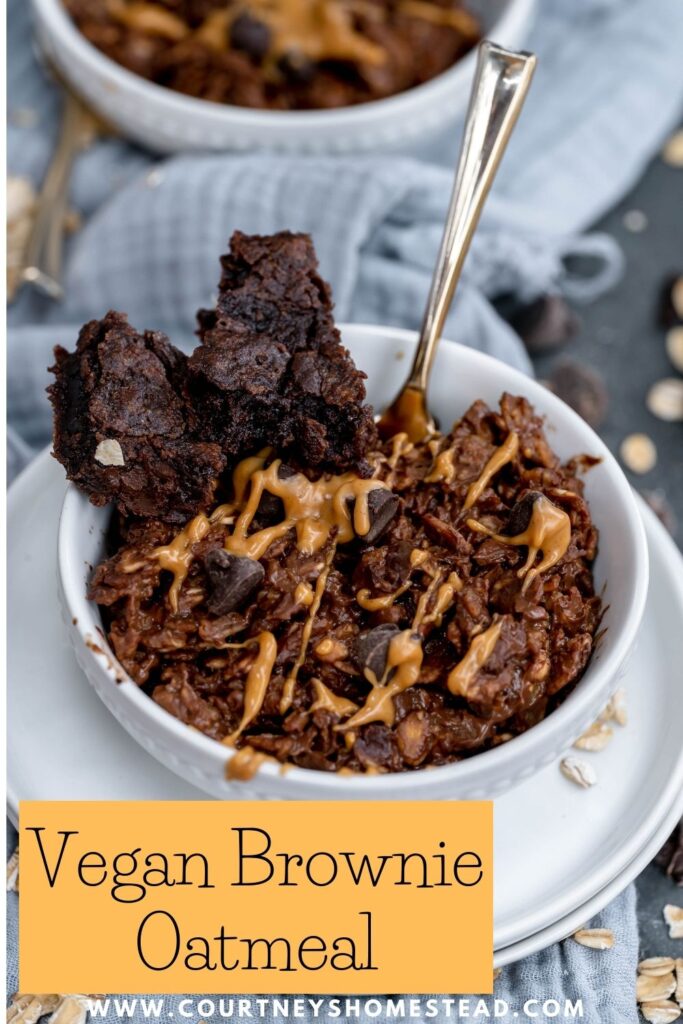 Why you'll love this recipe
---
Easy Recipe.
This is made like normal oatmeal and not baked oatmeal; baked would be delish! But it's nice to have something made in less than 10 minutes.
This makes the perfect sweet snack that tastes decadent, like a brownie recipe but still mostly healthy.
It's full of healthy ingredients.
It is refined sugar-free.
Tastes like breakfast brownies in an oatmeal form.
These are naturally gluten-free as long as you use gluten-free oats.
It's made with simple ingredients you likely have on hand.
Ingredients and substitutions
---
Check out the recipe card at the bottom of this post for the full recipe.
Oats - rolled oats. I've only ever used old fashion oats with this recipe; quick oats will likely work, but the cooking time would be much faster, and I've never actually tried it.
Almond milk- you can use plant milk here, whether it's almond milk, oat milk, soy milk, cashew milk, or coconut milk; make sure you enjoy the flavor of the milk, or else it might shine through in the recipe. If you were trying to cut some calories, you could use water, but I would suggest against it as the non dairy milk adds that creaminess you want for a brownie feel.
Cocoa powder- gives you the intense chocolate flavor you're looking for in a brownie. However, the cocoa powder offers no sweetness, so that's where the maple syrup and chocolate chips come in to help balance it all out.
Maple syrup- this is the sweetener of choice for these delicious oats. You could use brown sugar, agave, white sugar, coconut sugar, or whatever sugar you prefer. You may need to adjust the liquid slightly if you use granulated sugar versus liquid sugar.
Vegan chocolate chips- I would like to say that it's optional chocolate chips, but I think that's what makes the recipe so delicious. I've made it without them, and it loses some of that brownie feel. If you are a chocolate chip lover, you can add more, or one of my favorites is to drizzle with a few mini chocolate chips.
Vanilla extract- There is something about brownies; you just need that little hint of vanilla. This is the perfect amount of vanilla for the brownies pop.
Salt- you're adding a pinch of salt here, so it doesn't make or break the recipe, but salt helps accentuate the flavors in the recipe.
Taste and Texture
---
These have a rich chocolate flavor and truly taste like a brownie but have the texture of oatmeal.
I had my husband try these without telling him what I was trying to achieve, and he said, "wow, that tastes like a brownie."
These are perfect for the chocolate lovers in your life.
How to make vegan brownie oatmeal
---
Step 1-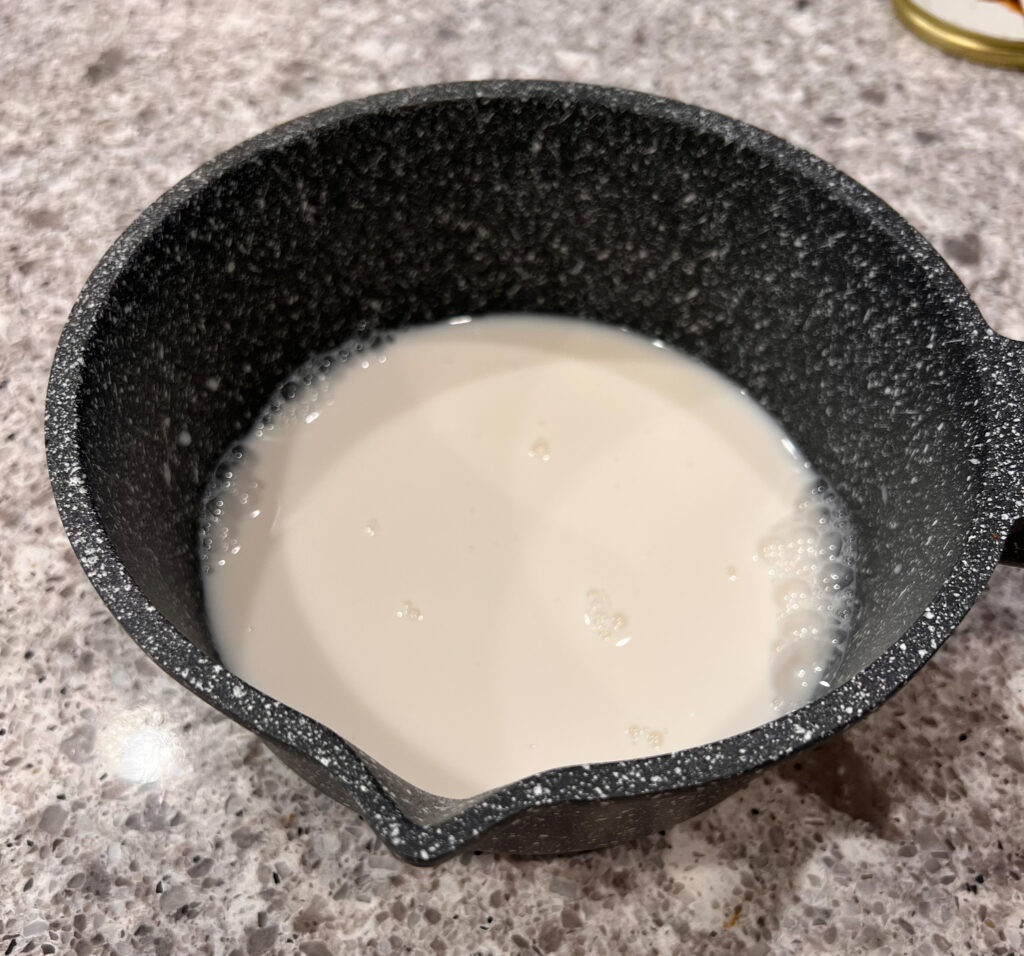 In a medium saucepan, bring the almond milk to a gentle boil.
Step 2-
Reduce the heat to low and add the oats, stirring them into the almond milk.
Step 3-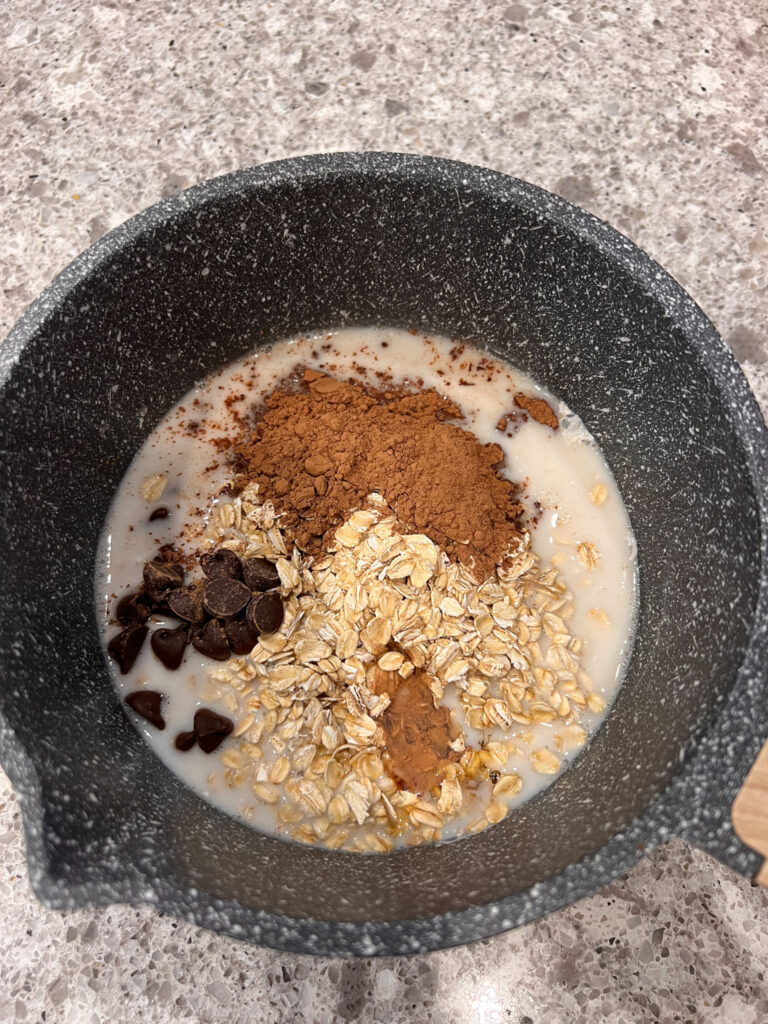 Add the cocoa powder, maple syrup, vegan chocolate chips, vanilla extract, and salt and stir until everything is evenly combined.
Step 4-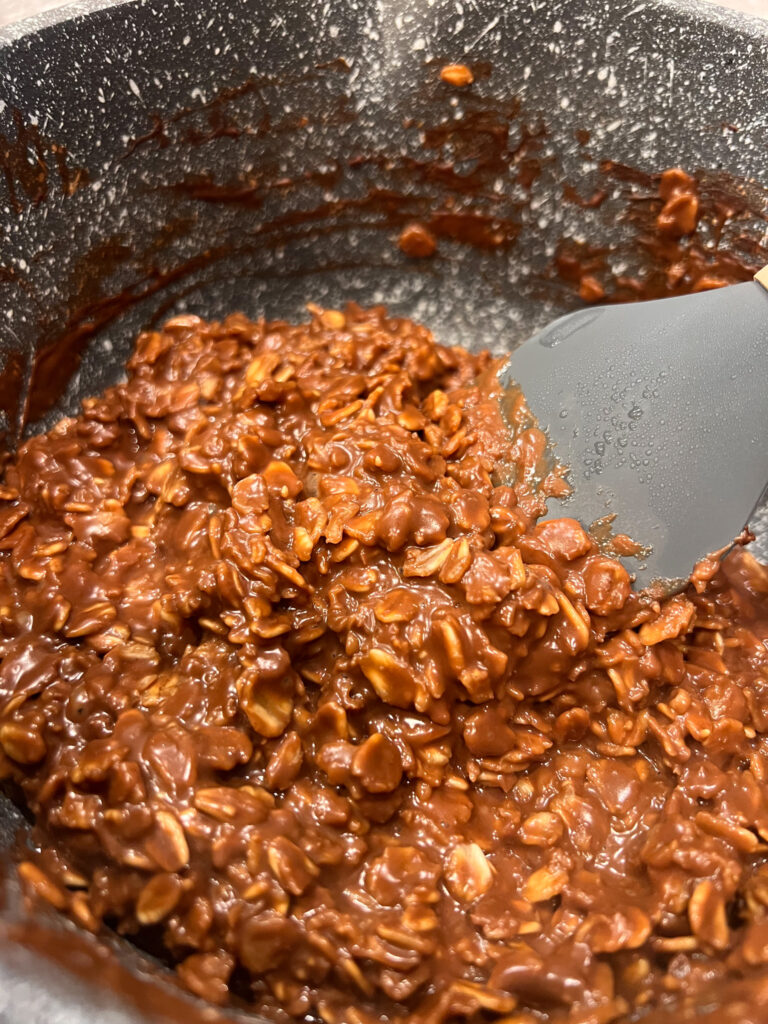 Cook over low heat for about 7-10 minutes, occasionally stirring, until the oats are cooked through.
Expert Tips and Tricks
---
The creamier the non-dairy milk, the creamier the brownie oatmeal will be, don't replace it with water.
I wouldn't leave the vegan chocolate chips out. It adds that gooey brownie feeling.
A drizzle of nut butter makes these delish!
How to Serve
---
These oats are best served warm. You can serve them with a dollop of vegan whipped cream if you feel like getting fancy or a drizzle of peanut butter and some extra vegan chocolate chips.
You can eat this as a breakfast, snack, or even dessert.
How to store and freeze
---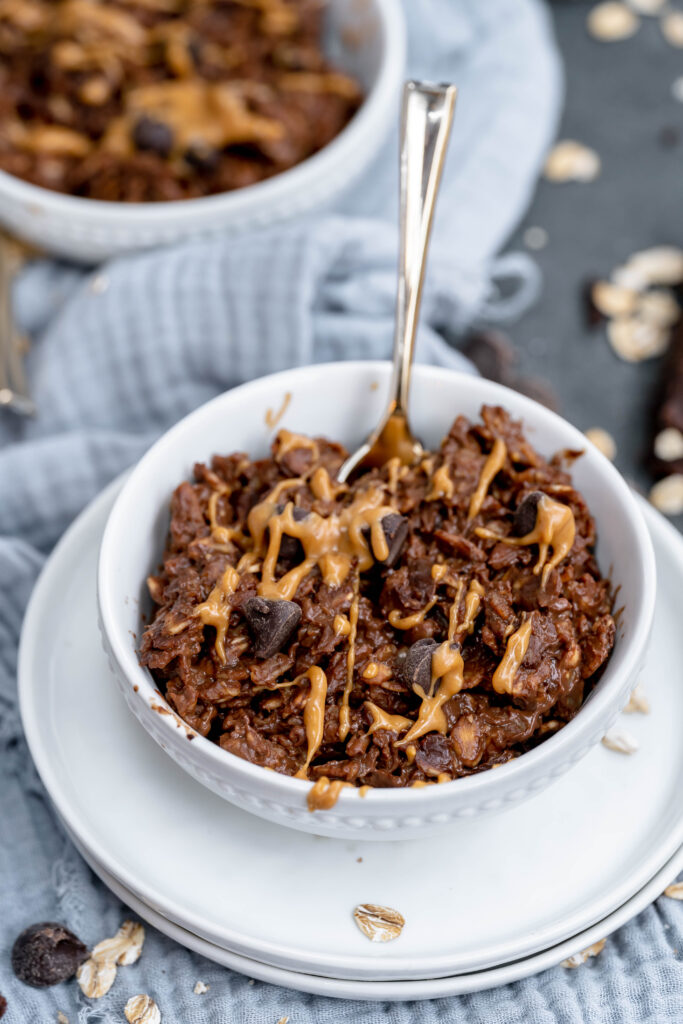 Storing-
These are best stored in an airtight container in the fridge for up to 4 days. For best results, I would reheat them in the microwave. You may need to add a touch of non-dairy milk if it's too dry.
Freezing-
I have never frozen these; they only take 10 minutes to whip up and taste best freshly made. I'm sure they could be frozen if needed.
If I were to freeze them, I would place them in a freezer-safe bag for up to 3 months, let them defrost on the counter, then reheat them in the microwave with some extra non dairy milk and maybe some maple syrup.
Variations and Ad-ons
---
There are a number of ways to add some healthy fats and more flavor to this brownie oatmeal.
Add more dairy-free chocolate chips (mini chips are really fun to add when you serve them)
A dollop of vegan whipped cream
A drizzle of peanut butter (almond butter, cashew butter, sunflower butter, or chocolate hazelnut butter) or just add it straight to the batter.
If you want to add some vegan chocolate protein powder ( or your favorite protein powder), you may need to add some more non-dairy milk to make up for the extra powder.
Nutrition Benefits
---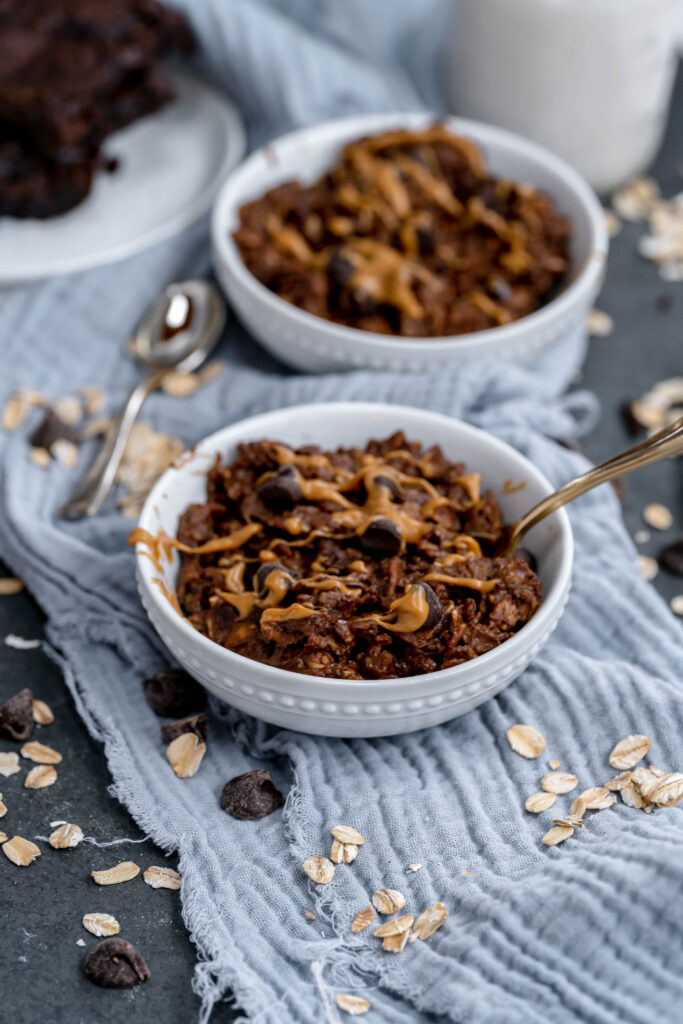 Rolled oats which are whole grains, are a great source of dietary fiber, protein, vitamins, and minerals.
Maple syrup is a natural sweetener with some minerals and antioxidants.
Unsweetened cocoa powder is a rich source of antioxidants.
Almond milk is a dairy-free alternative that is high in calcium, vitamin E, and essential fatty acids.
Recipe FAQS
---
Can I make these into overnight oats?
I've never tried this before, so I'm not actually sure. If I were to try it, you would have to add about 2 TB of chia seeds to make it work.
Can you bake them?
Again, I haven't tried this, but If I were going to bake them, I would turn the oats into oat flour by grinding them in a highspeed blender or coffee grinder, then mix the ingredients, grease a ramekin or two, and bake at 350 for 8-10 minutes or until done.
Recipes you may like
---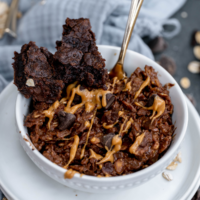 Vegan Brownie Oatmeal
This vegan brownie oatmeal tastes just like a brownie! It's decadent and a perfect breakfast for a chocoalte lover.
Print
Pin
Rate
Ingredients
1

cup

old fashioned oats

1

cup

almond milk (any non dairy milk)

2

TB

unsweetened cocoa powder

2

TB

maple syrup

1

TB

vegan chocolate chips

½

teaspoon

vanilla extract

pinch

salt
Instructions
In a medium saucepan, bring the almond milk to a gentle boil.

Reduce the heat to low and add the oats, stirring them into the almond milk.

Add the cocoa powder, maple syrup, vegan chocolate chips, vanilla extract, and salt and stir until everything is evenly combined.

Cook over low heat for about 7-10 minutes, stirring occasionally, until the oats are cooked through.
Notes
See blog post for recipe Q&A
Nutrition
Serving:
2
servings
|
Calories:
324
kcal
|
Carbohydrates:
55
g
|
Protein:
8
g
|
Fat:
10
g
|
Saturated Fat:
4
g
|
Polyunsaturated Fat:
2
g
|
Monounsaturated Fat:
2
g
|
Sodium:
168
mg
|
Potassium:
269
mg
|
Fiber:
7
g
|
Sugar:
21
g
|
Calcium:
221
mg
|
Iron:
4
mg
If you loved this recipe, then give it a 5-star rating and leave a comment! I love to chat with you all. Please feel free to share on social media and tag #courtneyshomestead. I would love to see you over on Instagram or Facebook.