These awesome vegan almond poppy seed pancakes are just that, awesome. These are always my goto breakfast when we have guests staying with us and it never disappoints. They are easy to make and come together fairly quickly. They have a super easy to make almond syrup and it's a must with this recipe. It really takes it over the edge.
I have made these in huge batches for a baby shower, Easter brunch, holidays, regular days you name it. They are SO good. The night I was making them for photos my friend came over and I told her I make these for guests when they stay and after trying them she said "can I be a guest at your house and eat these?" telling you good.
I do have a thing for all things pancakes. If you are looking for more of a classic pancake I got you covered with this classic vegan pancake recipe.
What do you need to make these awesome vegan almond poppy seed pancakes?
all-purpose flour
poppyseeds
baking powder +soda
salt
plant milk
vinegar
flax seeds
sugar
oil
applesauce
almond extract + vanilla extract
vegan butter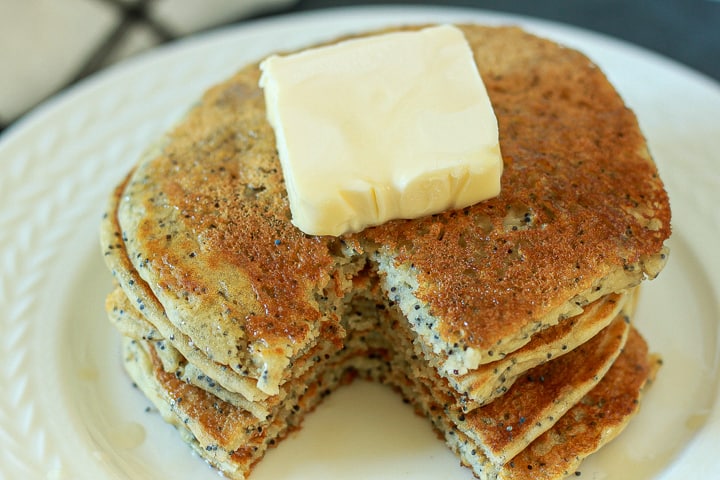 How do you make them?
You're going to start by making your buttermilk and flax eggs. The flax eggs or any egg replacer is optional in this recipe. It makes them a bit more fluffy and I prefer it that way, but if you don't have any you can make it without it.
Flax eggs are super easy to make. Take 2 tablespoons of flax meal and mix with 4 tablespoons water, stir and set aside.
Now make your vegan buttermilk. Take 1.5 cups of plant milk and add 1 TB of vinegar, stir and set aside.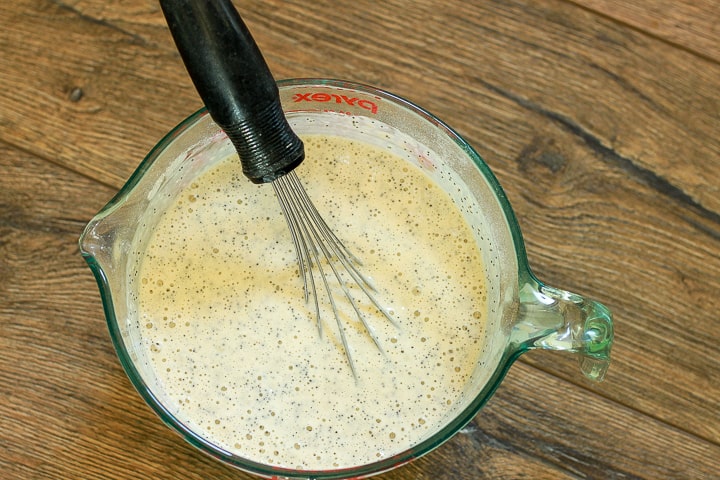 Mix all your dry ingredients in a bowl with a whisk and make a well for the wet ingredients.
Now take all your wet ingredients and stir until combined, but not overly- clumps are okay. Heat up your pancake griddle and spray with cooking spray or vegan butter. Scoop the pancakes with 1/4 cup and cook for about a minute before flipping. These don't bubble as well as normal pancakes, so make sure to check the bottom before flipping. They tend to cook pretty quickly. Repeat with the remainder of the pancakes.
Now it's time to make your syrup, this goes really fast. You need to make a little bit of buttermilk again. This time only use 1/2 tsp of vinegar into the plant milk. Let sit while you prepare the other ingredients. Place the vegan butter, sugar, plant milk, and buttermilk. Stir constantly and mix until boiling and sugar has disolved. Remove from heat and add the almond extract and baking soda, stir until it is frothy.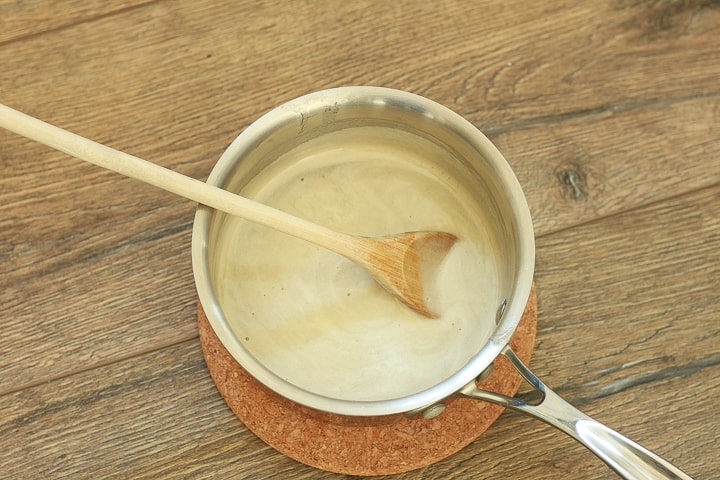 Serve the warm syrup on warm pancakes and enjoy!
What's your favorite kind of pancakes? Let me know in the comments!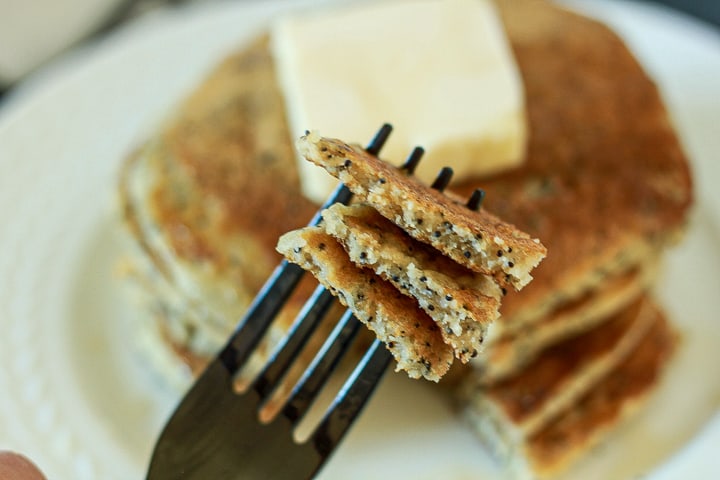 Vegan Almond Poppyseed Pancakes
These vegan almond poppyseed pancakes are the ultimate pancakes. These are guest worthy.
Ingredients
Pancakes
2 cups all purpose flour
3 TB poppy seeds
2 tsp baking powder
1 tsp baking soda
1/2 tsp salt
1 1/2 cups vegan buttermilk (plant milk + 1 TB vinegar)
3/4 to 1 cup plant milk
2 flax eggs
1/3 cup sugar,white
2 TB neutral oil
2 TB applesauce
1 tsp vanilla extract
2 tsp almond extract
Syrup
1/4 cup vegan butter
1 cup sugar, white
1/2 cup plant milk
1/4 cup buttermilk (1/4 cup plant milk + 1 tsp vinegar)
1/2 tsp baking soda
1 tsp almond extract
Instructions
Start by making your flax egg. Take 2 TB ground flax seed and mix 4 TB water and stir, set aside. Now make your buttermilk. Mix 1 1/2 cups milk with 1 TB vinegar, stir and let sit while you mix the rest of the ingredients.
Take a medium bowl and mix your dry ingredients, make a well in the middle and start adding your wet ingredients. Stir until combined, lumps are okay. Let the mixture sit while you heat your griddle.
When your griddle is heated, spray with cooking spray then add pancakes with a 1/4 cup measuring cup. These pancakes don't bubble as well as normal pancakes, you'll want to keep an eye on the bottom so they don't burn. Flip and cook until done. Repeat with remaining pancakes.
Make your syrup
Melt the vegan butter, sugar, plant milk, and vegan buttermilk (make the same way you did above, adding the vinegar). Stir constantly until mixture starts to boil and the sugar has dissolved. Remove from the heat and add the baking soda and almond extract. Be careful it bubbles up a bit, stir until nice and foamy. Serve warm on the pancakes.
Nutrition Information:
Yield:

18
Serving Size:

1 pancake
Amount Per Serving:
Calories:

172
Total Fat:

6g
Saturated Fat:

2g
Trans Fat:

0g
Unsaturated Fat:

3g
Cholesterol:

0mg
Sodium:

305mg
Carbohydrates:

25g
Fiber:

1g
Sugar:

13g
Protein:

4g
* This calculated all the syrup into the calories, so they aren't totally accurate. The calories are computer generated and may not be 100% accurate.
Recipe altered from an unknown recipe source, I have been making these pancakes for many years and do not have the original source.

<3 Courtney