These are the best vegan buttermilk pancakes. This fluffy vegan pancake recipe only uses a handful of ingredients comes together super quickly with pantry staples. And they taste like that diner pancake you've been missing. These go great, smothered with some vegan maple butter.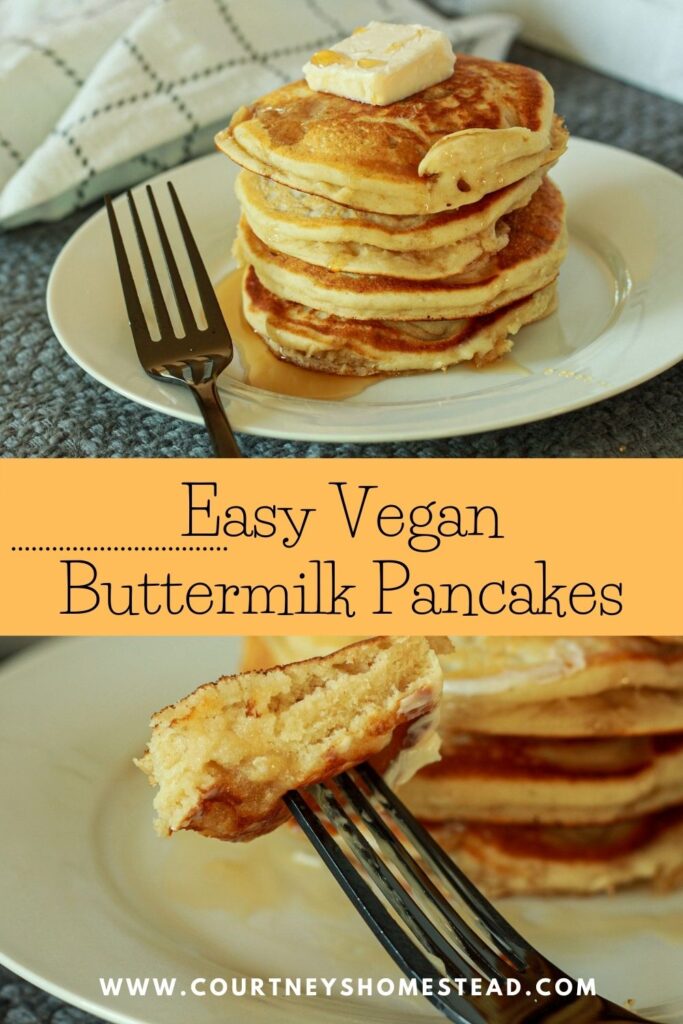 Sometimes you don't want to put a whole production into making pancakes in the morning; this recipe is speedy.
These are the perfect amount of pancakes for two people.
My kids love these pancakes, so I try and make them a few times a week.
Simple vegan buttermilk pancakes are no-frills, straight goodness diner-style buttermilk pancakes.
I have tried to add vanilla extract and cinnamon to these pancakes, but my kids prefer plain ole buttermilk style.
If you want a pancake with vanilla, try these perfect vegan pancakes recipe.
If you want a pancake to knock your socks off in the delicious department, you must try these vegan almond poppyseed pancakes. These are the pancakes I make when guests are over.
Another thing I love about this vegan buttermilk pancake recipe is that they require no vegan egg replacement, such as a flax egg.
What's the difference between buttermilk pancakes and regular pancakes?
Buttermilk brings a little bit more of a tangy flavor to the pancake. It also makes them thicker/ fluffier and a bit more tender than just using regular milk or, in this case, non-dairy milk.
What's the best kind of flour to use?
I always use regular flour (all-purpose flour) is the best. However, if you need them to be gluten-free, you can use all-purpose gluten-free flour.
Some people prefer to use whole wheat flour.
If you choose to use whole wheat flour, I would use white whole wheat flour. You may need to adjust the amount of liquid, so pay attention to that.
Can you make these ahead of time?
Yes, if you need to make these the night before, you can make up the batter, stick it in the fridge covered, and cook them up in the morning.
Although these are so quick to whip up fresh, you probably won't need to.
What do you serve with these?
hashbrowns
cheesy vegan hashbrowns
vegan sausage (store-bought or homemade)
fruit
tofu scramble
whatever breakfast foods you like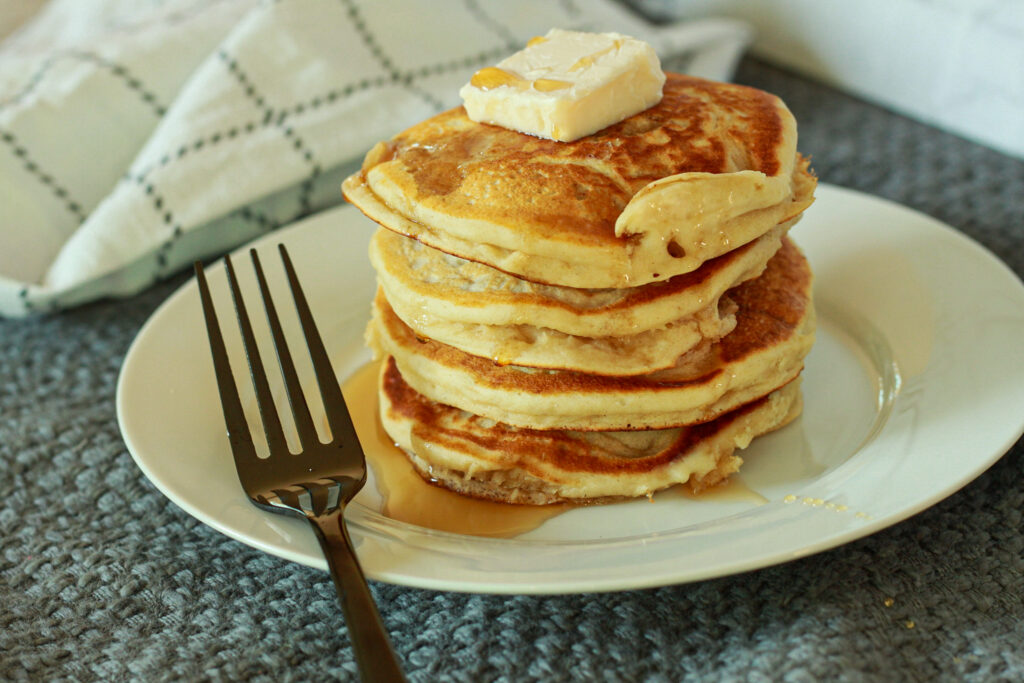 What's the best temperature for cooking pancakes?
If you have a skillet with a temperature gauge, it's best to have it set at 375 degrees. If you cook them in a pan on the stove, medium heat will do.
Vegan Buttermilk FAQS-
Is buttermilk vegan?
No, regular buttermilk bought at a store uses cow's milk and is not vegan.
Can you buy vegan buttermilk?
No, as of 2022, you can't buy vegan buttermilk in the store.
How do you make vegan buttermilk?
Making vegan buttermilk is insanely simple. All you need is some vinegar. The vinegar mixed with the non dairy milk thickens and sours to become buttermilk.
The plant-based milk you use will depend on how thick it gets and if you potentially need to add some more plant milk.
It's best to use thicker nondairy milk like soy milk or oat milk. If I use almond milk, it doesn't thicken as much, but it will still work.
What are some good pancake toppings?
peanut butter
fresh berries
chocolate chips
vegan whipped cream
maple syrup
flavored syrup
pat of vegan butter
What ingredients do I need for these simple vegan buttermilk pancakes?
This recipe has all simple ingredients. For the recipe amounts, check out the recipe card.
all purpose flour
salt
baking soda
vegan milk
white vinegar
melted vegan butter or oil (vegetable oil, canola oil, or avocado oil) Olive oil is a little too strong of a flavor for these.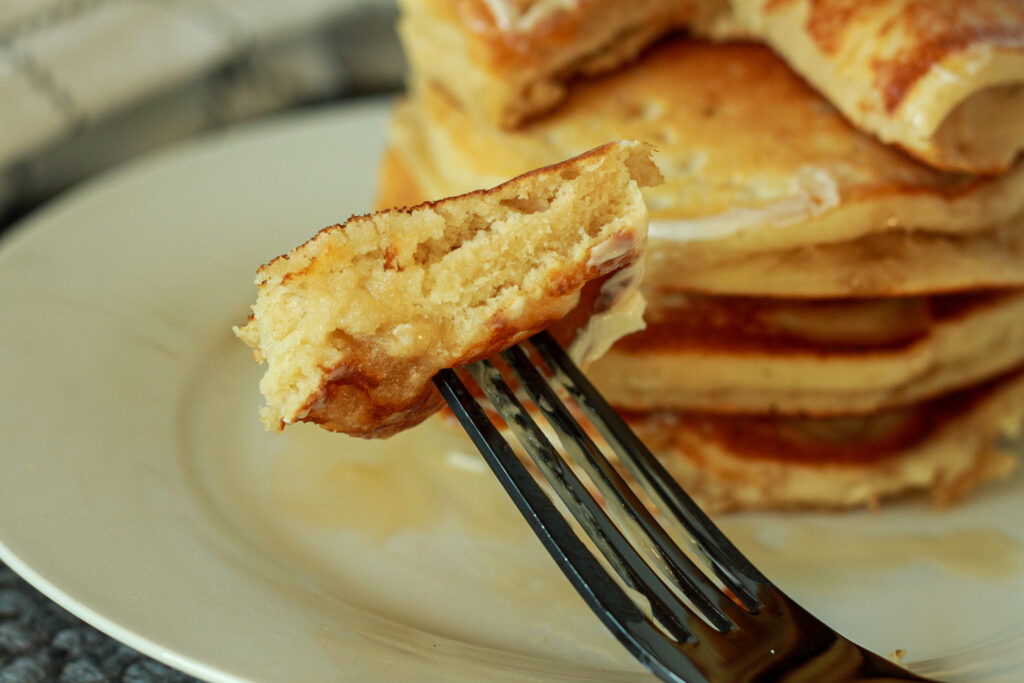 How do you make these homemade vegan buttermilk pancakes?
Let's make some fluffy vegan pancakes!
The first step is to make vegan buttermilk.
Take a liquid measuring cup, combine your non-dairy milk and vinegar, and stir and set aside for a few minutes.
Now let's make the pancake batter.
Take a medium bowl and combine the dry ingredients and stir, then add the wet ingredients, vegan buttermilk, and melted vegan butter, stir until just combined.
You don't want to over mix; there will be small lumps, but most of the streaks of flour should be gone.
Take a pancake griddle or non-stick pan and heat it to medium heat.
Spray the skillet with cooking oil or more vegan butter, pour ¼ cup of batter onto skillet, cook until small bubbles form, and flip until cooked through.
Repeat with the remaining pancake batter.
We typically top these with vegan butter and maple syrup, but you could top them with whatever you would like.
*Note this recipe doesn't double well; the vinegar flavor comes out stronger; you can cut down to 1 TB vinegar if you choose to double.
How do you store these?
These perfect pancakes are best stored in an airtight container or with plastic wrap in the fridge for up to 4 days. They are best the day they are made but can still be enjoyed.
How do you reheat pancakes?
Pancakes are best reheated in a toaster. But you can microwave them at 50% power, so you don't dry them out.
Can you freeze them?
Yes, you can freeze them for up to 3 months.
Here's the best way to freeze pancakes-
Take a cookie sheet that can fit in your freezer and line it with either parchment paper or a Silpat. Then place them singly on the cookie sheet and freeze them for a few hours. Once frozen, you can stack them together in a freezer bag or airtight container.
This makes it, so the pancakes don't freeze together and make it hard to pull apart.
Want some other delicious vegan breakfast recipes?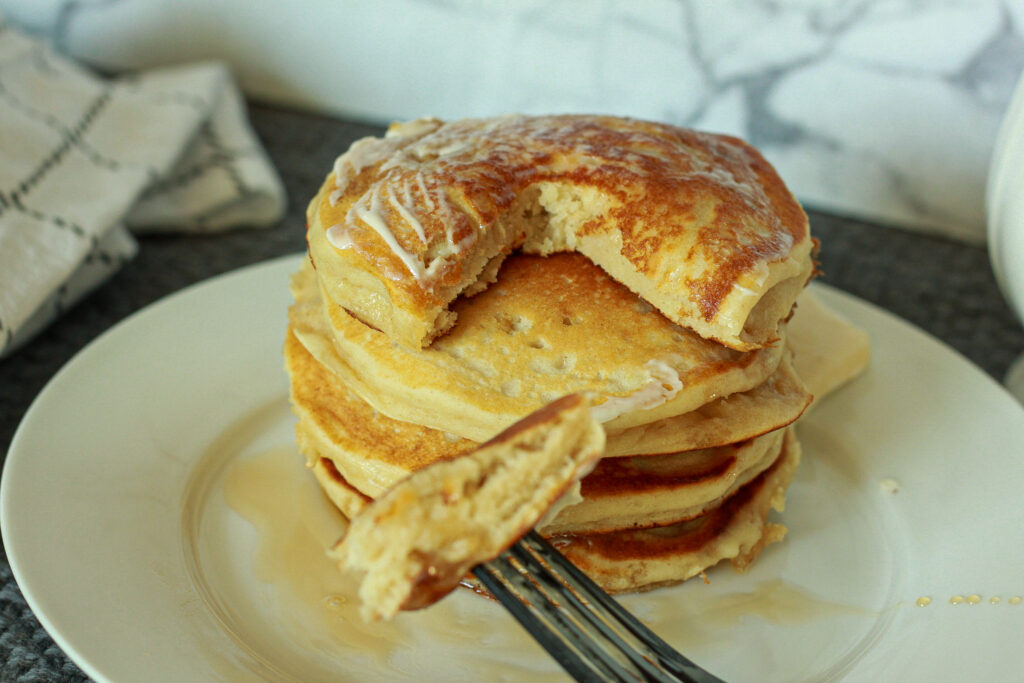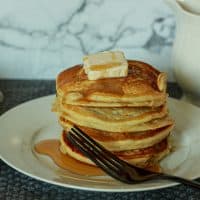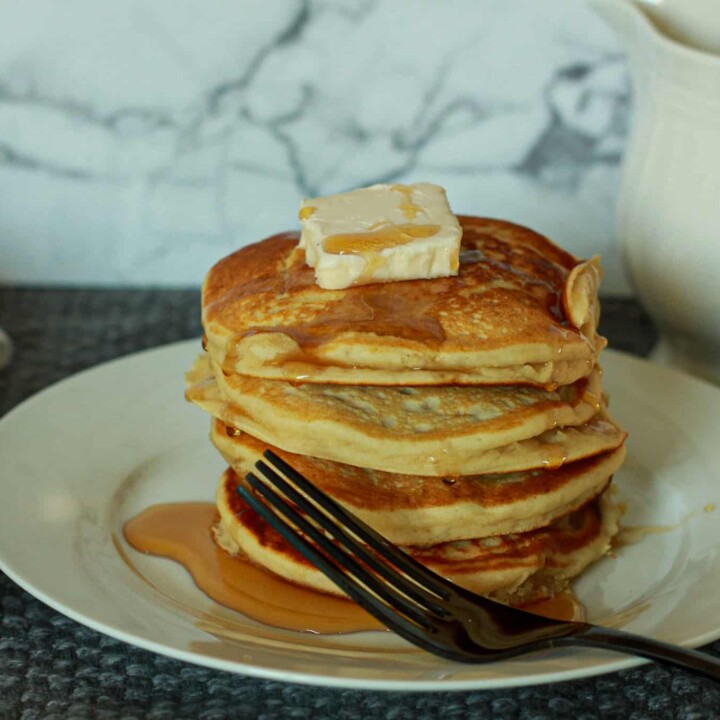 Vegan Buttermilk Pancakes
These easy vegan buttermilk pancakes taste like the classic and are a perfect portion for a quick breakfast.
Print
Pin
Rate
Ingredients
1

cup

flour

¼

teaspoon

salt

1

teaspoon

baking soda

1

cup

vegan milk**

1

TB

vinegar

2

TB

melted vegan butter or oil
Instructions
Take a medium bowl and combine the dry ingredients and stir, then add the vegan milk, vinegar, and vegan butter, stir until combined.

Take a skillet and spray with cooking oil or more vegan butter, pour ¼ cup of batter onto skillet cook until small bubbles and flip.
Notes
** You may need more plant milk depending on how thick your plant milk is. These are thicker pancakes and your batter should be on the thicker side.
Nutrition
Calories:
455
kcal
|
Carbohydrates:
54
g
|
Protein:
11
g
|
Fat:
21
g
|
Saturated Fat:
9
g
|
Polyunsaturated Fat:
11
g
|
Trans Fat:
1
g
|
Cholesterol:
40
mg
|
Sodium:
1076
mg
|
Fiber:
2
g
If you loved this recipe then give it a 5 star rating and leave a comment! I love to chat with you all. Please feel free to share on social media and tag #courtneyshomestead. I would love to see you over on Instagram or Facebook.