This vegan cashew parmesan only requires four easy-to-find ingredients, can be made in 5 minutes or less and is insanely delicious! You will be surprised how much this tastes like regular parmesan cheese.
Mmmm, Cashew Parmesan cheese is delicious!
Cashews are pretty amazing little nuts.
They pack a flavor punch; they can thicken things, make things creamy, and taste cheesy! I mean, who couldn't love them? (unless you're allergic)
Even my five-year-old loves them, and that tells a lot!
Cashews also pack a punch in the nutrition department, but we will save that talk for another day; you just came here for a recipe.
You need four ingredients, and that's it to be on your way to some delicious Cashew Parmesan cheese.
I almost always have this on hand in a little container in my fridge.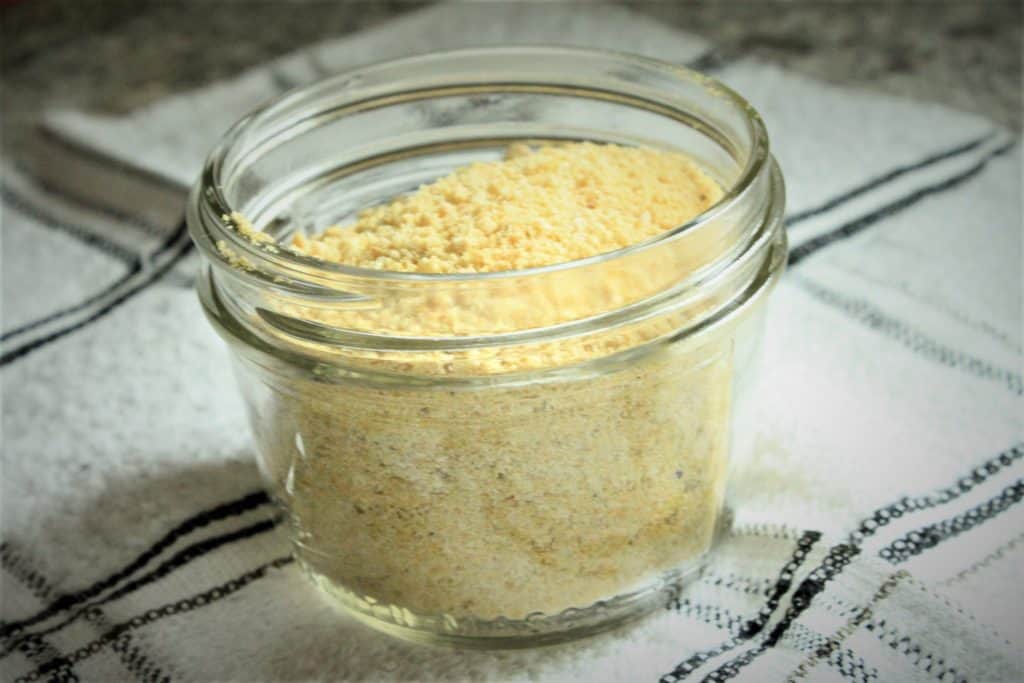 It's a staple ingredient around here.
When you have a picky kid who loves vegan butter noodles, it's nice to douse this on it for some added flavor and nutrition.
It comes in handy for all sorts of recipes. I use it one for one in any recipe that calls for traditional Parmesan cheese.
I use a small twister Blendtec blender jar for making it.
Throw all the ingredients in, and it grinds it up in about 10 seconds.
It's incredible, and it's so much easier than pulling out a food processor.
However, a small food processor will do the job as well.
I keep my blender base on my counter, and my food processor is awesome but more tucked away.
Let's talk about the ingredients of this vegan parmesan recipe.
Do I have to use raw cashews?
You don't have to, but it tastes the best.
The roasted cashews are usually salted and can add too much salty flavor. The roasted can throw off the flavor in general. But if that's all you have, it will still work.
What is nutritional yeast?
Nutritional yeast has an umami/ cheesy flavor but is fully acceptable in a vegan diet.
It is an actual yeast; actually, the same yeast you would use to make bread; however, it's inactive yeast, so it won't work the same way.
You can buy unfortified and fortified nutritional yeast. I have only and would only buy the fortified one; it has b vitamins, minerals, other vitamins, and protein.
You can find it at most grocery stores in the spice section or natural section.
It also tastes great, sprinkled on popcorn.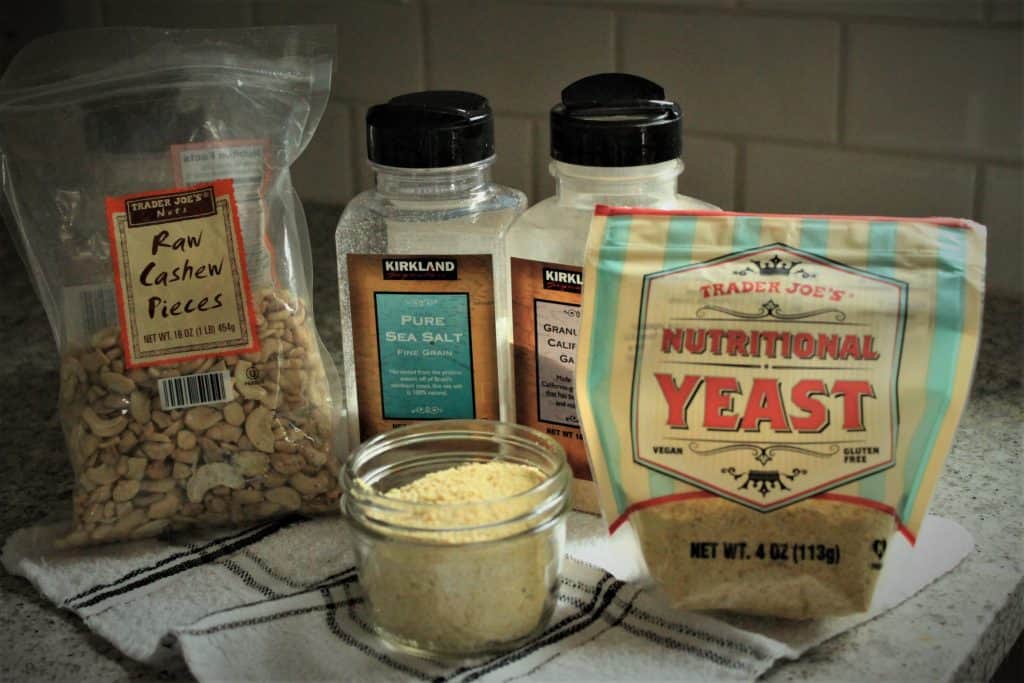 Does it taste like nutritional yeast?
There are a lot of haters out there for nutritional yeast flakes, and I get it. I've had some recipes ruined by it as well.
However, this recipe needs nutritional yeast and does not taste like it.
I know it sounds weird, but the cashew flavor mixed with the nutritional yeast makes a delicious vegan cheese alternative.
Is there a nut-free option?
If you have nut allergies feel free to use raw sunflower seeds. In place of raw cashews, making it a nut-free cashew parmesan.
It won't taste identical, but it will still be good.
You can also try it with pumpkin seeds or hemp seeds (hemp hearts).
Each seed will yield a bit of a different flavor.
Can I use a different nut than cashews?
Yes, if you want to experiment with different unsalted nuts, you can.
Cashews are great because they have such a neutral flavor, but some people can't have them.
So, feel free to use blanched almonds or macadamia nuts.
I wouldn't use walnut or a pecan because I think their flavor profile won't work for this.
What simple ingredients do you need for this vegan cashew parmesan?
Check out the recipe card at the bottom of this post for the full recipe.
raw cashews
nutritional yeast
garlic powder
salt
How do you make this vegan parmesan cheese recipe?
Mix all ingredients into a food processor or small blender (like a twister Blendtec) and process until it's a little finer than cornmeal.
Enjoy in your favorite recipes that call for Parmesan cheese.
How do you serve the best vegan parmesan cheese?
This can be served however you use real parmesan cheese; you can sub this vegan version as a 1:1 ratio.
This goes great on;
Pasta dishes
Vegan Pizza
Vegan Caesar salads
On top of vegan avocado toast
Vegan butter noodles
Whatever you like
How do you store this vegan parmesan cheese?
This is best stored in the fridge in a sealed container like a small mason jar or any airtight container.
This will last up to one month in the fridge.
Can you freeze this?
If you know you aren't going to use it in time, feel free to freeze it in a freezer-safe container for up to 6 months.
What recipes can I use this easy vegan parmesan cheese in?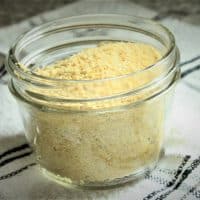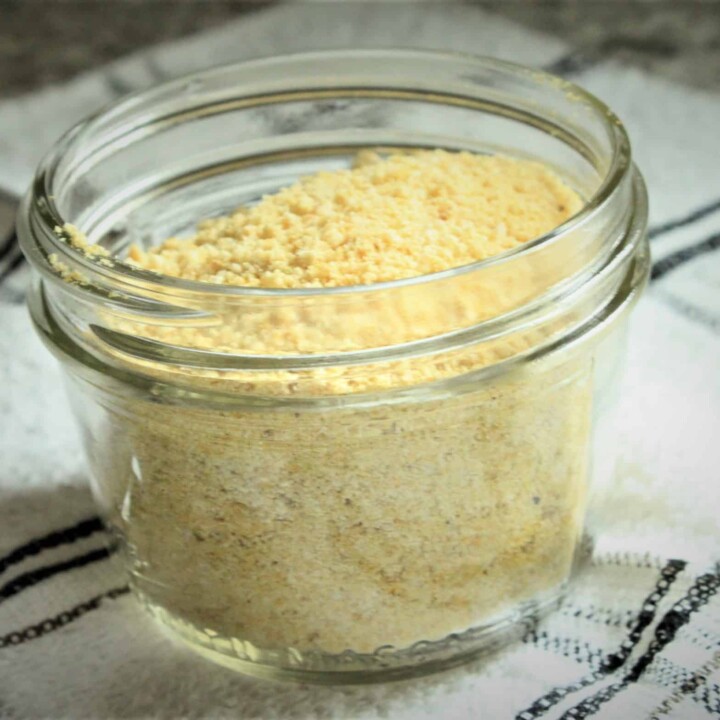 Cashew Parmesan Cheese
This is a delicious alternative to regular Parmesan cheese.  You can use 1:1 ratio to replace regular Parmesan.
Print
Pin
Rate
Servings:
15
ish Tablespoons
Ingredients
¾

cup

raw cashews

2

tablespoons

nutrional yeast

½

teaspoons

garlic powder

¾

teaspoon

salt
Instructions
Mix all ingredients into a food processor or small blender (like a twister Blendtec) and process until it's a little finer than cornmeal. 

Enjoy in your favorite recipes that call for Parmesan cheese.
Notes
Tons of vegan blogs have very similar recipes to mine.  I have tried many different ones and adapted them to my liking.
Nutrition
Serving:
1
tablespoon
|
Calories:
42
kcal
|
Carbohydrates:
3
g
|
Protein:
2
g
|
Fat:
3
g
|
Saturated Fat:
1
g
|
Polyunsaturated Fat:
2
g
|
Sodium:
107
mg
|
Fiber:
1
g
If you loved this recipe, then give it a 5-star rating and leave a comment! I love to chat with you all. Please feel free to share on social media and tag #courtneyshomestead. I would love to see you over on Instagram or Facebook.