After being vegan for over 5 years and never being fully satisfied with a macaroni and cheese recipe, you know the one that actually tastes like real macaroni cheese. So, as a result, I made my own. And boy am I glad I did!
I have made more than my share of vegan mac and cheese fails from varied recipes… just ask my kids. They now ask if I made it from scratch or from a box or remember those green gross noodles….but not this one. They beg for this one.
Do you have anything that you make that your kids or significant other roll their eyes at? Let me know in the comments!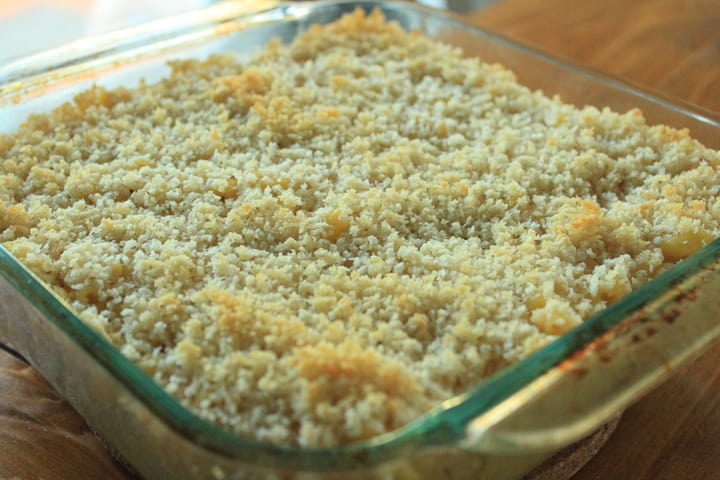 What I love about this recipe is really just how dang good it tastes. It is creamy, hearty and delicious. Comfort food at it's finest. It's super easy to make and comes together quickly. It does require a couple of different cheeses, but that is how you get the flavor profile. When we first started trying alternative cheeses I HATED Daiya, it was weird and didn't melt. But the cutting board series is SO good! It compliments this recipe so well. I hope you try it out and let me know what you think!
Recipe Update! 12/1/19- I have been switching this up and using Violife Cheddar cheese, Violife Mozarella and Italian bread crumbs on top and it is crazy delicious as well! We are talking impressing a house full of omnivores who are very skeptical of vegan food, LOVED this mac and cheese!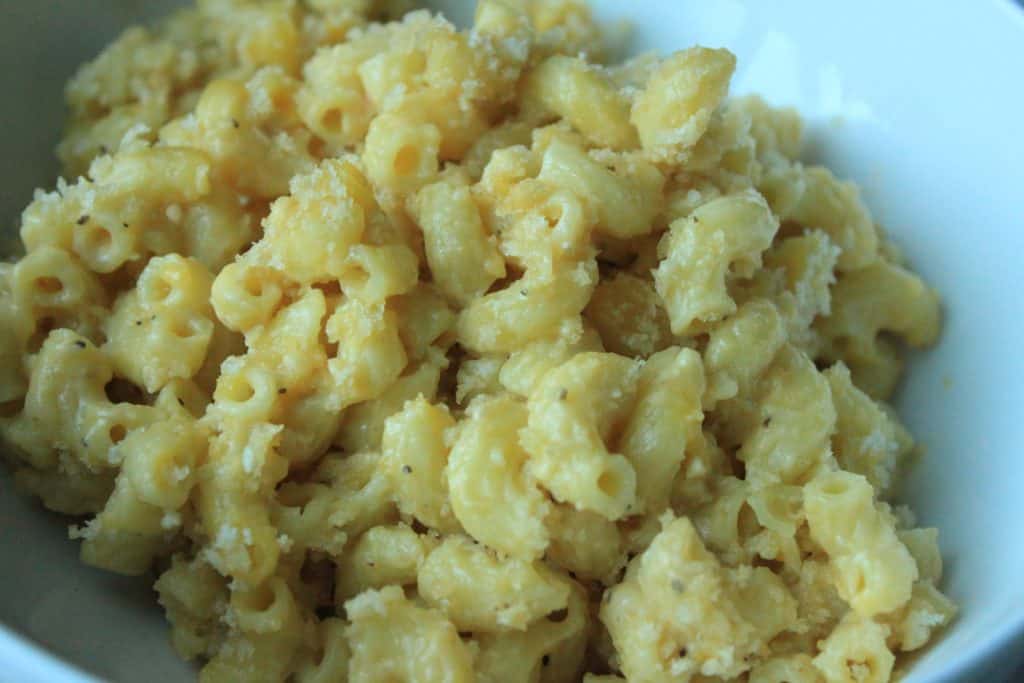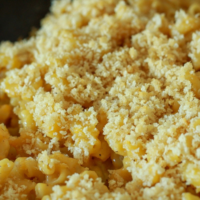 The best vegan Macaroni and Cheese
This delicious vegan macaroni and cheese will trick people into thinking it's the real deal. With three different cheese you get a tasty flavor profile.
Ingredients
2 1/4 cups dry macaroni noodles
1/4 cup vegan butter
1/4 cup all purpose flour
1 cup any unsweetened milk (I use almond, soy, or oatmilk)
3/4 teaspoon salt
1/2 teaspoon pepper
2/3 cup Daiya pepper jack cheese shreds or Violife Mozarella
1 cup Daiya shredded cheddar (from the farmhouse series) or Violife Cheddar Cheese
1/2 cup Cashew Parmesan (recipe link in notes)
1.5 tablespoons vegan butter
3/4 cup panko crumbs or Italian Bread crumbs
Instructions
Start by preheating your oven to 350 degrees and lightly spray an 8 x 8 pan with cooking spray
2. Boil enough water to cook you noodles in. When boiling add your noodles and cook to package directions, when finished strain and put aside
3. Get your 1 cup of milk ready and set aside, heat up a skillet with the 1/4 cup of earth balance butter, once melted whisk in the flour for about 30 seconds. Then slowly whisk in the milk- this will thicken pretty quickly. Then add the cheeses, whisking after each addition. When all the cheeses have been added remove from heat, you can then add the salt and pepper.
4. Take your strained noodles and mix it with the cheese mixture in the skillet. Once it is all mixed together, place the mixture into the prepared 8x8 pan.
5. In a separate bowl, melt the 1.5 TB of earth balance butter, once melted mix with the panko crumbs, stir, then spread on the top of the mac and cheese.
6. Cook in the preheated oven for 25 minutes. Let cool for a few minutes before enjoying.
Notes
Nutrition Information:
Yield:

6
Serving Size:

1 serving
Amount Per Serving:
Calories:

552
Total Fat:

31g
Saturated Fat:

16g
Trans Fat:

1g
Unsaturated Fat:

13g
Cholesterol:

0mg
Sodium:

1069mg
Carbohydrates:

48g
Fiber:

3g
Sugar:

3g
Protein:

20g
The calories are computer generated and may not be 100% accurate.
If you tried and loved this recipe I would love to hear from you in the comments or hashtag me #Courtneyshomesteadrecipe on Instagram Thanks for your support! <3