Breakfast casseroles come in all different varieties, we can all agree that they are rich in flavor and easy to make. Casseroles require little work when it comes to baking, but rather simply placing ingredients into a pan and baking it. I have created this Vegan Cheesy Hash-brown Casserole that is easy to prepare and always a win with my family.
Actually, when I first went vegan- this casserole came up. There were concerns that I would never make this delicious cheesy hash-brown casserole again. But here we are, and just as delicious as the non-vegan version.
To make this recipe work I had to create my own condensed cream of potato soup. Lucky for both of us, It's super fast and easy!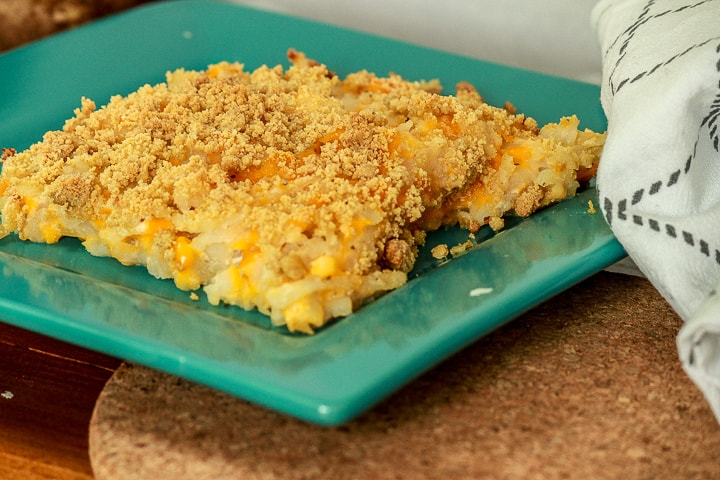 You'll need one special ingredient for this, instant potatoes (check the label, they like to sneak dairy in). You could make this work with using real potatoes, but it's a lot more time consuming and we are going for quick and easy.
This condensed cream of potato soup comes together in less than 10 minutes and you're sailing into the rest of the recipe. Which is super easy!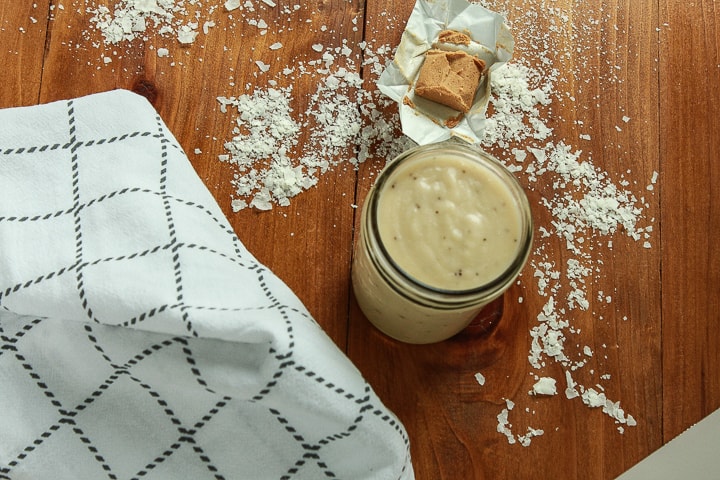 The recipe only calls for your condensed soup, some vegan sour cream, your favorite vegan cheddar cheese, frozen hash browns and a cup of this quick vegan Parmesan cheese. I prefer the newer Daiya cutting block series for this, it's seriously creamy and pairs perfectly with this dish. The recipe sounds a bit step-y with having to make both the soup and the vegan cashew Parmesan cheese but for real its pretty quick. A little messy if you ask me, but mess versus flavor, I am choosing the flavor!
If you haven't made my Cashew Parmesan Cheese the recipe is here, and it tastes so good on top of this casserole. If you have access to pre-made vegan parmesan and want to roll with that, than by all means- use it!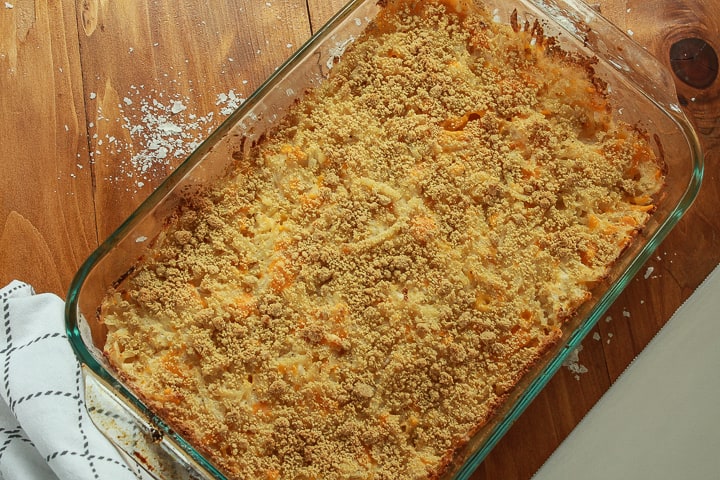 This vegan cheesy hash-brown casserole is not overly rich, it's rich for sure, but doesn't cross into the tummy ache rich. It's a perfect addition to any holiday brunch.
How do you like your breakfast potatoes? Let me know in the comments!
If you're looking for more brunch ideas check out these Amazing Vegan Wafflesor this delish coffee cake.
** I added a double recipe for those who want to serve this to a crowd on the bottom of the recipe.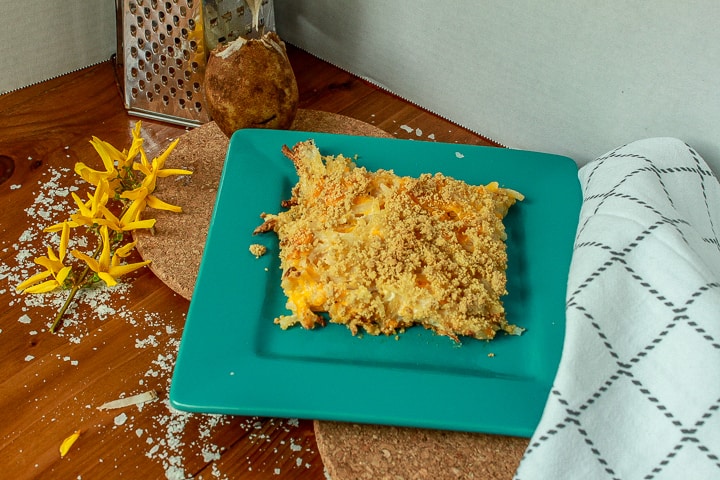 Vegan Cheesy Hashbrown Casserole
Total Time:
1 hour
20 minutes
This is the ultimate vegan cheesy hashbrowns.
Ingredients
Condensed potato soup
1 TB Earth Balance Vegan Butter
1/4 cup flour
1/2 cup vegetable broth
3/4 cup plant milk
1/4 cup instant potato flakes
1/2 tsp onion powder
1/2 tsp garlic powder
1/2 tsp celery seed
Casserole
1 recipe above cream of potato soup
1 28 oz bag of hashbrowns
3/4 cup vegan sour cream
1 cup vegan daiya cheese (or more)
3/4- 1 cup cashew parmesan cheese, vegan
Instructions
Start by making your condensed cream of potato soup. Get all your ingredients ready, this happens really fast. Melt your vegan butter in your pot on medium heat, whisk in the flour- this will thicken fast, add your broth and whisk (this thickens really fast as well), add the rest of your ingredients and whisk until smooth. Once it's thick and creamy (happens in about 30 seconds to 1 minute) it's ready and you can set aside.
2. Preheat your oven to 375 degrees. Prepare a 9x13 pan and spray with cooking spray, set aside. Get a large bowl, add your sour cream, Daiya cheese, and your condensed soup from above, mix them all together, add the frozen hash browns. This is where things can get a little messy, stir it until everything is evenly coated. Then pour your potato mix into your 9X13 pan. Sprinkle your Cashew Parmesan Cheese on the top and bake in your preheated oven for 55-60 minutes.
**If you want to double this and make it a very full 9x13, the current one is a thinner version- this one is for a crowd.
Double the Condensed cream of potato soup recipe.
Add about 1.5 packages of frozen hashbrowns, the two full bags is really hard to mix.
Double the cheese and sour cream and use the whole cashew parmesan cheese recipe and bake for 60 minutes. This fed 11 adults as a side and we didn't have any left overs.
Nutrition Information:
Yield:

6
Serving Size:

1 servings
Amount Per Serving:
Calories:

697
Total Fat:

48g
Saturated Fat:

16g
Trans Fat:

0g
Unsaturated Fat:

29g
Cholesterol:

0mg
Sodium:

1265mg
Carbohydrates:

57g
Fiber:

5g
Sugar:

4g
Protein:

14g
The calories are computer generated and may not be 100% accurate.
If you made this and loved it, let me know in the comments or #courtneyshomestead Thanks for your support! <3
<3 Courtney