Have you ever wondered what to use as a vegan egg wash replacement? We're here to tell you the best egg wash substitute that you likely already have the ingredients for.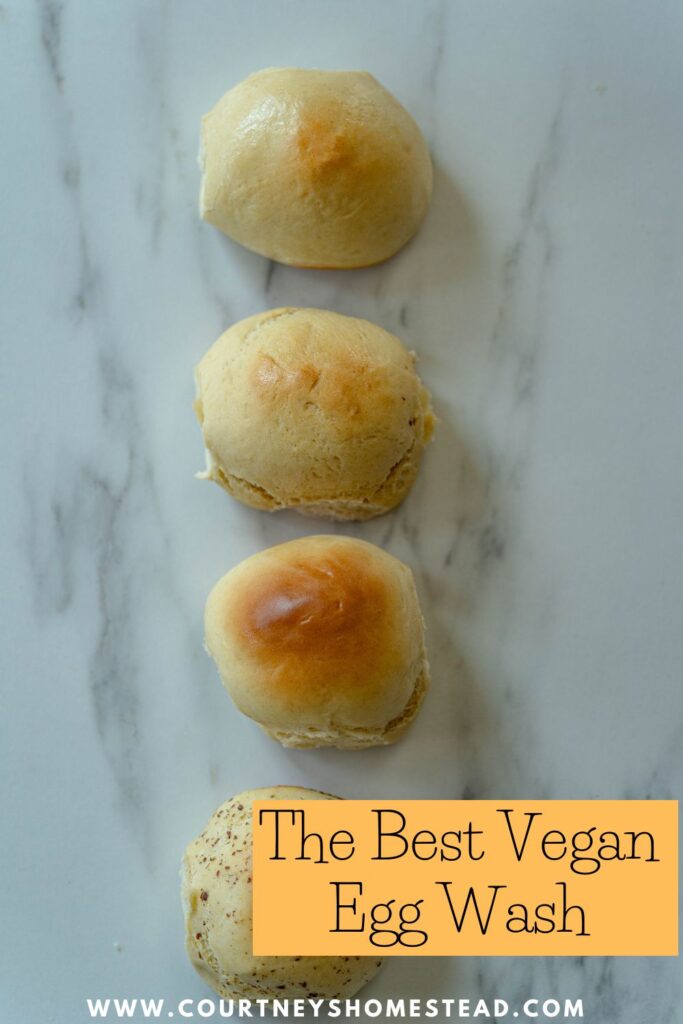 To help us figure out the best vegan substitute for an egg wash, we tested 11 different options and took photos so you can see the best options for what you're looking for.
It's always nice to have a vegan alternative up your sleeve when it comes to baking. Let's dig into what we've found.
What is an egg wash?
Traditional egg wash mixes an egg with a liquid, including water, milk, or cream. Of course, the recipe is varied by only using the egg yolk, the egg whites, or the whole egg depending on your intended purpose. The mixture is applied lightly with a pastry brush.
What are the reasons for applying an egg wash?
Aesthetics: As humans, we eat with our eyes. An egg wash allows bread, pastries, and pies to have a golden brown color and shiny appearance. Otherwise, your baked goods will look matte, dry, and dull.
Adherence: An egg wash on your baked goods before adding anything on top, i.e., an everything bagel, will help keep the seeds in place and allow less mess in transport.
Sealant: Egg wash will keep the ingredients on the inside and prevents leaking, leading to a soggy crust. Bush on the bottom of a double-layer crust for a clean surface.
Are there any precautions to using an egg wash?
Puff pastry: Be very cautious here, to only lightly brush the top, being careful to get any liquid on the sides.
The liquid will cause the layers to stick together, preventing the pastry from puffing up.
Pie slits/ Pie vents: Egg wash is a sealant, and putting egg wash on a pie first, then cutting air vents, is very important.
If you cut the air vents and place the egg wash on, you will seal the top layer of a pie, preventing air from escaping.
A large pocket of air will form in the middle of the pie, which will eventually cause the top crust to collapse—ruining any aesthetic the pie had.
As a vegan, what are my options to create an eggless and dairy-free substitute?
We created a little experiment to see which vegan egg wash would be the best.
A dozen rolls are made, with 11 different samples tested against each other for overall color and shine.
A control without an additional wash completes the 12 rolls.
All washes except the milk-only wash contain soymilk, for example, flax seeds and soy milk. Soy milk is chosen for its similar nutritional stats to dairy milk.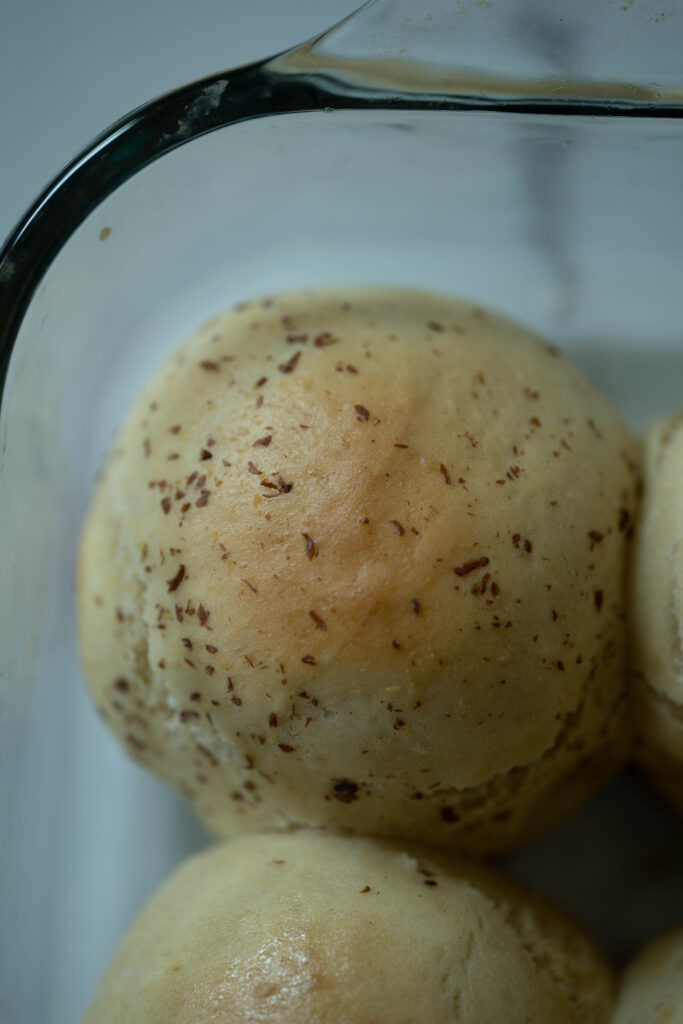 Flax eggs and soy milk vegan egg wash:
Completes the task of leaving behind beautiful golden color on the top with a shine.
However, the shells of the seeds are left behind, distracting from the overall appearance.
The seeds slightly alter the flavor by providing a somewhat nutty taste.
The flax seeds and soy milk create what we want in an egg wash but do not provide the overall appearance one expects.
If looks are not necessary, the roll is still delicious.
Chia seeds will give a similar product to flax seeds if flax seeds are not available leaving behind black specks instead of brown or tan.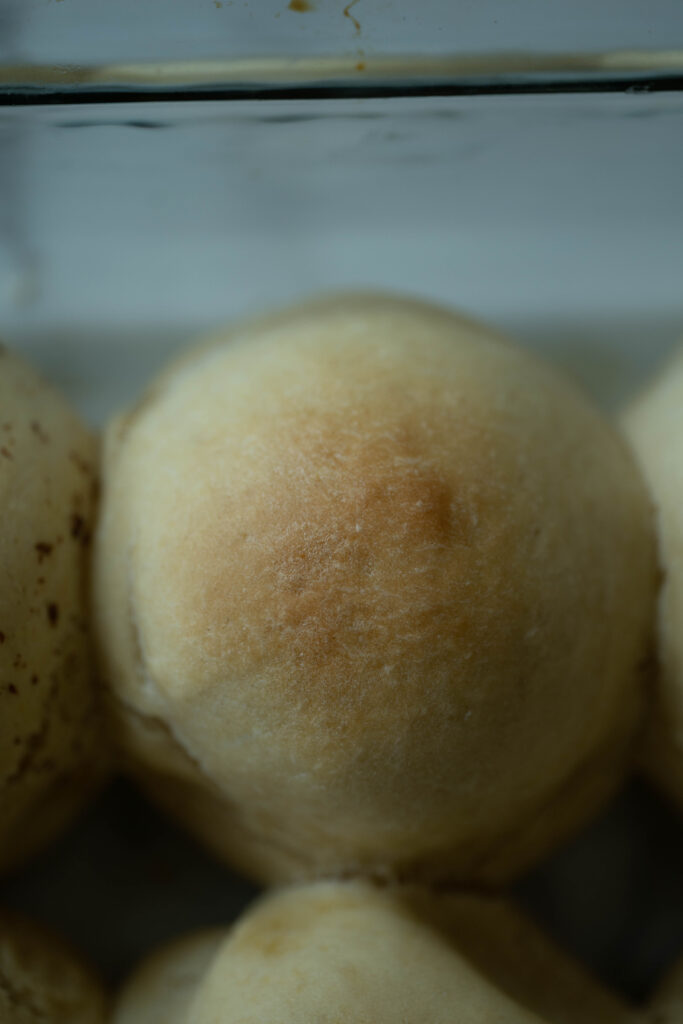 Vegan butter and soy milk vegan egg wash:
The result of non-dairy milk and melted butter is a golden browning on the top but with a matte, dry finish.
It appears as though the oil in the butter separated from the soy milk, leaving behind light marks on the top.
Unfortunately, the mixture does not provide a shiny appearance but is quite dull.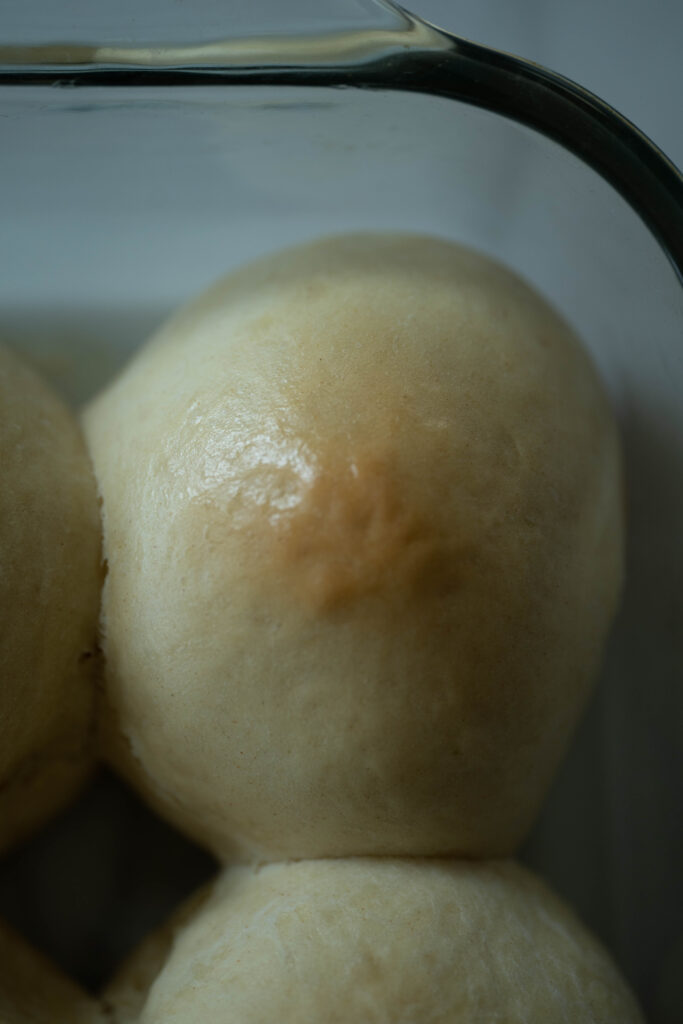 Vegan mayonnaise and soy milk vegan egg wash:
Here, we have overall the best result compared to the traditional egg wash.
The roll comes out shiny with a golden brown top.
The roll appears tasty to eat and does not leave behind a flavor that will change the end product's taste.
The mayonnaise used in the experiment is Best Foods or Hellman's vegan dressing and spread, but other options, such as Vegenaise, will work equally.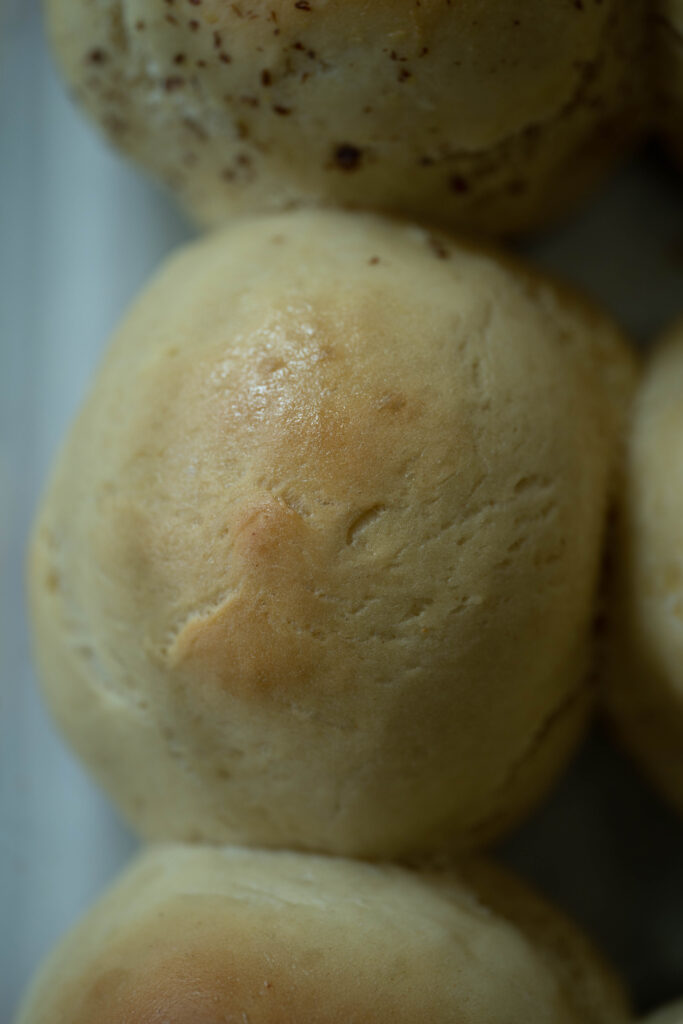 Maple syrup and soy milk vegan egg wash:
Maple syrup and soymilk easily take second place in the dozen rolls for overall appearance.
The consideration one will need to include is a sweet flavor in your final pastry.
The mixture needs caution around savory dishes unless a touch of sweetness is desired.
Maple syrup with soymilk can win overall best, but the subtle sweetness leaves it out of the number one spot as it alters the overall flavor.
To note: agave syrup can be used as a replacement to maple syrup, should you have one over the other.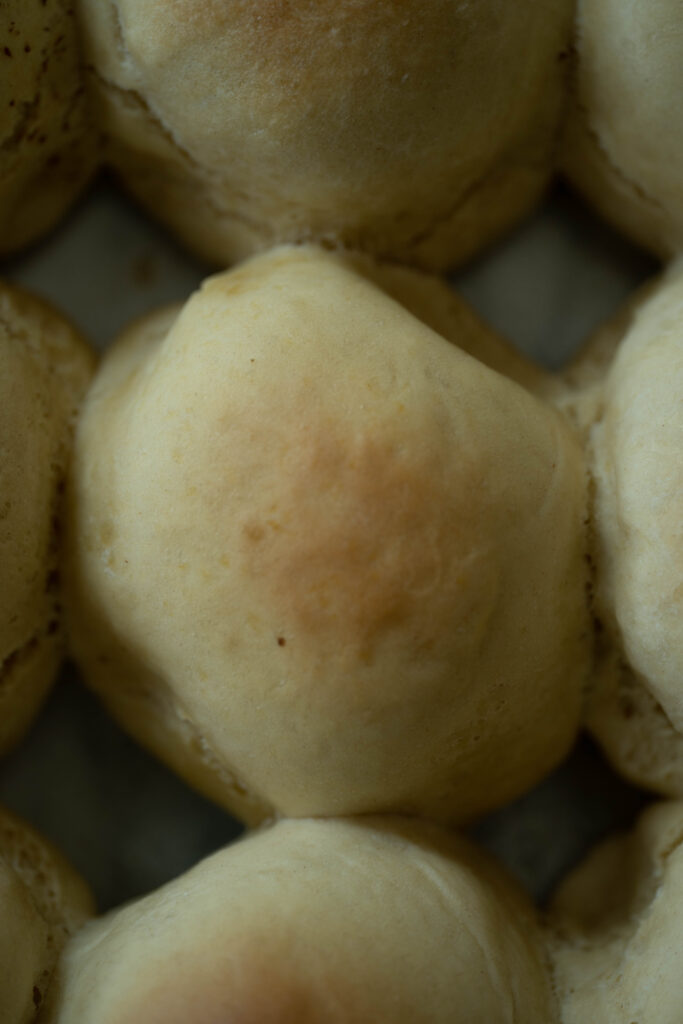 Unsweetened applesauce and soy milk vegan egg wash:
Combining apple sauce and soymilk as an egg wash will leave the end product looking dull and dry but with a lovely golden top.
Adding fruit purees as an egg wash will add a touch of sweetness, thus affecting the overall taste.
Unfortunately, this mixture does not hold up to a traditional egg wash and is best not used in this instance.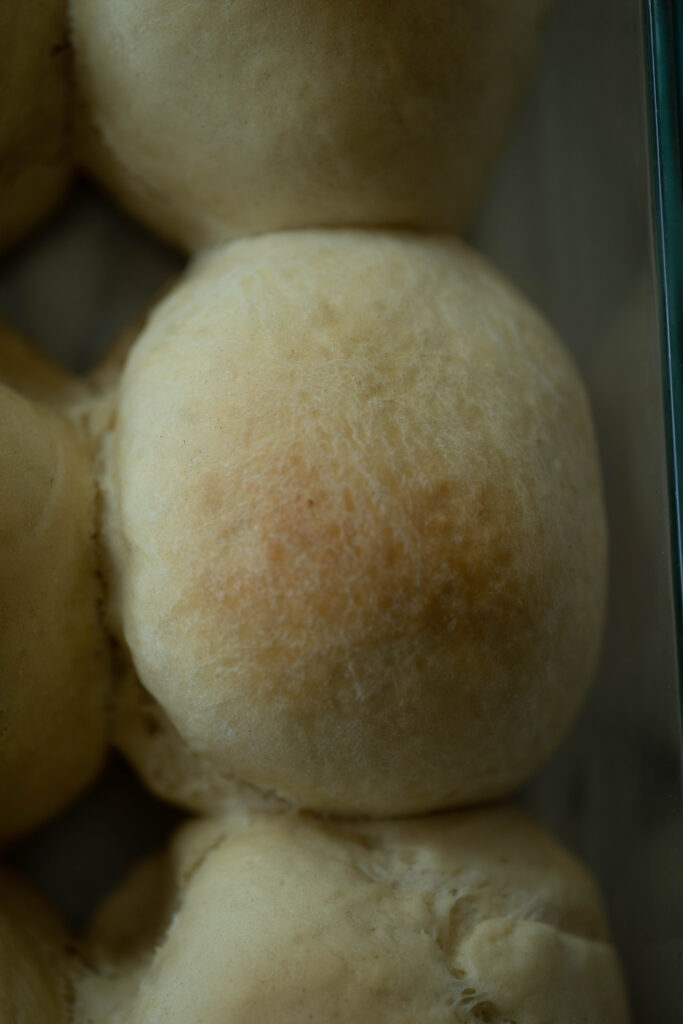 Oil and soy milk vegan egg wash:
Here, we have a similar situation as the butter and soymilk, with the contents separating on top of the roll.
Once again, the roll appears cracked on the top without any shine.
Vegetable oil is used for the mixture, but any flavorless oil, such as canola or olive oil, will do.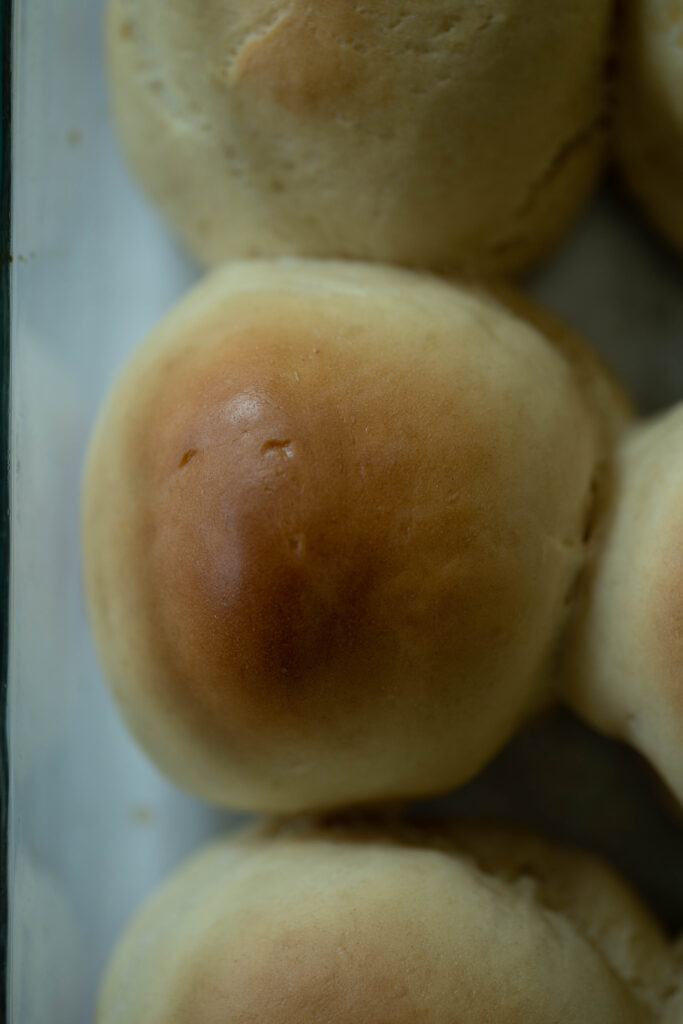 Soymilk only vegan egg wash:
Since soymilk is tested with most of the dozen rolls, it is also tested by itself.
The plant milk provides a lovely golden hue with a slight shine.
Soymilk only is ranked 3rd in the test out of the dozen.
A simple one-ingredient egg wash alternative if vegan mayo is unavailable or you do not want to add sweetness with maple syrup. The overall appearance is delicious and very simple.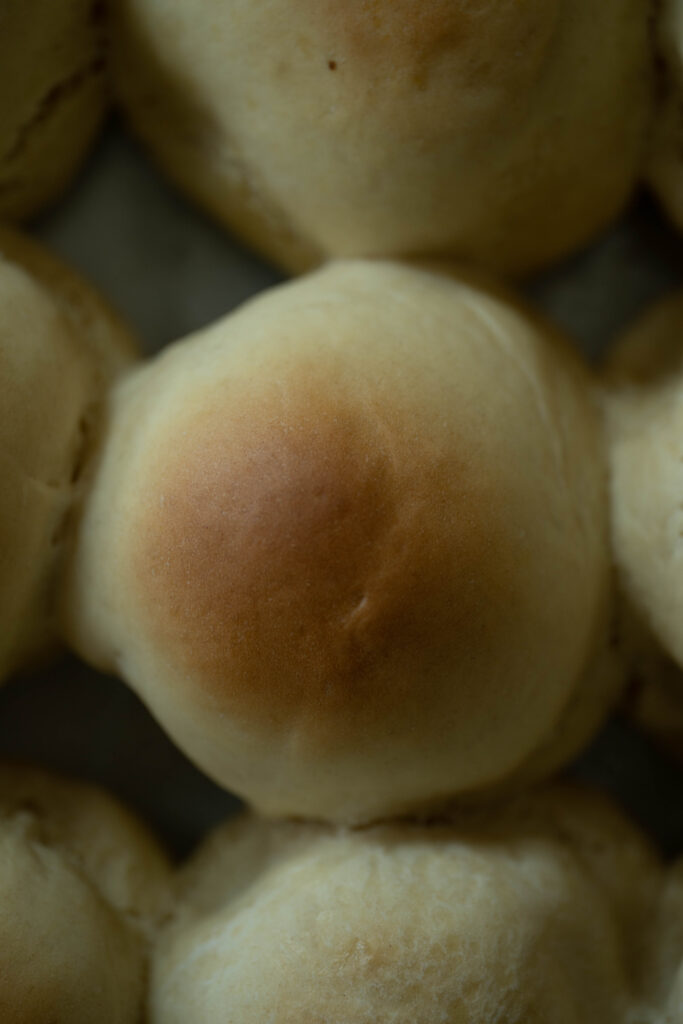 Almond milk only vegan egg wash:
Almond milk tested by itself provides a similar result to soymilk but with only a slight shine.
The coloring on the top of the roll is excellent, but without a significant shine, it leaves the roll looking matte, boring, and not as appealing as others.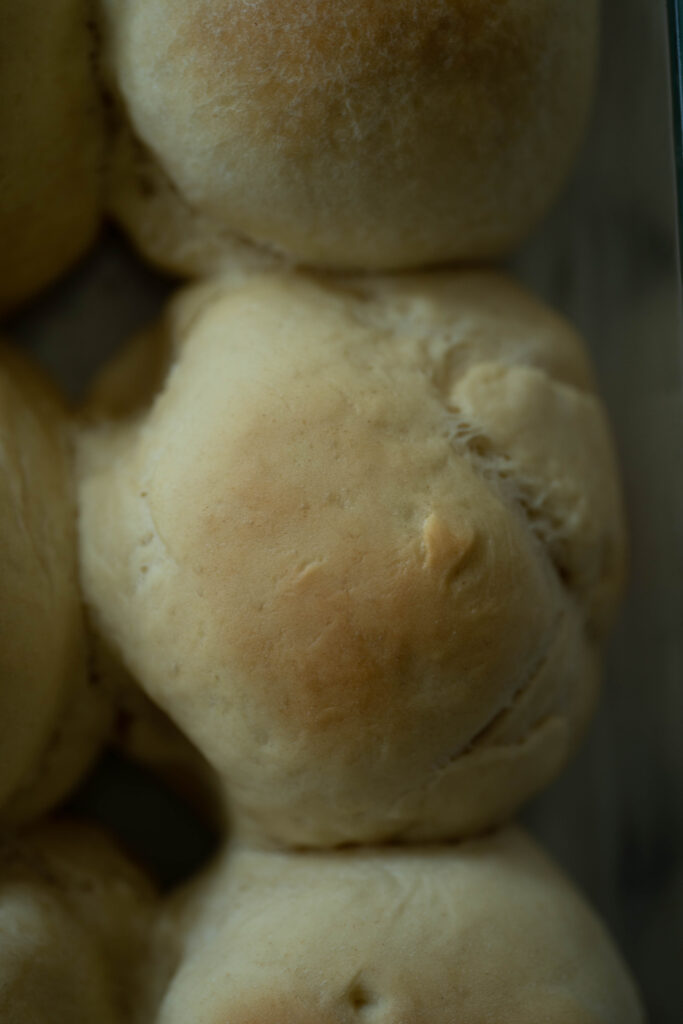 Oat milk only vegan egg wash:
For being universal milk, oat milk provides little to no browning on the top of the roll.
The roll looks unappetizing and dry.
Oat milk is not the choice for an egg wash but is best as a milk replacer.
Aquafaba and soy milk vegan egg wash:
Aquafaba is the liquid found in a can of chickpeas.
It is an excellent egg alternative in baking, excelling as an egg white replacement.
Like natural egg whites, it will form stiff peaks when making whipping cream.
Knowing that Aquafaba is a great egg replacement, one is to believe it will provide similar results as an egg wash.
When put to the test, Aquafaba came out poorly. The roll is golden brown but very matte and lacking any shiny finish.
Aquafaba is not a recommendation as an egg wash replacement.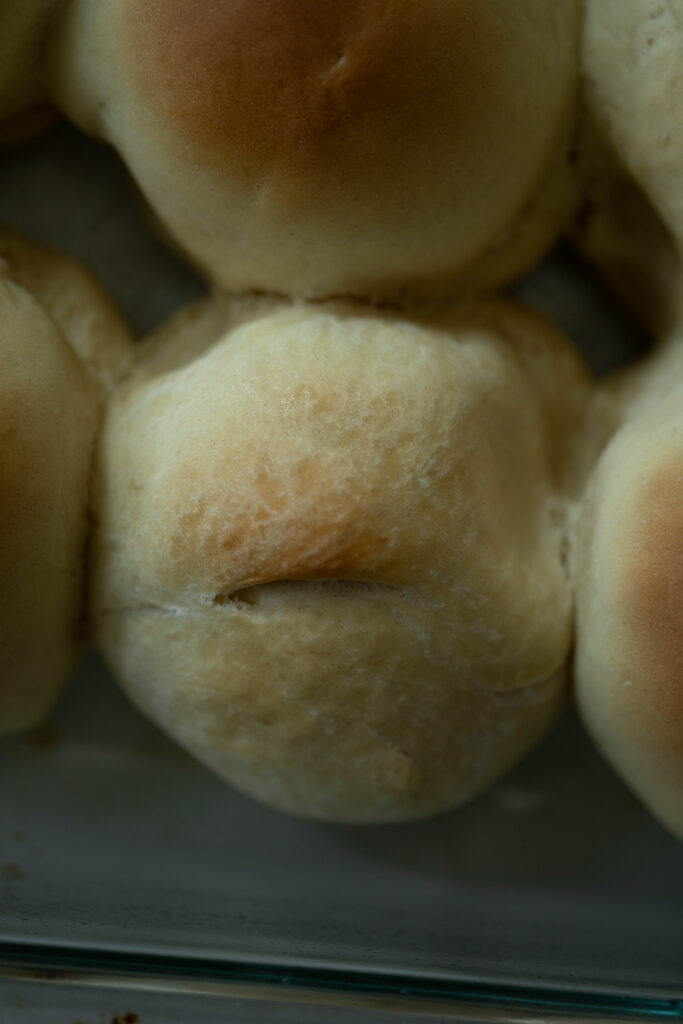 Coconut oil and soymilk vegan egg wash:
After testing two separate oil mixtures, it is clear the oil separates from the soymilk, leaving a tiger stripe appearance.
There are bits of white with brown on top of the roll, and it is without shine.
Oil is best avoided as an egg wash replacement, no matter the type.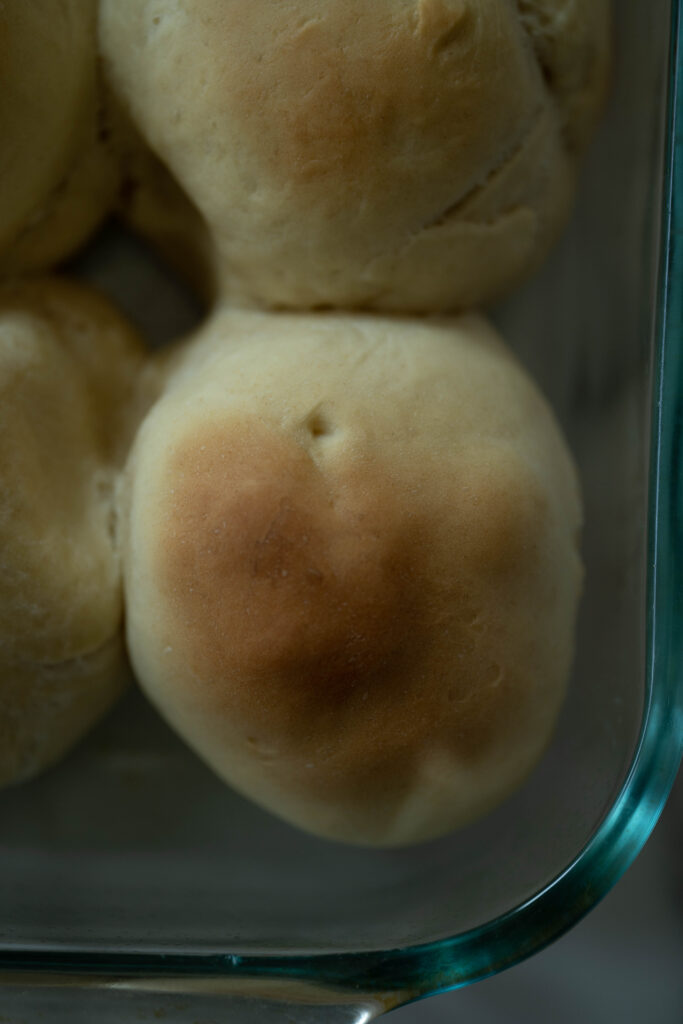 Control: By not adding any other mixture to the top of the roll, one will end up with a result similar to almond milk only but without any shine at all.
The final result is a matte roll with a golden top. It feels like half of what you want in a proper egg wash.
Using an egg wash replacement is not a mandatory obligation when baking.
However, we have learned that adding it provides a more appealing end product when done correctly.
When selecting vegan egg wash substitutes for your quick breads, pastries, and pies, choose one that will give you great results, such as vegan mayo and soymilk.
This great option will not change the overall flavor profile but rather provide a delicious-looking final product that will have people returning for more.
Vegan Egg Wash Q&A
What do vegans use for egg wash?
There are multiple ways to make a vegan egg wash. Our top three are combining equal amounts of vegan mayonnaise and soy milk or mixing maple syrup and soy milk; lastly, just using soy milk works great as well.
Can I use butter instead of eggwash?
You can, but it will have a different outcome. An egg wash will make it shiny butter will make it softer and more buttery.
Can I use almond milk for egg wash?
Almond work doesn't yield as good as an eggwash as soy milk.
Want some vegan recipes that can use this vegan egg wash substitute?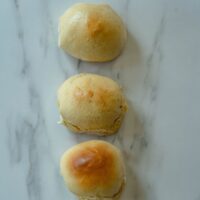 Vegan Egg Wash Substitute
When experimenting with what the best vegan egg wash is, we tested 11 different washes. Here are the top 3 recipes for vegan egg wash.
Print
Pin
Rate
Servings:
1
vegan egg wash
Ingredients
Option 1-Vegan Mayo and Soy Milk
1

TB

Vegan Mayo

1

TB

soy milk
Option 2- Maple Syrup and Soy milk
1

TB

maple syrup

1

TB

soy milk
Instructions
Combine one of the three options. For example, if you're using the vegan mayo and soy milk mix those two together in a small bowl until combined well then brush on whatever you need a vegan egg wash for and bake accordingly.
Notes
See blog post for recipe Q&A
Nutrition
Serving:
1
g
|
Calories:
12
kcal
|
Carbohydrates:
1
g
|
Fat:
1
g
|
Sodium:
6
mg
|
Sugar:
1
g
If you loved this recipe, then give it a 5-star rating and leave a comment! I love to chat with you all. Please feel free to share on social media and tag #courtneyshomestead. I would love to see you over on Instagram or Facebook.