I am a big fan of bean burgers but sometimes they can be a bit of nuesuence, they like to fall apart or be too mushy when homemade. This vegan bbq bean burger has a good texture and is able to keep it's shape.
I created this recipe after eating some BBQ chips, I love BBQ chips, but I don't eat them very often. But as I was eating them I was thinking about how the flavor would be in a bean burger and thought, what the heck- I'll try it! Sure enough, it was delicious! It only has a crunched up half cup of potato chips, but enough to give it a little pizazz if you will.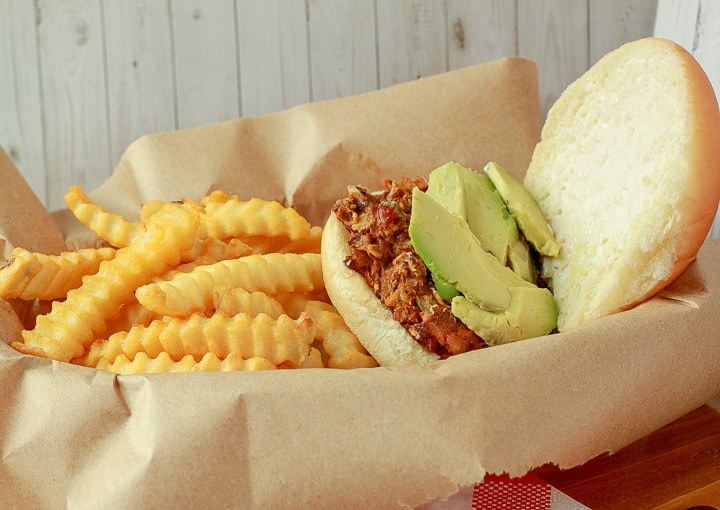 I went with a pinto bean in this recipe because I thought it would soak up the flavor a little more than a black bean. It seems to be the perfect bean for the job.
Choose your favorite BBQ sauce, you don't need a ton of this just 1/4 cup, but the flavor will shine through.
Have you ever had McCormick's Montreal Steak Seasoning? It is totally vegan and totally amazing! I use it frequently to add flavor to dishes. I used 1 teaspoon of it in this recipe and it really does the job. My only dislike of this seasoning is it's pretty high in salt. So be sure not to add any salt to your recipe it's not needed with this stuff.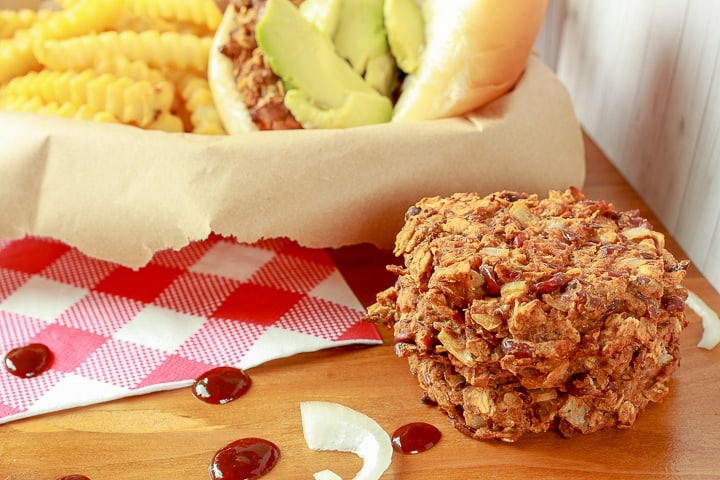 Oatmeal and flax eggs are what hold these patties together. Which adds some nutritional value as well. I have to make up for the potato chips somewhere 😉
These patties are very sticky. I use a large cookie scoop and scoop them out on a Silpat liner. Then flatten them with the palm of your hand into the shape I want them and then bake them.
My kids + husband love this recipe. We like to throw some avocado on it and gobble them up.
What's your favorite bean burger flavor? Let me know in the comments!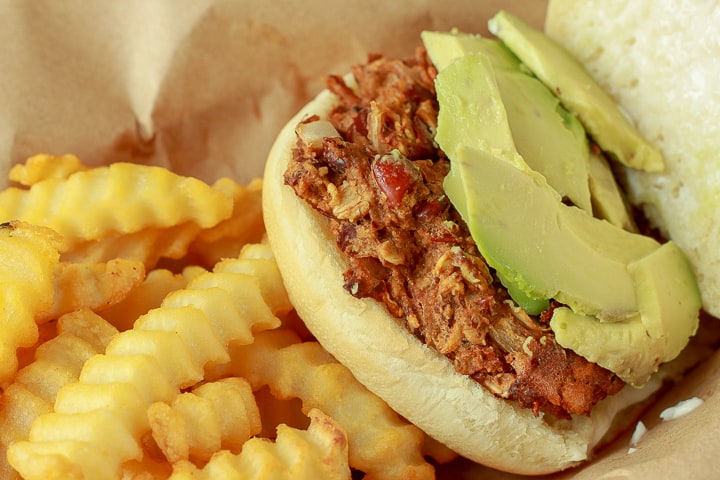 BBQ Bean Burgers
These vegan BBQ bean patties come together quickly and taste great.
Ingredients
2 flax eggs ( 2 TB flax meal to 4 TB water)
1 15 oz can pinto beans, rinsed and drained
1/2 small onion, chopped
2 cloves garlic, minced
1/4 cup BBQ sauce (whatever is your favorite)
1/2 cup BBQ chips, crumbled
1 tsp Montreal steak seasoning
1/2 cup rolled oats
Instructions
Preheat your oven to 400 degrees and line a baking sheet with a Silpat liner, set aside.
2. Make your flax egg and let sit while you prepare the other ingredients.
3. Take your rinsed and drained pinto beans, add everything but the oats and flax egg, take a potato masher or pastry cutter and smash up the mixture until it's half mush and some partial beans left. Then add your oats and flax egg, stir. I usually let mine sit for a while to let the oats soak up any liquid.
4. Take a large cookie scoop and scoop out even amounts on the Silpat lined baking sheet. Then take the palm of your clean hand and smash down the burgers to your desired thickness. Bake in the preheated oven for 15 minutes, then flip and bake for another 15 minutes then remove from oven.
This is best served with some avocado on top. Top with whatever you desire.
Nutrition Information:
Yield:

5
Serving Size:

1 patty
Amount Per Serving:
Calories:

277
Total Fat:

11g
Saturated Fat:

0g
Trans Fat:

0g
Unsaturated Fat:

9g
Cholesterol:

0mg
Sodium:

610mg
Carbohydrates:

39g
Fiber:

7g
Sugar:

7g
Protein:

9g
The calories are computer generated and may not be 100% accurate.

<3 Courtney