The flax egg is a great replacement in baking for the chicken egg. It's easy to make, and you only need two ingredients.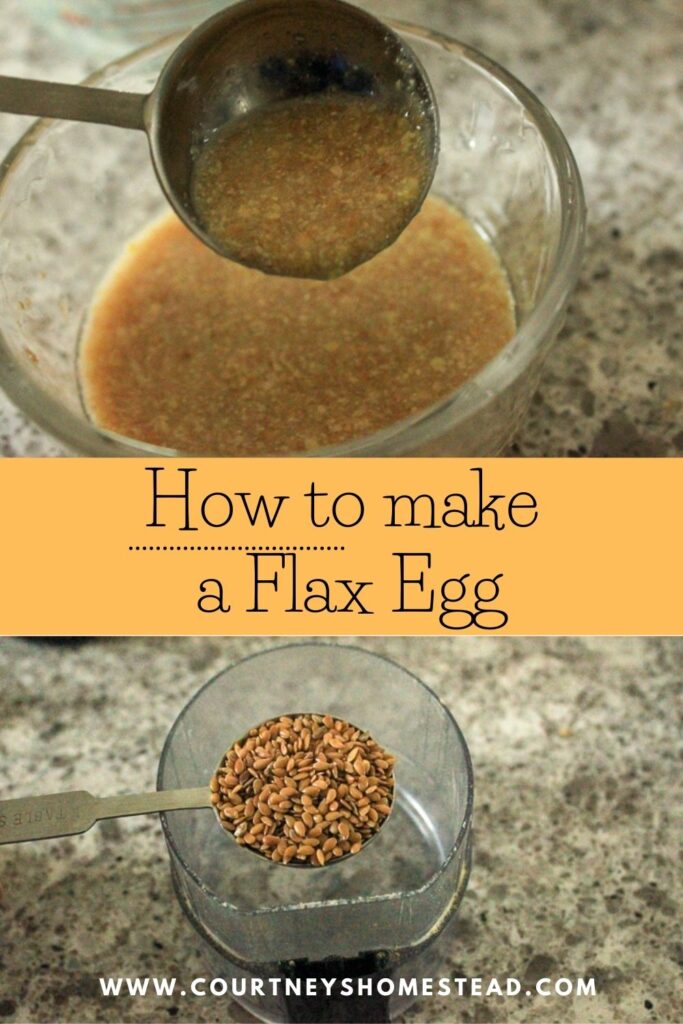 Flax eggs are pretty awesome and can be a great binder for replacing regular eggs in vegan recipes.
There are a lot of vegan egg replacement options out there to use for vegan baking; I use a mix between these;
no egg if I can get away with it
flax eggs
chia egg (using chia seeds)
aquafab
Ener- G grocery store bought egg replacer.
apple sauce
The egg substitutions you use will vary depending on what you want to make and which one you like best.
Flax eggs work best in cakes, muffins, pancakes, quick breads, veggie burgers, and waffles.
One thing about flax eggs. You can't whip these. You can whip Aquafab, but that's for another post.
I always feel good when I add a flax egg to my recipe because I know I am adding some awesome Omega 3's, and I could use a little extra Omegas in my life.
Another bonus to flax egg replacement, it's cheap, easy, and quick.
You can buy whole flaxseeds and grind them, or you can buy pre-ground flaxseed.
Flax Egg Recipe Q&A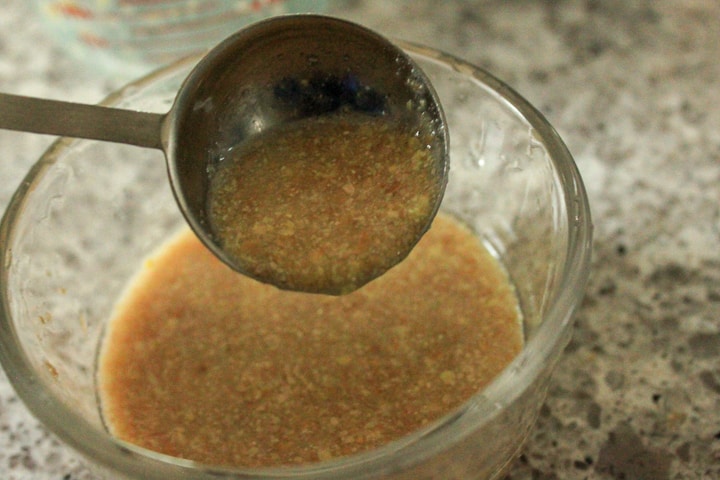 What is the flax egg ratio to one large egg?
I use one flaxseed egg substitute in a 1:1 ratio in place of an egg.
Which flax seeds should I use?
I prefer to use golden flax seeds because the color typically blends better than brown flax seeds. But you can use either.
Just expect to see some flex of brown with the brown flax.
What are flax seeds?
Flaxseed is a tiny nutritious seed that comes from a flax plant.
They are a powerhouse of nutrition, full of omega 3's, dietary fiber, and antioxidants.
It also happens to make a great substitute for eggs in baking.
How do you store flax seeds?
Flax seeds or flax seed meal is best stored in the freezer or fridge to keep them fresh.
What equipment do I need to make a flax egg substitute?
If you buy flax meal (already ground seeds), you just need a small bowl or cup and a fork to stir it.
If you buy flax seeds, then you need something to grind the seeds; it won't work without grinding the seeds.
My favorite way to grind them is with a coffee grinder that's preferably not used for actual coffee.
Some people have a spice grinder that could work as well.
I wouldn't use a food processor because it's such a small amount; it likely wouldn't be able to grind the whole flax seeds.
What is flax seed's nutrition?
"According to the United States Department of Agriculture, a tablespoon of ground flaxseed weighing 7 gTrusted Source
contains:
energy: 37.4 calories
protein: 1.28 g
fat: 2.95 g
carbohydrate: 2.02 g
fiber: 1.91 g
calcium: 17.8 mg
magnesium: 27.4 mg
phosphorus: 44.9 mg
potassium: 56.9 mg
folate: 6.09 micrograms (mcg)
lutein and zeaxanthin: 45.6 mcg"
This content was taken from; MediLexicon International. (n.d.). Flaxseed: Health benefits, nutrition, and risks. Medical News Today. Retrieved May 10, 2022, from https://www.medicalnewstoday.com/articles/263405#nutrition
What ingredients do you need to make a flax egg?
Check out the recipe card at the bottom of this post.
1 tablespoon of flax meal
2 tablespoons of water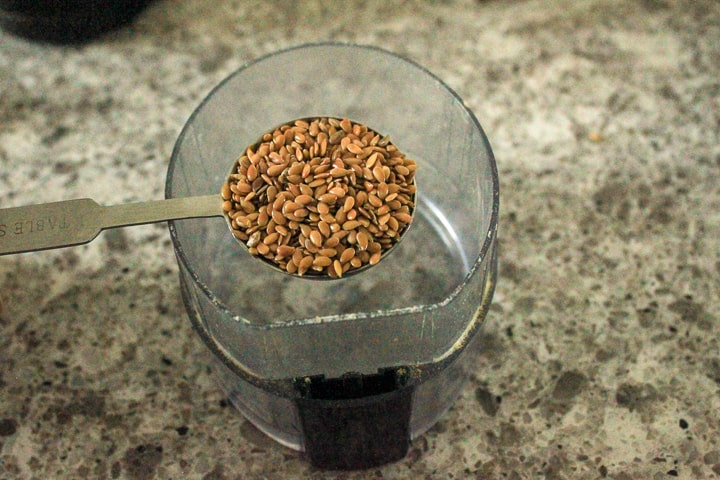 How do you make a flax egg?
Mix 1 tablespoon of flax meal (by grinding flax seeds) and add it to a small bowl with 2 TB of water.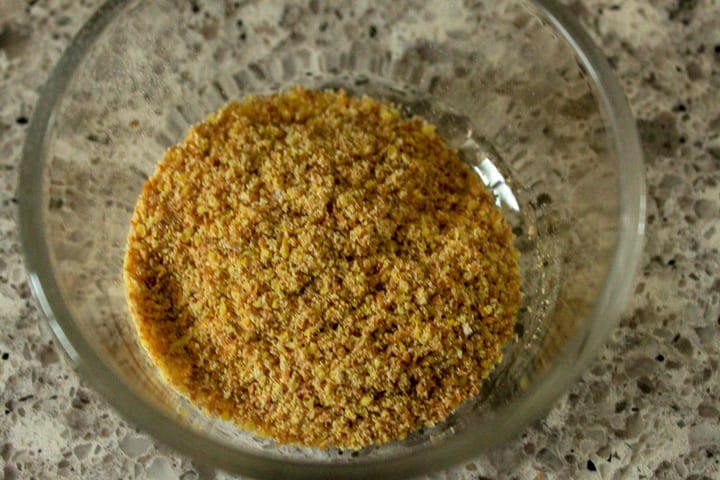 Let this sit for 5-10 minutes and thicken to a gel-like consistency.
This equals one egg.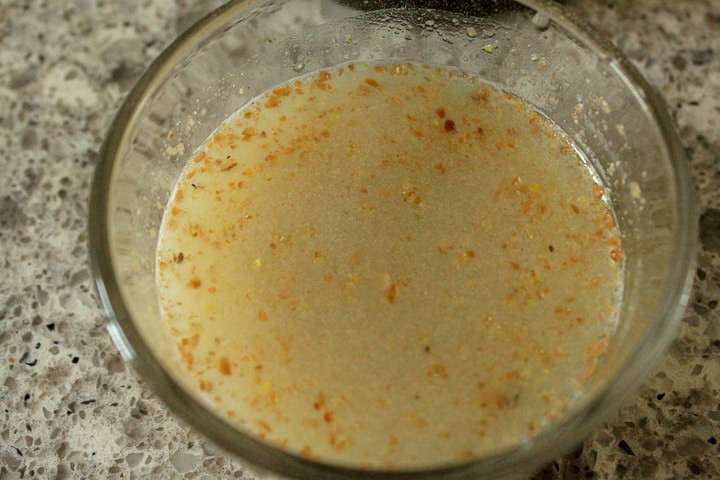 How do you serve this?
This is meant to be used in baking and not cooked up like actual eggs.
Use this in your favorite recipes for baking in a 1:1 ratio for eggs.
Can you store vegan flax eggs?
I have never tried storing them, but I think it would be best to make them fresh as you need them.
Can you freeze flax eggs?
For best results, I wouldn't; it may change the texture. I would make it fresh.
Want some vegan baking recipe that uses flax eggs?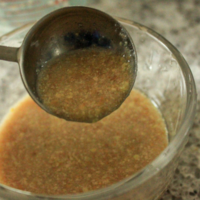 How to make a vegan flax egg
Flax eggs can replace eggs in all sorts of baked goods.
Print
Pin
Rate
Ingredients
1

tablespoon

Flaxmeal

2

tablespoons

water
Instructions
Take a small bowl and mix one tablespoon of flax meal (by grinding flax seeds) with  2 TB of water.  Let this sit for 5-10 minutes and thicken.  This equals one egg.
Notes
Flax egg recipes are all over the web.  I did not make up this recipe, this is what I have altered to be my favorite consistency.
Nutrition
Serving:
1
egg
|
Calories:
37
kcal
|
Fat:
2
g
|
Sodium:
1
mg
|
Fiber:
2
g
If you loved this recipe, then give it a 5 star rating and leave a comment! I love to chat with you all. Please feel free to share on social media and tag #courtneyshomestead. I would love to see you over on Instagram or Facebook.