Have you ever had soy curls or heard of soy curls? They are delicious (if done correctly) and take on any flavor you throw at it. Soy curls are dried up soy beans that you rehydrate. They go perfect for this vegan pulled pork recipe.
We always use Butlers Soy Curls, you can find them here. Our local health food stores carry them, but not any big chains that I have seen around here.
How do you work with soy curls?
You start by rehydrating your soy curls, this is super easy. Pour the bag into a bowl and cover them with warm water, let them sit for 10 minutes. After the 10 minutes they will be all hydrated and happy. Now here comes the most important part in my opinion. You need to get all the water rinsed out of the soy curls. I know it sounds strange to rehydrate them and then squeeze all the water out, but trust me. It will reabsorb the good seasoning and sauce we will apply.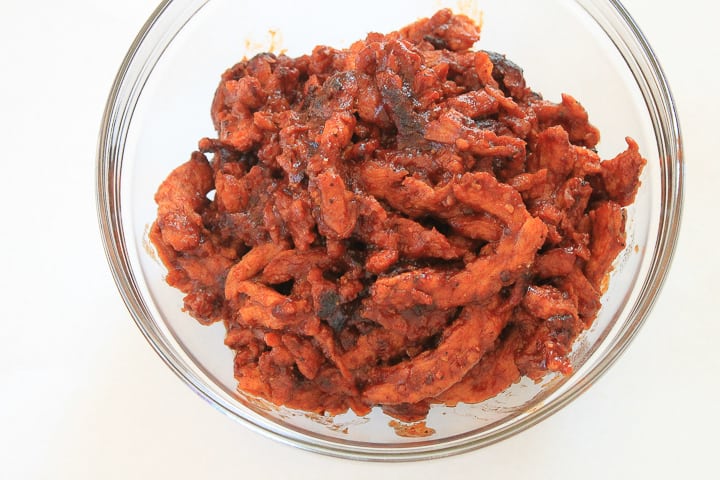 How? You squeeze them I usually just take a hand full and squeeze until the water is mostly out. This doesn't take a long time, but it is an extra step. Once you're all squeezed you can move on!
I like to get a small bowl and mix all my seasoning together, just so everything is all mixed together well. Then throw your soy curls into the Instapot and mix your seasoning until evenly coated.
Next, you're going to take your favorite BBQ sauce. I have been working on my own recipe, but I haven't gotten it quite right. So, let's roll with store bought for now. You're going to add part of the bbq sauce now and part of after it cooks. Just add enough until it's coated decently. Now add your half cup of vegetable broth. Then you're going to let the Instapot do its magic. Let that baby cook for 25 minutes and come to a natural release.
Once it's done you can add as much BBQ sauce as you would like.
We love these vegan bbq pulled pork sandwiches with a big slab of broccoli slaw. If you have never had Broccoli slaw, check this recipe out here.
Have you ever had vegan pulled pork sandwiches? Let me know in the comments!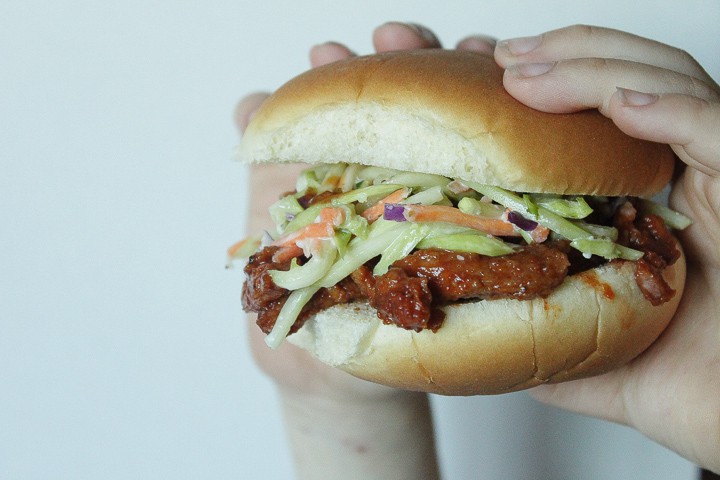 Vegan Pulled "pork" sandwiches
These easy vegan soy curl BBQ sanwiches topped with broccoli slaw are delish!
Ingredients
8 oz soy curls
1 bottle BBQ sauce
1/2 cup No beef broth
Dry rub
1 TB brown sugar
3 cloves garlic, minced
1 TB paprika
1 tsp salt
1 tsp pepper
1 tsp chili powder
1 tsp cumin powder
Instructions
Start by soaking your soy curls. Pour the bag into a bowl and cover it with warm water, let sit for 10 minutes. After the 10 minutes get all the water you can out of the soy curls by squeezing them until you can't get much more liquid out.
2. While you're waiting for the soy curls you can make your seasoning by mixing it all together in a small bowl.
3. Throw the prepared soy curls into the Instapot and mix in the rub until evenly coated. Now pour your half cup of no beef broth and about 1 cup of the bbq sauce, stir. Put the Instapot lid on and make sure it's to seal. Set it on Manuel for 25 minutes. Let it release naturally for about 10 minutes. Then add BBQ sauce until nicely coated. Serve on buns with Coleslaw or this Broccoli Slaw.
Nutrition Information:
Yield:

6
Serving Size:

1 grams
Amount Per Serving:
Unsaturated Fat:

0g

<3 Courtney