These vegan breakfast burritos are perfect for any busy morning; you can make up a big batch for the week and be on your way with a delicious breakfast in hand. These are customizable and SO delicious.
I love all things breakfast!
However, I feel like I mainly eat dinner for breakfast. Anyone else?
It's just too good not to.
We have these amazing vegan breakfast burritos at least bi-weekly but usually once a week.
It's one of those easy recipes to whip up, and everyone in the family will eat it.
Those are my kind of meals.
Plus, they are great for meal prep.
I have also made these and froze them for camping trips.
One of my favorite things to do on the last day of camping is to have my breakfast made, so there is no cleanup.
You already have enough to clean up you might as well make something easy.
You can wrap these bad boys in some tin foil and throw them on the fire pit to warm them up.
Easy peasy. You don't get much more of an easy breakfast camping than that.
We have made these for guests coming over for dinner, and they love them as much as we do.
You can make vegan cinnamon rolls or vegan coffee cake to round out the meal.
These vegan breakfast burritos do have mock meat in them of your choice.
You could likely leave it out and still have it taste good, but I love the added flavor.
Vegan Breakfast Burrito Recipe Q&A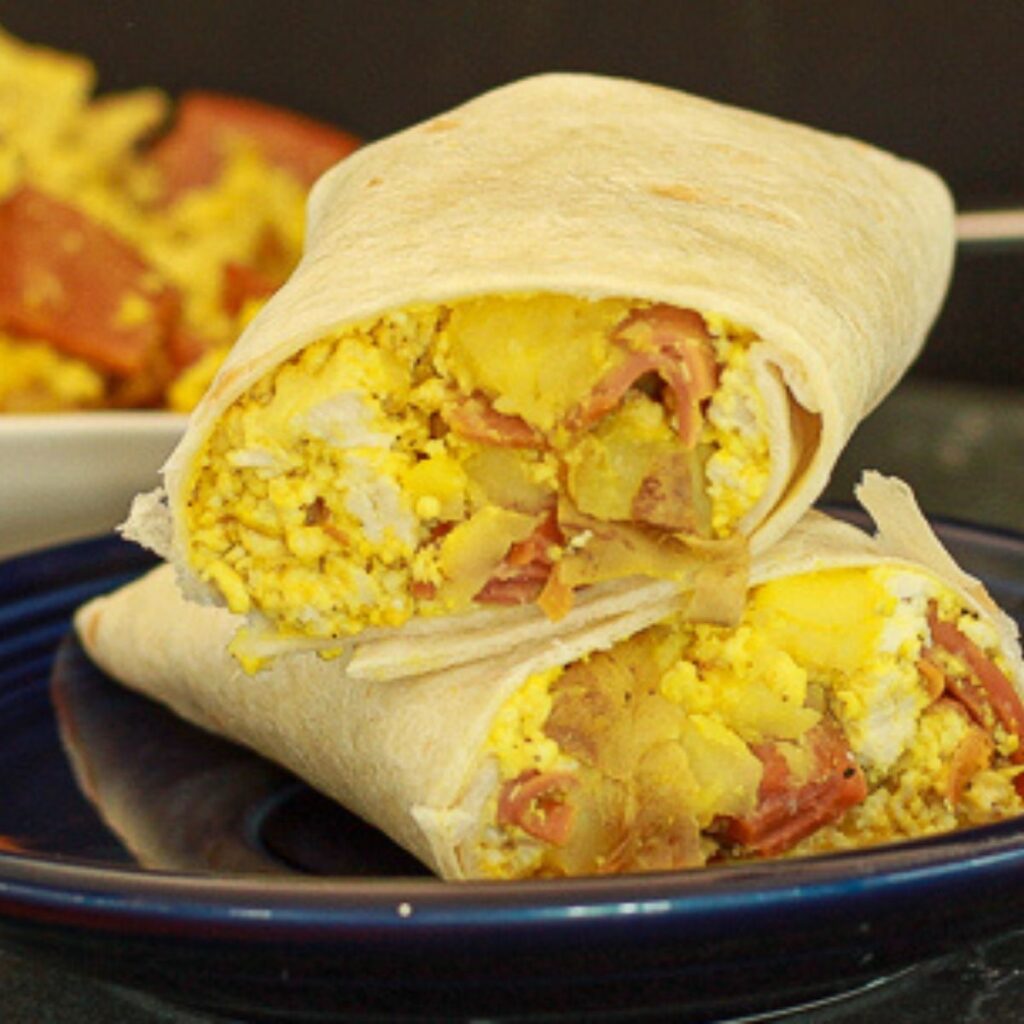 What's the best tortilla to use for these homemade burritos?
I think homemade flour tortillas are king, but I know not everyone has time to make them. The recipe is so delish!
But any storebought tortilla will work the same.
I think flour works best with this, but you can use other styles if you prefer.
Can I make these gluten-free breakfast burritos?
Yes, switch out the flour tortilla for gluten-free flour tortilla or corn tortillas.
What are the best potatoes to use for breakfast burritos?
I have used a variety of potatoes and liked them all.
You can use hash browns, tater tots, Yukon gold, red, russet potatoes.
Whatever type of potato is your favorite will work for this.
Just make sure they are cooked before adding them to your breakfast skillet.
You can make crispy potatoes or just cooked potatoes.
I've done both—the crispiness kind of goes away after being submerged with the tofu scramble.
What's the best breakfast meat to use?
We almost always use either Yves vegan ham deli slices and chop it up, or you can use vegan sausage.
It just depends on what kind of burrito you are going for.
I can't eat tofu. Can I still make these?
Tofu doesn't like me as much as I like it, so when I make these, sometimes I make the same version here but sub out the tofu for smashed white beans.
Is it as tasty as tofu? No, but it's actually not bad at all and has lots of flavor.
Can I make this delicious vegan breakfast burrito recipe ahead of time?
This is a great make-ahead recipe. At the bottom of this post, I have a whole list of ways to reheat them.
What do you need for these easy vegan breakfast burritos?
Check out the recipe card at the bottom of this post for the full recipe.
vegan butter or olive oil, but I prefer vegan butter
extra firm tofu
nutritional yeast
tsp salt
turmeric
garlic powder
onion powder
black pepper
2-3 potatoes, cooked and chopped, or tater tots
cooked breakfast vegan meat of choice
Vegan cheddar cheese optional
Large tortillas
How do you make this homemade vegan breakfast burrito?
Take a skillet and put it on medium-high heat.
Add the vegan butter and crumble the tofu with your hand.
Mix the crumbled tofu and vegan butter.
Now add the seasoning, cooked cut-up potatoes, cooked breakfast meat of choice, and optional vegan cheese.
Mix together and cook on medium heat for 7-10 minutes.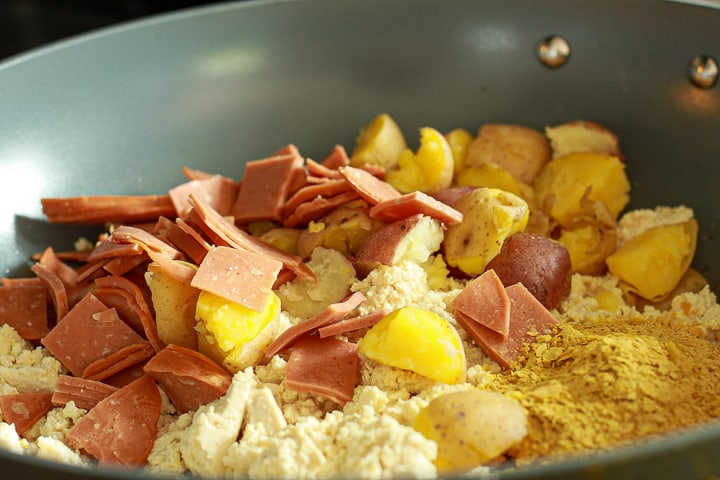 Wrap in large flour tortillas ( or whatever size you prefer) and fill with the tofu scramble.
You can eat them just as they are now or grill them. We prefer to grill them.
Take a hot skillet and spray with a little bit of oil, then place your burrito on the skillet and cook for a minute or so until it starts to brown, then flip and repeat on each side.
I usually do a couple of burritos at a time.
How do you serve these delicious vegan breakfast burritos?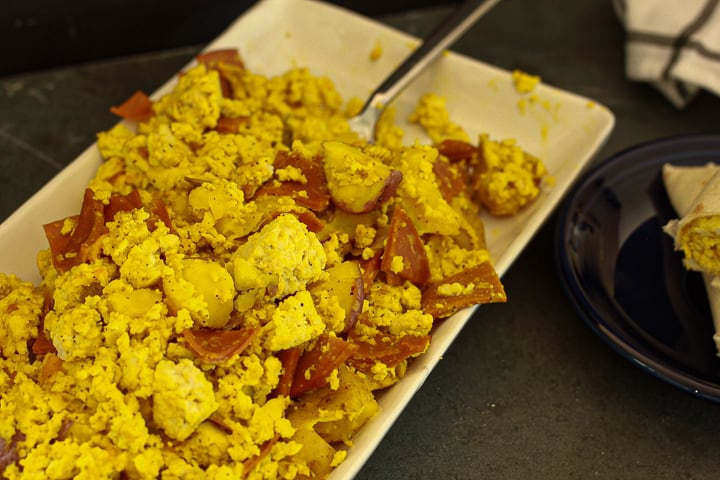 These are best served warm. You can add additional toppings or different combinations if you like; here are some ideas:
cooked bell peppers ( I prefer red peppers in my breakfast wraps over the other colors)
black beans
pinto beans
pico de gallo or salsa
hot sauce
fresh avocado
ketchup
How do you store leftovers of the best breakfast burrito?
You can place these in an airtight container in the fridge for up to 5 days; any longer, stick them in the freezer.
Is this a freezer-friendly vegan breakfast burrito?
Yes, these burritos freeze great!
Freezing instructions; let them come to room temperature, wrap them individually in aluminum foil, and place them in a freezer-safe airtight container or freezer bag for up to 5 months.
Let them come to room temperature on the counter or in the fridge to reheat.
You can reheat them in the microwave, oven, or even on a camp stove.
Microwave: Just be sure to remove the foil before placing it in the microwave. Microwave for 1 minute, flip and see if it needs another 30 seconds.
Oven: Preheat your oven to 350 degrees and bake in the oven for 15-20 minutes until heated through.
Camp stove: Keep the foil on and place the burrito on the grate and let cook for a few minutes, then flip; this all depends on how big the flame is.
Want some other vegan breakfast recipes?
Vegan Breakfast Burrito
This vegan breakfast burrito is full of flavor, perfect for meal prep, and just darn delicious!
Print
Pin
Rate
Ingredients
14

oz

tofu

1

TB

vegan butter

3

TB

nutritional yeast

1

teaspoon

salt

¼

teaspoon

turmeric

¼

teaspoon

garlic powder

¼

teaspoon

onion powder

½

teaspoon

pepper

2-3

potatoes

cooked and chopped

cooked breakfast vegan meat of choice

Vegan cheese optional

flour or corn tortillas
Instructions
Take a skillet and put it on medium-high heat. Remove the water from the tofu in the sink. Add the vegan butter to the warm skillet, crumble the tofu into the skillet with your hands, and mix the tofu and vegan butter with a spatula.

Now add the seasoning, cooked cut-up potatoes, cooked breakfast meat of choice, and optional vegan cheese *but tasty. We usually use Yves "ham" or vegan breakfast sausage.

Mix with the spatula and cook on medium-low heat stirring as needed for 7-10 minutes.

Wrap in a tortilla and fill with your favorite fillers like avocado, salsa, hot sauce, whatever you fancy.
Notes
See the blog post for recipe Q&A
Nutrition
Serving:
1
grams
|
Calories:
307
kcal
|
Carbohydrates:
40
g
|
Protein:
19
g
|
Fat:
9
g
|
Saturated Fat:
2
g
|
Polyunsaturated Fat:
6
g
|
Cholesterol:
17
mg
|
Sodium:
450
mg
|
Fiber:
5
g
|
Sugar:
3
g
If you loved this recipe, then give it a 5 star rating and leave a comment! I love to chat with you all. Please feel free to share on social media and tag #courtneyshomestead. I would love to see you over on Instagram or Facebook.