Have you wondered is cool whip vegan? We will answer your question and talk about the best vegan alternatives.
An easily accessible whipped topping available at most grocery stores is a bonus for a vegan.
Unfortunately, this is not the case with Cool Whip.
The KraftHeinz brand contains ample dairy milk and should best be avoided on a vegan diet.
From myfoodandfamily.com (KraftHeinz website), the ingredients include:
Water
corn syrup
high fructose corn syrup
hydrogenated vegetable oil (coconut and palm kernel oils)
skim milk
contains less than 2% of light cream
sodium caseinate (from milk)
natural and artificial flavor
xantham and guar gums
modified food starch
polysorbate 60
sorbitan monostearate
sodium polyphosphate
beta carotene (color)
When looking for an alternative, luckily, you have options. A whipped topping can be either made or bought in the store. Dairy-free options that have coconut and without can be easily made or purchased.
This article will explain the most common replacements for Cool Whip and whip cream found at your local grocery store.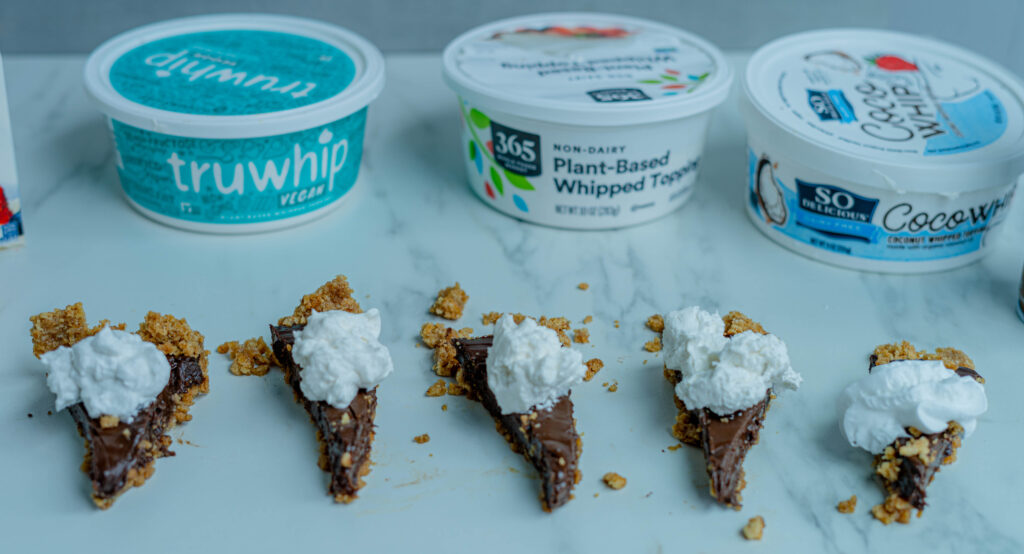 What are the vegan alternatives to whipped cream?
Here are the most common vegan whipped topping alternatives you can find in the store-
Most vegan varieties contain coconut; if they do not, they have palm oil.
Both coconut and palm oil will be highlighted in the descriptions so that you can make your choice informed.
So Delicious Cocowhip: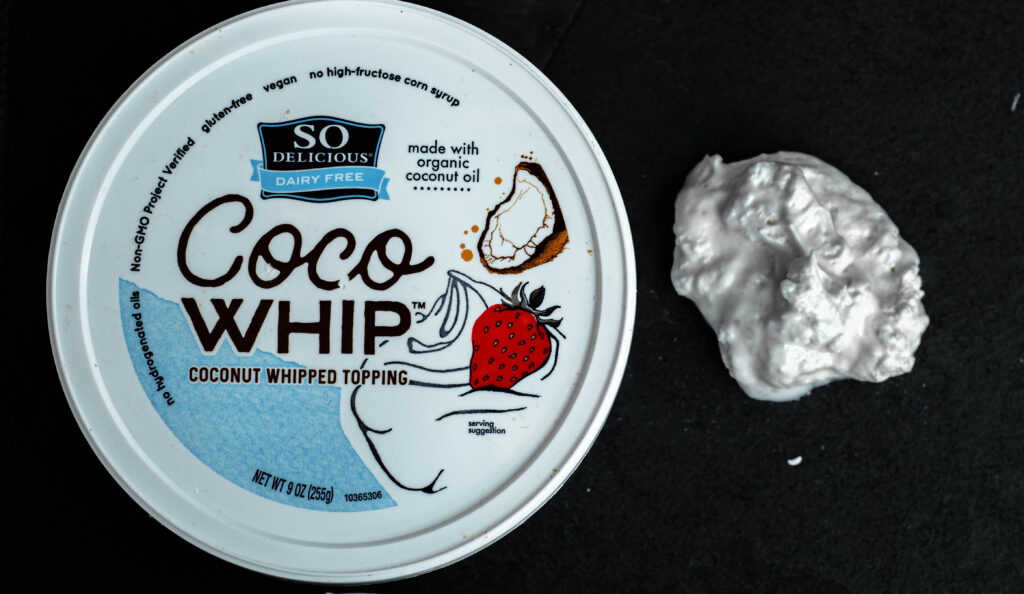 It says in the title this vegan substitute contains coconut in the recipe.
The taste is light and airy, with a fresh coconut flavor.
The coconut is not overpowering; it adds to a dessert without overpowering it.
I highly recommend Cocowhip as a good substitute for a dairy-free alternative.
Even people who are opposed to coconut will enjoy this topping.
To make a sure crowd pleaser, try using this creamy topping in my vegan trifle recipe. 
I still get requests to make this delicious dessert every year.
Combining the Cocowhip and cake creates a melt-in-your-mouth perfection you must experience.
Reddi-Wip (non-dairy almond):
Conagra brands foods created a dairy-free aerosolized can using almond milk and coconut cream.
The coconut flavor does not appear on your palate when consuming this fluffy texture.
However, please note it is still on the ingredients list.
Per Reddi-wip, the coconut is necessary for fat content, as almond milk contains little fat and must be added to get the right consistency.
The flavor has a slight almond taste and does work well on most pies and cakes.
The biggest complaint from consumers is not the taste of the whipped topping but the dispensing device (the can).
On Reddi-wip's site, the product rating is ⅖ stars, and the vast majority of poor reviews result from the can not operating appropriately.
Many people can only get the can to work once or even twice, and then it will not work again.
It is essential to follow the directions on the back of the can.
Still, even attention to detail has created a failure of the can.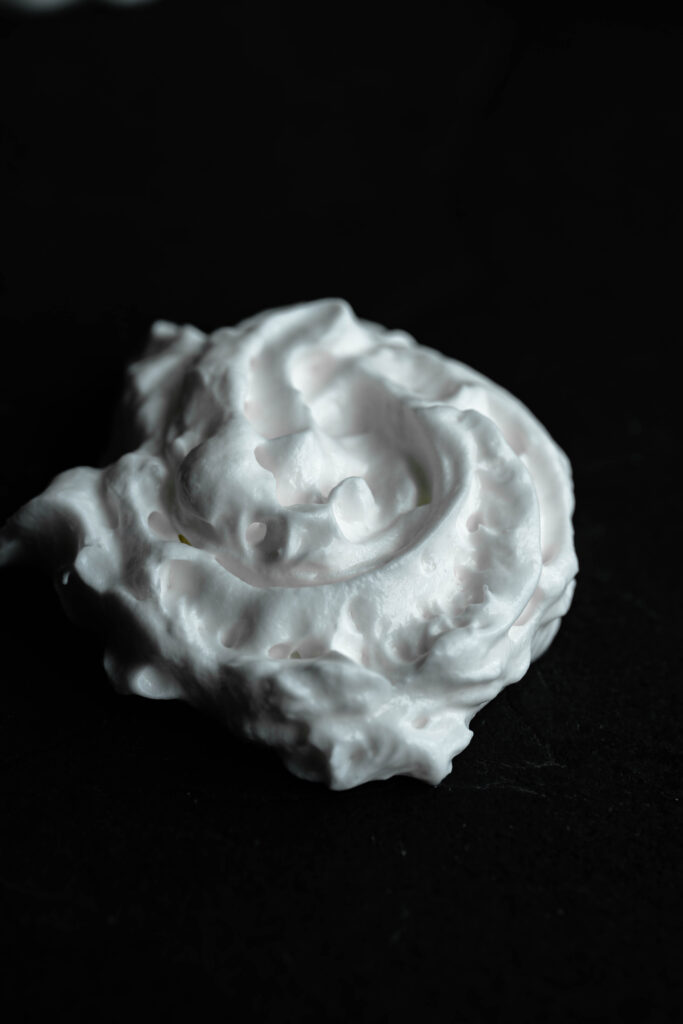 Reddi-Wip (non-dairy coconut):
The Conagra brand again rolled out an additional dairy-free aerosolized whipped topping.
The result is a creamy texture with a strong coconut flavor.
Non-dairy coconut is a great alternative to classic whipped cream if you enjoy the taste of sweet coconut flavor.
Once again, however, Reddi-wip fails in dispensing the product from the can.
Almost all of the reviews on their website are related to how poorly the can operates.
The reviews are only slightly better at 2.⅗ stars than its counterpart, non-dairy almond milk.
Make sure you follow the directions on the back of the can but do not be surprised if you can only use it once or a couple of times.
Reddi-wip has said they have changed the recipe to make it easier to dispense. However, similar problems remain.
Truwhip Vegan (Teal container):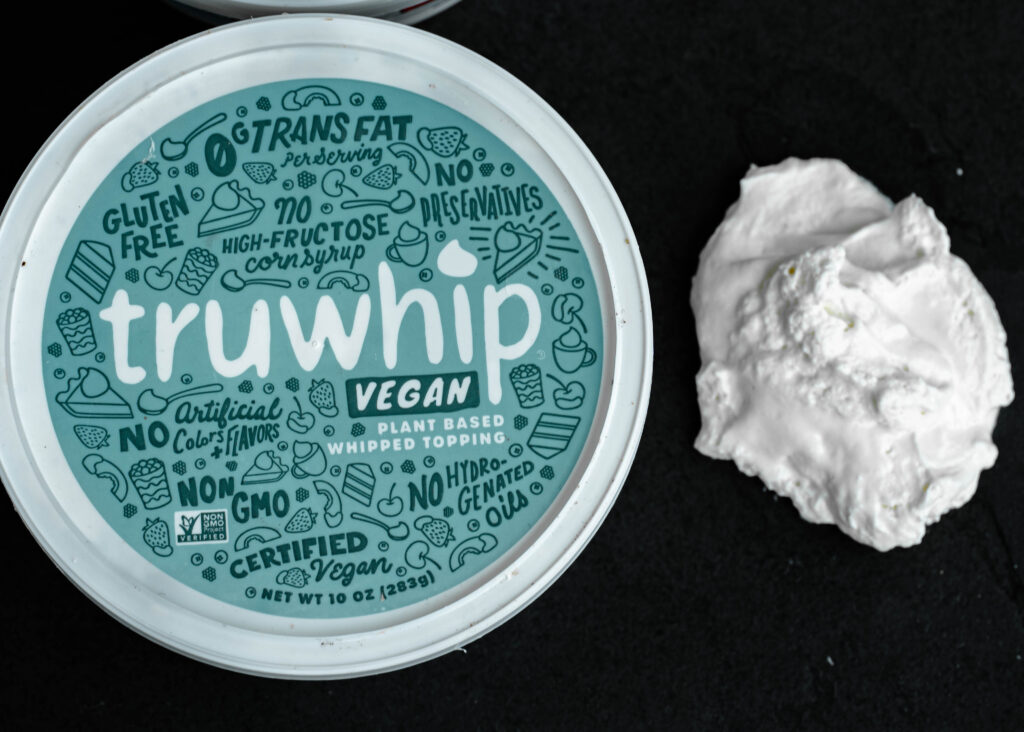 One of the few whipped toppings available without using coconut within the recipe.
If you have a tree nut allergy or do not enjoy coconut, this could be for you.
The taste is light vanilla and moderately sweet.
Paired with a pie, it does not take over the flavor but enhances it.
However, palm oil is on the ingredients list.
As a vegan, this may be something you find in opposition.
According to the World Wildlife Fund, about half of all packaged products contain palm oil.
Tropical habitats are being cleared to make room for palm oil farms, causing soil erosion, water pollution, and air pollution.
Endangered animals such as Orangutans are losing their homes to such destruction.
A company known as RSPO or Roundtable on Sustainable Palm Oil is trying to get sustainable palm oil certified companies.
Still, only about ⅕ of the palm oil users are currently certified, and not all companies have a label to signify they are accredited.
More effort is needed to decrease palm oil's impact and make it more sustainable.
Peak Foods owns the Truwhip brand and is RSPO certified for its palm oil, although not stated on its packaging.
They claim that they produce 90% of private-label non-dairy whipped topping in the US and use palm oil in all of that production.
Truwhip makes several varieties of whipped topping, but only the teal packaging is vegan.
The tub is similar to Cool Whip and is available at grocery stores such as Whole Foods and Kroger.
Silk dairy-free heavy whipping cream: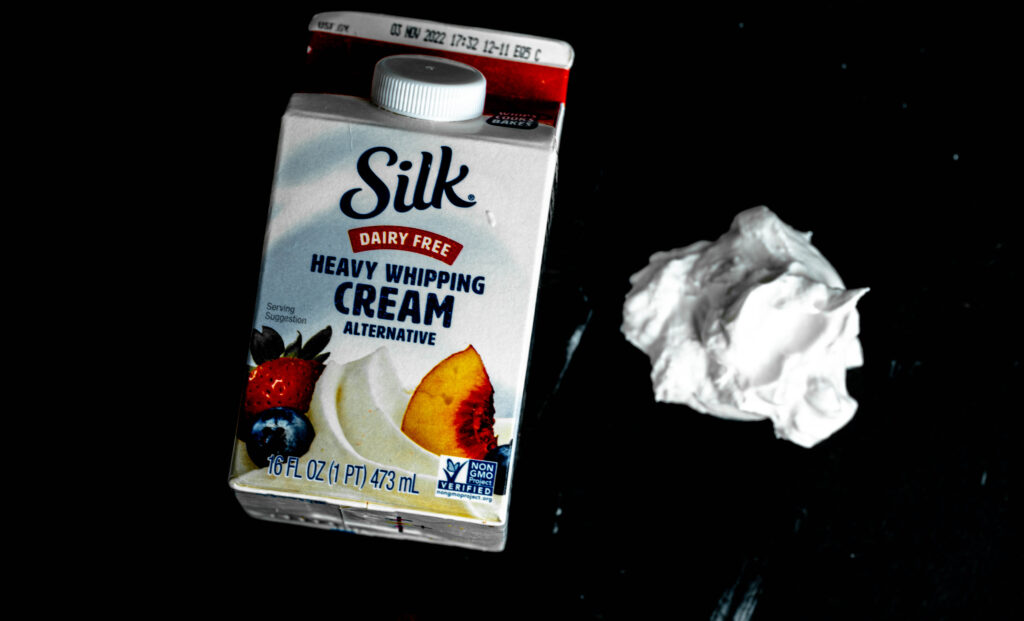 Now available nationwide at most grocery stores.
It is available near the dairy milk in a small carton.
The whipping cream does contain coconut oil, but it does not have a coconut flavor at all.
The reviews lean toward a valid alternative to the ever elusive whipped cream.
Mix the dairy alternative with powdered sugar and vanilla to create a respectable whipped cream.
Then blend with beaters till you get peaks that stand up (stiff peaks).
The heavy whipping cream is less convenient than others on the list but will take less than five minutes to whip up.
Sweet Rose coconut whipped topping: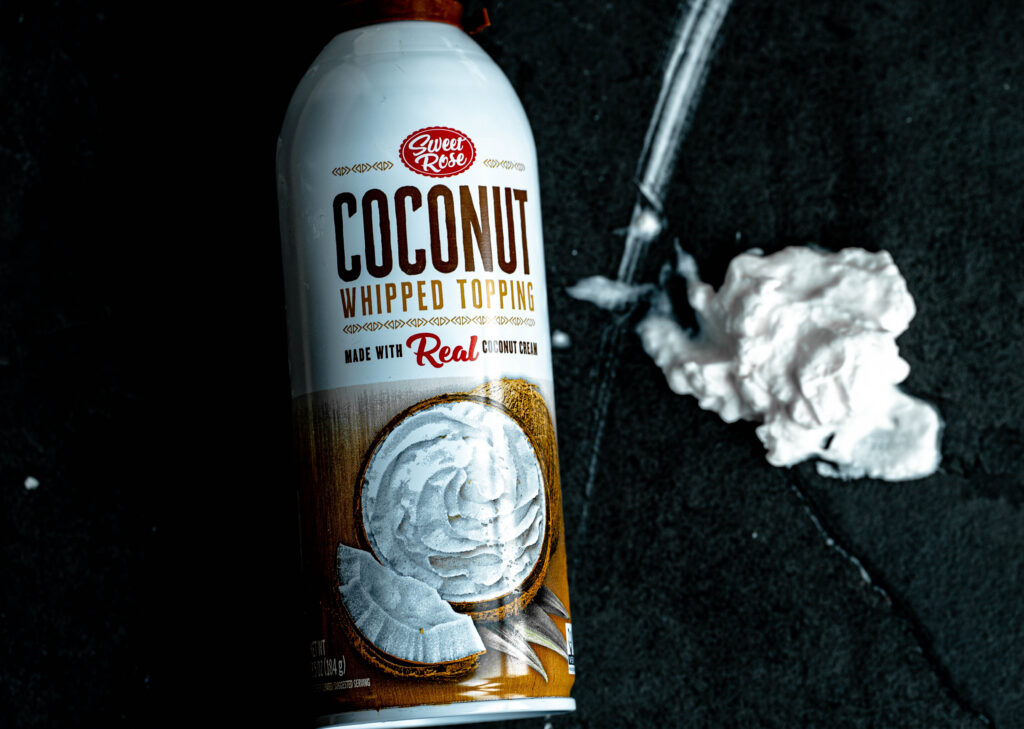 Found at Trader Joe's, it is a tasty topping that uses an aerosolized can.
Only some have easy access to Trader Joe's, which is only mentioned as it is delicious and worth picking up.
However, there are reports of faulty cans and a small amount per volume.
Remember, the coconut oil can be very temperamental in these cans and will require running the back of the can through water to warm up the oil.
Please pay close attention to the back of the can for directions on proper handling.
It's a very similar situation to Reddi-wips aerosolized cans.
This whipping cream does have a heavy coconut flavor as well.
Whole Foods 365 Plant-based whipped topping: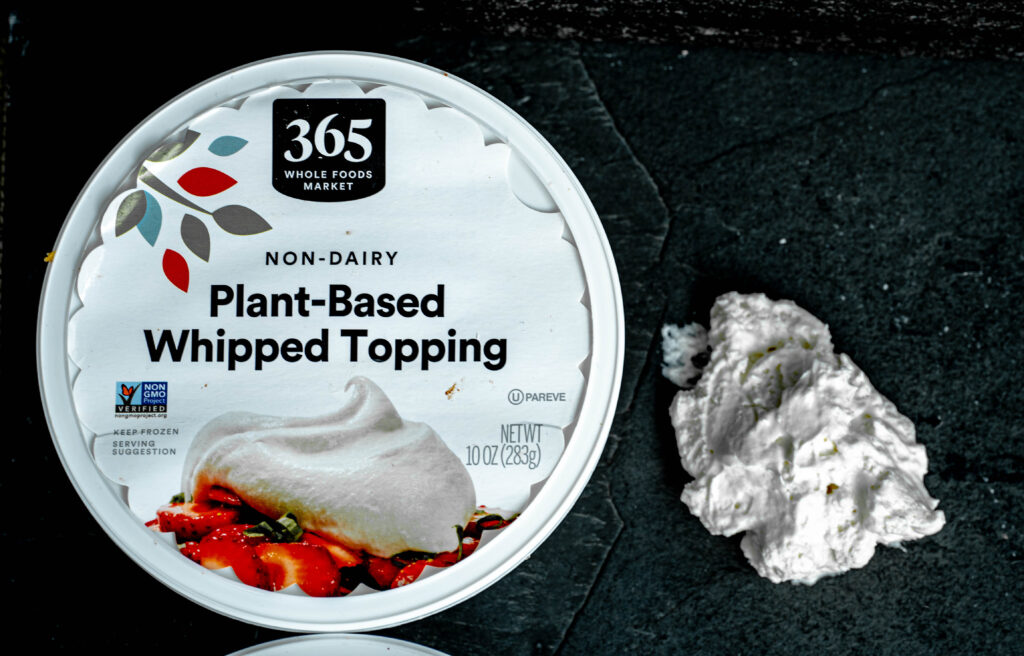 Can only be found at Whole foods in the frozen section.
This whipped topping contains palm oil only.
Whole Foods Market pledge to only use sustainable palm oil in all of their 365 brand products.
The topping has a vanilla-like flavor, very similar to Cool Whip.
This plant-based whipped topping is an excellent alternative to Cool Whip and contains no dairy ingredients.
One fun accidental finding is when frozen, take a bite. It tastes like soft serve ice cream —a lovely little unexpected treat.
Can I make my own whipped topping?
If you cannot find one of the common Cool whip alternatives or would like to make your own, then these main ingredients will work:
Aquafaba whipped cream:
The liquid from a can of chickpeas is an excellent substitute for egg whites.
It will mix up like whipped cream when you add cream of tarter, vanilla, powdered sugar, and flavorless oil (vegetable/canola).
If you are looking for a more adventurous but healthier option, Aquafaba whipped cream is a great alternative and does not contain coconut.
I don't have a recipe for this, but World of Vegan does.
Coconut whip with full-fat coconut milk:
Another simple recipe with only three ingredients.
Make sure you buy full-fat coconut milk and refrain from using anything light, or it will not work.
Powdered sugar and vanilla extract are the final ingredients.
The ingredients come together to form stiff peaks via beaters.
The final form is a thick but slightly runny consistency.
It pairs very well with berries and light cake.
I don't have a recipe for this one either but here is one on All Recipes.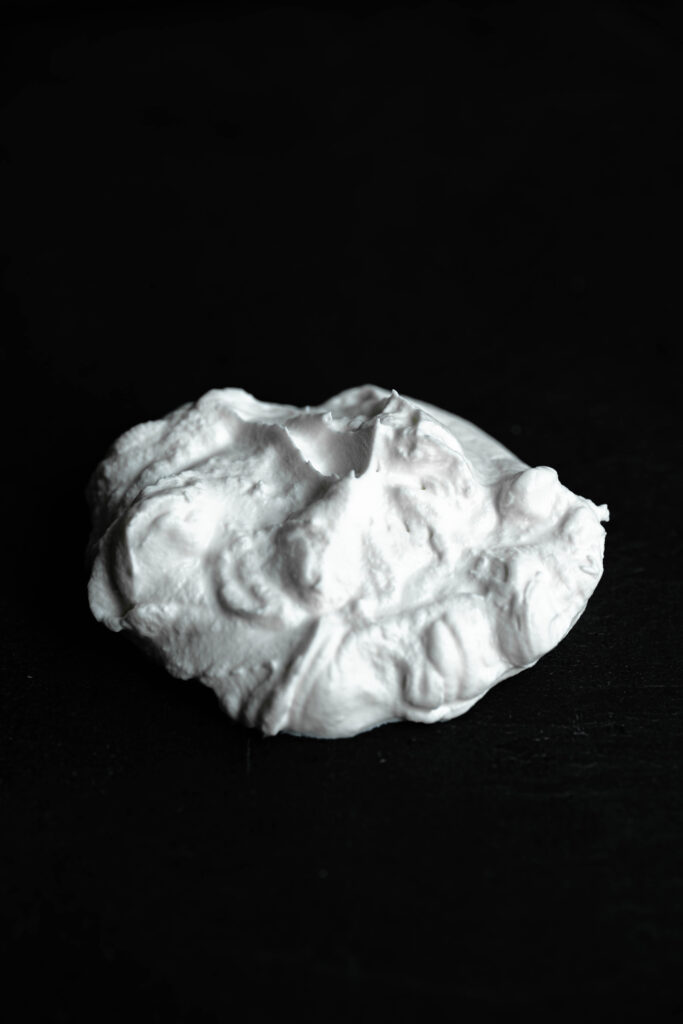 Coconut whip with coconut cream:
Making coconut whipped cream will give you the closest consistency to traditional whipped cream.
Here, you will expect the taste of coconut and must consider what you are serving with it.
One does not want to serve coconut flavor with something that does not go well.
Making the whip is simple, using only three ingredients: unsweetened coconut cream, powdered sugar, and vanilla extract.
There are several options for a vegan Cool Whip, and much better tasting than the original dairy product.
You can have a delicious dessert without dairy and feel better about it.
The choice is yours, whether you want convenience or quickly making it in about five minutes.
Whipped cream is something everyone should be able to indulge in.
As a vegan, we have options that are every bit as delicious as the original.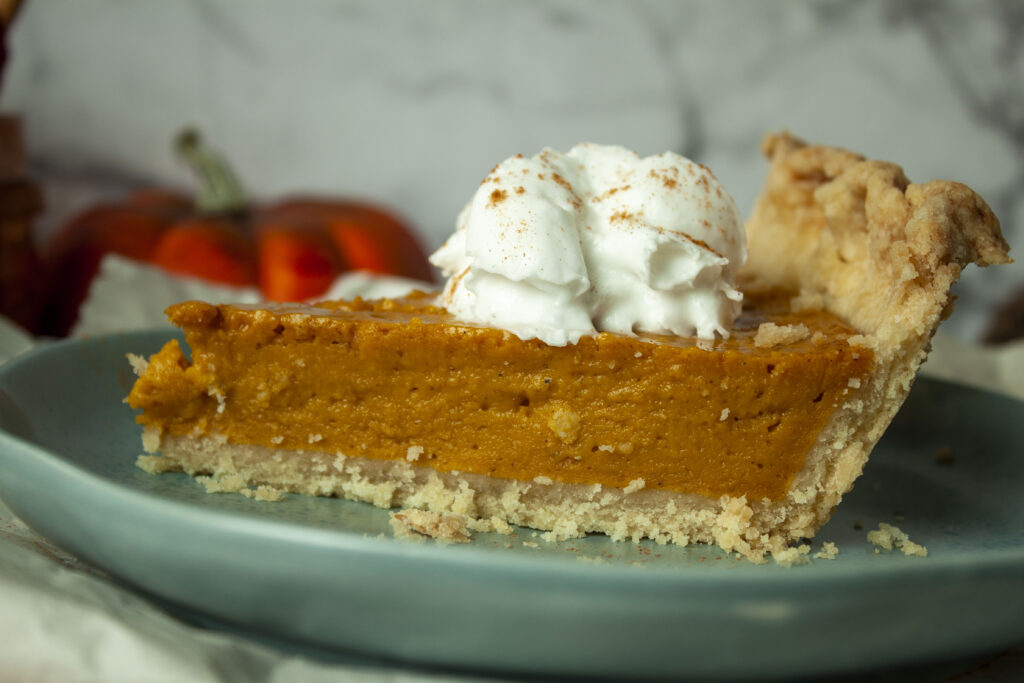 Want some vegan recipes to use these vegan whipped creams on?