This vegan chocolate cream pie is a chocolate lover's dream. It has a chocolate cookie crust, vegan chocolate pudding middle, and whipped topping. This is one of my all-time favorite recipes.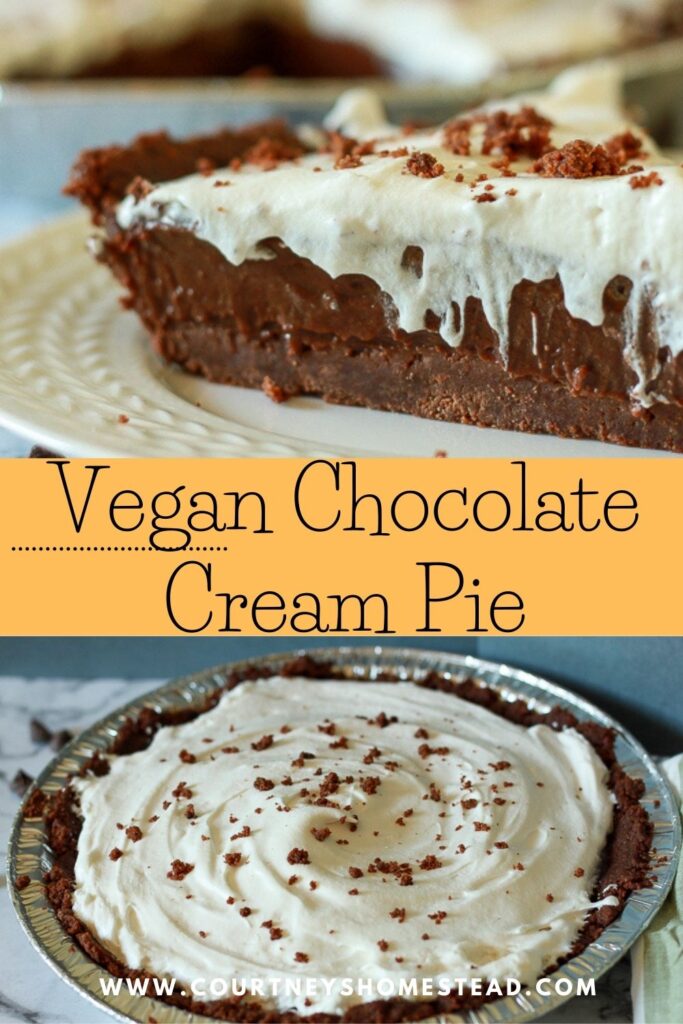 *Note this pie is best made the day before.
This perfect vegan chocolate cream pie ALWAYS impresses.
I have taken this on numerous occasions, and everyone loves this pie.
The pudding is so rich and creamy, the crust pairs perfectly, and the whipped topping seals the deal.
I have been making this pie for years before going vegan even.
I was determined to figure out a way to make it taste as good as the pre-vegan days, and you totally wouldn't be able to tell the difference.
Making Birthday desserts for my close friends is something I love to do.
It's something fun to contribute to their day.
People always love my desserts, so it's a win-win for everyone.
I have a friend that requests this every single birthday. I can't blame him.
This vegan chocolate cream pie also shows up at just about every holiday season. It is grand enough for any special occasions.
We especially like it on Thanksgiving to break up the pumpkin and apple pies.
But I have even made it for the 4th of July and many summer activities.
Vegan Chocolate Cream Pie Recipe Q&A + Substitutions+ Tips
Can I make a regular vegan pie crust recipe for the crust?
No, no, you can not. That would make this a totally different pie. Part of what makes this pie so decadent is the delicious chocolate cookie crust.
I mean, if we're being honest, yes, of course, you *can*, but I wouldn't.
What if I can't find the vegan Annie's chocolate bunnies?
You definitely need chocolate cookies or chocolate graham crackers to make this vegan chocolate pie recipe.
The Chocolate Teddy Grahams will work if you eat honey and are usually pretty easy to find, but not technically vegan due to the honey.
Oreo also makes a great pie crust. Just sub in Oreos for the cookies.
You could use a regular graham cracker crust, but it will yield a different recipe.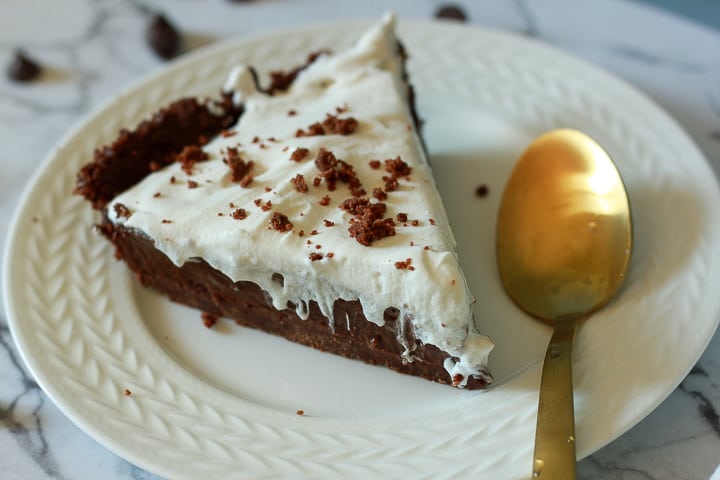 Can I make this easy vegan chocolate pie gluten-free?
You can by using gluten-free Oreos as your crust. Or, if you can find a chocolate graham gluten-free, vegan cookie, you can use that.
But gluten-free Oreos are probably easier to find.
What's the best non-dairy milk to make the pie filling?
The fattier the milk, the more creamy it will be. I prefer soy milk or oat milk, but I have used almond milk.
You can also use full-fat coconut milk. This makes the filling the richest, but I've made it both ways, and it still tastes great with the other non-dairy milk and is plenty rich.
Where do you get the vegan whipping cream?
We get So Delicious Coco Whip at our local grocery store; your local health food store should carry it.
There are other alternatives, but this is the absolute best and has given me the best results.
Whole Foods has its own brand of whipped topping that will work, and many companies are starting to come out with vegan whipping cream.
You're looking for something similar to Cool Whip, which has yet to come out with something vegan.
You can make a homemade whipped coconut cream if you have a recipe you love.
What's the best chocolate for the creamy chocolate filling?
I almost always use Enjoy Life chocolate chips because they are so good.
You can use any semi-sweet chocolate chip or cut up any good-quality chocolate bar you love.
Trader Joe's chocolate chips are vegan and affordable as well.
Can I use coconut oil instead of vegan butter in the crust?
Yes, you can melt the coconut oil and use it like you would the vegan butter in a 1:1 ratio.
What decorations can you put on vegan chocolate cream pie?
Chocolate shavings- take a chocolate bar and a knife and scrape the chocolate off of it to make shavings. Or you can use a cheese grater to grate the chocolate.
Chocolate curls- these are a bit more work. Melt chocolate chips and pour onto parchment paper in a semi-thick layer, then place in the freezer; once frozen, take a knife or vegetable peeler and try to peel the chocolate in a long layer; as it comes off, it will curl.
Chocolate chips- you can use mini chocolate chips or regular to decorate the top.
Chocolate cookie crumbs- crumble up some cookies to make cute cookie crumbs.
Whip cream dots- you get a can of vegan whipped cream and make little decor on the edges of the pie with the whipped cream.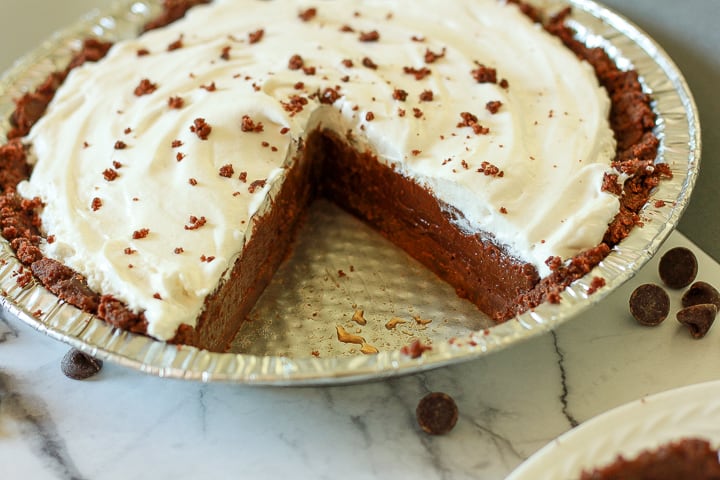 What do you need to make this easy vegan chocolate cream pie?
For the full recipe ingredients, check out the recipe card at the bottom of the post.
white sugar
unsweetened cocoa powder
cornstarch
salt
plant milk
vegan chocolate chips
vanilla extract
vegan butter
Annies Chocolate bunnies or something similar
So Delicious Coco whipped cream
How do you make this vegan chocolate cream pie recipe?
You're going to start by making your pie crust.
This crust requires a quick cook in the oven, so go ahead and preheat your oven to 350 degrees.
I usually use a whole box of Annie's Chocolate Bunnies, but I have used Oreo's before, which is delicious.
Whichever you decide to use, you need them crushed into tiny crumbs. I usually use my twister jar for my Blendtec blender.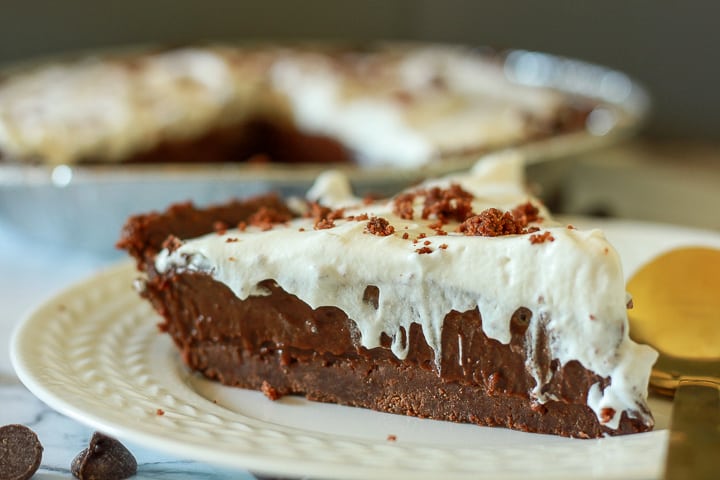 But you can do it with a ziplock and rolling pin or a food processor.
I also add the chocolate chips into the twister jar with the cookies to get evenly dispersed.
Take your vegan butter and melt it in the microwave in a medium bowl.
Mix the melted vegan butter, vegan chocolate chips, plant milk, and crushed cookies until combined.
Then take a pie pan that has been lightly greased and smash the cookie mixture into the bottom to make an even crust.
Now put it in the oven for about 8-9 minutes.
Make your vegan pudding-
When it's cooked, remove it from the oven and let it cool while you make your vegan chocolate pudding.
Take a medium saucepan.
You'll want to mix your dry ingredients before your wet ones.
Give it a good stir with the whisk.
Then add half of your non-dairy milk and stir.
Stir until it's smooth; you don't want the cornstarch to clump up.
Now add the rest of the nondairy milk and stir.
Cook this stirring constantly for about 8-10 minutes once it's started to simmer.
It should coat the back of a spoon nicely.
It may look pretty liquidy, but it will firm up as it cools.
Now remove it from the heat, and you'll add your vegan chocolate chips and vanilla extract.
Stir until it's nicely combined.
Assemble your pie
Now you can pour your hot pudding into the baked pie crust.
Let this settle on the counter at room temperature for about 2 hours, and then stick it in the fridge. This is best enjoyed the next day.
You can put the vegan whipped topping on the top when you're ready to serve it.
Just grab a spatula and spread it on top.
I always save a cookie to crunch upon the top of the pie. Or if I forget to save it, I will take some of the overhanging crust off the sides and crumble it on top.
This is not a must, but I like the way it looks.
This pie is the perfect make-ahead dessert.
It lasts great in the fridge, and you can bring it out when you're ready for dessert.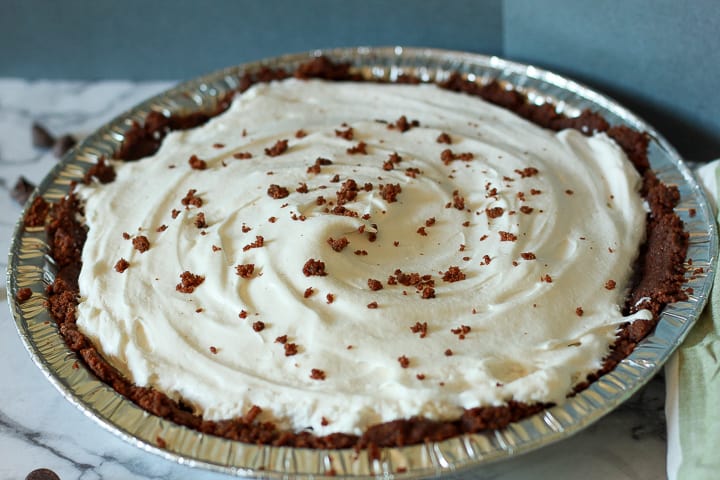 How do you serve this creamy vegan chocolate pie?
This is best served cold out of the fridge. It's also best served the second day it's made; it gives time for the flavors to blend.
How do you store leftover vegan pie?
This pie is best covered with plastic wrap tightly covering the pie plate. Or, if you only have a few slices left, you can transfer them to an airtight container. This should be stored in the fridge for up to 5 days.
Can you freeze vegan pie?
You sure can. Just place the leftover pie in an airtight freezer container for up to 3 months.
It can be eaten frozen, like an ice cream cake, or defrost in the fridge.
Want some other vegan pie recipes?
Ingredients
Pudding
2/3

cup

white sugar

1/3

cup

unsweetened Cocoa powder

2

TB

cornstarch

1/8

tsp

salt

1 3/4

cup

plant milk

the thicker ones like soy is the best, but others will work

4

oz

vegan chocolate chips

1

tsp

vanilla extract
Topping
1

container So Delicious Coco whip topping
Crust
1

box Annie's Chocolate Bunnies *or similar cookie

5

TB

melted vegan butter

2

oz

vegan chocolate chips

2

TB

plant milk
Instructions
** This pie is BEST made the day before, so plan ahead <3

Preheat your oven to 350 degrees. Take a pie dish and coat it with cooking spray, set aside.

Take your Blendtec Twister jar or a Ziplock and rolling pin, and crush your cookies and chocolate chips until they are crumbs. Take a medium bowl, melt your vegan butter, and add the 2 TB plant milk. Add the crushed cookies/chocolate chips to the melted butter/plant milk combo. Stir, then press into the bottom of the pie pan evenly. Bake this for 9 minutes. Remove and let cool.

Now make your chocolate pudding mixture. Take a medium saucepan. Mix the sugar, cocoa powder, salt, and cornstarch. Use a whisk and whisk it until combined. Then add half of the plant milk, stir until smooth, then add the rest of the plant milk. Cook on medium heat; you want it to simmer, constantly stirring for about 8 minutes until thickened. It will thicken up a lot off the heat; you basically want it to coat the spoon well. Now remove from heat and add your chocolate and vanilla extract, stir. Pour hot pudding into crust and let sit on the counter for 2 hours. Then move to the fridge to finish cooling. This pie is best made a day ahead of time.

Before serving, do your topping. This is easy; just spread the whipped topping evenly over the top. I usually crumble up a few cookie crumbs to decorate it. Then serve.
Notes
Check the blog post for the recipe Q&A
Nutrition
Serving:
1
slice
|
Calories:
308
kcal
|
Carbohydrates:
40
g
|
Protein:
4
g
|
Fat:
16
g
|
Saturated Fat:
4
g
|
Polyunsaturated Fat:
5
g
|
Sodium:
137
mg
|
Fiber:
2
g
|
Sugar:
30
g
If you loved this recipe then give it a 5 star rating and leave a comment! I love to chat with you all. Please feel free to share on social media and tag #courtneyshomestead. I would love to see you over on Instagram or Facebook.