*Note this pie is best made the day before.
This perfect vegan chocolate cream pie ALWAYS impresses. I have taken this to numerous occasions and everyone always loves this pie. The pudding is so rich and creamy, the crust pairs perfectly and the whipped topping really seals the deal.
I have been making this pie for years, before going vegan even. I was determined to figure out a way to make it taste as good as the pre-vegan days and you totally wouldn't be able to tell the difference.
Making Birthday desserts for my close friends is something I love to do. It's something fun to contribute to their day and people usually always love my desserts so it's a win win for everyone. I have a friend that requests this every single birthday. I can't blame him.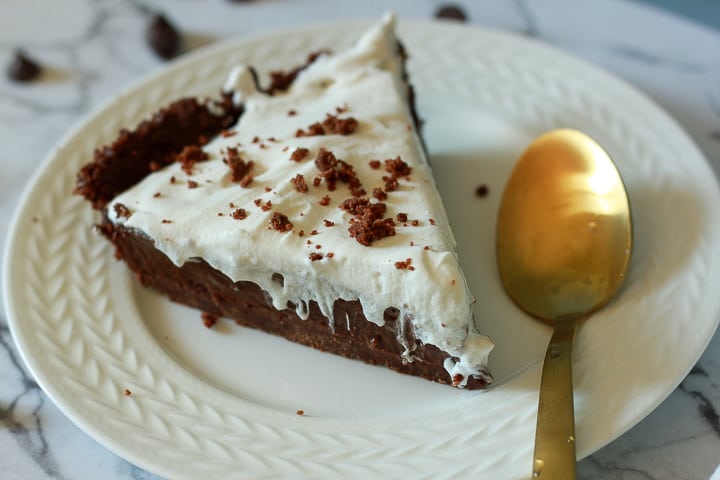 This vegan chocolate cream pie also shows up at just about every holiday. We especially like it on Thanksgiving to break up the pumpkin and apple pies. But I have even made it for the 4th of July and many summer activities.
What do you need to make this Perfect Vegan Chocolate Cream Pie?
white sugar
unsweetened cocoa powder
cornstarch
salt
plant milk
vegan chocolate chips
vanilla extract
vegan butter
Annies Chocolate bunnies or something similar
1 container So Delicious Coco whip
How do you make it?
You're going to start by making your crust.
This crust requires a quick cook in the oven so go ahead and preheat your oven to 350 degrees. I usually use a whole box of Annie's Chocolate Bunnies, but I have used Oreo's before and it is very tasty. Whichever you decide to use you need them crushed into tiny crumbs. I usually use my twister jar for my Blendtec blender. But you can do it with a ziplock and rolling pin. I also throw the chocolate chips into the twister jar with the cookies so they get all evenly dispersed.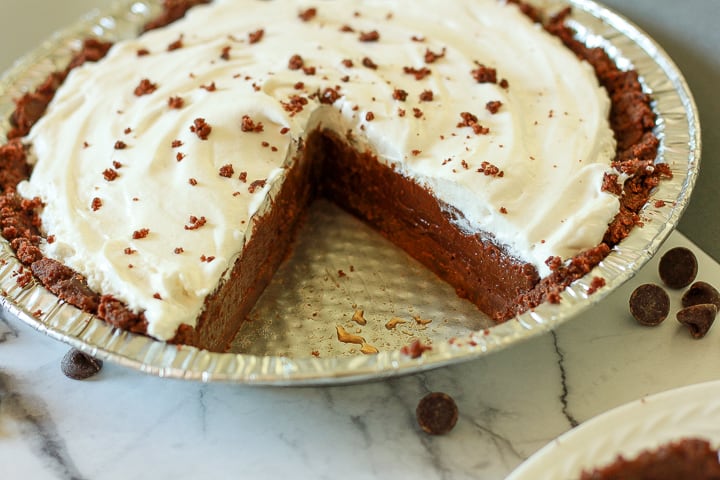 Take your vegan butter and melt it in the microwave in a medium bowl. Mix the vegan butter, chocolate chips, plant milk, and crushed cookies together until combined.
Then take a pie pan that has been lightly greased and smash the cookie mixture into the bottom to make an even crust. Now put it in the oven for about 8-9 minutes. You will remove it and let it cool while your make your pudding.
Take a medium sauce pan. You'll want to mix your dry ingredients before your wet ones. Give it a good stir with the whisk. Then add half of your plant milk and stir. Stir until its smooth, you don't want the cornstarch to clump up. Now add the rest of the milk and stir. Cook this sirring constantly for about 8-10 minutes once it's started to simmer. It should coat the back a spoon well. It may still look fairly liquidy, but it will firm up as it cools.
Now remove it from the heat and you'll add your chocolate chips and vanilla extract. Stir until it's nice a combined. Now you can pour your hot pudding into the baked pie crust. Now let this settle on the counter for about 2 hours and then stick it in the fridge. This is best enjoyed the next day.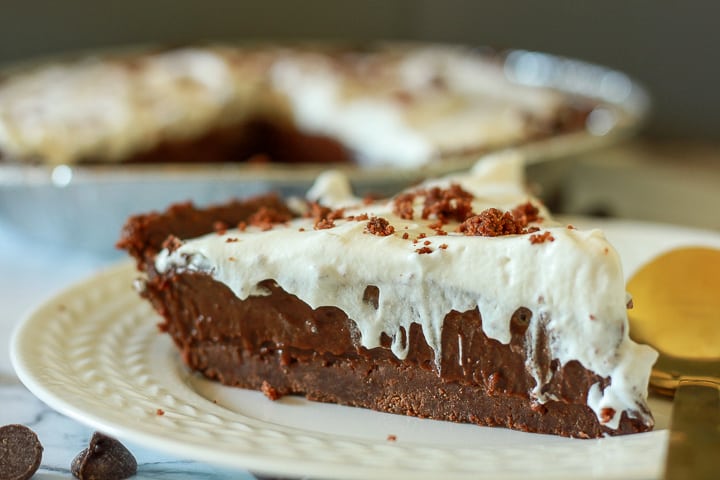 When you're ready to serve it you can put the whipped topping on the top. Just grab a spatula and spread it on top. I always save a cookie to crunch up on the top of the pie. Or if I forget to save it I will take some of the overhang crust off the sides and crumble it on top. This is not a must, but I like the way it looks.
This pie is the perfect make ahead dessert. It lasts great in the fridge and you can bring it out when you're ready for dessert.
What's your favorite cold pie? Let me know in the comments!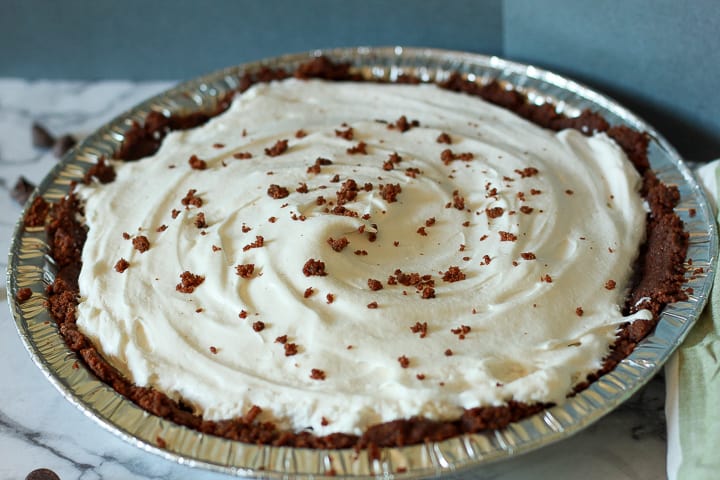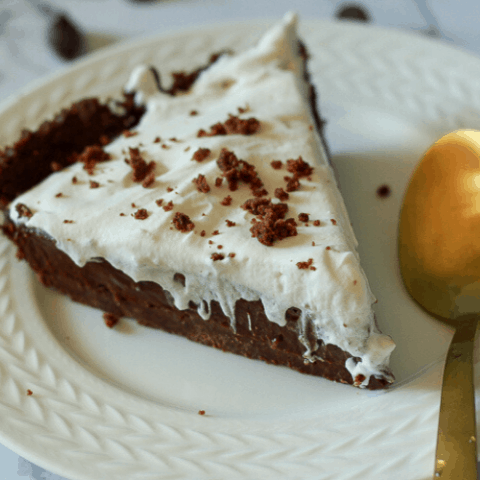 The BEST Vegan Chocolate Cream Pie
This vegan chocolate cream pie has a tasty cookie crust, thick chocolate pudding and whip topping.
Ingredients
Pudding
2/3 cup white sugar
1/3 cup unsweetened Cocoa powder
2 TB cornstarch
1/8 tsp salt
1 3/4 cup plant milk ( the thicker ones like soy is the best, but others will work)
4 oz vegan chocolate chips
1 tsp vanilla extract
Topping
1 container So Delicious Coco whip topping
Crust
1 box Annie's Chocolate Bunnies *or similar cookie
5 TB melted vegan butter
2 oz vegan chocolate chips
2 TB plant milk
Instructions
** This pie is BEST made the day before so plan ahead
Preheat your oven to 350 degrees. Take a pie dish and coat it with cooking spray, set aside.
Take your Blendtec Twister jar or a Ziplock and rolling pin and crush your cookies and chocolate chips until they are crumbs. Take a medium bowl and melt your vegan butter then add the 2 TB plant milk. Add the crushed cookies/chocolate chips to the melted butter/plant milk combo. Stir, then press into the bottom of the pie pan evenly. Bake this for 9 minutes. Remove and let cool.
Now make your chocolate pudding mixture. Take a medium saucepan. Mix the sugar, cocoa powder, salt, and cornstarch. Use a whisk and whisk it until combined. Then add half of the plant milk, stir until smooth, then add the rest of the plant milk. Cook on medium heat, you want it to simmer, stirring constantly for about 8 minutes until thickened. It will thicken up a lot off the heat, you basically want it to coat the spoon well. Now remove from heat and add your chocolate, and vanilla extract, stir. Pour hot pudding into crust and let sit on the counter for 2 hours. Then move to the fridge to finish cooling. This is best made a day ahead of time.
Before serving to do your topping. This is easy, just spread the whipped topping evenly over the top. I usually crumble up a few cookie crumbs to decorate it. Then serve.
Nutrition Information:
Yield:

8
Serving Size:

1 slice
Amount Per Serving:
Calories:

308
Total Fat:

16g
Saturated Fat:

4g
Trans Fat:

0g
Unsaturated Fat:

5g
Cholesterol:

0mg
Sodium:

137mg
Carbohydrates:

40g
Fiber:

2g
Sugar:

30g
Protein:

4g
The calories are computer generated and may not be 100% accurate.

<3 Courtney