If you've been wondering if Takis are vegan, we will get down to the nitty-gritty on if these spicey chips are vegan.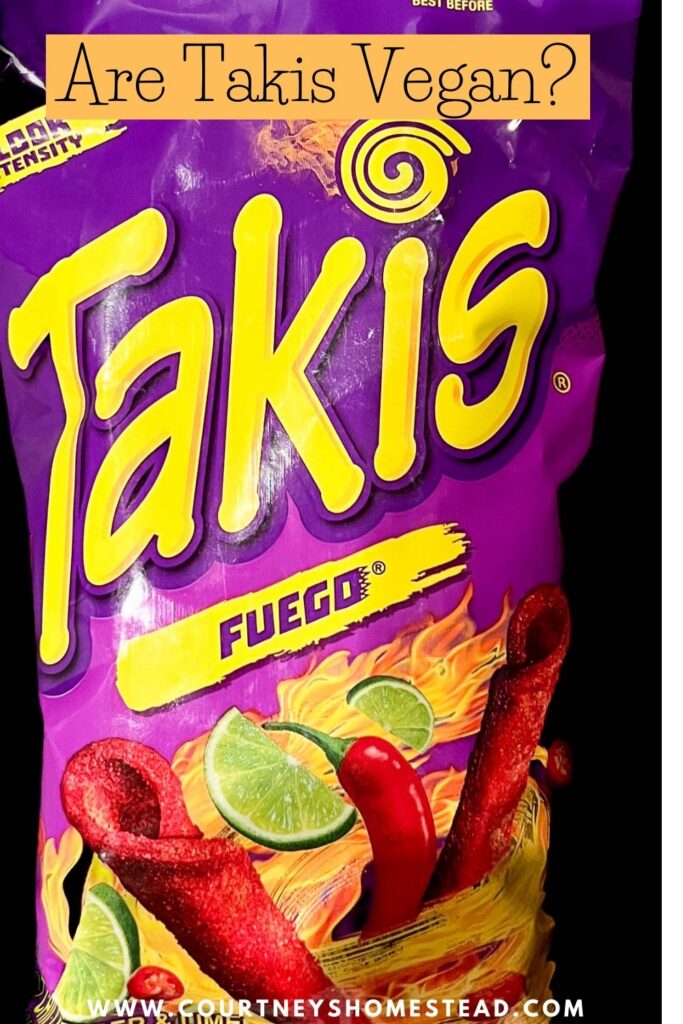 What are Takis?
Takis is a brand name of Barcel USA, a subdivision of Grupo Bimbo, a Mexican corporation with over 100 brands and over 13,000 products available in your local grocery store.
Other popular brands in the states produced by Bimbo include Entemann's, Orowheat, Sara Lee, and Thomas'.
Takis is the flagship product of Barcel, but they create a few other snacks, such as candy, dessert toppings, and crunchy flatbread.
Barcel brand foods are not considered healthy but are in the junk food category as most snacks are high in fat, high sodium, and highly processed.
Takis is a spicy seasoning brand.
They use their special seasonings on different flavors of chips, rolled corn, nuts, and popcorn.
The original flavor of Fuego is the most readily available throughout the United States.
What sets Takis apart from other chips is using corn masa flour and flavorless oil as the main ingredients in their rolled chips.
This is the same flour used in tamales and provides a unique flavor profile to the spicy chip not replicated by other chip companies.
Is Takis vegan, or do they contain animal by-products?
It depends on the flavor you choose and what food it is put on. For example, the original Fuego rolled corn tortilla chip is vegan with the ingredients:
CORN FLOUR (PROCESSED WITH LIME), VEGETABLE OIL [PALM AND/OR, SOYBEAN AND/OR, CANOLA OIL], SEASONING [SALT, MALTODEXTRIN, CITRIC ACID, SUGAR, MONOSODIUM GLUTAMATE, HYDROLYZED SOY PROTEIN, ONION POWDER, YEAST EXTRACT, RED 40 LAKE, YELLOW 6 LAKE, NATURAL AND ARTIFICIAL FLAVORS, SODIUM BICARBONATE, SOYBEAN OIL, CHILI PEPPER (CHILE), DISODIUM INOSINATE, DISODIUM GUANYLATE, TBHQ [PRESERVATIVE].
While the same flavor (Fuego) sprinkled on the Hot Nuts is not, as they contain Gelatin. Ingredients list here:
PEANUTS, FOOD STARCH-MODIFIED, WHEAT FLOUR, SUGAR, SEASONING [SALT, CITRIC ACID, SUGAR, MALTODEXTRIN, NATURAL AND ARTIFICIAL FLAVORS, CORN STARCH, HYDROLYZED SOY PROTEIN, MONOSODIUM GLUTAMATE, ARTIFICIAL COLORS ( RED 40 LAKE, YELLOW 6 LAKE), SODIUM BICARBONATE, SOYBEAN OIL, DISODIUM INOSINATE, DISODIUM GUANYLATE, TBHQ (ANTIOXIDANT)], VEGETABLE OIL(PALM AND/OR SOYBEAN AND/OR CANOLA OIL), DEXTROSE, CORN STARCH, SALT, GELATIN, SODIUM BICARBONATE, AMMONIUM BICARBONATE, ARTIFICIAL COLOR (YELLOW 5 LAKE).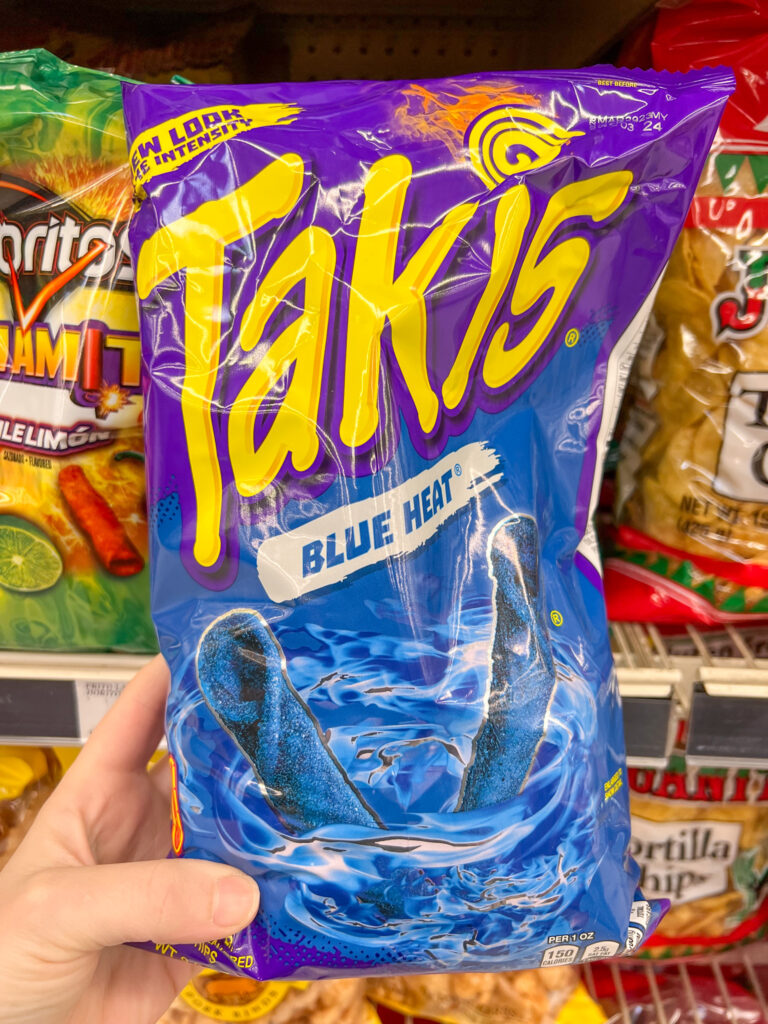 What other flavors of Takis fit into the vegan diet?
Here we will look at the most popular flavors and provide the answer to which Takis contain only plant-based ingredients:
Takis Blue Heat- Only available in the rolled tortilla variety
Fuego Takis- Stix, Chippz, Waves, POP!
Takis Nitro-rolled tortilla chips
Kettlez Flare and Flare Corn Stix
Seasonal- Zombie Takis (Cucumber and Habanero flavor) rolled tortilla chips.
What flavors of Takis contain animal products or non-vegan ingredients?
All Hot Nuts- Contains Gelatin, and some contain milk.
Fuego Crisps- Contains Carmine Lake, a bright red dye extracted from Cochineal insects. In 2009, the FDA ruled that it must be labeled on packaging by either Carmine or Cochineal extract. Another food additive has been added to the ever-growing list of animal-derived ingredients. (Source)
Guacamole Takis- Contains milk.
Crunchy Fajitas Takis- It contains milk as the last ingredient, unfortunately.
Kettlez Jalapeno Typhoon Takis- Contains milk.
Wild spicy buffalo Takis- Contains milk.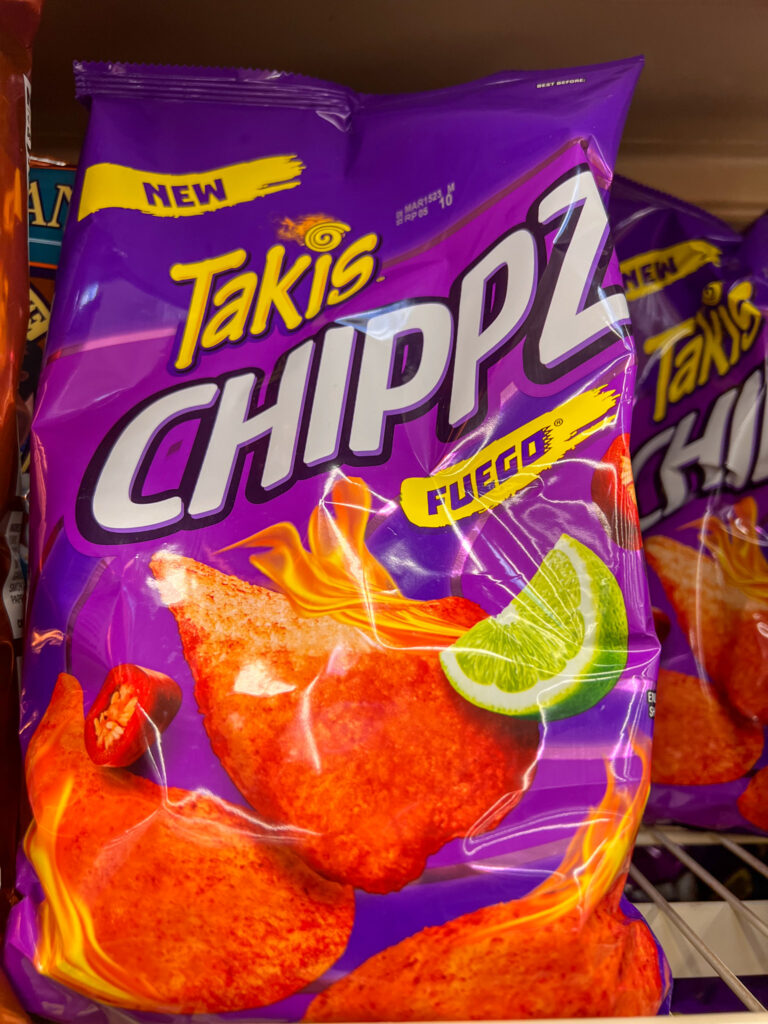 The land of Takis is significant, and new flavors are consistently being sourced.
When searching for your crunchy vegan snacks, verify on the label that everything is still vegan.
It happens all the time, where vegan options will be readily available, only to have the company change the formula. Then most commonly, add dairy products to the ingredients.
Takis common FAQS
Are the blue Takis vegan?
Takis blue chips happen to be vegan.
Are Taki's vegan and gluten free?
As we answered in the article, some Taki's are vegan, and some are not.
Most of the ingredients in Taki's are gluten-free, but they have an allergy statement that would best be avoided if you have a gluten allergy. It's always best to double-check the package.
Do Taki's have MSG?
Yes, they do list MSG as an ingredient.
Is there eggs in Takis?
We haven't found any Taki's that contain actual eggs, but they do have an egg allergy warning meaning that they are made in a facility that processes eggs as well.
Are you wondering what other things are vegan...