Incredible is a big word to throw around, but I am not joking when I say this Vegan Lemon Raspberry Trifle is INCREDIBLE! I'm going to tell you something that might disapoint some people. I am not a lemon lover, there I said it. You'll likely never see me make a lemon bar on this site because I just can't get down with it. I have had a lemon brownie that I did enjoy, but lemon bars are going too far for me. I am really more of a hint of lemon then a full blown out lemon. Anyone else feel me?
With that being said, a hint of lemon I can totally get down with. I started working on this recipe because at my husbands work they rotate who brings the birthday treats. My husband said this coworker loved lemon and raspberry, so I got to thinking. I knew I wanted to make some sort of trifle on the blog and decided this had to be it. And I was blown away on how delciious it truely is.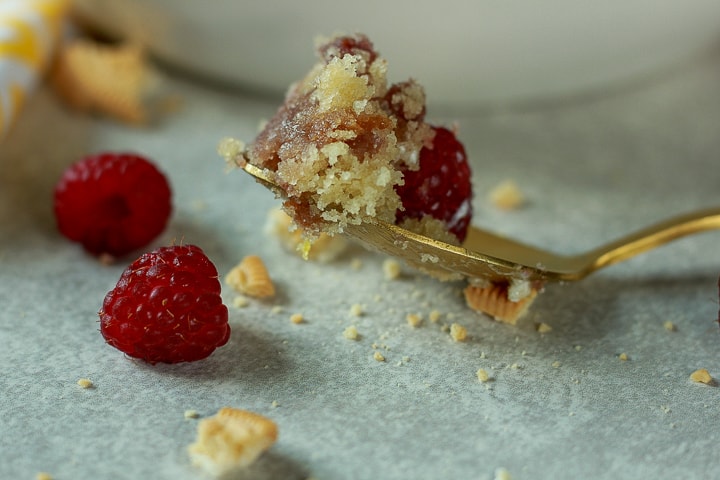 I think you could make this for a crowd of any non-vegan and they would never ever be able to tell that it's not full of dairy. Actually I have on many occasions. No one has ever turned their nose up to it and when you make it you will know why!
This is a show stopper.
Raspberries are in season here in the Pacific Northwest so we have been doing our fair share of berry picking. This dessert with fresh Oregon Raspberries is perfect.
What do you need to make this Incredible Vegan Lemon Raspberry Trifle?
1.5 sticks of Earth Balance Vegan Butter
white sugar
can of coconut milk
white vinegar
vanilla extract
lemon extract
lemon zest
flour
baking powder and soda
raspberry preserves
So Delicious whip topping *or homemade whip topping
Fresh Raspberries
How you make it?
This dessert is SO easy to make, that's another bonus!
You're going to start by making the cake portion- make sure to preheat your oven to 350 degrees. I used a Pyrex 9×13 pan for the cake. Lightly grease it so your cake doesn't stick.
I always use my Kitchen Aid stand mixer you could use a hand mixer if you want. You will take all your cake ingredients except for the raspberry preserves and basically whip the batter until it's light and fluffy. This takes about 3 minutes on medium speed. You'll notice a difference after the 3 minutes, it will be more fluffy.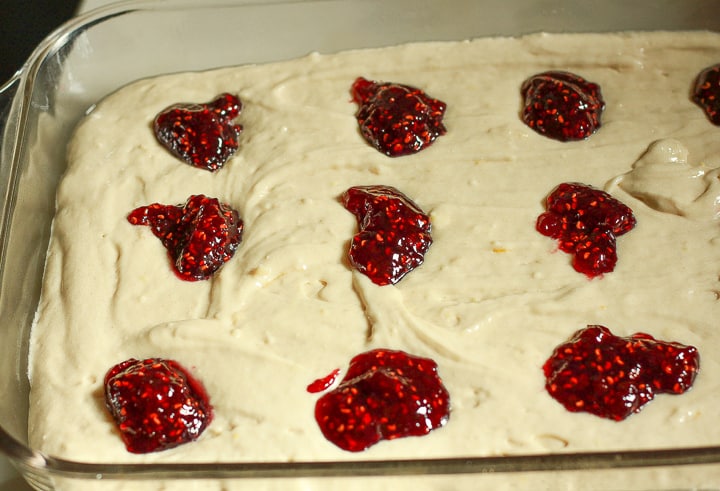 Now you'll take your batter and pour it into your pan. I like to take a spatula and smooth it out. Then I take spoonfuls of the raspberry preserves and drop it semi evenly on the top of the cake. Then you'll take your spoon and swirl it into the cake.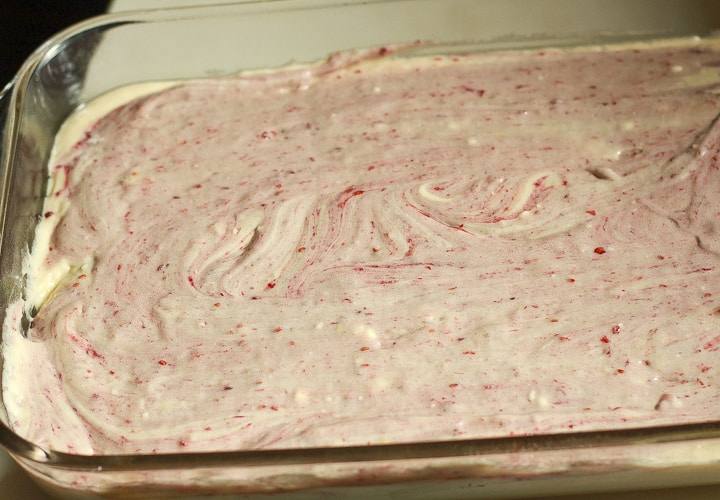 Bake it. Mine took around 42 minutes. I would start checking it at the 40-minute mark, you'll know it's done when a toothpick comes out clean. And always remember cakes still bake on the counter a bit. Let this cool completely before moving onto the next step. **It also depends on your preserves on how quick your cake will bake.
When the cake is cooled you can cut it into small bite-sized squares. As for mixing the cake you have two options. One is you could get a bowl and mix the cake with So Delicious Coco whip and the raspberries and then pour it into the trifle dish. Then top with more whip cream, raspberries and crumbled Golden Oreos if you wish.
The other option is to layer the recipe. You could put a layer of coco whip on the bottom of the pan and then a layer of cake down, then a layer of the coco whip and raspberries and continue until you just have whip and raspberries on top. Either way works, this way is more presentable, like below.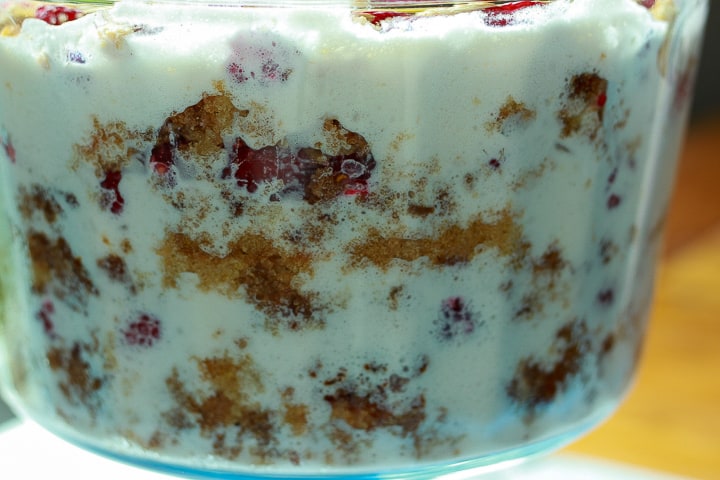 I LOVE the So Delicious Coco whip, but you are welcome to use your own whip cream recipe that you enjoy if you would prefer.
The Golden Oreo's are totally optional, I just like the look of the crumbs on the top.
***I have made this with strawberries preserves and strawberries before and I can't decide which one I like better. They are both out of this world delicious so if you want to try different berries and preserves do it!
Do you love lemon or just as an accent? Let me know in the comments! <3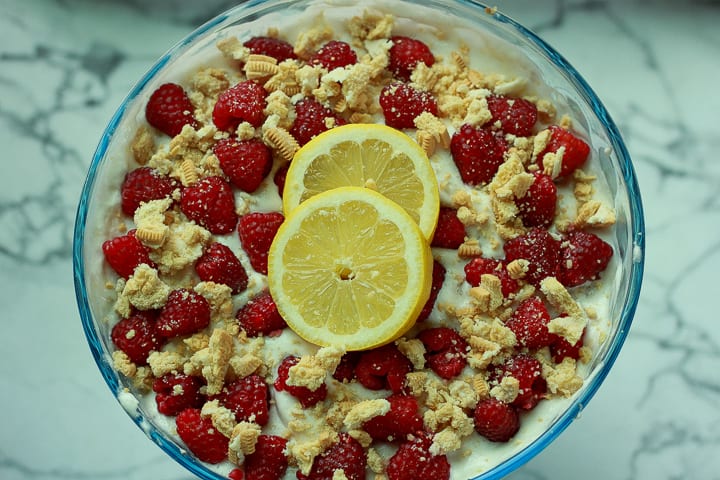 Amazing Vegan Lemon Raspberry Trifle
Yield:
8 or more depending on serving size
The pictures of this AMAZING vegan lemon raspberry trifle do not do it justice. You need to make this!
Ingredients
Cake
1.5 sticks (6 oz) Earth Balance Vegan Butter, soft
1 3/4 cup white sugar
1 can coconut milk, canned
2 TB white vinegar
1 tsp vanilla extract
1/2 tsp lemon extract
3 cups white flour
2 tsp baking powder
1 tsp baking soda
1/2 cup raspberry preserves
1 tsp lemon zest
Topping and mixture
2 containers So Delicious Whip topping or your own whip cream
3 cups or more fresh raspberries
Golden Oreos for top *optional
Instructions
Start by preheating your oven to 350 degrees. Spray a 9x13 Pyrex pan with cooking spray and set aside.
Take your stand mixer fitted with the paddle attachment and throw all the cake ingredients BUT the raspberry preserves into the bowl and mix on low, then go to medium and mix for 3-4 minutes. Pour cake into prepared pan and smooth out. Now take a drop full of raspberry preserves on the cake, like the picture above. Then swirl each with a spoon. Smooth out so the cake is even. Cook for 40-45 minutes (mine was done in 42 minutes), until a toothpick, comes out clean in the middle. Set aside to cool. **The baking time will depend on your preserves, so watch the time.
Once it's cooled you can cut into squares. You can do the presentation in two ways. I prefer to put it in a bowl and mix everything together, so everything is coated, then pour it into the trifle pan. Or you can layer it in your trifle dish. By doing a layer of cake, then whip topping and raspberries, then repeat the layers until you're at the top (this is prettier). Then top the whipped topping on top, then top with raspberries and crumbs or golden Oreos if you desire.
**I have made this with strawberries as well, replacing with strawberry preserves and strawberries and it's out of this world delicious as well!
Nutrition Information:
Yield:

8
Serving Size:

1 serving
Amount Per Serving:
Calories:

557
Total Fat:

14g
Saturated Fat:

3g
Trans Fat:

0g
Unsaturated Fat:

2g
Cholesterol:

0mg
Sodium:

321mg
Carbohydrates:

104g
Fiber:

5g
Sugar:

57g
Protein:

7g
The calories are computer generated and may not be 100% accurate.
The cake base recipe was inspired by this recipe here- https://namelymarly.com/marlys-vegan-coconut-cake/

<3 Courtney