This vegan broccoli slaw is not only easy to throw together it's also super tasty. It has a creamy, tangy dressing that covers small strips of broccoli; some would say it's even better than coleslaw. Whether you're broccoli lovers or not, you will enjoy this recipe on your next vegan bbq sandwich.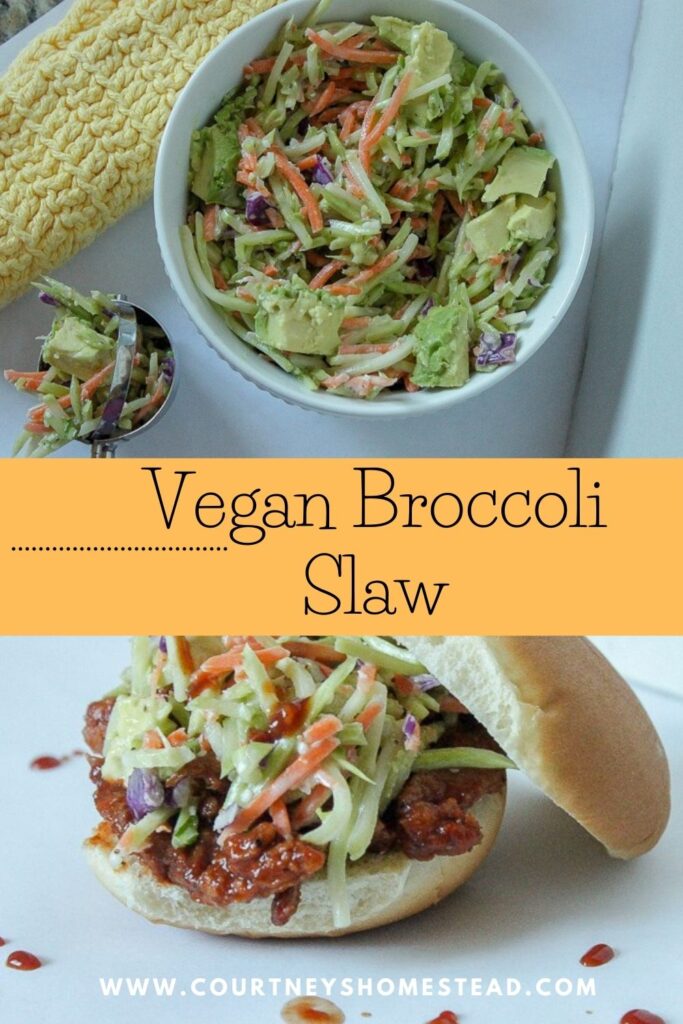 Have you ever had broccoli slaw?
I prefer to it coleslaw most of the time. It has a little bit more of a crunch to it.
I don't typically eat this plain, but it's fantastic on some vegan pulled soy curl sandwiches or anything you would typically throw coleslaw onto.
I first got turned onto broccoli slaw by my sister. She always made this tasty slaw for family gatherings.
It quickly became a family favorite. I knew when we went vegan, I needed to make a vegan version so we could continue eating this delicious side dish.
The best part about this delicious recipe is that it is quick and easy to make.
I am all about that when I can be. Some recipes require a bit more fuss, but not this one!
Recipe FAQ-
What is broccoli slaw?
Broccoli slaw is broccoli stalks cut into small strips resembling coleslaw. It's often mixed with shredded carrots. It's typically eaten with a mayo sauce, just like coleslaw is.
Can you buy broccoli slaw at grocery stores?
Yes, it's typically where the coleslaw is kept. I always buy my broccoli slaw because it's so much more convenient than making it yourself.
How do you make your own broccoli slaw?
Take your leftover broccoli stems and, with a potato peeler, peel off the harder exterior, then what you have left cut into thin strips.
This is a great way to use all of the broccoli.
If you have a food processor, you can run it through one of the grates to get the thin strips. Just make sure you choose the correct size, so you don't have really fine slaw pieces.
What do you eat broccoli slaw with?
vegan pulled "pork" style sandwiches
tacos
vegan bbq meatball sandwiches
anything you like slaw on or by itself if you prefer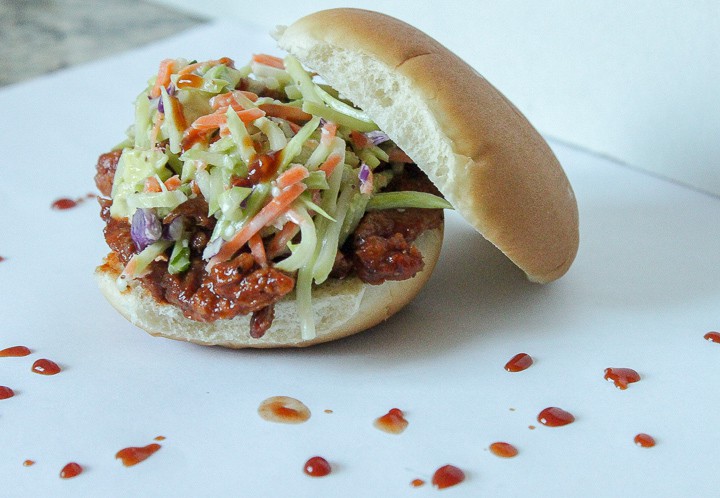 If you want to change it up, here are some excellent vegan broccoli slaw add-ins-
sunflower seeds- adds an extra crunch
red onion
small raw broccoli florets
green onions
bell peppers
vegan bacon bits
apples
your favorite nuts
dried fruit- like dried cranberries
One of my favorite ways of serving this is with apples and sunflower seeds depending on what I'm serving it on.
What's the best vegan mayo to make this mayo dressing?
I recommend three vegan mayonnaise: Just mayo, Best foods vegan mayo, and Veganaise.
There are other brands out there, but make sure it's one you like because mayo is a main ingredient and will make up the bulk of the salad dressing.
If you don't want to use store-bought vegan mayonnaise, there are a lot of recipes out there using silken tofu or raw cashews to make a homemade version.
At your next bbq, give this broccoli slaw recipe a try as a sandwich topper.
Can I make this oil-free?
Yes, if you want to remove the oil I would use half plain vegan unsweetened yogurt and half a homemade cashew vegan mayo.
I don't currently have a recipe for it but I would mix raw cashews, vinegar or lemon juice, salt, and some water.
What do you need for this vegan broccoli slaw?
Check out the recipe card for the ingredient amounts.
broccoli slaw
vegan mayonnaise
vinegar
sugar (you can use maple syrup you'd rather, but it may be more watery)
celery seed
salt
avocado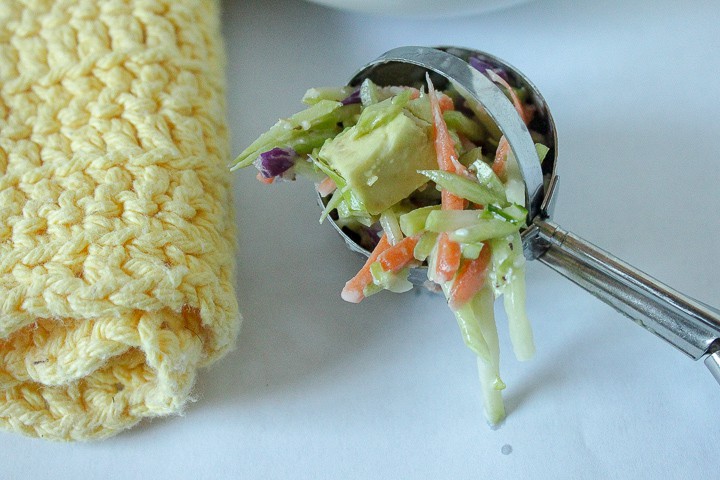 How do you make this easy vegan broccoli salad recipe?
Get a medium-sized bowl and start mixing your dressing ingredients; the vegan mayo, vinegar, sugar, celery seed, and salt.
Stir it until all mixed.
Then add your broccoli slaw and any mix-ins; combine well.
Let sit in the fridge for about an hour or more to blend the flavors.
When you're ready to serve, add the Avocado.
How do you store this?
The best way to store this is in an airtight container or bowl covered with plastic wrap in the refrigerator.
The sauce can get a little watery as it sits.
How long does this vegan broccoli slaw last?
This will only stay tasty for about three days as long as it's been refrigerated.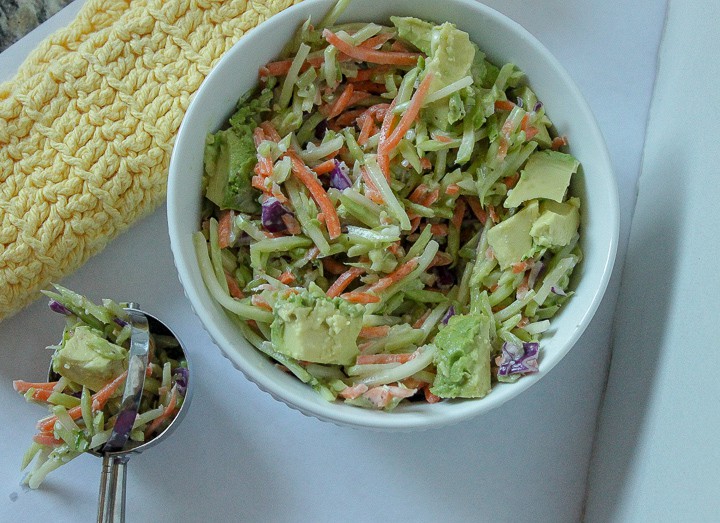 Want some other vegan summer recipes?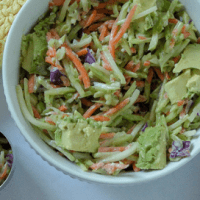 Vegan Broccoli Slaw
This vegan broccoli slaw is the perfect topper to your next vegan sandwich.
Print
Pin
Rate
Ingredients
1 12

oz

broccoli slaw

½

cup

vegan mayo

1

TB

Vinegar

1

TB

sugar

½

teaspoon

celery seed

¼

teaspoon

salt

1

avocado

cut into chunks
Instructions
Get a medium sized bowl and mix everything but the broccoli slaw and avocado.  Stir it until all mixed. Then add your broccoli slaw- mix well.  Let sit in the fridge for about an hour or more to let the flavors blend together.  When you're ready to serve add the Avocado. 
Nutrition
Serving:
1
serving
|
Calories:
172
kcal
|
Carbohydrates:
12
g
|
Protein:
2
g
|
Fat:
14
g
|
Saturated Fat:
2
g
|
Polyunsaturated Fat:
11
g
|
Sodium:
187
mg
|
Fiber:
4
g
|
Sugar:
5
g