On a hot summer day, I love a cold sandwich, something I thought when originally going vegan that I would be stuck eating PB and J's. Not that I don't love a good Pb and J, but variety is always nice. But boy was I wrong. You can make almost anything vegan, which is pretty darn awesome. This is where this vegan not chicken salad sandwich came into the picture.
I used to love chicken salad sandwiches. And there is a local company around here that makes a spectacular one, but I don't always want to shell out the 7 dollars for the sandwich. So I started trying to mess with my own version.
I started with soy curls. If you have been around here long you know that I love soy curls. They are so versatile and I just can't get enough of them.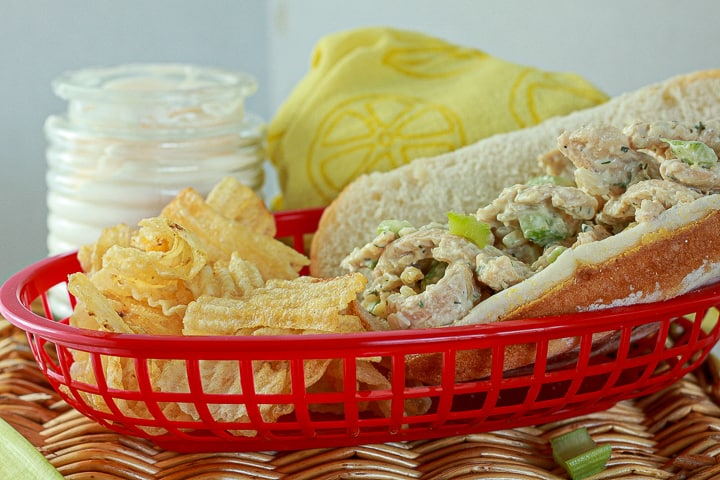 What I love about this base is that you can add whatever you want to it. I am not a big fan of grapes in my savory food, but I know a lot of people love grapes in their chicken salads. So if that's your thing by all means add it. I wouldn't mind some dried cranberries, I feel like that might be a good addition, but my kids eat those like they may never see them again. So I was out of them when taking pictures of this recipe.
What's in these Vegan Not Chicken Sandwiches anyway?
Soy curls
sliced almonds
celery
parsley, dried
dill, dried
onion powder
vegan mayo
Dijon mustard
lemon
salt
pepper
bread
How do you make them?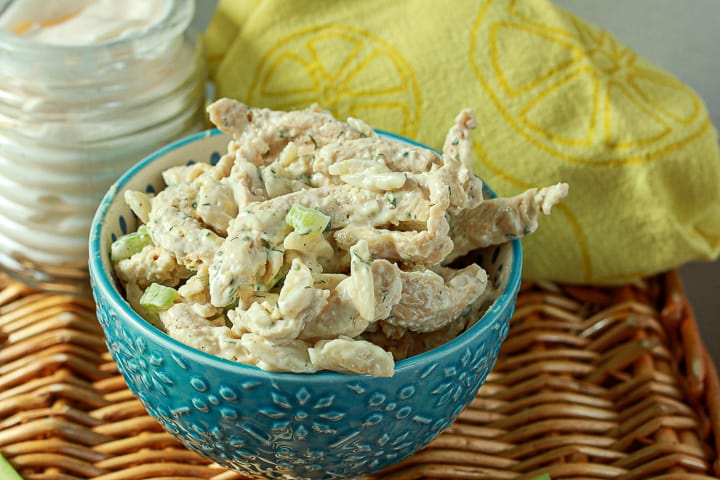 If you have never worked with soy curls then here is a little lesson;
You have to rehydrate them to work with them. You start this by putting them into a bowl, covering them with warm water and letting them rehydrate for 10 minutes. After the 10 minutes is up you strain them and then squeeze them like crazy to get all the liquid out that you just put in. Sounds like an oxymoron, but rest assured that's how the delicious magic happens.
At this point you can pick what shape you want them in. You can either have them be in the longer strip form, or cut them into small pieces.
To save time, while the soy curls are rehydrating you can start making the sauce. You'll mix all your sauce ingredients in a medium–sized bowl and stir.
Then you'll add your soy curls and mix. This does taste better as it has time to sit. It needs that time to reabsorb whatever flavor you're trying to infuse it with.
We served ours on a hoagie like bun and may or may not put potato chips on top of it. We can't be the only one that does this??
Do you like fruit in your vegan not chicken salad sandwich? Let me know in the comments!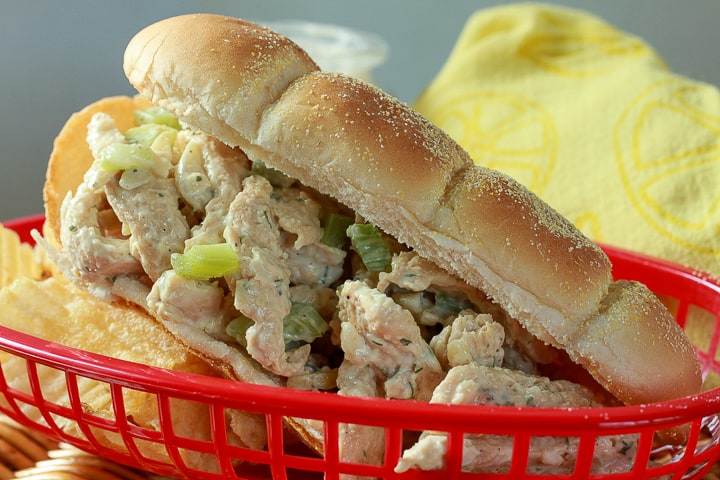 Vegan Chicken Salad Sandwich
These vegan soy curl chicken salad sandwiches are a great lunch or easy dinner option.
Ingredients
2 cups soy curls
1/2 cup sliced almonds
1 rib celery, chopped
1/2 tsp parsley,dried
1 tsp dill, dried
1/2 tsp onion powder
1/2 cup vegan mayo
1 tsp yellow mustard
1 tsp dijon mustard
2 TB lemon juice
1/2 tsp salt and pepper
Instructions
Start by soaking your soy curls. Pour the 2 cups into a bowl and cover it with warm water, let sit for 10 minutes. After the 10 minutes get all the water you can out of the soy curls by squeezing them until you can't get much more liquid out.
While the soy curls are rehydrating make your sauce. Mix everything together until incorporated. Once your soy curls are ready, mix them with the sauce. This tastes best when it has time to marinate. Let it sit covered in the fridge a few hours. You could add grapes to this if that's your thing. Serve on delicious sandwich bread for a good no-cook meal.
Nutrition Information:
Yield:

5
Serving Size:

1 serving
Amount Per Serving:
Calories:

202
Total Fat:

18g
Saturated Fat:

3g
Trans Fat:

0g
Unsaturated Fat:

14g
Cholesterol:

0mg
Sodium:

251mg
Carbohydrates:

7g
Fiber:

2g
Sugar:

2g
Protein:

4g
* This doesn't include the bread. The calories are computer generated and may not be 100% accurate.

<3Courtney