If you told me 10 years ago that I would eat vegan butternut squash soup I would have denied it all day. Something about butternut squash freaked me out. I finally tried it one day in this soup and I was hooked. Even my 8-year-old loves this soup and we fight over the last bowl.
I love that this soup is chocked full of vegetables. It does have a little bit of vegan cream cheese to add to the flavor factor, but other than that, it's all goodness.
You can either make it in your Instapot, which is my personal favorite. Or you can cook it on the stove if you don't have an Instapot. I have never tried it in the crockpot but I am sure it would work.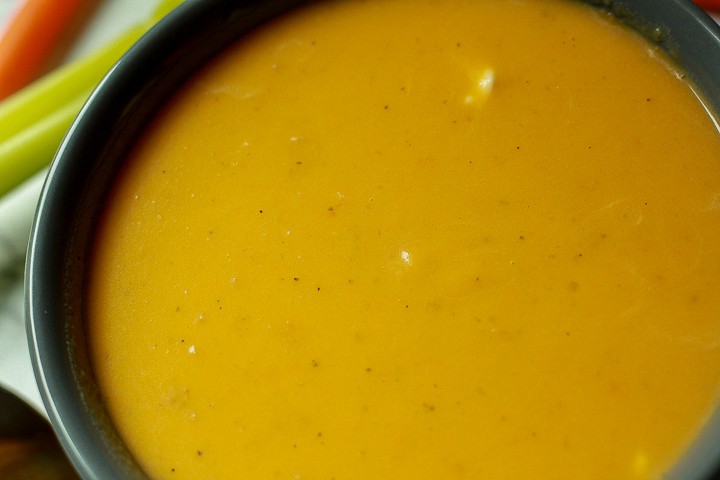 This soup is so tasty my sister actually requested this soup for her birthday of all the things I make. I wasn't mad because I love this soup. My husband isn't big on soups. So I don't make them as often as I would like. But I think that needs to change, starting with this soup way more often.
What's in this easy vegan butternut squash soup?
vegan butter
celery
onion
carrots
butternut squash
potatoes
vegetable broth or bullion
marjoram, dried
black pepper
vegan cream cheese
cayenne pepper *optional
How do you make this soup?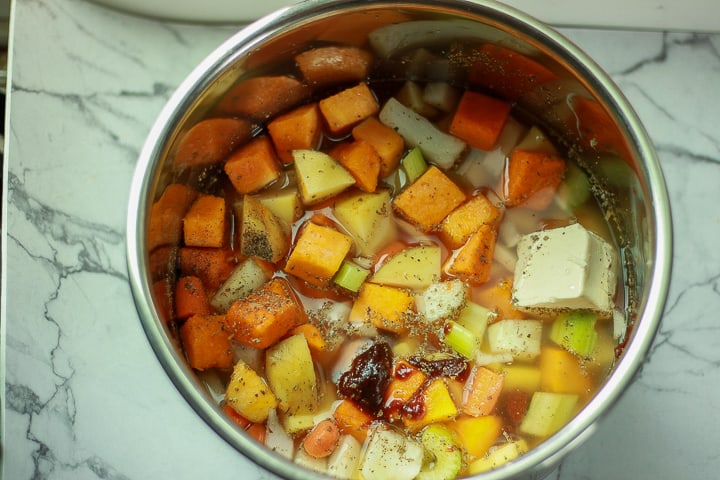 If you have in Instapot you just literally chop everything up and throw everything but the cream cheese into the pot. Then you cook it on manuel for 15 minutes and let it come down for 10 minutes. You then add the cream cheese and either use a blender or a hand blender and blend until the soup is smooth.
This thickens as it has time to cool, it may even taste better the next day. I usually serve this with crackers or bread on the side. I have a really easy 30-minute roll recipe if you need one.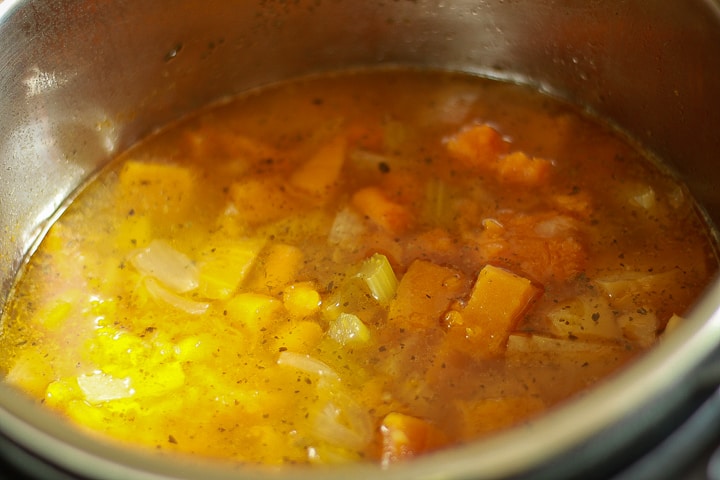 There are also instructions on the actual recipe on how to make this on a stove if you do not have an Instapot.
Does your family like soup? Let me know in the comments!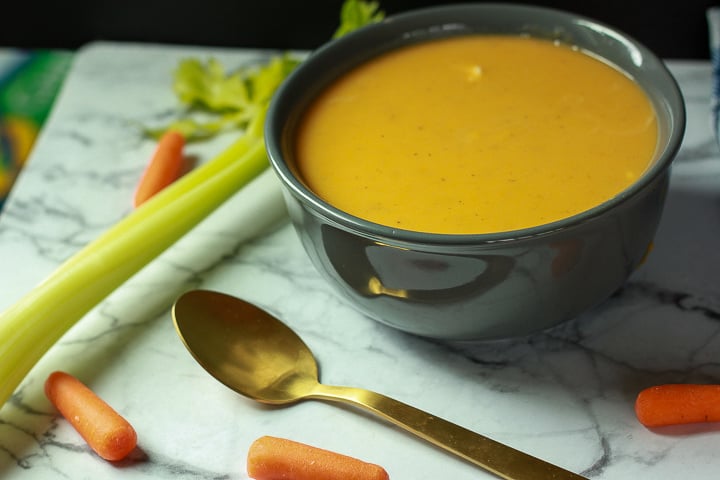 Tasty Vegan Butternut Squash Soup
This vegan butternut squash soup is so simple and amazingly delicious!
Ingredients
3 TB Earth Balance Vegan Butter
1 small onion, chopped
2 stalks celery, chopped
3/4 cup carrots, chopped
2 medium potatoes, chopped
4 cups butternut squash, peeled, seeded, cubed
3.5 cups vegetable broth or water and bullion
1 tsp marjoram,dried
3/4 tsp black pepper
dash cayenne pepper, optional
4 oz vegan cream cheese
Instructions
If using an Instapot take everything but the vegan cream cheese and throw it in the instapot. Cover and cook on manual for 15 minutes, let it naturally release for 10 minutes then carefully release the rest of the steam if any. Then add your vegan cream cheese and either take an emersion blender and blend everything until smooth. Or let it cool a bit and add it to your blender and blend until smooth. This thickens, even more, the next day, but is good the same day as well. Add salt and pepper as needed depending on how salty your broth it.
If you do not have an instapot you can do this on the stove as well.
Get a medium to a large pot with a lid.
You'll want to melt the vegan butter and add all the vegetables, cook in the melted butter for 5-6 minutes until lightly browned.
Then add your seasoning and vegetable broth. Bring to a boil. Then place a lid on, reduce the temperature to low and let simmer for about 20 minutes or until everything is soft. Add the vegan cream cheese. Use an emersion blender or blender to blend the soup. You can return it to the pot to serve. Add salt and pepper as needed depending on how salty your broth it.
Nutrition Information:
Yield:

4
Serving Size:

1 grams
Amount Per Serving:
Unsaturated Fat:

0g

<3 Courtney