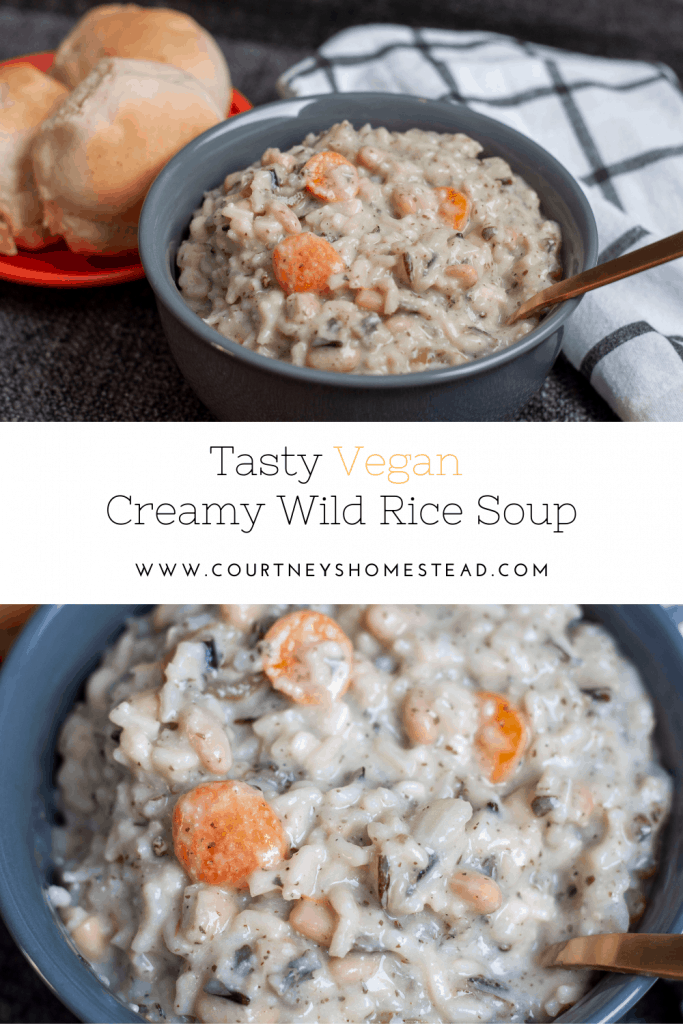 I love a good soup. There is something about the weather changing that makes me want to curl up with a warm bowl of soup. This awesome vegan creamy wild rice soup is so comforting.
My husband is not a big soup fan unfortunately for me. So, I only try to sneak soups in occasionally. He actually liked this soup so you know it's good!
I went with a boxed version of long grain and wild rice soup because I couldn't find any plain wild rice in my area. But I love the addition because it comes with all sorts of delicious flavor in it.
If you were to make it with something else you could have to make up for that seasoning packet.
I always make this recipe by cooking the rice first and then adding it, this possibly could be done all together in one pot but I haven't made the time to figure out the steps. One day I will try it out and update the recipe.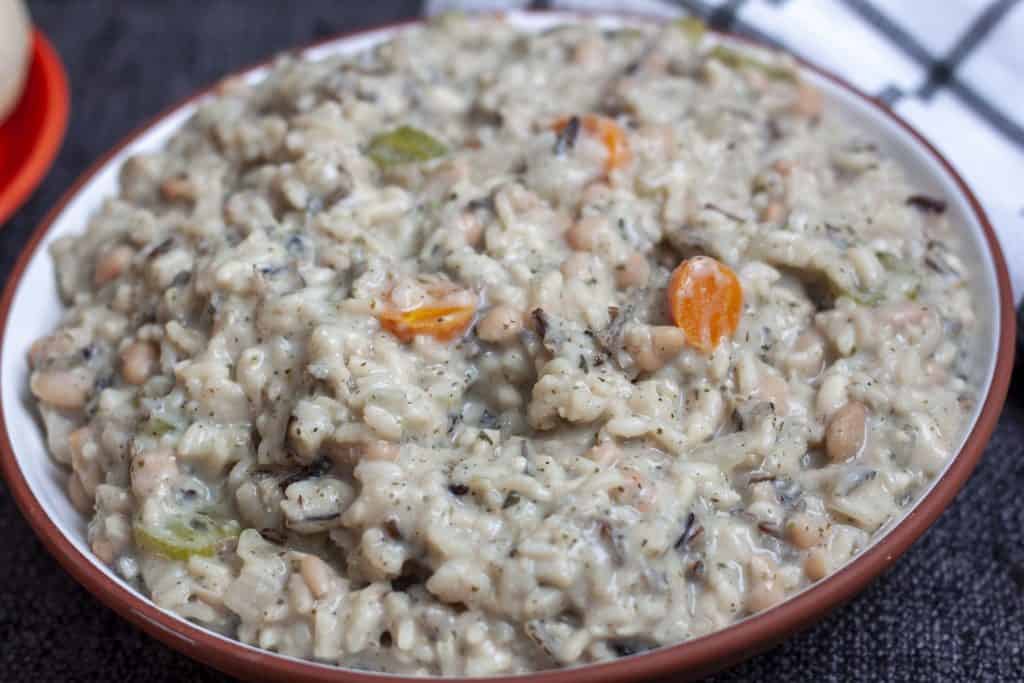 What do you need for this vegan creamy wild rice soup?
Cook this for about 5-10 minutes until they start to soften. Once softened remove them from the pan and put them in a bowl and set aside.

Take your cashew cream or butter and a little bit of the vegan milk and add the flour and whisk until thickened, that will happen pretty quickly.

Add the remaining vegan milk and whisk until it's combined.

Add your salt and pepper.

Add the 2 cups of water and stir. Add back the vegetables, the cooked rice, and the can of beans and stir.

Cook this for about 10 minutes.

I let it cool for a while so it thickens.

This taste great served with some bread.

Vegan Creamy Wild Rice Soup

This vegan creamy wild rice soup is a very comforting delicious soup.

Ingredients

1 box (6oz) Uncle Ben's Long Grain and Wild Rice
1/2 cup onion, chopped
1/2 cup carrots, chopped
1/2 cup celery, chopped
3 cloves garlic, minced
2 cups of water
2 cups vegan milk
1 can navy beans, rinsed and drained
1/2 tsp salt
1/2 tsp pepper
1/4 cup flour
2 TB raw cashews blended with 2 TB water- should make 1/4 cup cashew cream *Or vegan butter

Instructions

Start by making your box of rice according to the box directions.
While that is cooking make your cashew cream by blending the cashews and water. You may need to make a bigger batch of cashew cream if you don't have a tiny blender as I do. You could make this not oil free and use vegan butter if you would prefer.
Take a medium pan and add your onion, carrots, celery, and garlic, add some water so that the vegetables don't stick. Cook this for about 5-10 minutes until they start to soften. Once softened remove them from the pan and put them in a bowl and set aside.
Take your cashew cream or butter and a little bit of the vegan milk and add the flour and whisk until thickened, that will happen pretty quickly. Add the remaining vegan milk and whisk until it's combined. Add your salt and pepper. Add the 2 cups of water and stir.
Add back the vegetables, the cooked rice, and the can of beans and stir. Cook this for about 10 minutes.
Serve with some bread.

Nutrition Information:

Yield:

4

Serving Size:

1 Amount Per Serving:

Calories:

345

Total Fat:

14g

Saturated Fat:

6g

Trans Fat:

0g

Unsaturated Fat:

7g

Cholesterol:

0mg

Sodium:

471mg

Carbohydrates:

43g

Fiber:

8g

Sugar:

4g

Protein:

14g

The calories are computer generated and may not be 100% accurate.

<3 Courtney