Vegan not chicken noodle soup is just like the classic we are all used to but without the chicken. I love turning regular classics into vegan recipes. I have served this soup to non-vegan people and they always love it and can't believe it's vegan.. whenever I say that the I can't believe it's not butter commercial pops in my head, anyone else? Anyway, onto the recipe!
It does have a chicken subsistute which you wouldn't have to put in, but it makes it that much tastier. I use the vegan chicken strips, sounds kind of weird in a soup, but boy is it delicious. This vegan not chicken noodle soup is easy to make and perfect for those days you aren't feeling your best or a day you just want to cozy up with a warm bowl of soup.
What kind of noodles should you use?
Let's talk noodles for a minute. I finalllllllly found a vegan "egg" noodle you would traditionally see in a chicken noodle soup recipe. If you are from the USA Walmarts brand has the vegan "egg" noodles. I have yet to actually try it in this soup, but I think it will be a great addition. With that being said you can use whatever noodle you would like. Just make sure that the noodle is not one that will fall apart easily after being left in warm broth for an extended amount of time. No one wants their noodles to disappear in their soup, or maybe you do- I'm not judging.
I like to use this Better Than Bouillon No chicken broth as my broth for this soup and many other dishes. But you could totally use a vegetable broth or whatever your favorite no chicken broth is.

Is this kid friendly?

Is this vegan not chicken noodle soup kid friendly? Welllll yes and no. My 8-year-old would eat this every day and my super picky 5-year-old will hardly look at it. So, depending on your kid, I am going to lean yes if your kid is not weird about looks and textures like mine.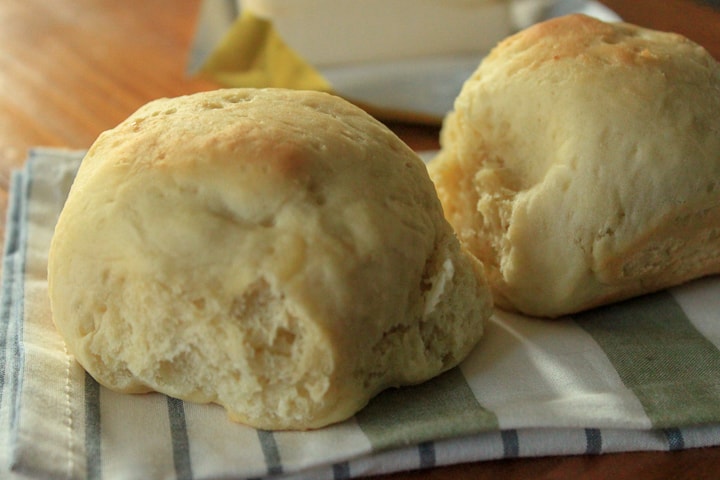 I feel like everyone's favorite part about soup night is the rolls. I have a recipe for quick rolls that are tasty and they pair perfectly with this soup. The recipe is here if you want to check it out.
Which do you prefer with your soup- rolls, crackers, or something else? Let me know in the comments!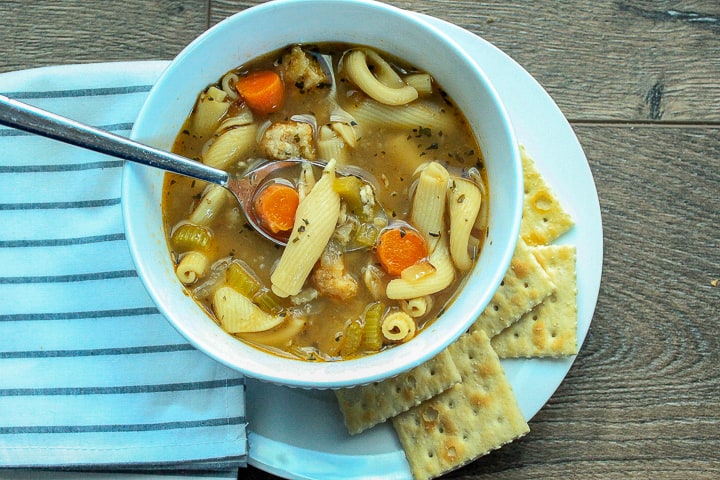 Vegan Not Chicken Noodle Soup
This vegan chickenless noodle soup tastes just like classic chicken noodle soup.
Ingredients
2 TB Earth Balance, Vegan Butter
4 cloves garlic, minced
3/4 cup celery, chopped
3/4 cup carrots, chopped
1 onion, chopped
1/2 tsp basil,dried
1/2 tsp oregano,dried
1 tsp salt (or more to taste)
1/2 tsp pepper (or more to taste)
1/8 tsp poultry seasoning
1/4 tsp thyme, dried
2.5 cups noodles, dry
3 cups water
3 cups No chicken bullion or vegetable broth
1/2 bag vegan chicken strips
Instructions
Start by cooking your vegan chicken strips according to the package directions. When done, chop up into bite-sized pieces and set aside.
2. Get a large pot and melt the butter, add the chopped onion and cook down for about 5 minutes, add the rest of the vegetables, fresh garlic, seasoning, and stir. Add broth and water. Let this cook together for 15 minutes at a low boil.
3. Add your noodles and cooked chopped up vegan chicken strips, bring to a simmer and let simmer for around 10 minutes, this is going to depend on the type of noodles you use. You may need to decrease this time, your noodles will still cook when it's removed from the heat so account for that.
Nutrition Information:
Yield:

5
Serving Size:

1 serving
Amount Per Serving:
Calories:

374
Total Fat:

19g
Saturated Fat:

5g
Trans Fat:

0g
Unsaturated Fat:

12g
Cholesterol:

0mg
Sodium:

782mg
Carbohydrates:

26g
Fiber:

3g
Sugar:

3g
Protein:

25g
The calories are computer generated and may not be 100% accurate.
If you loved this recipe let me know in the comments or #courtneyshomestead thanks for your support!
<3 Courtney