This vegan guacamole only uses a handful of ingredients you likely already have on hand and is a very easy recipe. You can whip this up in less than 10 minutes, and the whole family will enjoy this homemade guacamole recipe. 
Do you ever want to make guacamole, but you don't have all the extra ingredients?
Or maybe your kids hate onions, anything crunchy, anything spicy, anything that is actually really tasty… Two hands up from this girl on that!
Well, this Easy Guacamole fixes all that.
You won't even miss all the crunchy, spicy, deliciousness.
This is such an easy recipe with simple ingredients, but it seriously hits the spot.
I have made the Chipotle like guacamole, and I love them.
But I love this one even more. It's just that good.
It has very few ingredients, and I think that's what makes it taste SO good.
I have made this for several parties, and people can't get enough of it.
They always comment on how delicious it is, and when they hear how easy it is, they can't believe it.
I'm a huge fan of guacamole, and the only ones I haven't liked are when they have way too much lime juice in them.
Classic Guacamole Recipe Q&A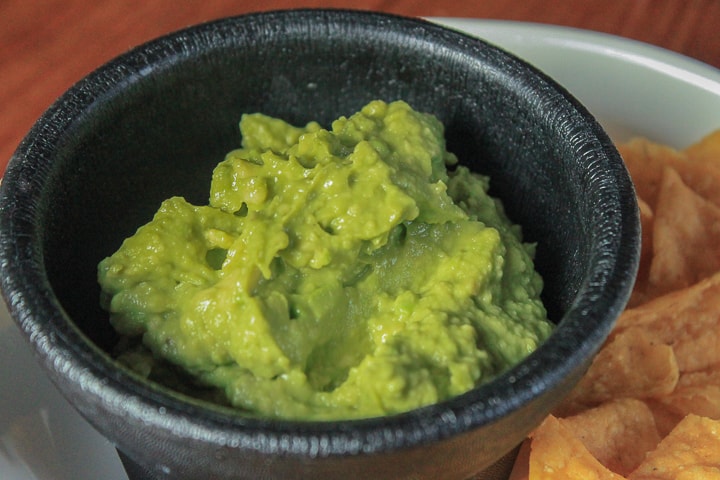 What's the easiest way to mash your avocado?
I prefer my guacamole to have some texture and not be ultra-smooth. So, I prefer to use a potato masher or pastry cutter to prepare my guacamole; you can also use a fork.
If you have a huge amount of guacamole to use, a great way to get mashed avocado quickly is to use a food processor.
How do you pick out perfect avocados?
There is nothing worse than getting a gross stringy or overripe avocado when trying to make guacamole.
You want your avocado to have a little bit of a give when you press on it but not so much that it's squishy.
If all they have is hard avocados, you can buy those and place them in a brown paper bag with some bananas. It will get riper faster (unfortunately, not the same day).
If your avocados are starting to ripen too quickly, you can stick them in the fridge, and it will slow down the ripening process.
What are some good additions to guacamole?
If you don't want to make this with just basic ingredients, then you're welcome to add whatever is typically in your guac recipe but keep this recipe as a base; here are some add ons;
red onion, diced or white onion
vegan sour cream
fresh lime juice
fresh cilantro
fresh garlic
cherry tomatoes
jalapenos
cayenne pepper
red pepper flakes
Whatever your taste buds like in your guacamole dips.
What's the best way to prepare an avocado?
I prefer to cut the avocado in half, remove the pit, then slice my avocado depending on how I want to use it.
If I want strips, I cut strips with a knife and then take the knife and cut between the avocado flesh and the fruit, and then it just pops out.
If you want the avocado whole, you can use a spoon to do the same thing as the knife above and spoon it out.
What ingredients do you need for this easy guacamole recipe?
Check out the recipe card for the full recipe.
ripe avocados
garlic powder
onion powder
salt
How do you make the best vegan guacamole recipe?
Peel and mash your avocado, add your spices, and stir.
If you are going to use this later, throw your avocado pits in to slow the browning, but it's best eaten when it's fresh.
How do you serve the best guacamole?
This is best served as a dip or topping; however, you would normally use creamy guacamole.
I like to eat it with tortilla chips or on tacos, burritos, or Mexican cuisine.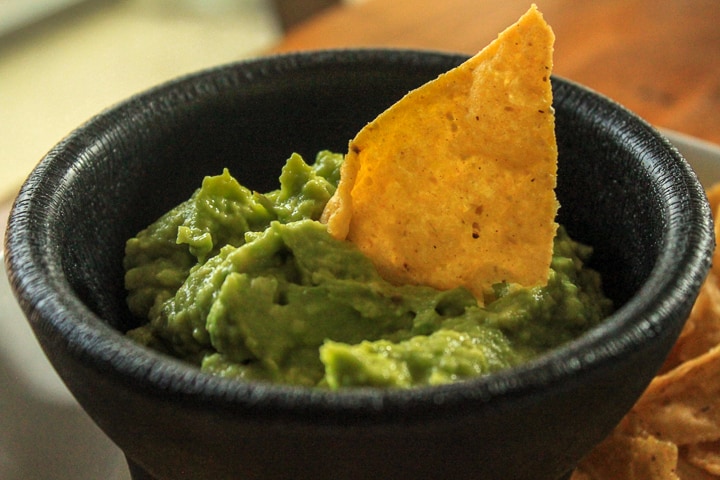 How do you store leftover guacamole?
Guacamole is a little tricky because it browns pretty quickly after making it.
Saving the avocado pit and placing it in the guacamole will help it brown less. Either cover the dish with plastic wrap or in an airtight container.
When you want to serve it again, just remove the pit and stir it, mixing the brown with the green.
Leftover guac will last a couple of days in the fridge, but it tastes best fresh.
Can you freeze guacamole?
Yes, you can, but I think it's much better fresh, and this takes less than 5 minutes to make.
Want some other vegan Mexican food recipes?
Easy Vegan Guacamole
This easy guacamole is for people who don't like spicey or chunks in their guacamole; everyone always enjoys this.
Print
Pin
Rate
Ingredients
2-3

ripe avocados

¼

teaspoon

garlic powder

¼

teaspoon

onion powder

¼

teaspoon

salt
Instructions
Peel and mash your avocado ( I like to use this), add your spices, and stir.  If you make this early in the day, throw your avocado pits in to slow the browning, but it's best eaten when it's fresh.
Notes
See blog post for recipe Q&A
Nutrition
Serving:
1
serving
|
Calories:
485
kcal
|
Carbohydrates:
26
g
|
Protein:
6
g
|
Fat:
44
g
|
Saturated Fat:
6
g
|
Polyunsaturated Fat:
35
g
|
Sodium:
312
mg
|
Fiber:
20
g
|
Sugar:
2
g
If you loved this recipe, then give it a 5 star rating and leave a comment! I love to chat with you all. Please feel free to share on social media and tag #courtneyshomestead. I would love to see you over on Instagram or Facebook.