These Vegan Not Chicken Taquitos will knock your socks off. When going vegan, Taquitos were something that I missed. Not now. This recipe is awesome and brings back some taquitos in your life.
These are perfect party food.
I brought these to a party and they were a huge hit.
People had no idea they were vegan and stated that they were the best Taquitos they have ever had, they didn't even know at the time they were Vegan Not Chicken Taquitos they thought it was the real deal.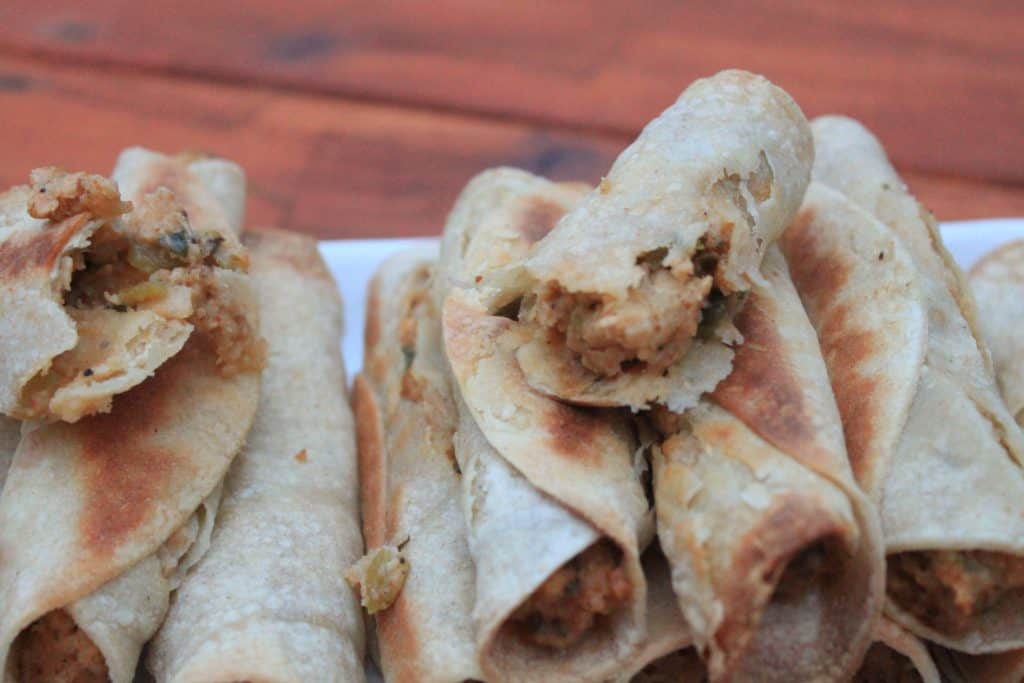 I do use a fake chicken product in this.
You could use Gardein meatless chicken tenders, Trader Joe's has some, or Fred Meyers/ Krogers Simple Truth brand. Whichever you prefer. I think they are all tasty.
These not chicken taquitos also use a fake cream cheese. They have tons of different kinds out.
The one I use the most and if you're lucky enough to live by a Trader Joe's, their vegan cream cheese is affordable and tasty. But any cream cheese will do.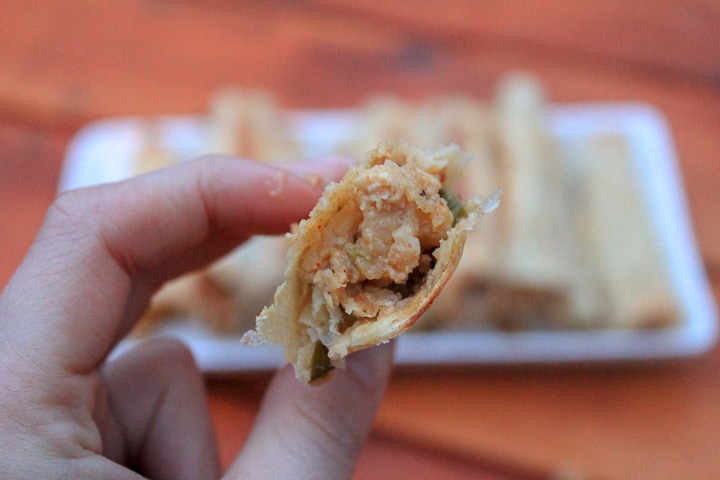 How are these cooked?
These are baked and not fried. I am sure they would be amazing fried, or in the air fryer. But the only way I have tried making them is baked thus far.
They are super good with a side of guacamole, or eaten by themselves.
I like to serve these as the main part of the meal and add this Gardners Dip to go with the meal or this taco salad Taco Salad is a really good side dish.
The vegan not chicken taquitos are also kid approved!
That's pretty much a game-changer for me.
If I don't have to argue with my kid to eat, then I'm sold. In fact- the last time I made them, the last one was argued over.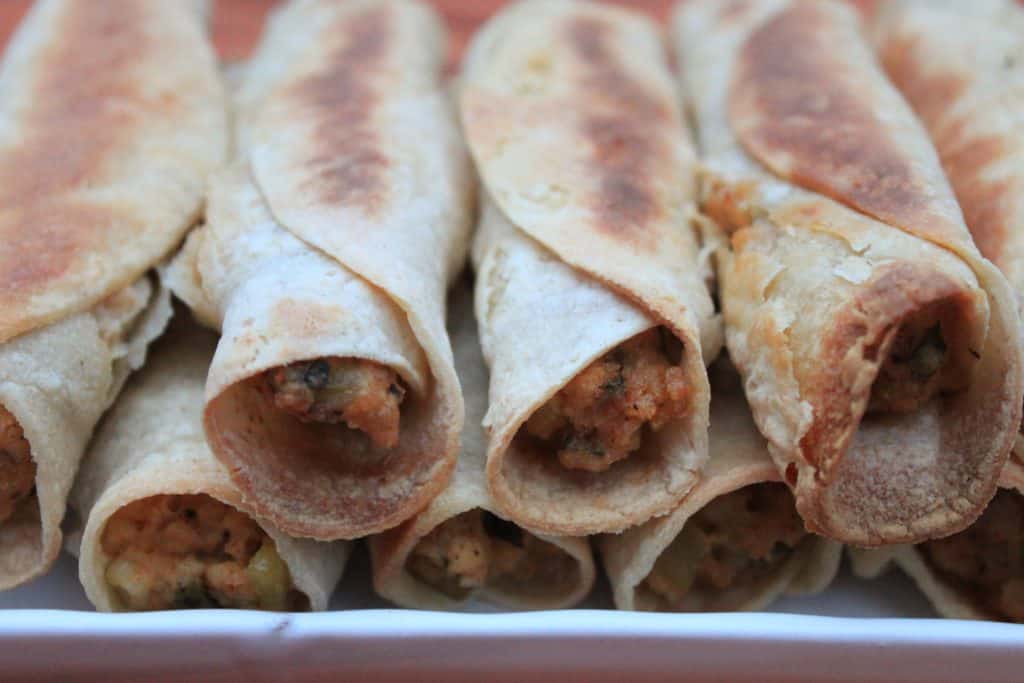 -Vegan Not Chicken Taquitos-
These vegan not chicken taquitos will make you never miss the real thing.
Ingredients
1 9 oz bag of vegan "chicken" tenders (Like Gardein)
6 oz vegan cream cheese
1/4 cup green onion, finely chopped
3 cloves garlic, minced
3 tablespoons cilantro, finely chopped
1 4 oz can green chilis
1 teaspoon chili powder,ground
1/2 teaspoon cumin, ground
1/2 teaspoon salt
1/2 teaspoon oregano, dried
20-30 corn tortillas
oil for spraying the tops
Instructions
Start by cooking your chicken-less tenders either in the oven or microwave, per the package instructions. You don't want these to be crispy cooked, just cooked through.
2. Preheat your oven to 425 degrees. Spray a cookie sheet with cooking spray or line it with a silpat and set aside.
3. Mix the rest of the ingredients, minus the tortillas while waiting for the chicken-less tenders to cook. Set aside.
4. When the tenders are done and cooled, cut them into shreds and mix with the cream cheese mixture. Set aside.
5. Take your corn tortillas, about 3 at a time, place them on a plate and cover them with a damp paper towel. Cook for 20-30 seconds in your microwave. Carefully remove. Once cool enough to fill. Start filling with 2 to 4 tablespoons of the chicken-less filling. Roll up and put seam side down on the prepared baking sheet. Repeat this until the filling is gone. How many you get will depend on how full you like them.
6. Once they are all seam side down on the cooking sheet you can take some cooking spray, I use Avocado oil and give the taquitos a good spray down, or you can dip a pastry brush into oil and brush it on the taquitos.
7. Bake for 25-30 minutes, flipping at the mid-way point.
Nutrition Information:
Yield:

20
Serving Size:

1 taquito
Amount Per Serving:
Calories:

152
Total Fat:

6g
Saturated Fat:

2g
Trans Fat:

0g
Unsaturated Fat:

4g
Cholesterol:

0mg
Sodium:

180mg
Carbohydrates:

19g
Fiber:

3g
Sugar:

1g
Protein:

5g
The calories are computer generated and may not be 100% accurate.
If you made this and enjoyed it, I would love to hear from you in the comments or #courtneyshomestead. Thanks for your support! <3 Courtney