This vegan taco pie is not only easy to make, but it's also insanely delicious! If you're looking for something to switch up taco Tuesday, you should check this delicious recipe the whole family will enjoy; it may even end up in your regular rotation.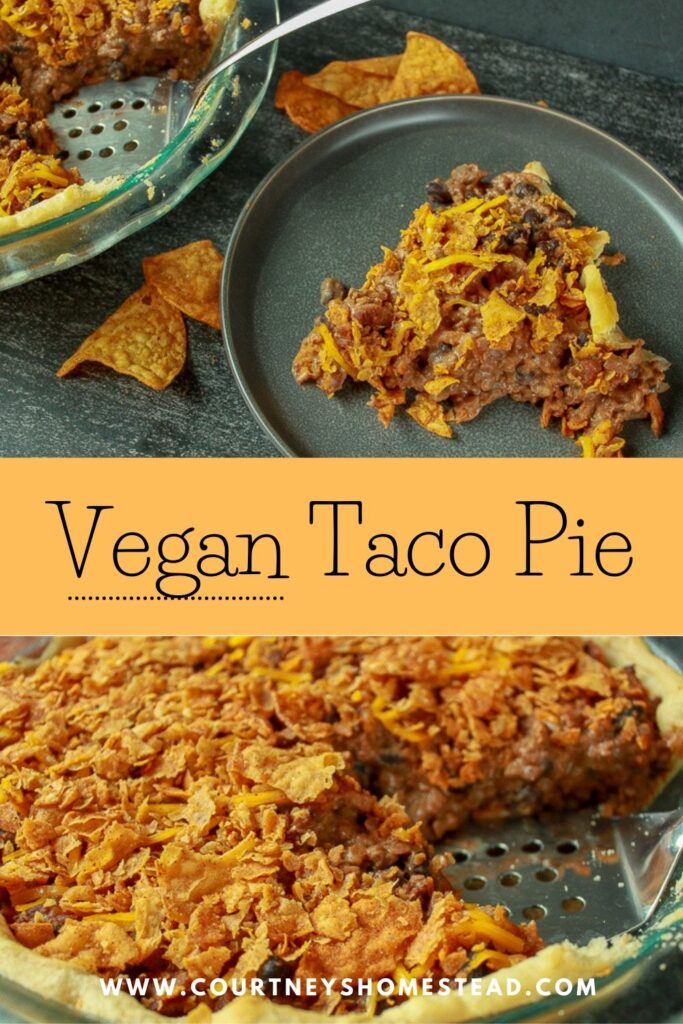 Have you ever had a Taco Pie?
I didn't have my first taco pie until I was around 19 years old. My now mother-in-law made it, and I thought it was the best thing ever!
Now, I make her recipe with my own twist and a vegan version.
This delicious dish comes together pretty fast and is perfect for a busy but tasty weeknight.
Vegan Taco Pie Recipe Q&A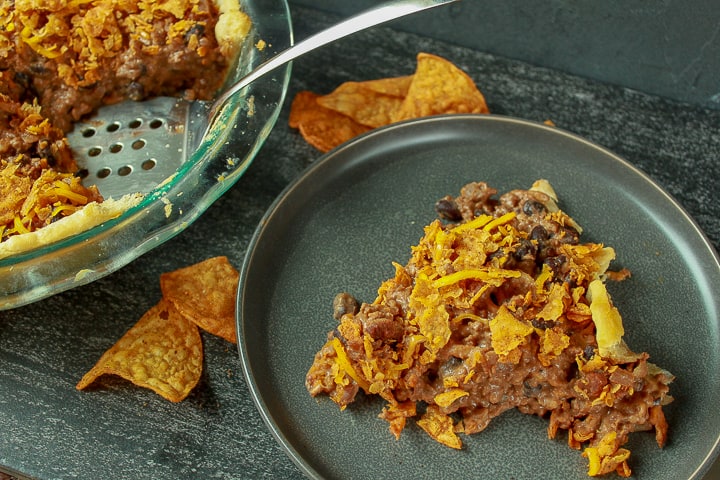 Do they make vegan crescent roll dough?
Check the back to make sure they are vegan.
A lot of them are, but not all of them. Pillsbury has a few, and so do many store brands.
The immaculate baking brand has some that have fewer ingredients than Pillsbury does and taste just as good.
Can I use something other than crescent rolls?
Yes, if you would prefer, you can use flour tortillas; I would double layer them and don't prebake them.
What's the best vegan taco meat to use?
Whichever kind is your favorite, they have so many different brands now.
Impossible Meat, Gardien, Beyond Meat. You can also make it with lentil taco meat if you prefer something more natural.
Can I make this gluten-free?
You can, but I think you'd have to use gluten-free tortillas as your base.
I haven't been able to find a gluten-free, vegan crescent roll.
What ingredients do you need for this vegan easy taco pie recipe?
Check out the bottom of this post for the full recipe.
vegan crescent rolls
vegan ground beef substitute *such a Gardien
onion
taco seasoning
water
vegan sour cream
Catalina dressing *store-bought or homemade
black beans or pinto beans
vegan cheese shreds *whatever your favorite dairy-free cheese is.
crushed tortilla chips
Optional toppings, green pepper or red pepper, green onions, black olives, spicy jalapenos, salsa, and lettuce.
How do you make this vegan taco casserole?
You start by using store-bought uncooked crescent rolls, like Pillsbury.
Take an 8×8 baking dish, a pie dish, or a casserole dish and spray it with cooking spray (don't forget this, it will stick).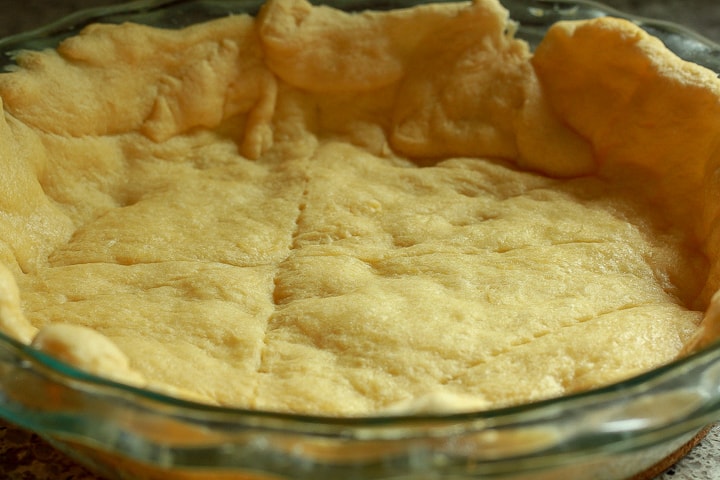 Take your dough and line it on the bottom and up the sides.
Prebake this according to the directions on the back of the container.
It's important that this is cooked through because it doesn't cook much or at all when you bake the rest of it.
I like to use fake ground beef to make taco meat.
There are a lot of different brands to choose from; pick your favorite.
Now get a nonstick skillet and cook your onion, vegan ground beef, and can of beans together on medium heat.
After that is cooked, add your favorite vegan taco seasoning and get that mixture all nice and seasoned.
Most of the time, people do taco pies in layers.
I don't like to do it that way.
I want a bit of everything in each bite, so I mix it all.
Add your favorite vegan sour cream, or make your own with cashews. And my favorite secret ingredient is Catalina dressing.
You can buy this or make it. I have a good recipe for vegan taco salad with homemade Catalina dressing.  
You'll want to mix all of this plus the vegan cheese until everything is evenly distributed, and then plop it all in your cooked crust, top with crumbled chips, and pop that baby in a preheated 350 f oven.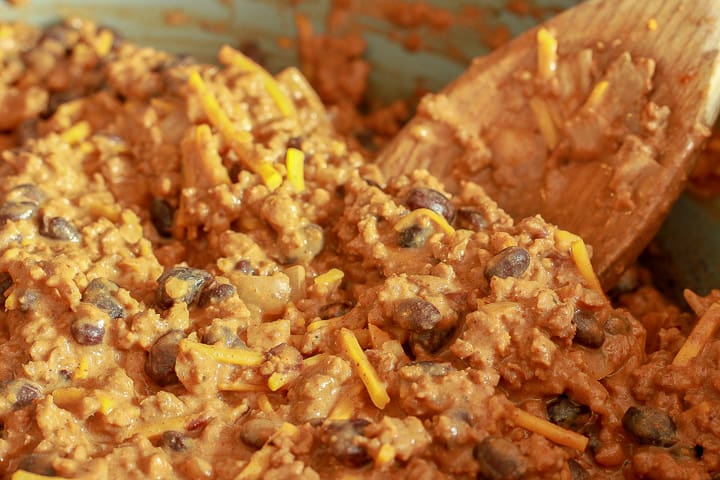 Bake for 10-15 minutes until heated through.
This is best to set for about 20 minutes before eating.
The Catalina dressing addition will make it a little less solid than most other taco pies.
But it tastes so good and is worth the little bit of a messier presentation.
We like to serve this with lettuce and more Catalina dressing.
It tastes really great, and you can add some greens to your life.
This dish is kid-friendly, if you're wondering.
It tastes like a delicious taco; what's not to like?
My five-year-old tried to spit it out, but he did like it once he got over himself. And my 8-year-old gobbles this up.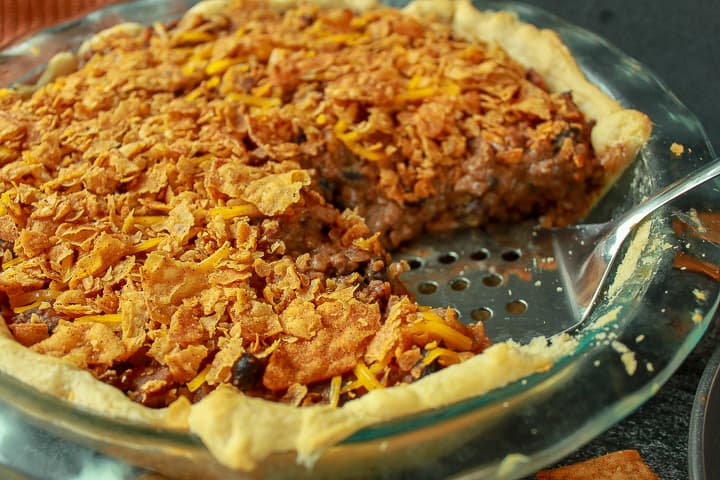 How do you serve this?
This is best served warm on a bed of lettuce with additional Catalina dressing, almost like a taco salad.
This can be served as a main dish with sides or no sides.
You can add whatever your favorite toppings are for tacos.
How do you store leftovers?
Let this taco pie come to room temperature, then place it in an airtight container in the fridge for up to 5 days.
Can you freeze this?
You can freeze it in a freezer-safe bag for up to 3 months.
Place it back in a pan and reheat it in the oven.
Want some other vegan dinner recipes?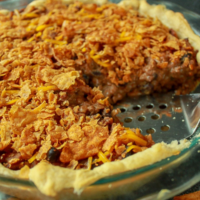 Vegan Taco Pie
This vegan taco pie tastes like the one you grew up on, but vegan.
Print
Pin
Rate
Ingredients
1

roll vegan crescent rolls

1

package vegan ground beef substitute *such a Gardien

1

small onion

chopped small

3

TB

taco seasoning

¾

cup

water- or depending on your taco seasoning instructions

½

cup

vegan sour cream

½

cup

Catalina dressing *store bought or homemade

1

can black beans

rinsed and drained

1

cup

or more vegan cheese shreds such as Daiya or Violife

chips crumbled

to cover the top
Instructions
Start by greasing either an 8x8 square pan or a pie dish. Unroll your crescent rolls and cover the bottom and the side of the dish. Bake this for the recommended time on the back of the package. It needs to be fully cooked before the next step.

While the crescent rolls are baking, start your filling. Cook the onion with either a small amount of oil or enough water to make it not stick to the pan. Saute this for about 5 minutes until the onion is mostly cooked. 

Add your vegan ground beef, beans, and taco seasoning water. Cook this until the water is absorbed and the vegan ground beef isn't frozen. Remove from heat once cooked and add your sour cream, Catalina dressing, and cheese, and stir until incorporated.

Take this filling and put it on top of the baked crescent roll crust. Then add crushed chips to the top. Cook this at 350 degrees for 10 minutes. Let it sit for 10-15 minutes, and then serve. We like to serve ours with salad and more Catalina dressing.
Notes
See blog post for recipe Q&A
Nutrition
Serving:
1
serving
|
Calories:
300
kcal
|
Carbohydrates:
34
g
|
Protein:
11
g
|
Fat:
14
g
|
Saturated Fat:
6
g
|
Polyunsaturated Fat:
7
g
|
Trans Fat:
1
g
|
Sodium:
1169
mg
|
Fiber:
6
g
|
Sugar:
13
g
If you loved this recipe, then give it a 5 star rating and leave a comment! I love to chat with you all. Please feel free to share on social media and tag #courtneyshomestead. I would love to see you over on Instagram or Facebook.