A vegan strawberry shortcake is the perfect summer treat. A delicious biscuit-like cake layered with fresh sweet strawberries and vegan whipped cream. This cake is not only gorgeous to serve but so tasty!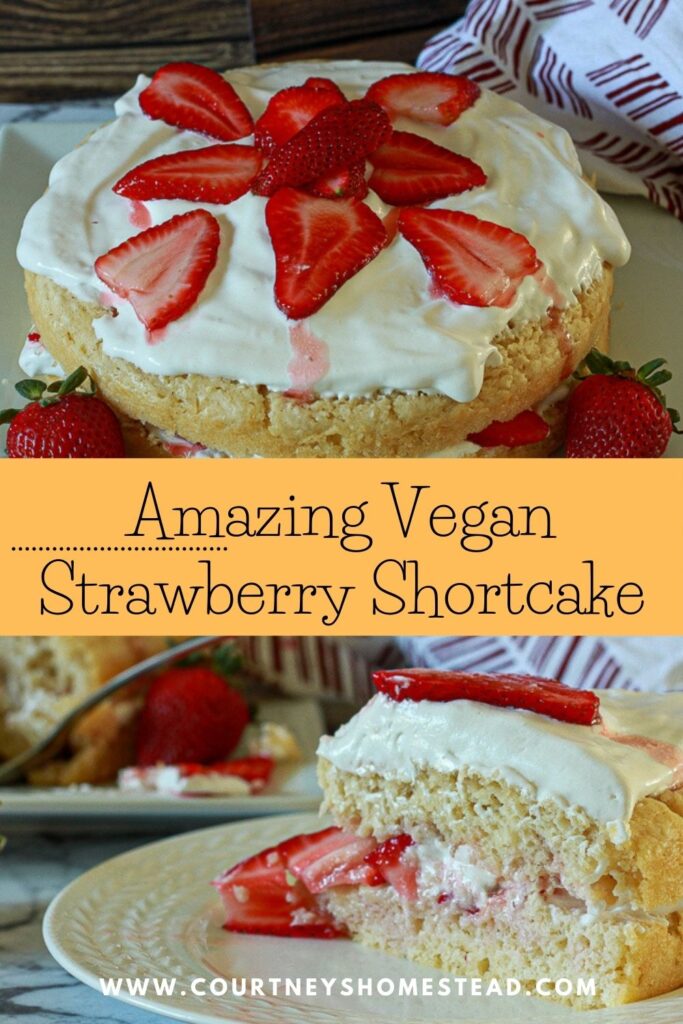 Strawberry shortcake has always been one of my favorite summer desserts.
Long before my vegan days, my sister and I would go to this fast food restaurant called Burgerville.
It's likely a place you have never heard of unless you're from Oregon.
They are known for, you guessed it, burgers (they also have vegan options), but also for milkshakes.
In June, it's strawberry season, so they would start their strawberry shortcakes.
They had this delicious biscuit-style shortcake with ice cream, whipped cream, and the best Oregon-grown strawberries.
We had convinced them (before they thought about cross-contamination) to make us a strawberry shortcake milkshake.
They would take a fresh strawberry milkshake and add a whole biscuit into it and blend.
It was the BEST thing.
I guess that may have been the start of my love for Strawberry Shortcake.
I feel like there are many different kinds of shortcakes that people enjoy.
The top three most common are; the spongey one from the grocery store, pound cake, or the biscuit type.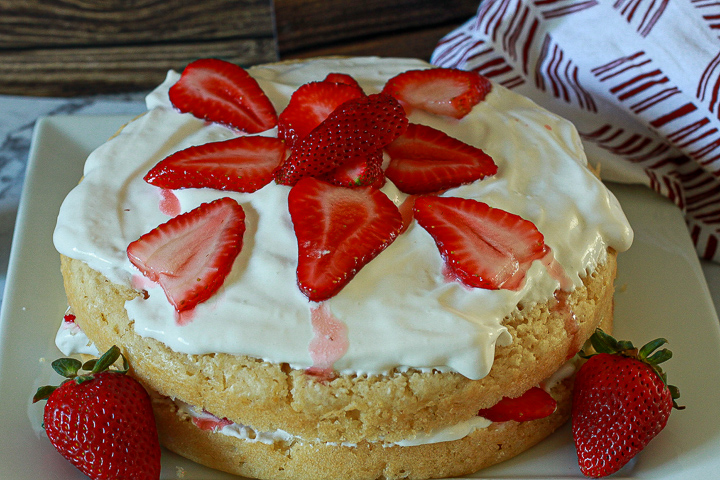 I am definitely in the biscuit type, but I would never turn down a vegan pound cake.
The spongey one, however, doesn't do it for me.
With that being said, this rides the biscuit line.
This shortcake biscuits cake isn't overly sweet because I wanted the sweetness to come from the juicy strawberries.
It's a perfect texture to soak up some strawberry juice but not become overly soggy.
Recipe FAQS
What is strawberry shortcake?
Strawberry shortcake is a delicious dessert that's made with a biscuit-like cake or scone, layered with strawberries and whip cream.
What's the best vegan whip cream?
So delicious coco whip is the best vegan whipping cream that you can buy. I have served it to many non-vegan people, and they love it.
If you can't find it, Whole Foods, Trader Joes, and many big grocery stores will have some version of vegan whip cream.
You can also make your own with coconut milk, but that's never been my personal favorite.
What kind of flour is best for strawberry shortcake?
All purpose flour is the best for this recipe. If you are gluten-free you can use all-purpose gluten-free flour.
If you would rather use white whole wheat flour, pay attention to the liquid amount; you might need more.
Can I make these into individual shortcakes instead of a cake?
Yes, if you prefer, you can make these into single-serve shortcakes. I'll explain this in the recipe.
Can I sub coconut oil for the vegan butter?
I know not everyone wants to use vegan butter, and that's okay.
I have never personally tried it, but I think it would work just fine. Just make sure your coconut oil is cold to cut it in like you would the vegan butter.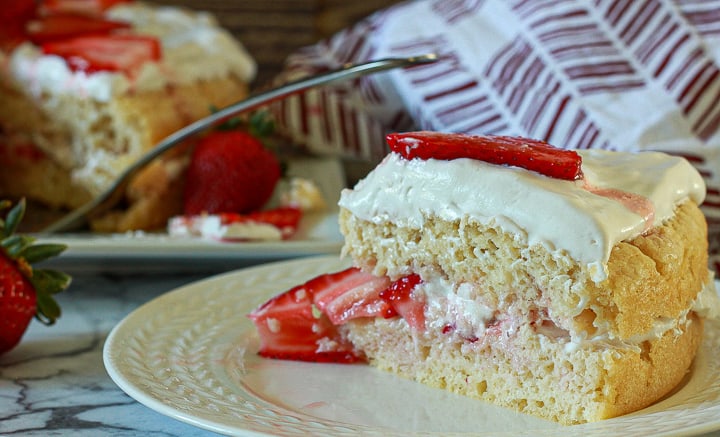 What do you need for this easy vegan strawberry shortcake?
Check out these simple ingredients (for full ingredient amount, check the recipe card)
All purpose flour
White sugar or cane sugar
Brown Sugar
Baking Powder
Salt
Vegan Butter
Vegan buttermilk (your favorite non-dairy milk almond milk, soy milk, the thicker usually, the better + 1 TB Vinegar)
Vanilla extract
Almond Extract
Strawberries
So Delicious Cocowhip or your favorite vegan whip cream
How do you make this vegan strawberry shortcake recipe?
You're going to start with making your biscuit cake.
You make this just like you would biscuits.
Make up your vegan buttermilk first. If you have never done this, it's super easy.
Take your liquid measuring cup, add 1 TB of white vinegar, fill it up to the 1 cup line and let it sit while you work with the other ingredients.
Mix your dry ingredients, then get your cold vegan butter out. I like to take my vegan butter and cut it into small pieces, throw it into the flour mixture, and use a pastry cutter to distribute it evenly.
Once your butter is mixed, you can add your extracts to the vegan buttermilk and then add it to your flour/butter mixture.
I use a wooden spoon and mix this until it's just combined. It will look a little messy.
Take a greased and floured 9-inch cake pan and put your dough in it. This is a thick dough, think biscuits. And spread it out evenly. Then throw some sugar on top before baking. This will make a nice little sugar crust when it's cooked.
If you would prefer to make these into individual strawberry shortcakes, follow these directions;
Prep your work surface by placing a Silpat or parchment paper on a flat surface and sprinkling with a tablespoon of flour.
Then take your biscuit dough, it will be a shaggy dough, and that's okay. You can either take a rolling pin or your hands and lightly roll the dough to about ¾ inch thick, get out a ruler if you need to.
Now get your biscuit cutter and cut your biscuits into a biscuit shape.
Place biscuits on a lined baking sheet. Take some white sugar and sprinkle it on the tops of the biscuits. Bake in the oven for
9-12 minutes. Don't overbake these shortcakes.
While this biscuit cake is cooking, you want to start on your fresh strawberries.
Cut them into your desired shape and sizes and put them in a small bowl.
Add as much or as little sugar as they need; this will depend on the ripeness of the berries.
I like to add a tiny touch of almond extract to the berries + sugar combo to give it a little extra flavor.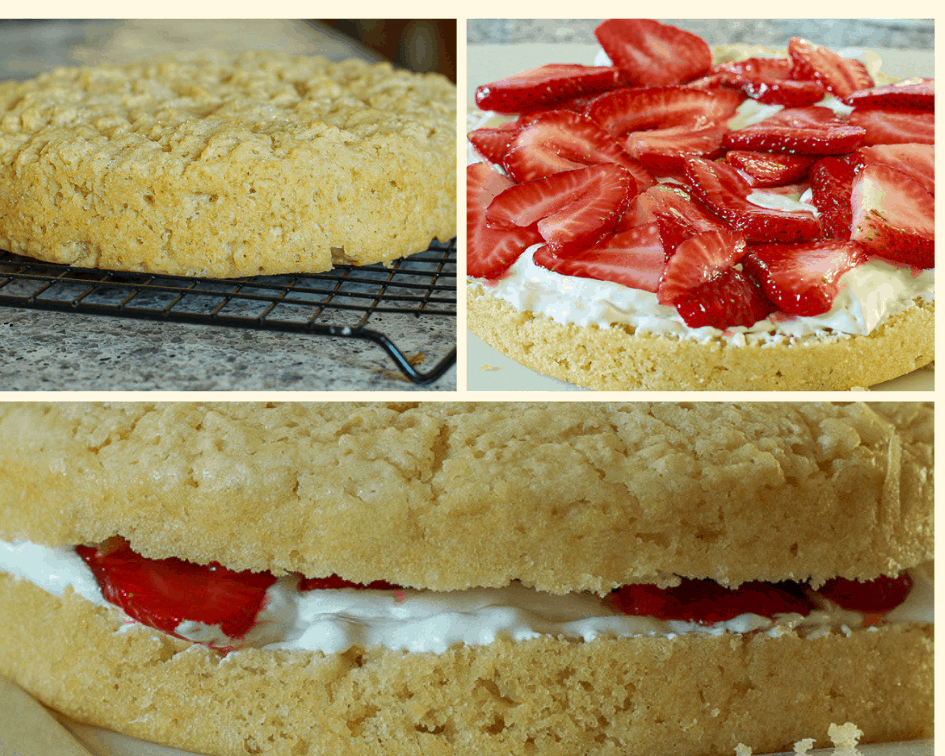 When it comes to assembling this vegan strawberry shortcake, you can carefully cut it in half.
Then add a layer of strawberries and whip cream, put the top layer on, and do the same on the top.
When I serve this, I do it with an extra scoop of strawberries + juices to saturate the flavor.
We also love to add some vegan vanilla ice cream.
What style of shortcake is your favorite? Let me know in the comments!
How do you store this delicious vegan strawberry shortcake?
Because of the whipped cream, you want to store this in the fridge in either an air tight container or with plastic wrap.
This is best to eat within a few days for the best flavor.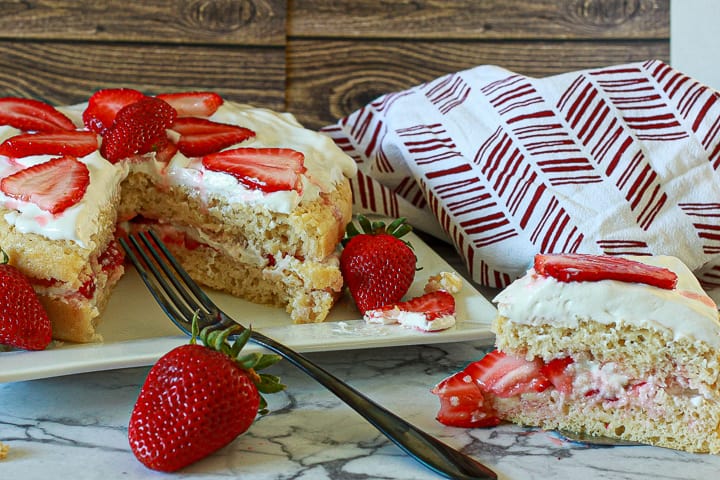 Want some more vegan summer dessert recipes?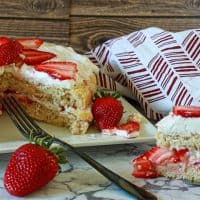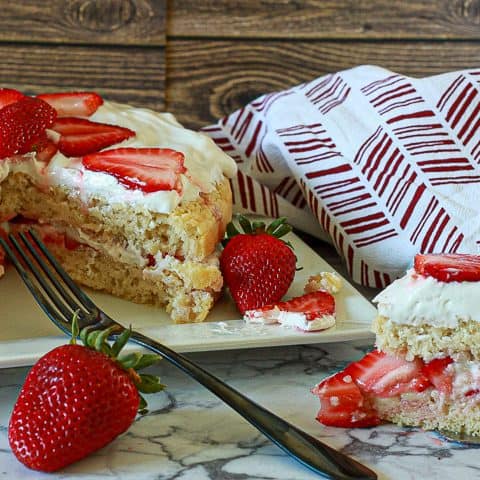 Vegan Strawberry Shortcake
This is the perfect combination of biscuit and cake for a delicious Strawberry Shortcake
Print
Pin
Rate
Ingredients
2

cups

all purpose flour

2

TB

white sugar

2

TB

brown sugar

1

TB

baking powder

1

teaspoon

salt

½

cup

Earth Balance Vegan Butter

cold

1

cup

Vegan buttermilk

1 TB vinegar to plant milk

¼

teaspoon

almond extract

½

teaspoon

vanilla extract

3

TB

white sugar

for sprinkling on top

1-2

pounds

strawberries *depending on how many you like

sugar for the strawberries

1

container So Delicious Cool whip
Instructions
Preheat the oven to 400 degrees and grease a 9 inch cake pan and set aside.

Make your vegan buttermilk by taking an empty liquid measuring cup, add 1 TB white vinegar and fill it the rest of the 1 cup with plant milk of your choice, stir and set aside.

Get a medium mixing bowl and put all your dry ingredients and mix.

Take your cold butter and cut it into small pieces, then add it to the flour and cut in with a pastry cutter until it's course crumbs and evenly distrubuted.

Add your extracts to the vegan buttermilk and then pour the buttermilk/extracts into the flour mixture. Stir with a wooden spoon until incorporated, don't over stir. Pour the batter into the prepared pan and smooth out, it will be fairly thick.

Sprinkle 3 TB of white sugar evenly over the top and cook in preheated oven for 22-25 minutes until a toothpick comes out clean.

While the cake is cooking make your strawberries. Cut them into desired size and add your desired sugar amount depending on how sweet your berries are.

When assembling the cake, cut the cake in half carefully. Take half your So delicious whipped topping and spread it in the middle layer, then layer with strawberries. Put the top half on and then to the same. Then put in the fridge until ready to serve. You can serve with more strawberries if desired.
Nutrition
Serving:
1
serving
|
Calories:
420
kcal
|
Carbohydrates:
62
g
|
Protein:
7
g
|
Fat:
17
g
|
Saturated Fat:
3
g
|
Polyunsaturated Fat:
13
g
|
Trans Fat:
1
g
|
Sodium:
837
mg
|
Fiber:
4
g
|
Sugar:
25
g
If you loved this recipe then give it a 5 star rating and leave a comment! I love to chat with you all. Please feel free to share on social media and tag #courtneyshomestead. I would love to see you over on Instagram or Facebook.
General Strawberry Shortcake Questions
Are shortcake biscuits vegan?
Typically they are not. You have to check the ingredients if you buy them from a store, but they usually have butter and milk, which will make them not vegan. If you make them with vegan butter and non-dairy milk like this recipe, they will.
Does strawberry shortcake have dairy?
Typically yes, not only in the biscuit but also in the whipping cream. You can make this vegan version to avoid that.
Are shortcakes the same as biscuits?
They are pretty much the same thing. Shortcakes tend to be a little sweeter most of the time.