This easy vegan buttermilk substitute can be made in less than 10 minutes and works great in a 1:1 ratio in place of regular buttermilk.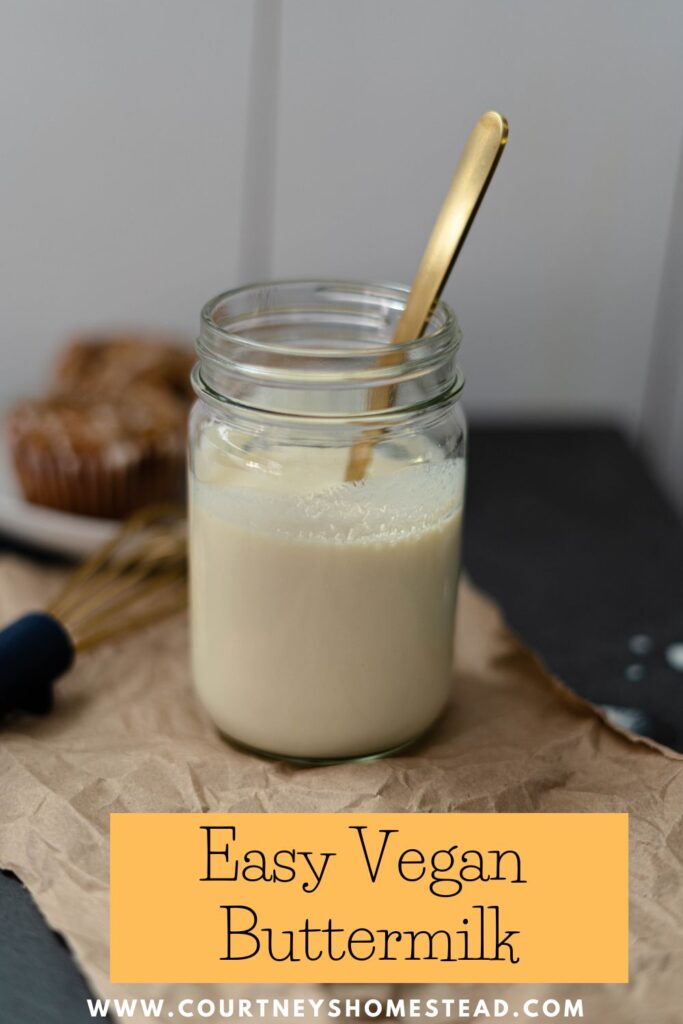 There are a number of ways to make vegan buttermilk. And lucky for us, it's super easy!
All you need is your favorite non-dairy milk and some vinegar, and you're on your way.
You can use buttermilk in savory or sweet recipes.
You often find buttermilk in salad dressings as a creamy acidic ingredient. In things like fried chicken, pancakes, waffles, sweet bread, and biscuits, all sorts of delicious recipes use buttermilk.
It's always nice to have a quick and easy substitute for recipes whether you're vegan, dairy-free, or have run out of buttermilk and don't want to go to the store.
This will check all those boxes for you.
What is buttermilk?
Traditional buttermilk is a fermented liquid that's left over after you're done making butter.
This is a lower fat product than traditional milk and leaves a rich, tangy, acidic, thick buttermilk leftover.
What is buttermilk used for?
This thick "buttermilk" is used in baked goods to help with a couple of different things.
Activating leavening agent like baking soda to make the dough rise properly.
It helps with the flavor; the acidic flavor helps cut down the sweet flavor of whatever you're making. Plus, everyone knows the distinct flavor of buttermilk makes; think homemade biscuits.
The acid in the buttermilk helps lend more of a tender crumb when it comes to baking.
Is buttermilk vegan?
No, buttermilk is a dairy product, so therefore not vegan.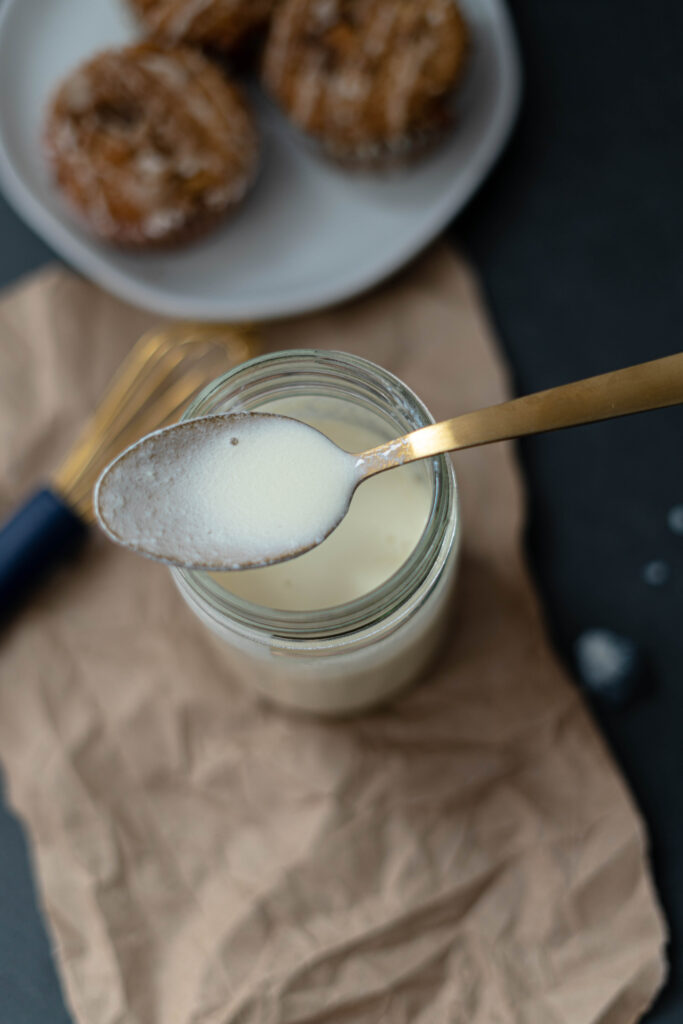 What is vegan buttermilk made with?
Vegan buttermilk is insanely easy to make. You need non-dairy milk and an acid, whether it is vinegar like I prefer to use or lemon juice.
I prefer vinegar over lemon juice because I don't always have a lemon on hand, but I always have vinegar on hand.
When the acid is mixed with dairy-free milk, it creates a creamy texture and starts to thicken or curdle and what you're left with is non-dairy buttermilk.
What plant milk should I use for the best results?
The type of milk alternative you use will determine how thick your dairy-free substitute is.
Nondairy milk that will produce a thicker buttermilk substitute are;
Fuller fat oat milk
unsweetened soy milk
Coconut milk (this will leave a coconut flavor in your buttermilk and won't curdle as well)
Fuller fat cashew milk
Any of the new vegan whole milk that they have come out with
Nondairy milk that will produce a thinner buttermilk substitute are;
Almond milk
Low fat oat milk
Low fat cashew milk
Rice milk
I have used all of these, but the thicker milk gives you the right consistency of buttermilk, which is a thicker consistency.
But it will work with the thinner milk; I've done it many times before it will have a thinner consistency.
Some non-dairy milk brands curdle the milk better than others. What you're looking for when it's made is a thick, almost separated milk.
Honestly, it doesn't look that appetizing.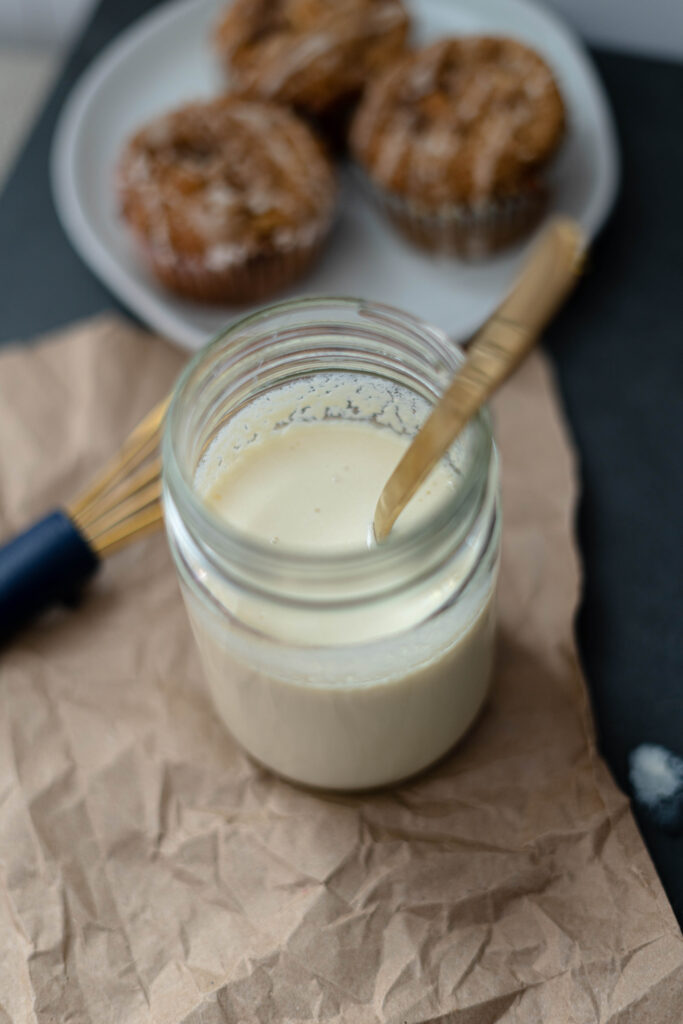 What is the best vinegar to use for making your own buttermilk substitute?
White vinegar is the best vinegar to use if you are out; the following best would be apple cider vinegar.
These will both give you that tangy flavor you are looking for in buttermilk. Like I said before, you can also use a tablespoon of lemon juice if vinegar is unavailable.
Do they have a store-made version of vegan buttermilk available?
Not yet, but it's coming. I remember seeing it advertised at one of the natural food expos.
Typically, anything debuted at that expo takes about a year to hit store shelves. I, unfortunately, can't remember what brand it is.
But lucky for us, this homemade version is super simple and works like a charm.
Can I just use soy milk instead of curdling the milk with an acid?
No, not if you want to same results as buttermilk. Buttermilk makes the recipe more unique and definitely adds an important tart flavor and certain texture to a recipe's final product.
What ingredients are needed for this vegan buttermilk recipe?
1 TB vinegar
1 cup non-dairy milk of choice
How do you make this dairy-free buttermilk substitute?
Take a liquid measuring cup and place 1 tablespoon of vinegar into the cup; fill up the rest of the measuring cup with the non-dairy milk to the 1 cup line and stir to combine.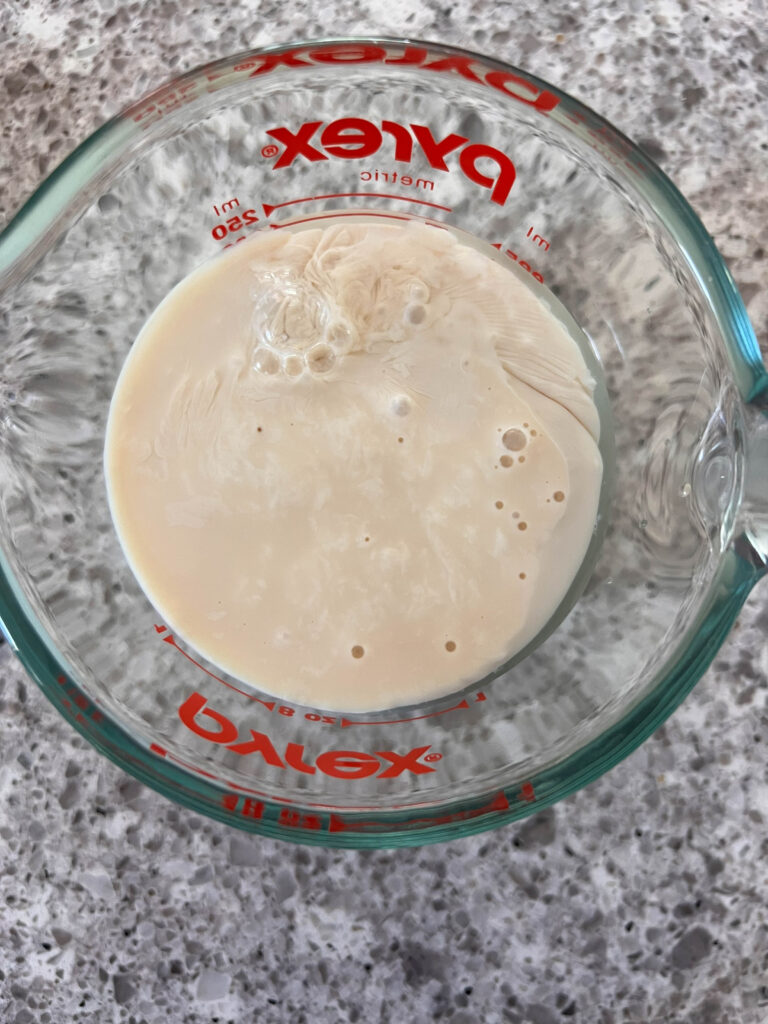 Let this sit for 5-10 minutes and thicken.
Once it's thickened, use it as needed in your recipe.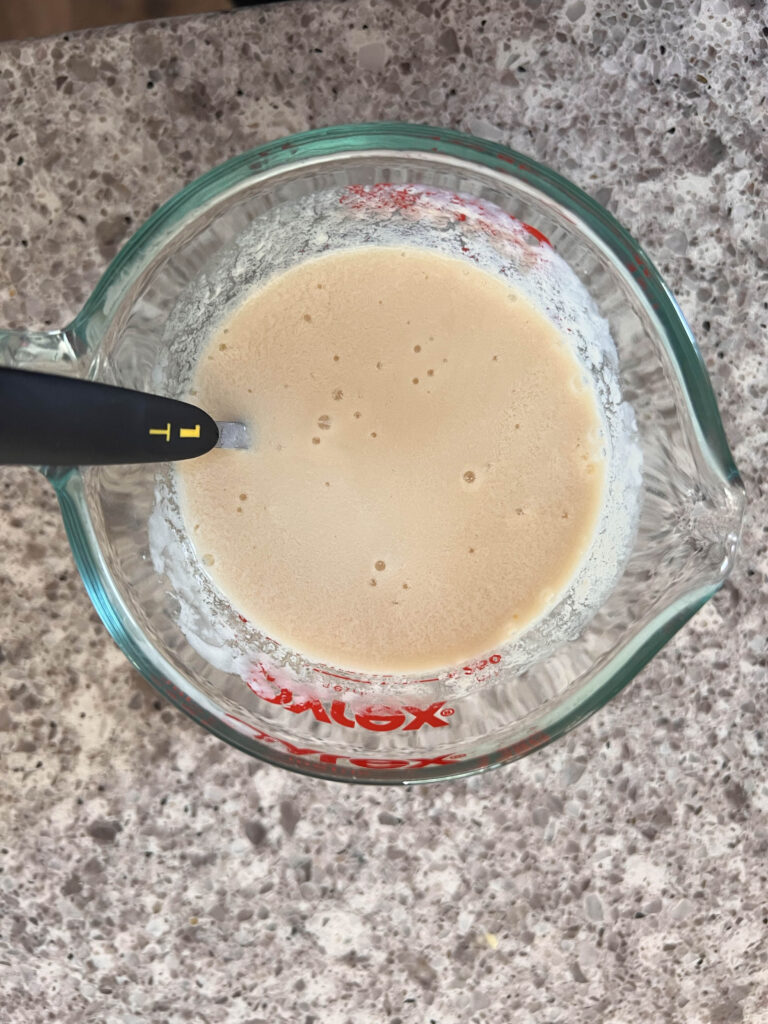 What if I only need half a cup of buttermilk for my recipe?
This recipe is super easy to half just follow the directions but usehalf of a tablespoon vinegar, then fill it up to the half cup line with the plant milk.
What can I use vegan buttermilk in?
You can use this anytime you need a cup of buttermilk. This is an effortless vegan substitute that works pretty darn close to the dairy product.
How long does vegan buttermilk last in the fridge?
This will keep in an airtight container for up to 5 days.
Can vegan buttermilk be frozen?
I would make it fresh because it only takes a few minutes.
However, if you prefer to freeze things, it's best to freeze them in an ice cube tray and then place the frozen cubes in a freezer-safe bag.
Defrost in a measuring cup on the counter until defrosted, and then use accordingly.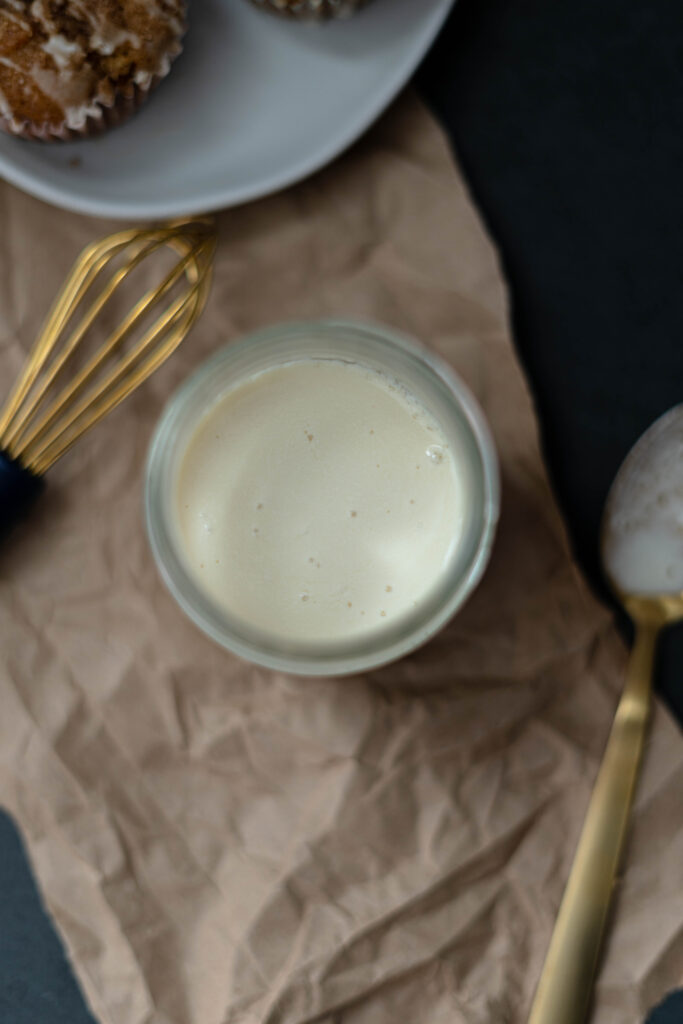 What are some vegan recipes that use vegan buttermilk?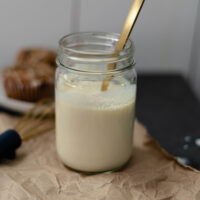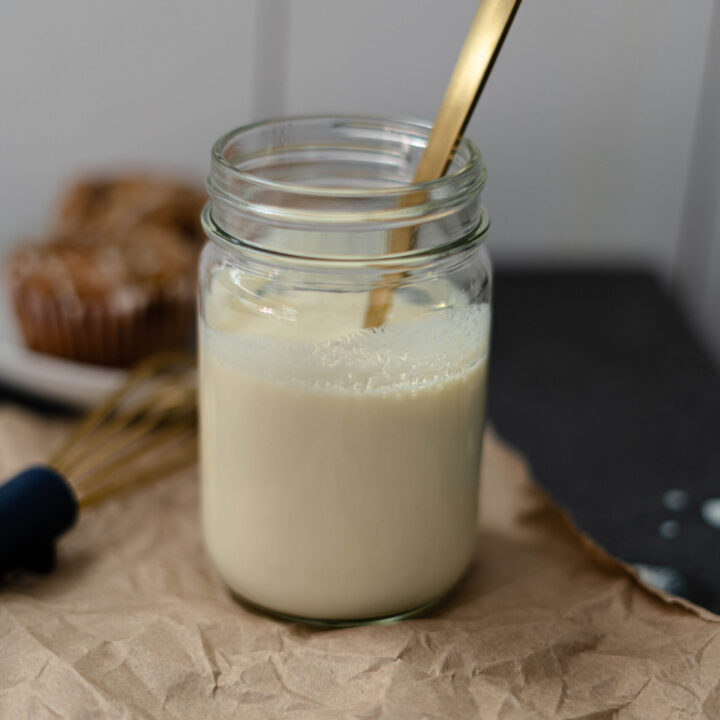 Easy Vegan Buttermilk Substitute
When a recipe calls for buttermilk, this works great as a non-dairy substitute in a 1:1 ratio.
Print
Pin
Rate
Ingredients
1

TB

vinegar

1

cup

non-dairy milk of choice
Instructions
Take a liquid measuring cup and place 1 TB of the vinegar into the cup, fill it up the rest of the way with the non-dairy milk to the 1 cup line and stir to combine.

Let this sit for 5 minutes and thicken. Once it's thickened, use it as needed in your recipe.
Notes
See blog post for recipe Q&A
Nutrition
Serving:
1
g
|
Calories:
125
kcal
|
Carbohydrates:
12
g
|
Protein:
8
g
|
Fat:
5
g
|
Saturated Fat:
3
g
|
Polyunsaturated Fat:
2
g
|
Sodium:
115
mg
|
Sugar:
12
g
If you loved this recipe, then give it a 5 star rating and leave a comment! I love to chat with you all. Please feel free to share on social media and tag #courtneyshomestead. I would love to see you over on Instagram or Facebook.