There is something so cute about hand pies. I like anything in the mini version. These vegan strawberry hand pies are perfect for a summer BBQ. A grab and go dessert that has it's mess contained into a little handheld treat.
This is the perfect way to use up the summers amazing berries! I don't think I could pick my favorite part of the summer, but berries is high up on the list.
Living in Oregon I feel like we have some of the best berries around. We have to have something in return for all the rain we endure. We always grow strawberries in our garden so we can have fresh strawberries in the summer.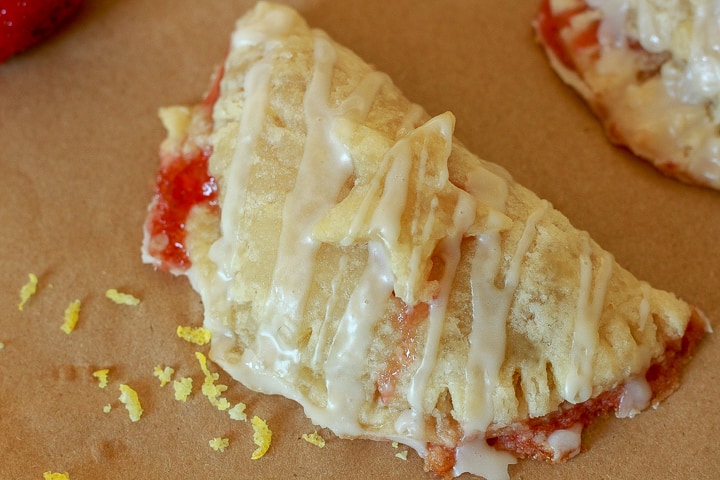 For this recipe you only need a cup of berries. The riper the better.
How do you make vegan strawberry hand pies?
I use a traditional pie crust for these strawberry hand pies. You just roll the dough out and make circle cuts whatever size you want your pies. I didn't have a big enough biscuit cutter so I went with a 4-inch coffee cup I had. Once you have your cuts you'll want to move it with a spatula to make sure that it's not sticking to the Silpat. Then you can fill.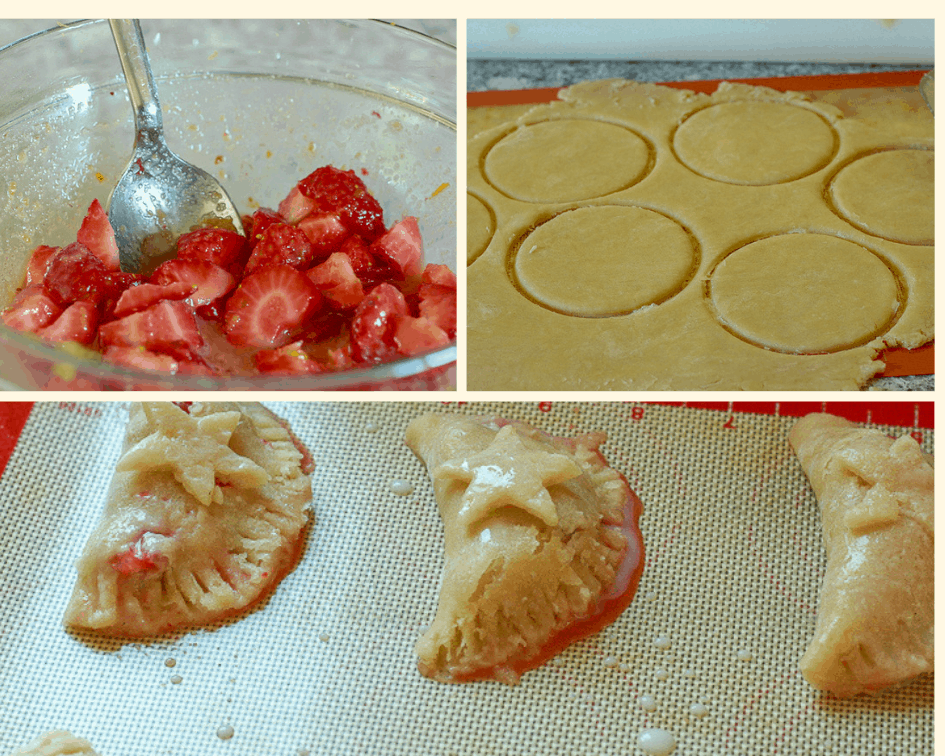 The strawberry mix gets a little juicy. I try to just take the strawberries and a very small amount of the juice- the strawberries will juice as they cook.
Once you have your strawberries on the dough you'll fold in half and crimp the edges together with a fork to keep it nice and sealed.
I like to take a little extra dough and roll it out and put a little cute shape on it. For this instance, I did a star which would be cute for the 4th Of July.
Take a little bit of plant milk and brush it on the tops of the dough. I feel like the dough decoration sticks on a little better that way.
I orginually wasn't going to put a glaze on these hand pies, but I felt like they were missing something. The glaze was exactly what it needed to make this recipe pop.
What kind of hand pies do you like? Let me know in the comments!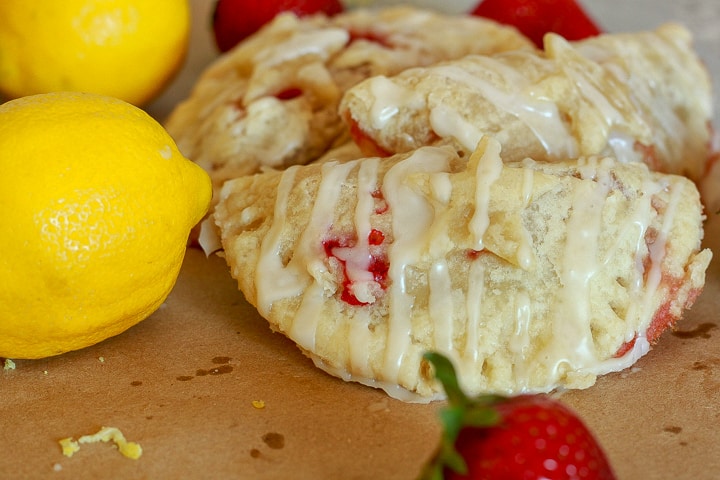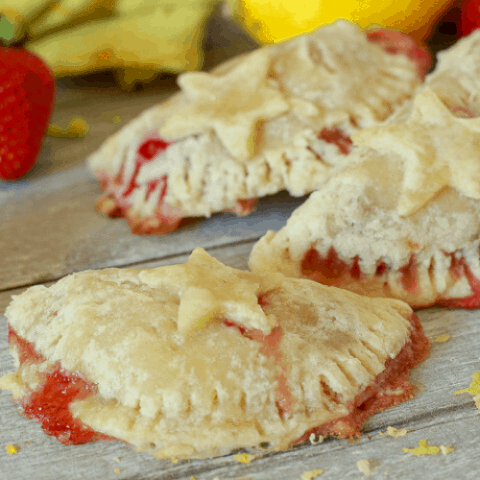 Vegan Mini Strawberry Hand pies
Yield:
10 hand pies (depending on size)
These vegan mini strawberry hand pies are a perfect summer treat. With summers fresh berries and flakey pie crust this hand heald treat it perfect!
Ingredients
Pie Crust
1 3/4 cup all purpose flour
1 tsp salt
4 TB ice water
1/2 cup neutral oil
4 TB white sugar
Strawberry filling
1 cup strawberries, chopped
2 TB brown sugar
2 TB white sugar
1 tsp vanilla extract
1/4 tsp almond extract
3/4 of a small zest of a lemon
2 TB cornstarch
Glaze
1 cup powdered sugar
1/2 tsp vanilla extract
1/4 tsp almond extract
2 TB plant milk
Instructions
Preheat your oven to 400 degrees, prepare a cookie sheet with a Silpat and set aside.
Get a small bowl and mix all your strawberry filling together and set aside.
Make your piecrust. Start by taking a medium bowl. Add the flour, salt, and sugar- mix well. Then add your oil, mix with a wooden spoon. Then add your 4 TBs ice water and mix until it's smooth and not dry, but not wet. Divide the dough into two small balls. Keep one ball in the bowl and the other place on a Silpat. Grab a sheet of saran wrap and place it over your dough ball, then roll over the saran wrap (to prevent sticking), roll until it's pretty thin, but not too thin that it will break. Then take the largest cup mouth you have. I used a big coffee mug, mine is about 4 inches. And make circle cuts like you would for sugar cookies. Then take your filling and put 1-2 TB of filling, not too much that it won't close. Then fold it over itself and crimp the edges with a fork. Take a spatula and move the hand pie to the prepared baking sheet. Make a slit or holes on the top of the hand pie so it has space to vent while cooking. Repeat with the remaining dough, and second dough ball. You can add a cute little dough cut out on the top of the pie if you have extra and want to. Brush the tops with some plant milk before going into the oven.
How many hand pies you get will depend on how thin or thick you want your dough. Mine cooked through in around 15-20 minutes depending on the thickness.
While they are cooking make your glaze. Once they have been sitting for about 10-15 minutes drizzle your glaze over them. I feel like the flavors are best after these sit for an hour or two.
Nutrition Information:
Yield:

10
Serving Size:

1 hand pie
Amount Per Serving:
Calories:

277
Total Fat:

12g
Saturated Fat:

1g
Trans Fat:

0g
Unsaturated Fat:

10g
Cholesterol:

0mg
Sodium:

236mg
Carbohydrates:

41g
Fiber:

1g
Sugar:

22g
Protein:

3g
The calories are computer generated and may not be 100% accurate.
If you loved the recipe let me know in the comments or #courtneyshomestead. Thanks so much for your support!
<3Courtney