This Strawberry Lemonade is the best of the best. If you are US based and have ever had the strawberry lemonade from Red Robin Restaurant than you know how delicious their strawberry lemonade is. I might go a step further and say this one is better.
And cheaper since you're making it yourself.
I have only ever made this with a high-speed blender, so I am not sure how it would do with a regular blender. I use a Blendtec. The thing I like about the high-speed blender is that it pulverizes the seeds and you don't have to strain it. No one wants seeds all up in their lemonade, or maybe you do, I'm not judging either way!
I use a lot of strawberries to get that magical flavor.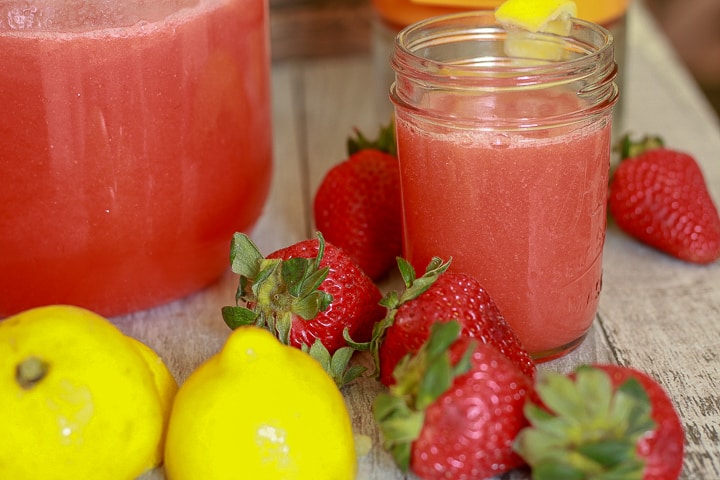 You can use frozen or fresh. If you choose to use frozen you need to defrost them a bit before blending them. I almost always use frozen because around here they are typically cheaper, unless we go berry picking.
You're going to want to have some kind of citrus juicer. I just use a cheap hand one like this one here. It gets the job done. The number of lemons you will need will depend on how big they are.
After your strawberries are all smoothly blended and your lemons are squeezed you can get mixing. Mix your lemon juice, strawberries, sugar, and water into a pitcher and stir until the sugar starts to dissolve. This is best enjoyed after letting the flavors blend, and when it's nice and chilly.
This only makes around 5 cups or so, if you are making for a crowd you'll want to double or triple it. This is the perfect drink for the 4th of July or any summer BBQ. I think I am going to try putting this mixture into popsicle molds for the kids, they would love that!
Do you prefer plain lemonade or strawberry? Let me know in the comments!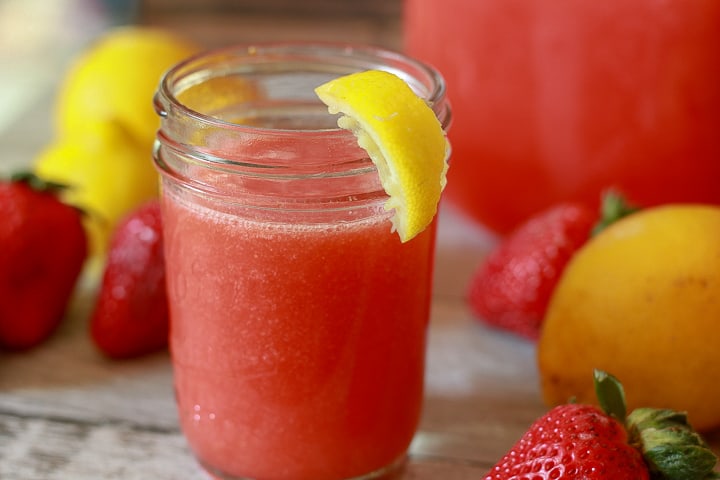 The BEST Strawberry Lemonade
This is hands down the best strawberry lemonade. It's like Red Robins, but better!
Ingredients
1 16 oz strawberries, frozen or fresh
3/4 cup white sugar
1 cup fresh lemon juice
3.5 cups water
Instructions
Use a citrus juicer and juice your lemon, set aside. Now take a high speed blender and take your defrosted frozen strawberries or fresh and blend them with a half cup water until totally smooth. The high speed blender should take the seeds and blend them, so you don't need to strain it.
Take a pitcher and add your lemon juice, the additional 3 cups of water, blended strawberries, and sugar. Stir until the sugar has dissolved. Let chill in the fridge until cold, stir before serving.
Nutrition Information:
Yield:

5
Serving Size:

1 serving
Amount Per Serving:
Calories:

159
Total Fat:

0g
Saturated Fat:

0g
Trans Fat:

0g
Unsaturated Fat:

0g
Cholesterol:

0mg
Sodium:

9mg
Carbohydrates:

42g
Fiber:

2g
Sugar:

35g
Protein:

1g
The calories are computer generated and may not be 100% accurate.
If you tried this and loved it, let me know in the comments or #courtneyshomestead. Thanks so much for your support!
<3 Courtney