Vegan Smores bars are the perfect summer treat with graham cracker dough sandwiched between chocolate and marshmallows. This is a huge crowd pleasing dessert!
Vegan Smores bars
Smores Bars are a family favorite around here.
Everyone gets a little excited when they hear I am making them.
There is something about the graham cracker, chocolate, marshmallow combo.
The perk of this recipe is you get the delicious flavor of smores in a WAY less messy version.
I do like traditional smores, but anyone with children knows how much fun smores night can be.
The sheer mess of melted marshmallows and chocolate, and don't even get me started on the fire part.
It's totally fun making smores I am not a total grinch.
But if I can make my life easier at times I will!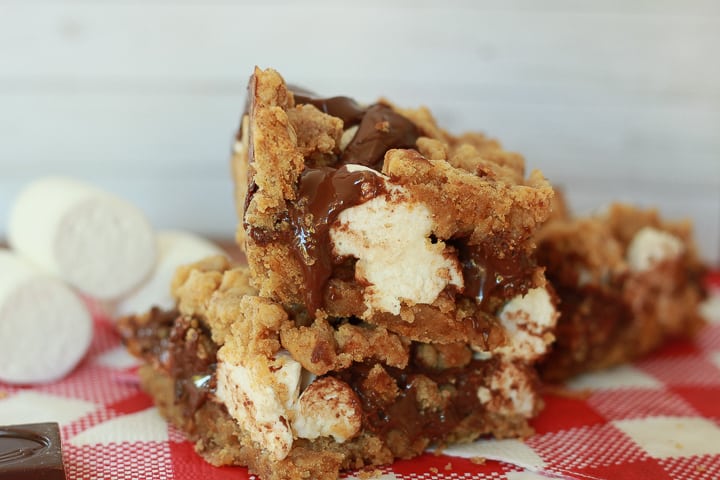 This recipe is super easy to throw together and always impresses people.
One time we had these at a 4th of July BBQ, my friend wasn't really into smores and wasn't going to try them. For some reason she decided to and it was game over for her.
She brought the rest of the tray out with us to do fireworks. She now forever loves these smores bars. Another friend made them for her son's 1st birthday, it was a camping theme and ADORABLE!
Lets make these bad boys.
You need to crush up graham crackers for this recipe. You use a combo of all purpose flour and graham crackers to make the magic happen.
I like to crush them up in its package very carefully. Once the package starts to burst open from the crushing I do it over the bowl I'm going to use, so things don't get too crazy.
When you get your dough made you line an 8×8 pan and put half the dough on the bottom and bake it until it's lightly golden, then remove it.
You will be baking this again.
Once you let it cool for a few minutes you throw all the chocolate chips and marshmallows on the top, then sprinkle the remaining crust on top and finish the baking process.
You don't want to over bake this. It will bake a bit on the counter.
So you basically have a little smores sandwich going on.
I always use semi-sweet vegan chocolate chips, use whatever chocolate you like. You could chop up a bar if you want, but I like the ease of chocolate chips.
In this picture, I used Enjoy Life mini chocolate bars. They are super cute, but they don't spread the chocolate as well as chocolate chips.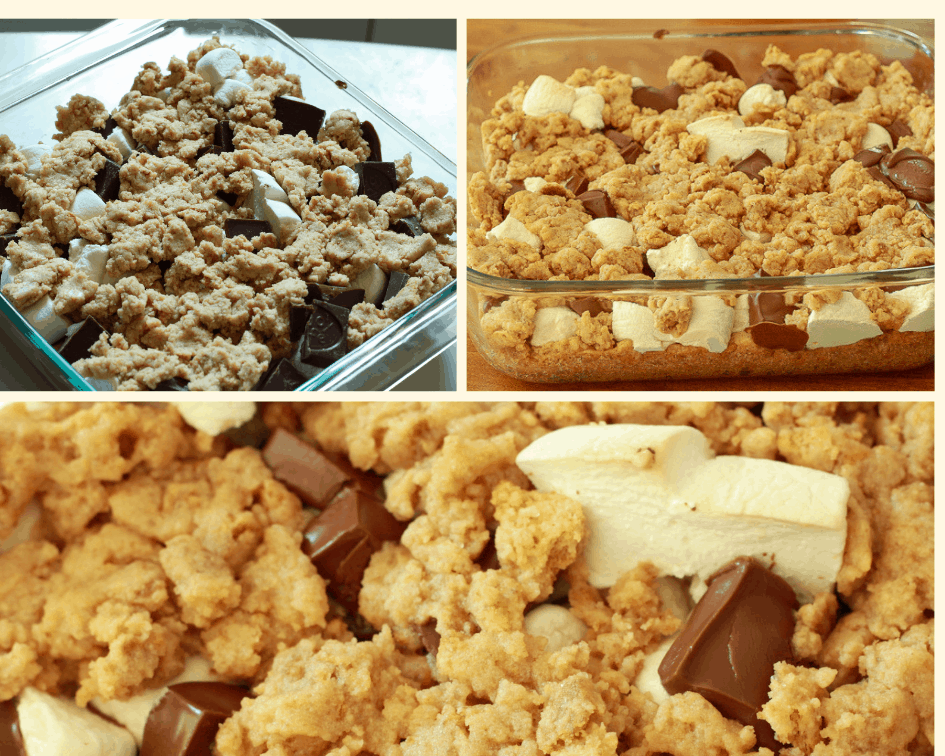 Vegan marshmallows can be a little hard to find. We love Dandies marshmallows!
They are so tasty and come out with fun flavors like mint and pumpkin spice! Yum!
For this recipe, I like to use the mini marshmallows, but you can use the big ones- I cut the big ones in half to distribute them better.
These are perfect for your next potluck or summer BBQ.
They always impress and look like a fun summer treat! Also, this recipe doubles perfectly if you need to feed a crowd.
How do you like your smores? Let me know in the comments!
If you're looking for a different type of sweet treat for summer dessert recipes here are some!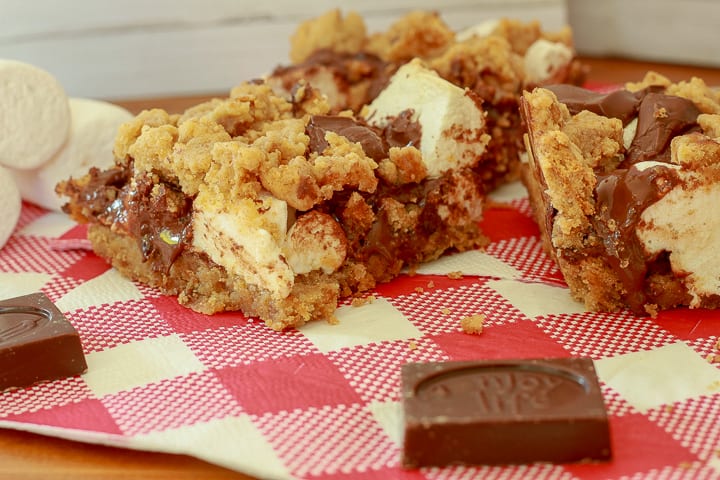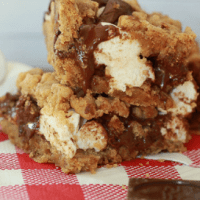 Vegan Smores Bars
Yield:
6 -8 depending on size
These Vegan Smores Bars have a buttery graham cracker crust with melty chocolate and marshmallows in the middle. This is a huge hit!
Ingredients
1 stick Earth Balance vegan butter, softened
1/2 cup white sugar
1/4 cup brown sugar
4 TB plant milk
1 tsp vanilla extract
1 1/3 cup white flour
1 package (1 cup ish) graham crackers, into crumbs
1 tsp baking powder
1/4 tsp salt
1-2 cups vegan chocolate chips
3 cups vegan mini marshmallows
Instructions
Preheat your oven to 350 degrees, grease or foil and grease a 8x8 pan set aside.
Take your stand or hand mixer and cream together the butter and sugars. Once that's creamed add your plant milk, vanilla, baking powder, and salt- mix. Then add your graham cracker crumbs and your flour. Mix until incorporated. This will look like cookie dough.
Take half the dough and press it into your prepared pan. Cook in the preheated oven for 12 minutes.
While it's cooking, get your mini marshmallows or cut full ones into fours. Spread the chocolate chips and marshmallows over the top of the precooked crust evenly. Then take the remainder of the dough and crumble over the top. I like to smush the top into it so it stays on when you go to eat it.
Cook for an additional 12-14 minutes. You don't want to over bake these. They will cook some when cooling. You want to let them sit for a couple hours for easy moving. They may fall apart if you try to move them too soon.
Nutrition Information:
Yield:

8
Serving Size:

1 serving
Amount Per Serving:
Calories:

448
Total Fat:

16g
Saturated Fat:

4g
Trans Fat:

0g
Unsaturated Fat:

7g
Cholesterol:

0mg
Sodium:

186mg
Carbohydrates:

78g
Fiber:

3g
Sugar:

53g
Protein:

5g
The calories are computer generated and may not be 100% accurate.
If you loved this recipe let me know in the comments or #courtneyshomestead. Thanks so much for your support!
<3 Courtney