Vegan pot pie is the ultimate comfort food. This main dish has a hearty filling of potatoes, fresh vegetables, and vegan chicken sandwiched between flaky pie crust.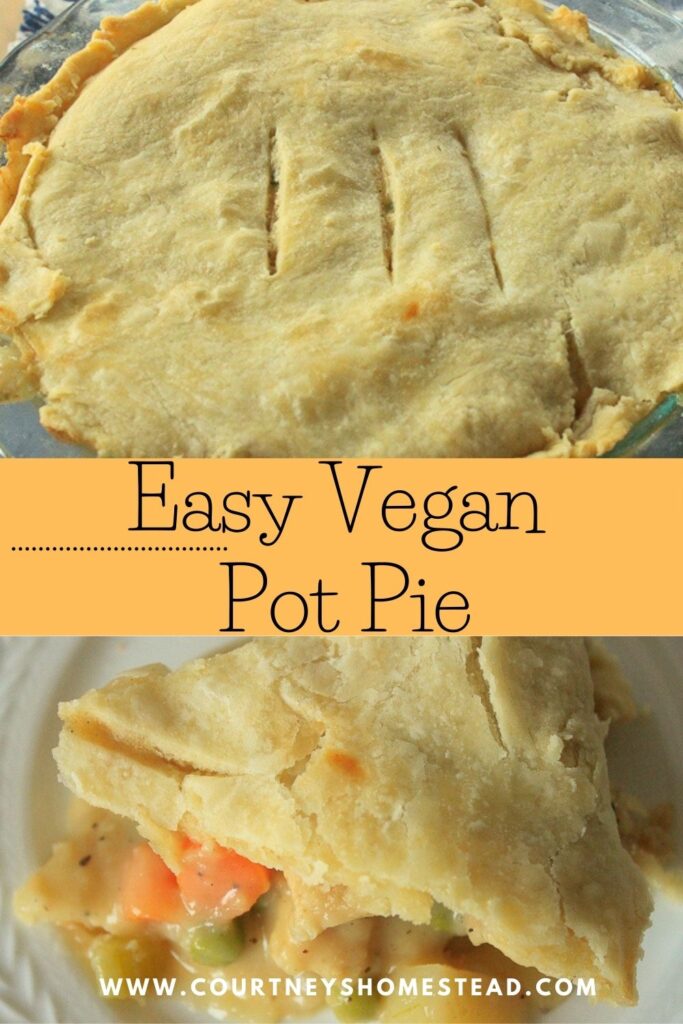 Chicken pot pie has always been one of my favorite dishes before being vegan.
Maybe it's the pie crust, I do have a thing for pie crust, or perhaps it's just a comfort food classic dish.
The vegan version is just as good as the original.
It will never make you miss the real thing.
My husband has never been a big fan of chicken pot pie, but he requests this one.
The only bummer about pot pies is they can be a little time-consuming.
They aren't a throw it together quick kind of meal.
But it's a perfect make-ahead meal where if you have time in the morning and not in the evening, you can whip this up and then have a hearty dinner on the way to soccer practice.
This can last more than one meal in my house, which is a bonus.
I have a super easy pie crust recipe.
If you are intimidated about making your crust, you can always buy it, but this one is SO easy, and I know you can do it!
So, next time you're looking for a delicious vegan pot pie, give this easy recipe a try.
Vegan Pot Pie Recipe Q&A
Should I use frozen or fresh vegetables for this vegan recipe?
You can use either fresh or frozen. I prefer using fresh vegetables.
What are some pot pie crust alternatives?
You can make a pot pie crust using
Vegan pie crust like this recipe
Vegan biscuits
Vegan flaky puff pastry
Follow the recipe at the bottom of this post for a delicious flaky crust for the vegan pie crust.
Or you can always buy a premade pie crust; make sure it's vegan.
For vegan biscuits, use this biscuit dough, and after you make your filling, you can grease a baking dish and place the filling in the dish.
Then cover the top with the biscuit dough and bake.
For vegan puff pastry, you can decide if you want to have the double layer on the top and bottom or just on the top.
But follow the instructions on the frozen puff pastry and proceed as you would with the pie crust but use puff pastry.
You can use a pie pan or baking dish.
Puff pastry dough is found at the grocery store in the frozen section.
What's the best vegan chicken to use or alternatives?
I love using vegan breaded chicken strips.
I know most chicken pot pie recipes would use a nonbreaded chicken alternative, but trust me on this.
However, you can use a nonbreaded vegan chicken if you'd rather.
Or, if mock meats aren't your thing, you can use beans like chickpeas or make hearty vegetable pot pies instead and add more potatoes and veggies.
Can you make this oil-free?
Making this oil-free won't be as tasty, but if you want to, you can.
You'll want to omit the melted butter and oil and use more vegetable broth, use chickpeas instead of vegan chicken, and use an oil-free biscuit.
I don't currently have an oil-free biscuit recipe, but some are out there.
Can you make this vegan pot pie gluten-free?
You can make this gluten-free if you use all-purpose gluten-free flour for the pie crust and the creamy filling.
You'll want to find a gluten-free, vegan chicken or use chickpeas.
Can this vegan pot pie be in advance?
Yes, you can make this up to 1-2 days before you need it and keep it in the fridge, let it come to room temperature then bake it.
It may take a few minutes longer to bake.
Can I make these into individual pot pies?
If you would rather make individual pies, you can.
Just use little ramekins, add the filling, then the pie crust on the top, or do a biscuit topper.
What's the best non-dairy milk for a pot pie?
You want the middle to be nice and creamy, so creamier vegan milk is best.
But I have done it with all sorts of milk, and it always works out.
Make sure whatever you use is unsweetened.
Soy milk =great
Oat milk = great
Almond milk =good
Do you have to use a pie plate for pot pie?
You don't; you can use a casserole dish, 8x8 pan, whatever you want.
Just accommodate for the baking time when you change the depth of the pan.
What do you need for this vegan pot pie recipe?
For the full recipe, take a look at the recipe card at the bottom of the post. This may seem like a long list, but it's all simple ingredients.
vegan butter
onion
vegetable broth
non-dairy milk
celery
carrots
peas
potatoes
garlic
salt + pepper
poultry seasoning
oil
vegan chicken nuggets
all purpose flour
How do you make the best vegan pot pie?
You're going to start by making your vegan pie crust.
This is relatively easy.
Start by getting a small bowl of ice water and setting it aside.
Take a bowl and mix your dry ingredients.
Make a well in the dry ingredients and then pour in your oil and water; stir with a wooden spoon until just combined.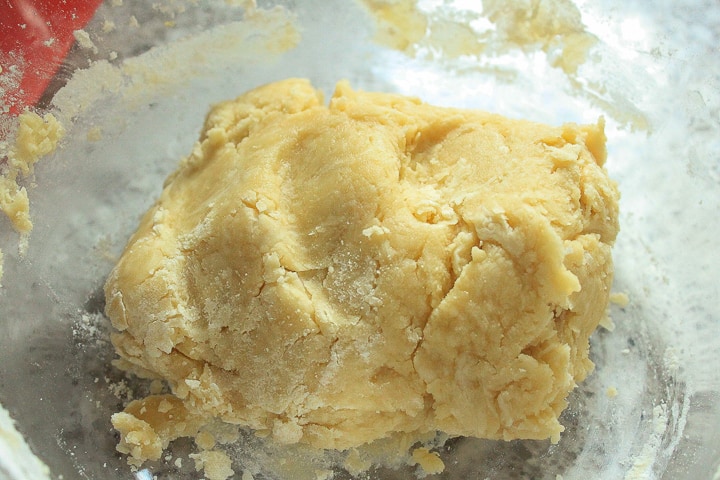 It's similar to making biscuits; you don't want to overwork the dough.
This recipe yields two pie crusts.
Cover the bowl with plastic wrap or a clean dish towel and let it sit while you do the other work, or you can also make this last, whichever works for you.
Cook your fake chicken in the microwave, air fryer, or oven.
Depending on how full you want your pot pie, you can either use the whole bag or half.
Once they are done, cut them into bite-sized pieces.
Let's make the pot pie filling-
Now let's get chopping.
Chop up all your mixed vegetables and potatoes into bite-sized pieces.
Get a large pan and add your vegetables, except onion and garlic.
This tastes best if you use a vegetable broth or bullion, but plain ole water works as well.
You'll want to cook these until they are fork-tender but not overly tender.
They will still cook some in the oven.
Start making your creamy sauce.
Take a pan and cook the onion in the melted vegan butter until soft, then add the garlic and cook for about 30 seconds.
Now add your seasoning and the flour.
Whisk quickly to get a roux like you are making gravy.
Add part of your vegan milk and stir until you've smoothed out the flour clumps.
Then add the rest of your liquid.
Stir until it starts to thicken.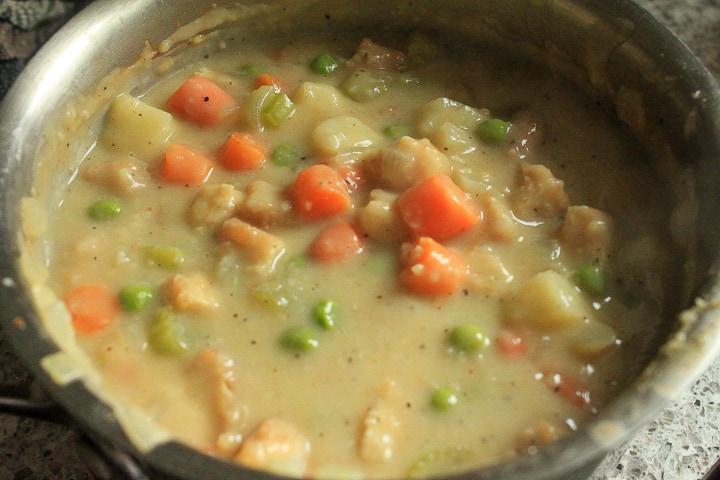 Then add your chopped cooked vegan chicken and cooked and drained vegetables and stir.
Add salt and pepper to taste.
Set this aside off of the heat.
Let's get back to the pie crust.
Now split your pie dough in even halves.
Take a Silpat or a lightly floured surface and roll your pie crust out.
I always use plastic wrap between the crust and the rolling pin to prevent sticking.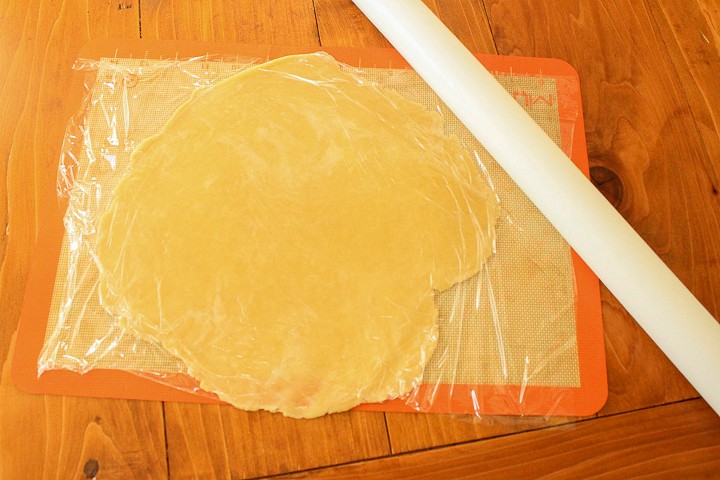 Spray the pie dish with cooking spray, and then fold out your pie crust dough evenly to make the bottom crust.
Add the filling and then do the same with the other crust, but make it your top crust.
Cut small slits in the top of the pie crust, so the air has somewhere to escape.
Bake your vegan pot pie-
Bake this pie at 400 degrees for 30-35 minutes.
Let cool before serving; pot pies seem to retain a lot of heat for a while.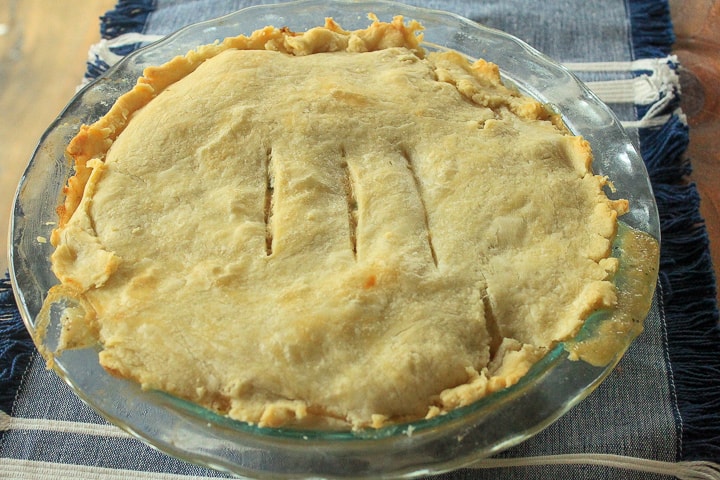 How do you serve this easy vegan pot pie?
This is best served warm but also heats up nicely for leftovers.
This goes great with a side salad.
How do you store this vegan pot pie?
Let this come to room temperature before storing it in an airtight container in the fridge for up to 5 days.
How do you reheat it?
You can reheat it in the microwave at 30 seconds intervals or pop it back in the oven at 300F until warm.
Can you freeze pot pies?
Yes, this pot pie freezes great.
Let the pot pie come to room temperature, then place it in a freezer-safe sealed container and freeze for up to 4 months.
Let defrost and heat back up in the oven before serving for the best results.
Want some other vegan comfort food recipes?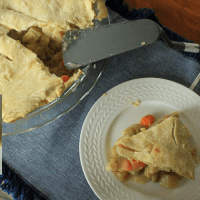 Vegan Not Chicken Pot Pie
This vegan chicken pot pie has all the flavor. It has a delicious flakey crust filling, and the family will beg for more.
Print
Pin
Rate
Servings:
1
pie or 8 servings
Ingredients
1

pie crust recipe below

½-1

bag vegan chicken tenders

cooked

4

TB

vegan butter

⅓

cup

onion

chopped

2

cloves

garlic

minced

1

cup

carrots

chopped

½

cup

celery

chopped

¾

cup

peas *optional

2

medium potatoes

chopped

2

cups

vegetable broth or bullion

1

cup

vegan milk

¾

teaspoon

pepper

ground

1

teaspoon

salt

½

teaspoon

poultry seasoning

⅓

cup

all purpose flour
Instructions
Make your pie crust; you need a top and a bottom. This recipe makes a top and bottom, or buy them.

Here are the ingredients for the pie crust- 1 ¾ cup all-purpose flour, 1 teaspoon salt, 2 TB sugar, white, ½ cup neutral oil, 4 TB Ice water. Instructions Get a bowl of ice water ready and set aside.2. Mix your flour, salt, and sugar until combined. Take your oil and 4 TB ice water and pour it into your flour mixture *this will look messy and like it won't come together* Mix with a wooden spoon until it's combined and a dough ball. It shouldn't be overly sticky. I like to roll mine out on a Silpat with a thing of saran wrap on top to prevent any sticking. When rolling, make sure to add even pressure, so you don't end up with thin spots. Roll it out to about 2 inches bigger than your pie pan. Carefully place the dough in your pie dish and cut the remaining dough that's hanging over. Fill with your favorite pie filling and bake according to the directions on the pie. Set aside.

Take a small saucepan and cook the potatoes, celery, carrots until fork tender. This should take about 10 minutes or so. Once done, strain and set aside.

Chop your cooked vegan chicken strips into bite-sized pieces.

Take a saucepan and melt the butter, cook the onions until soft, then add the garlic. Add the pepper, salt, and poultry seasoning. Take a whisk and whisk in the flour until it's thickened. Now whisk in the milk and water whisk until a thicker sauce forms. Add your cooked vegetables and vegan chicken strips. Remove from the heat and set aside.

Roll out your pie crust and line a pie pan. Place the pot pie mixture into the pie shell. Now top with the remaining crust, slitting holes in the top for the air to escape while baking. Bake for 30-35 minutes until it's lightly golden brown. Let cool before serving.
Notes
See the blog post for recipe Q&A
Nutrition
Serving:
1
serving
|
Calories:
268
kcal
|
Carbohydrates:
33
g
|
Protein:
6
g
|
Fat:
13
g
|
Saturated Fat:
3
g
|
Polyunsaturated Fat:
6
g
|
Sodium:
671
mg
|
Fiber:
4
g
|
Sugar:
4
g
If you loved this recipe then give it a 5 star rating and leave a comment! I love to chat with you all. Please feel free to share on social media and tag #courtneyshomestead. I would love to see you over on Instagram or Facebook.