Vegan breakfast cookies? I mean what more could you want for breakfast. I know some people are more savory for breakfast and sometimes I am also. But sometimes I want a quick and easy, make ahead no complaining breakfast for my kids. Or really for myself, I get so busy blogging, making recipes, cleaning the house, being a mom, etc that I forget to feed myself.
That's where these handy cookies come in. I don't usually do nutrition facts on recipes. Not because I don't care, but because I just don't have enough hours in the day. But for this, I really wanted to know. If you use a small cookie scoop these bad boys have 79 calories, 4 grams of fat (but also omega 3's from the Flax), 1.1 grams of fiber, 2.1 grams of protein, and 2.9 grams of sugar. I don't call that a bad breakfast at all.
We have been living off of these for summer camps. They are great fuel to keep them full until their lunches. I even found the bag in my sons room for a before bed snack apparently?
You could experiment with mix-ins. The first time I made them which is when the pictures were taken I used chocolate chips and craisins. We did not care for the craisins. My kids prefer just chocolate chips. But feel free to add any mix in you would like.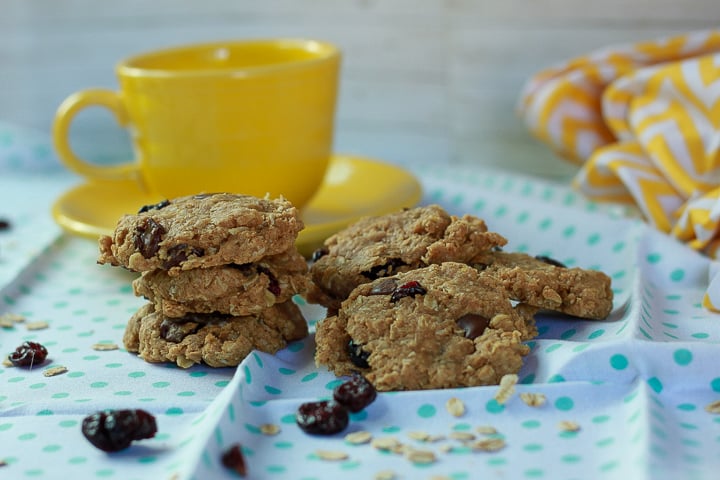 Also, a weird note on these cookies. I don't like them straight out of the oven. They have a little bit of a flax seed taste, and they taste much better when fully cooled. I usually make them on Sunday and then we eat them for a few days.
What do you need to make these Vegan Breakfast cookies?
Oats
whole wheat flour
apple sauce
baking powder
cinnamon
salt
peanut butter
brown sugar
vanilla extract
flax seeds
water
vegan butter
mix ins- chocolate chips, rasins, craisins, nuts etc.
How do you make them?
This is a dump and go recipe, which if you have been around here long than you know they are my favorite.
The only real step you need to do is make the flax eggs. Grind your flax seeds and add 8 TB of water, stir and let sit while you prepare the rest of your ingredients.
Preheat your oven to 350 degrees. I always use my Silpat liners when baking or do whatever you normally do.
Take your stand mixer and dump all your ingredients, excpet the chocolate chips. Mix until combined, then mix in the chocoalte chips or assorted mixins. Then take a cookie scoop of your choice, but I prefer the small scoop.
Scoop them onto your cookie sheet and flatten them to your desired thickness. They don't move at all when baking. Bake for 8-9 minutes. Don't over bake. They will have a firmness to them. Let them sit on the cookie sheet for 5- 10 minutes then move to a wire rack. Wait until cooled to enjoy, they taste much better. My kids will mow these down the next day but think they are gross out of the oven.
What quick things do you like for breakfast? Let me know in the comments!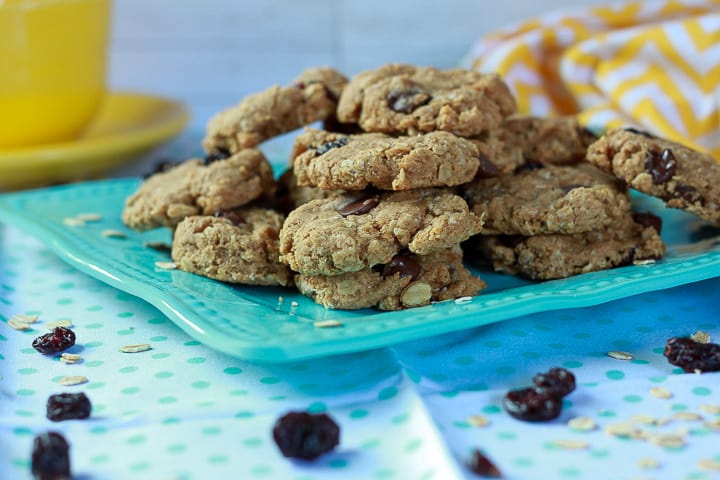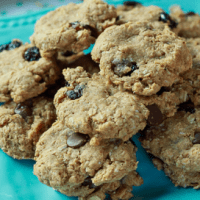 Vegan Breakfast Cookies
These breakfast cookies are healthy enough to eat for breakfast or just an afternoon snack.
Ingredients
1/2 cup applesauce
1/4 cup earth balance vegan butter, soft
2 cups oats
1 cup white whole wheat flour
1 tsp cinnamon, ground
2 tsp baking powder
1/2 tsp salt
1/2 cup peanut butter
1/2 cup brown sugar
1/4 cup flax seeds, ground
8 TB water
2 tsp vanilla extract
3/4 cup chocolate chips
Any other mix ins you want to add- raisins, craisins
Instructions
Preheat your oven to 350 degrees. Line two baking sheets with a Silpat or cooking spray and set aside.
Make your flax eggs by grinding your flax seeds and mixing them with 8 TB water, stir. Set aside while it thickens.
Take your stand mixer and place all your cookie ingredients, but the chocolate chips. Stir until combined, don't forget to add the flax eggs if you haven't already. Stir in the chocolate chips and any other mix-ins you desire.
Take your desired cookie scoop size I always use a small one. Drop 12 cookie scoops onto the prepared pan. Flatten slightly with your hand whatever shape you leave them in is the shape they will stay in while baking. Bake for 8-9 minutes. Remove and let cool. These taste best the next day.
Nutrition Information:
Yield:

36
Serving Size:

1 cookie
Amount Per Serving:
Calories:

107
Total Fat:

5g
Saturated Fat:

2g
Trans Fat:

0g
Unsaturated Fat:

3g
Cholesterol:

0mg
Sodium:

92mg
Carbohydrates:

14g
Fiber:

2g
Sugar:

7g
Protein:

2g
The calories are computer generated and may not be 100% accurate.

<3 Courtney