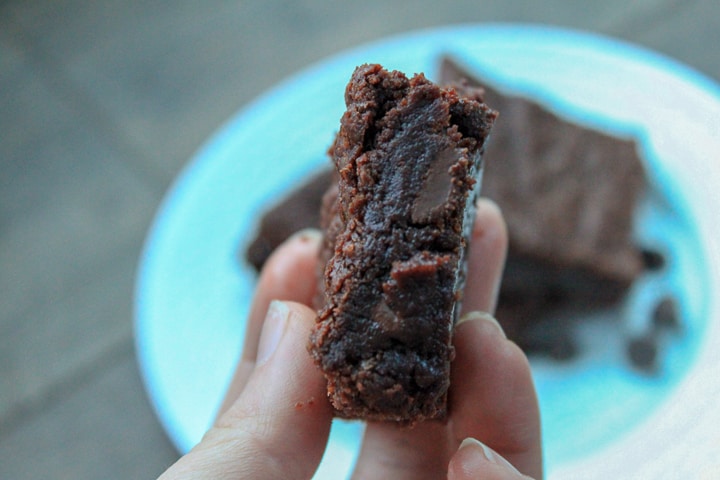 These are hands down the best vegan brownies. I have tried SOOOO many different vegan brownie recipes. And so many of them turned out to be a weird oil separated nastiness. So, I decided to try and make my own, and I am glad I did.
I have made probably 20 different batches of brownies to land on this recipe.
We are talking a lot of chocolate chips folks. But I have finally nailed it and I am ready to share them!
There seem to be two big camps in the brownie world; fudgy or cakey. I'm gonna be real here- I am TOTALLY in the fudgy camp. So naturally these air on the side of fudgy, but I do not think the cakey fans will be disappointed.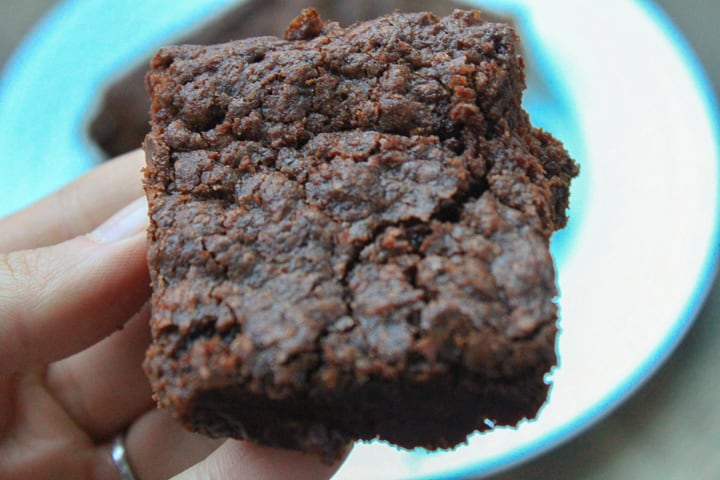 These have 3 different forms of chocolate in them. You melt some, you leave some in chip form, and some coco powder for good measure.
I add 1/2 a teaspoon of instant coffee to these. It does not make it taste like coffee at all, but it really enhances the chocolate flavor. I buy mine from Trader Joe's or Amazon, it's super cheap and I keep it for any other baking needs I might have. I have used the the instant coffee in the packets and they work just the same.
These vegan brownies taste delicious with a bowl of ice cream. I have mentioned before my favorite vegan vanilla ice cream is So Delicious Very Vanilla, Cashew milk ice cream. This stuff tastes like waffle cones. Here's a link to check it out (I am not sponsored by them, I just love this flavor and you should know about it)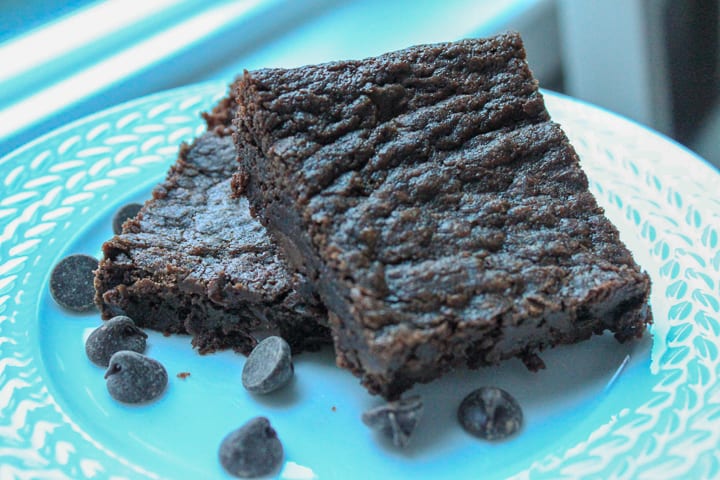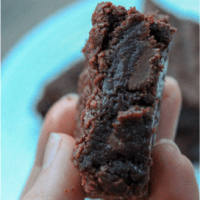 -Best Vegan Brownies-
This vegan brownie is easy to make and insanely delicious and fudgy, it's perfect with a scoop of vegan ice cream.
Ingredients
2 Flax eggs (2 TB flaxmeal with 4 TB water)
1/2 cup oil, neutral
1 cup chocolate chips (to be melted)
1/2 teaspoon instant coffee
1/4 cup unsweetend coco powder
1.5 teaspoons vanilla extract
3/4 cup brown sugar
2 tablespoons oatmilk (or any milk alternative)
3/4 cup flour
1/2 teaspoon baking powder
1/2 teaspoon salt
3/4 cup chocolate chips (for batter)
Instructions
Start by preheating your oven to 325 degrees and preparing you 8x8 square pan with cooking spray. Set aside.
2. Make you flax egg and set aside.
3. Mix your flour, baking powder, salt, together and set aside.
4. In a microwave safe glass bowl mix your oil with 1 cup of the chocolate chips, stir. Put in the Microwave for 30 seconds. Whisk for 10 seconds. Put back in the microwave for 30 seconds Whisk. And set aside.
5. Into the melted chocolate whisk in the instant coffee, then whisk in the coco powder, then whisk in the brown sugar, vanilla, and 2 TB milk. Last whisk in the Flax Eggs.
6. Stir the melted chocolate and flour mixture until combined. Then stir in your 3/4 cup chocolate chips. Spread into the prepared 8x8 pan and smooth out. Bake for 30-35 minutes. Do not over bake. They will look under done, but will come out clean on a toothpick.
*These will have to rest for about 2- 3 hours before you are able to cut them.
Notes
If you need a good vegan chocolate chip, these are my favorite link
Nutrition Information:
Yield:

10
Serving Size:

1 brownie
Amount Per Serving:
Calories:

362
Total Fat:

22g
Saturated Fat:

6g
Trans Fat:

0g
Unsaturated Fat:

14g
Cholesterol:

0mg
Sodium:

145mg
Carbohydrates:

42g
Fiber:

3g
Sugar:

30g
Protein:

4g
The calories are computer generated and may not be 100% accurate.
If you made this and loved it, I would love to hear about it in the comments or #courtneyshomestead. Thanks so much for your support! <3 Courtney