This vegan nacho cheese sauce recipe tastes like the real deal. It's super easy to make with plant-based ingredients and will impress you.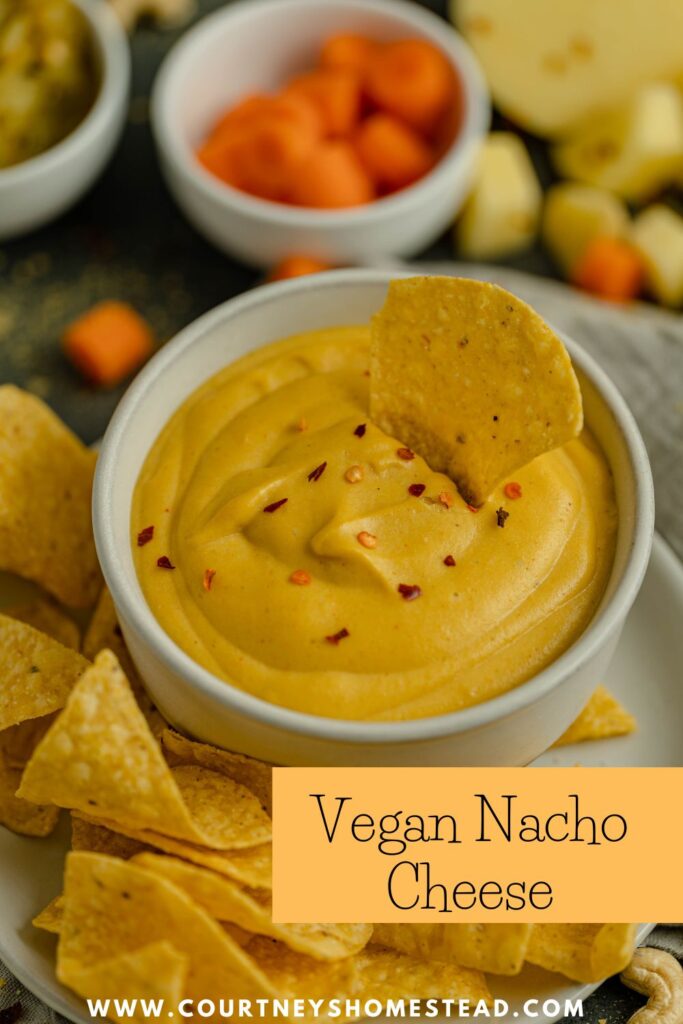 The first time I made this cashew nacho cheese sauce, my husband was very suspicious. He wasn't so weird about the cashews as he was about the potatoes and carrots.
I mean, how can potatoes, carrots, cashews, and a handful of other ingredients make cheese?
Honestly, I don't really know, but I'm here to tell you it will up your vegan nachos game with this delicious cheesy dip.
I love that this recipe is made with all-natural ingredients and still tastes crazy close to the real thing.
I have a friend whose kids eat dairy products, and they love this creamy vegan cheese sauce.
My kids love to take chips and dip them for some quick stadium-style nachos.
You know, the ones that come with that very questionable nacho cheese and are 10 dollars for chips and cheese that come out of a bag?
This also works great to dip those giant pretzels in that always come with a cheese side.
Vegan Nacho Cheese Sauce Recipe Q&A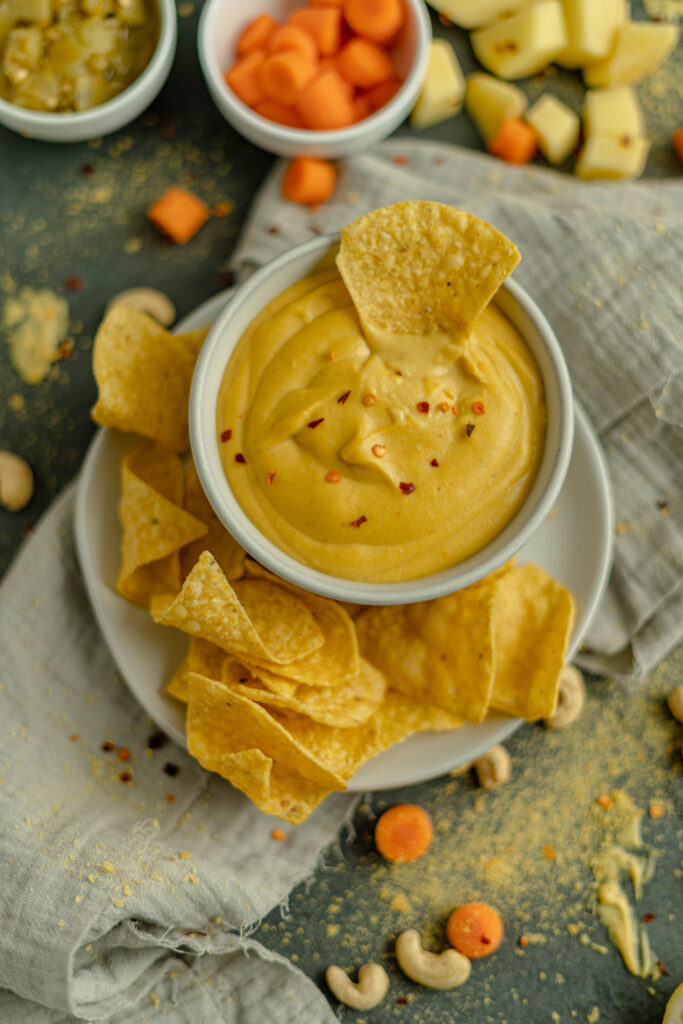 What is vegan nacho cheese made of?
Vegan nacho cheese is made from a mixture of potatoes, carrots, cashew, nutritional yeast, green chiles, and warm Mexican spices. You blend them all together, and you get an incredible-tasting vegan nacho cheese sauce.
What tortilla chips are vegan?
The majority of plain tortilla chips are vegan; I've actually never found a brand that had dairy in it, but I always check packages.
Does nacho cheese have dairy in it yet?
Yes, unless specified vegan, all nacho cheese has dairy in it.
Is this easy vegan cheese sauce spicy?
No, not at all. If you want spice, you can add some cayenne pepper, but my boys won't eat it spicey; my husband would love to have it spicey.
Can you make this nut-free?
I have never tried making it nut-free; you could try using sunflower seeds, but it will definitely change the flavor and color. I have never tried it firsthand.
Do I need the lemon?
Yes, the lemon is important to the recipe, giving the cashews a milder taste and blending the flavors together for the cheese to do its magic.
Can I make this without the oil?
Yes, for sure. I have made this recipe many times without the oil; it still tastes good, but we prefer it with the oil.
The oil helps the recipe stay creamy while it sits in the fridge.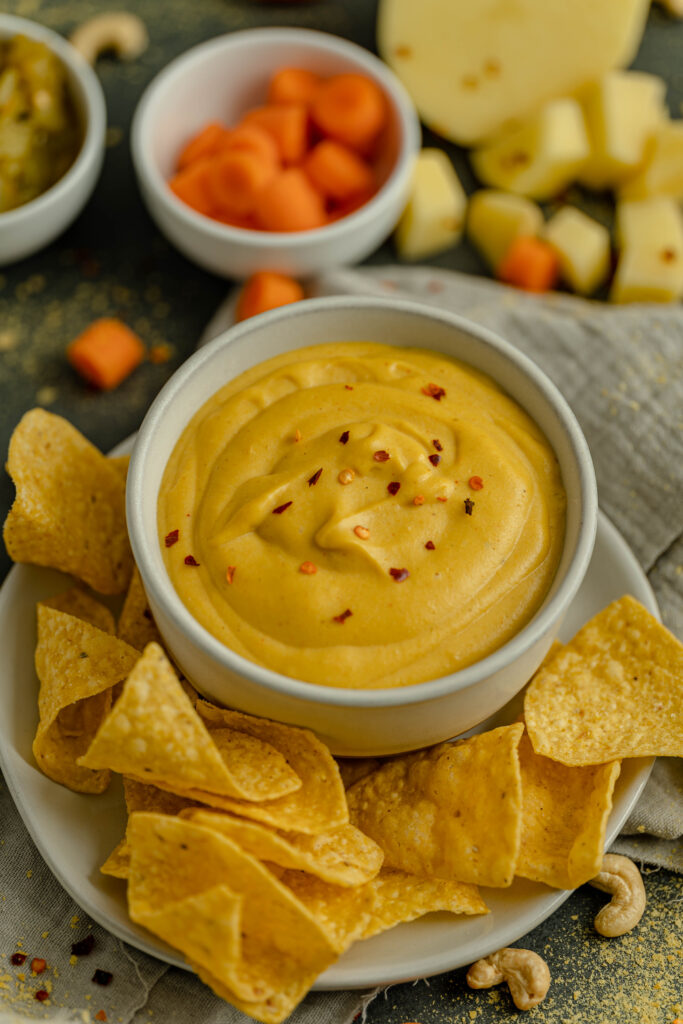 Can I leave out the nutritional yeast?
I mean, you could, but I wouldn't. It helps give it that cheesy flavor as well as that bright orange color (the carrots help with that as well).
My husband does not care for nutritional yeast and didn't even notice it in this recipe.
Do I need a high speed blender to make this?
High speed blenders work really well to make this creamy texture smooth, and that's all I've ever used for this recipe. You could try using a food processor or a regular blender and blend it until smooth.
What ingredients do you need for this vegan nacho cheese recipe?
Check out the recipe card at the bottom of this post for the full list of ingredients.
Yukon gold potatoes, chopped
carrots, chopped
raw cashews
water
nutritional yeast flakes
plant-based milk (soy milk, almond milk, oat milk, make sure it's unsweetened and unflavored)
garlic powder
onion powder
cumin
smoked paprika
salt
green chiles, canned.
lemon juice
refined coconut oil
How do you make this vegan cheese sauce recipe?
Start by boiling your water, potatoes, carrots, and cashews.
Boil until soft (8-12 minutes); drain once cooked.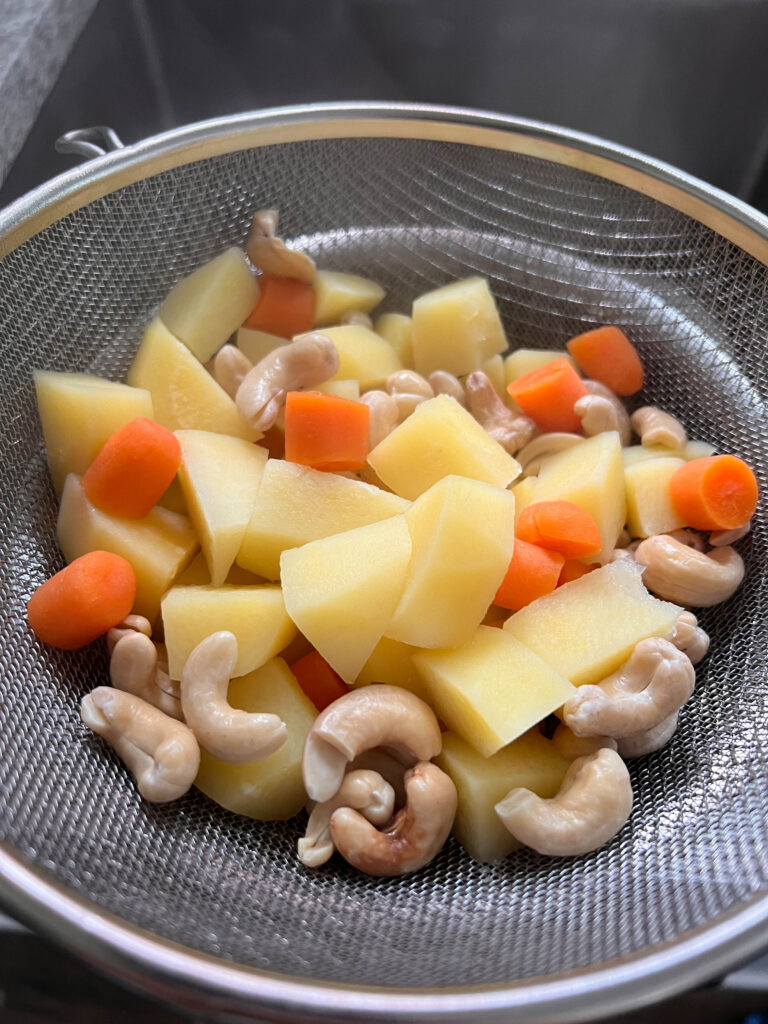 Take a high-speed blender, mix the remaining ingredients and the cooked vegetables, and blend until smooth.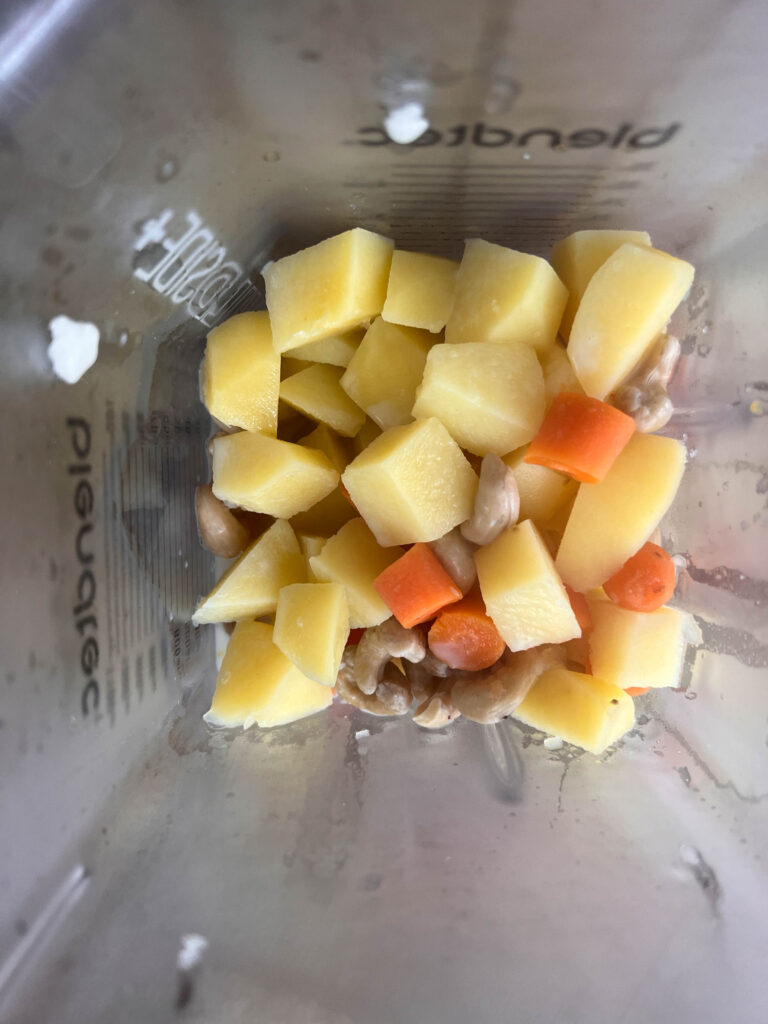 My high powered blender heats up the cheese while it's blending. I don't do anything special for this, I think, because the vegetables and cashew we boiled are warm, and it takes a bit of work to grind it all down.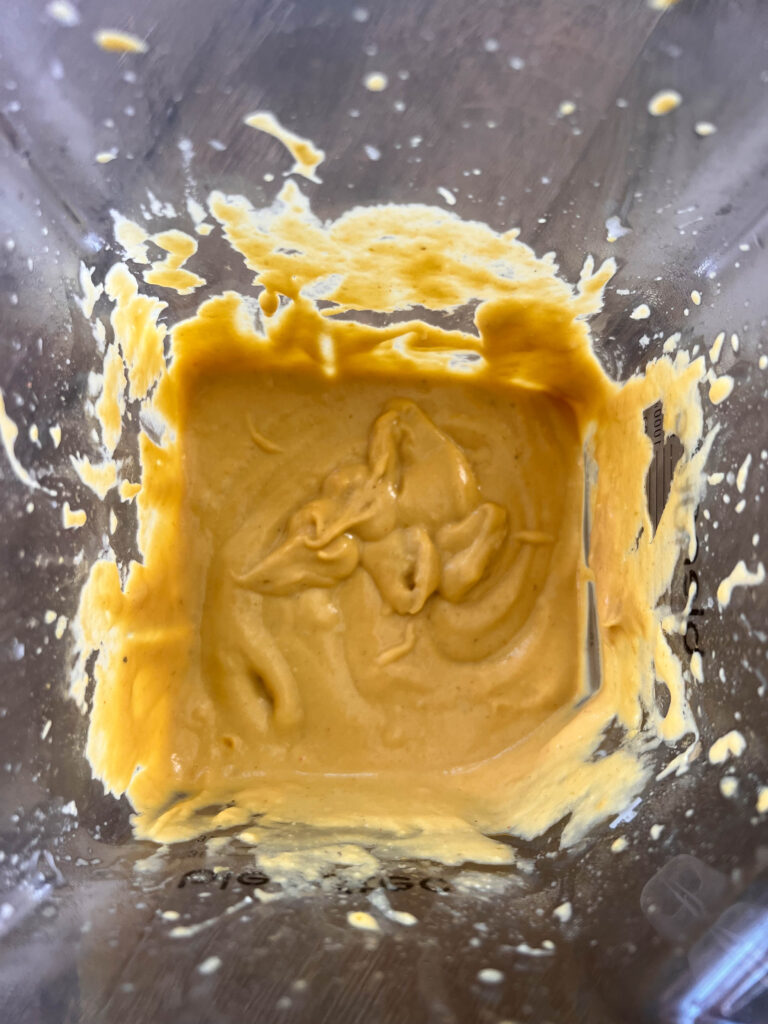 If yours doesn't get your nacho cheese warm enough, you can heat it on the stove in a saucepan on medium-low until it's at your desired temperature.
How do you serve the best vegan nacho cheese sauce?
This can be served warm as is right out of the blender.
You can put this on tortilla chips for nachos, baked potato, cooked vegetables, or whatever you use traditional nacho cheese for.
This also goes great as cheese on tacos or burritos.
If you want to change the flavor to a little more potent, add a bit of your favorite salsa to the nacho cheese.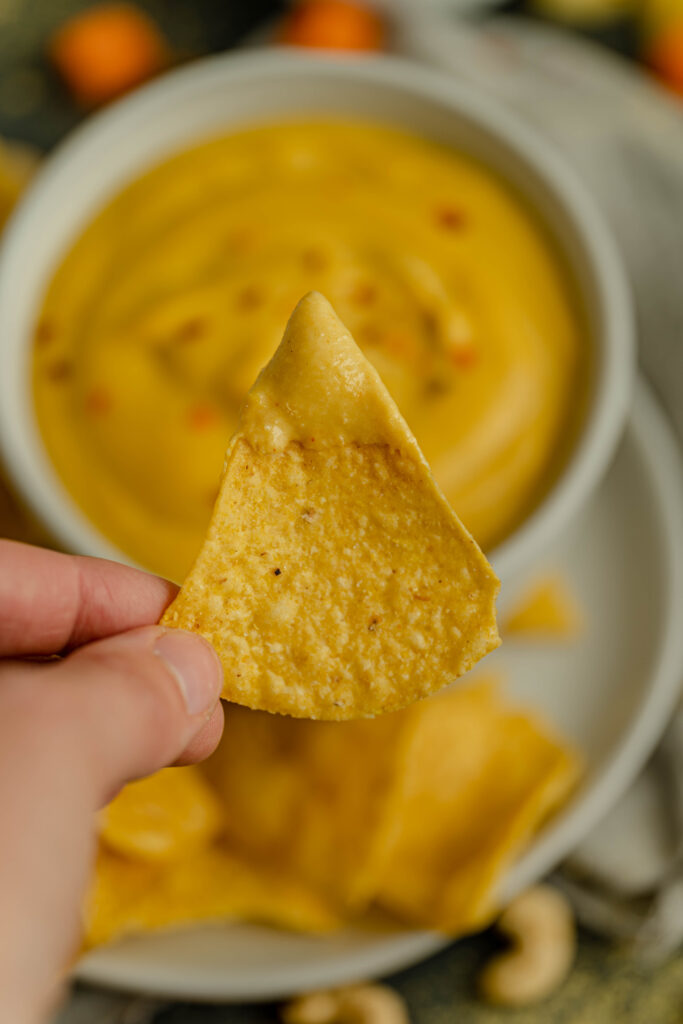 How do you store this easy vegan nacho cheese sauce?
Store this gooey cheese sauce in an airtight container in the fridge for up to 5 days.
Can you freeze leftover vegan nacho cheese sauce?
I've never tried freezing it, so I'm not totally sure, but I think it's worth a shot.
I imagine it would thicken up. I would place it in a freezer-safe container for up to 3 months, then defrost it and use it accordingly.
Want some other delicious vegan recipes?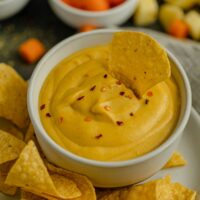 Vegan Nacho Cheese
This easy vegan nacho cheese is going to impress you! It actually tastes like cheese without actually having any cheese!
Print
Pin
Rate
Ingredients
1 ½

cups

potatoes

chopped

¼

cup

carrots

chopped

¼

cup

cashews

¼

cup

nutritional yeast

⅓

cup

plant milk

½

teaspoon

garlic

½

teaspoon

onion powder

¼

teaspoon

cumin

¼

teaspoon

smoked paprika

¾

teaspoon

salt

2

TB

green chilis

canned.

½

TB

lemon juice

1

TB

refined coconut oil
Instructions
Start by boiling your potatoes, carrots, and cashews.

Boil that until soft (10-15 minutes); drain once cooked. Take a high-speed blender, mix the remaining ingredients and the cooked vegetables, and blend until smooth.

Use as you would any nacho cheese.
Notes
See blog post for recipe Q&A
Nutrition
Serving:
1
g
|
Calories:
31
kcal
|
Carbohydrates:
4
g
|
Protein:
1
g
|
Fat:
1
g
|
Saturated Fat:
1
g
|
Polyunsaturated Fat:
1
g
|
Sodium:
87
mg
|
Fiber:
1
g
If you loved this recipe, then give it a 5-star rating and leave a comment! I love to chat with you all. Please feel free to share on social media and tag #courtneyshomestead. I would love to see you over on Instagram or Facebook.