This vegan hot chocolate tastes just like regular hot chocolate with simple ingredients that you likely have in your pantry.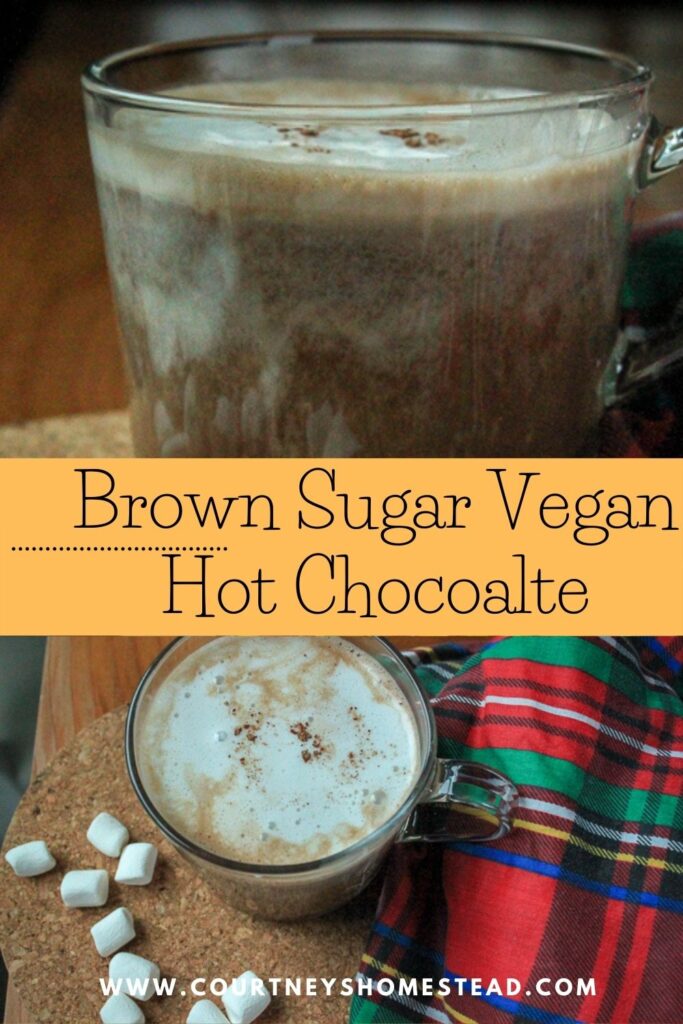 I am picky about my hot chocolate. It has to be just right if I am going to drink it.
The right amount of sweet-to-chocolate ratio makes the best hot chocolate. Most coffee shops around us that serve hot cocoa don't taste all that great to the point where my kids didn't even really like it that much.
My kids are now asking for this best hot chocolate every day! This is more of a treat thing for us, so their request is not granted, but at least they love this easy recipe.
I used Oatmilk (unsweetened) in this recipe because I kind of just love oat milk. It has come to be my favorite with its mild but creamy flavor.
We tried Oatmilk for the first time when we went to Iceland and then dreamed about it until it hit the states. But you can use any dairy-free milk your taste buds love.
Want to know the secret ingredient that makes this creamy vegan hot chocolate so good?
Brown sugar! It adds a little bit of complexity to this classic recipe.
Vegan Hot Chocolate Recipe Q&A-
Where did hot chocolate originate?
The Mayans started hot chocolate. They ground up cocoa beans with various spices and made this drinking chocolate. It was much different than what we are used to drinking. It changes throughout thousands of years, with other countries making different versions.
Can I make this with less sugar?
Depending on your unsweetened cocoa, you can get away with using less brown sugar than called for. Some are more bitter than others.
You can always play around with it. But ⅓ cup seems to be the sweet spot. If you add a lot of mix-ins like coconut whip, or marshmallows, you may prefer the ¼ cup brown sugar.
Are all marshmallows vegan?
No, most marshmallows contain gelatin. So, you need to make sure you find vegan marshmallows. There are several brands available.
Here are our favorites;
Dandies
Trader Joes has mini marshmallows and regular marshmallows depending on the time of year, both gelatin-free
Where do you find vegan marshmallows?
Our local health food stores like Whole Foods have Dandies, and as I said above, Trader Joe has their brand. Otherwise, online, Amazon, Thrive, or your local grocery store might carry them.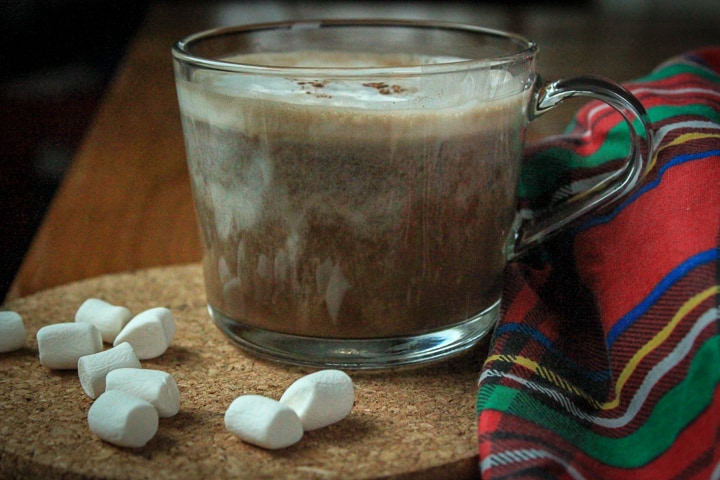 Can I use coconut sugar or maple syrup instead of brown sugar?
Yes, you can, but it will change the flavor of this brown sugar vegan hot chocolate. Use it in a 1:1 ratio for the brown sugar.
What are the best toppings for a mug of hot chocolate?
vegan marshmallows
vegan whipping cream
vegan chocolate chips or dark chocolate chips
pinch of cinnamon
sprinkles
candy canes
whatever you like on your vegan hot chocolate
Where do you find vegan whipping cream?
Vegan whipping cream is usually near the Cool Whip freezer section or where they have the canned, regular whipping cream.
My absolute favorite brand is So Delicious Cocowhip. However, there are a lot of other brands out there.
What's the best vegan milk for dairy-free hot chocolate?
The best vegan milk will depend on your taste, personal preference, whatever your favorite dairy free milk is. Typically a thicker, richer creamy milk will make the best
Here are some ideas;
almond milk- this will be thinner milk and not as creamy
soy milk- makes excellent hot chocolate
cashew milk- more of a creamy milk
oat milk- we love creamy oat milk hot chocolate
Coconut milk- makes very creamy hot chocolate and has a taste of coconut. You can use full-fat coconut milk or lite coconut milk.
How do you make hot chocolate for a crowd?
If you want this to serve more than two people, then double the recipe until you have enough for everything.
I would cook it on the stove first and then transfer it to a crockpot to stay warm.
What ingredients do I need for this homemade vegan hot chocolate recipe?
Check out the recipe card for the full ingredient amounts at the bottom of this post.
non-dairy milk
unsweetened cocoa powder
brown sugar
pinch of salt
vanilla extract
How do you make this dairy free hot chocolate recipe?
This is a very simple recipe that can be whipped up quickly on a cold winter day or any day you want a cup of hot cocoa.
Get a small saucepan ready.
In the saucepan, add all ingredients except; salt and vanilla and mix with a whisk.
You will end up with what looks like a chocolate mess on the top, but don't panic! It will mix in nicely.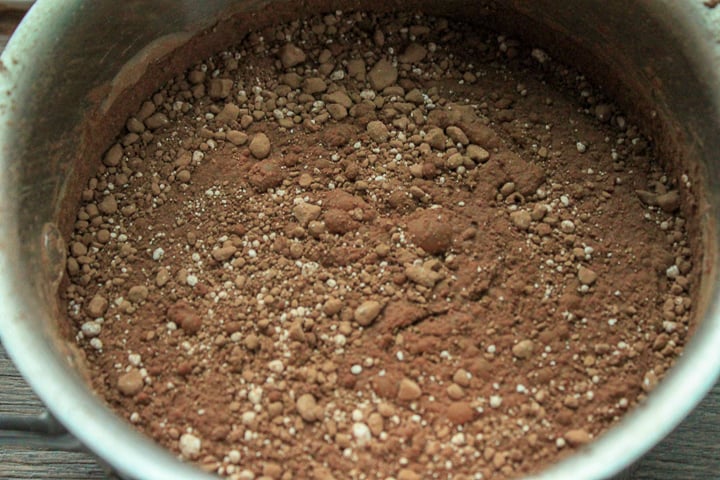 Cook on medium heat for a few minutes until smooth and warm, stirring as needed.
Remove from heat, add vanilla and salt, stir.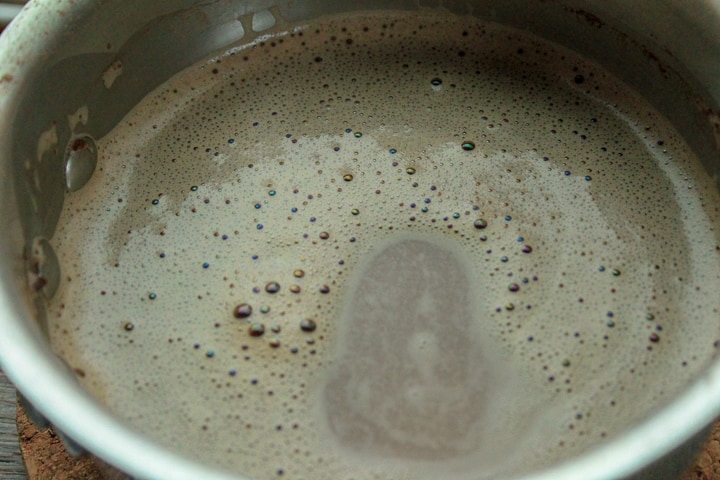 Once cooled down, it is ready for your favorite toppings.
How do you store leftover hot chocolate?
If you have leftovers, you can place them in a cup or mug with plastic wrap over the top firmly covered and place it in the refrigerator. This will last up to 4 days.
To reheat-
Microwave-
You can reheat in the microwave for 1 minute to a minute thirty.
Stove-
Or you can reheat at low heat on the stove if you would prefer.
Want some other vegan recipes?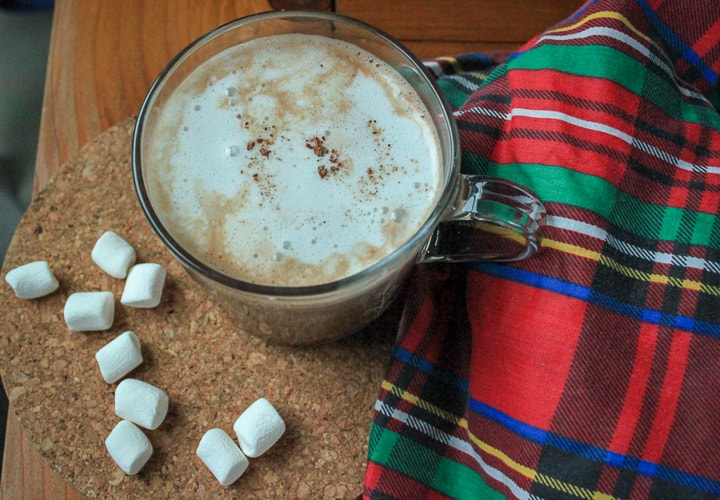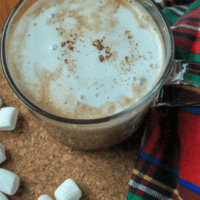 Brown Sugar Vegan Hot Chocolate
This is the best creamy, delicious, perfect for cold days hot chocolate, with the perfect amount of sweet and chocolatey.
Print
Pin
Rate
Ingredients
2

cups

oatmilk*

¼

cup

unsweetended coco powder

⅓

cup

brown sugar

dash salt

½

teaspoon

vanilla extract
Instructions
Mix with a whisk in a saucepan all ingredients except; salt and vanilla. You will end up with what looks like a chocolate mess on the top, but don't panic! It will mix in nicely.  Cook on medium heat for a few minutes until smooth and warm. Remove from heat, add vanilla and salt, stir. Once cooled, it is ready to enjoy.
Notes
This recipe was altered from the back of Hershey's unsweetened coco powder.
**Also, make sure you let this come to a comfortable room temperature before consuming , things can get pretty hot on the stove.
Nutrition
Serving:
1
cup
|
Calories:
289
kcal
|
Carbohydrates:
65
g
|
Protein:
4
g
|
Fat:
2
g
|
Polyunsaturated Fat:
1
g
|
Sodium:
95
mg
|
Fiber:
4
g
|
Sugar:
48
g
If you loved this recipe then give it a 5 star rating and leave a comment! I love to chat with you all. Please feel free to share on social media and tag #courtneyshomestead. I would love to see you over on Instagram or Facebook.
General hot chocolate questions-
Which hot chocolate is vegan?
Swiss Miss Non-dairy
Starbucks double hot chocolate
Good and Gather (this is a Target brand)
Ghiradelli double chocolate
Equal Exchange
Nibmor
Godiva Dark chocolate
There are more brands out there, but these are the most popular. Always remember to check labels because recipes do change.
Is Starbucks hot chocolate mix vegan?
Yes, Starbucks hot chocolate mix you make at home and the one you get in-store (if you pick nondairy milk is vegan).