This vegan cashew chicken is the perfect easy dinner the whole family will love. This comes together in less than 30 minutes and tastes like it took hours.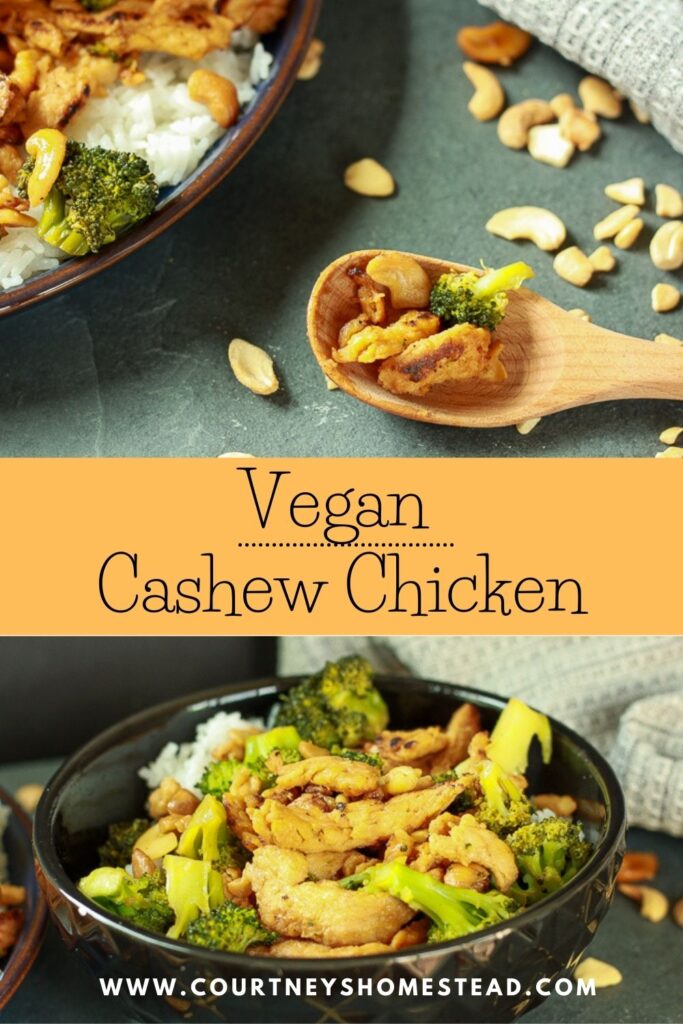 I never really know what to call these dishes, they mimic chicken quite well, but they aren't animals in any way.
So we're just going to roll with vegan soy curl cashew chicken. Sounds good enough to me.
This dish is one of our dinner favorites. I can't decide which I like better, the vegan beef and broccoli I make or this one.
If you've never had soy curls, then you probably should.
They tasted terrible the first time I made them; I didn't know how to work with them. It was not ideal.
I kind of swore them off, but when I would go to vegan restaurants, they nailed them.
They tasted SO good.
So, I was determined to figure out how to make them well.
And I think I can now confidently say I am brave enough to feed this to non-vegans, and I don't think they would miss the meat.
Vegan Cashew Chicken Recipe Q&A
What's good about this dish?
Uh, everything. It's high in protein and has fiber; my kids don't complain about eating it; it has cashews- cashews are almost enough to finish this sentence.
I love cashews. And it's easy peasy to make. Score! This checks all the boxes for me.
What are soy curls?
Soy curls are dehydrated soy that you rehydrate and then season appropriately.
It's my favorite, more natural protein of choice.
Can I use something other than soy curls?
You could make some crispy tofu and just use the sauce, or even tempeh, vegan chicken nuggets, or whatever protein choice you'd prefer.
Where can I buy soy curls?
Soy curls can be found at health food stores or online.
Butlers Soy Curl is the brand, and they are sold on Amazon or directly from Butlers.
The shipping is pretty pricey if you order them from Butlers, but you can get them in bulk.
What ingredients do you need for this vegan soy curl cashew chicken recipe?
Check the recipe card at the bottom of this post for the full recipe.
soy curls
flour
pepper, ground
oil
low sodium soy sauce
rice vinegar
ketchup
brown sugar
garlic
ginger, ground (fresh ginger if you prefer)
red pepper flakes
corn starch
cashew nuts
Optional additions; red bell pepper, green onions, sesame oil, snow peas, cayenne pepper, sugar snap peas,
How do you make this vegan stir fry recipe?
You're going to start with soaking your soy curls.
Take a medium bowl, place 2 cups of the soy curls in it, cover it with warm water, and let sit for 10 minutes.
While the soy curls are sitting, let's start the sauce recipe.
Take all your sauce ingredients into a 1 cup pyrex liquid measuring cup or small bowl and stir. Set aside.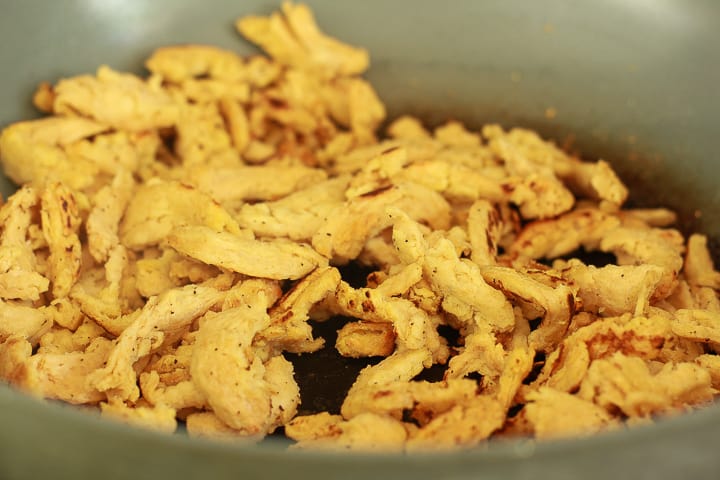 Drain the water from the soy curls.
Then take small hand fulls of them and squeeze all the water out of them that you possibly can.
This is the most important part when working with soy curls.
The squeezing makes it so the soy curls can be infused with the flavoring of the sauce.
Once all of the soy curls are strained, you can put them in a wok or large non-stick skillet.
Take your flour and pepper and toss it with the soy curls until evenly coated.
Now add the oil to the wok on medium heat and stir until the soy curls start to get golden brown; this takes a couple of minutes.
Then stir your sauce once more and add the sauce and crunchy cashews to the soy curls.
Stir for a few minutes until the sauce has thickened onto the soy curls.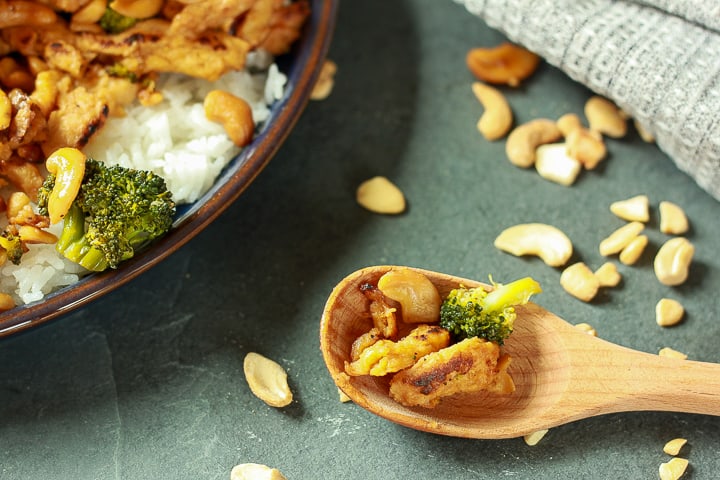 How do you serve this vegan cashew chicken?
I usually add broccoli to this, but you can add any vegetable.
We always serve it with rice.
You could also make extra stir fry sauce and make it with rice noodles or even cauliflower rice.
This makes a lovely easy weeknight dinner.
How do you store leftovers for this easy dinner?
Let the food come to room temperature before storing it in an airtight container in the fridge for up to 5 days.
This also works great as a meal prep meal.
Can you freeze this for busy weeknights?
You could freeze this, but I would make some extra sauce to make it come to life.
If you want to freeze it, let it come to room temperature, then place it in a freezer-safe ziplock bag and freeze for up to 3 months.
To reheat, I would reheat it in the non stick skillet on medium high heat and add a little bit more of the sauce.
Want some other easy vegan soy curl recipes?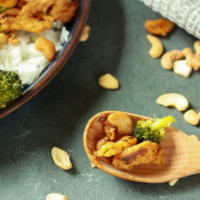 Cashew Soy Curl "Chicken"
This cashew soy curl "chicken" has a perfect tangy sauce.
Print
Pin
Rate
Ingredients
2

cups

soy curls

2

TB

all purpose flour

¼

teaspoon

pepper

ground

1

TB

oil
Sauce ingredients
¼

cup

soy sauce

low sodium

1

TB

rice vinegar

1

TB

ketchup

1

TB

brown sugar

2

cloves

garlic

½

teaspoon

ginger

ground

⅛

teaspoon

red pepper flakes

1

teaspoon

cornstarch
other
½- ¾

cup

cashews

roasted, salted

Cooked rice
Instructions
Start by rehydrating your soy curls. Take 2 cups of soy curls in a bowl and cover with warm water. Let sit for 10 minutes; after the 10 minutes, squeeze all the water possible out of the soy curls and place them back in a clean bowl. Take the flour and pepper and coat the soy curls with this mixture.

While the soy curls and rehydrates, make your sauce. Mix the sauce ingredients and stir. Set aside.

Take a pan and add your oil and soy curls; cook, stirring on medium, for a couple of minutes until the soy curls start to brown. Then add your sauce ingredients and cashews. Stir until cooked through and the sauce is coated. Serve with rice and vegetables. Add more cashews to each plate if desired.
Notes
See blog post for recipe Q&A
Nutrition
Serving:
1
serving
|
Calories:
149
kcal
|
Carbohydrates:
13
g
|
Protein:
4
g
|
Fat:
10
g
|
Saturated Fat:
1
g
|
Polyunsaturated Fat:
8
g
|
Sodium:
693
mg
|
Fiber:
1
g
|
Sugar:
4
g
If you loved this recipe, then give it a 5 star rating and leave a comment! I love to chat with you all. Please feel free to share on social media and tag #courtneyshomestead. I would love to see you over on Instagram or Facebook.