This vegan pizza dough is easy to make and comes together quickly. This is a yeast dough so prepare to give it some time to rise. Making your own pizza crust brings some fun to pizza night.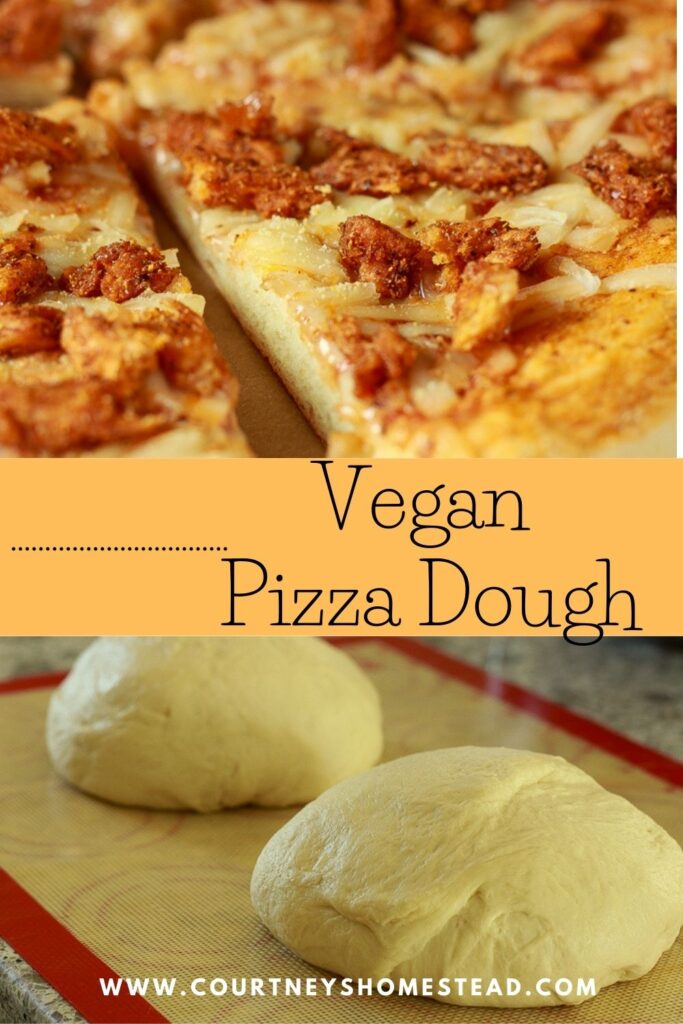 There is something so good about homemade vegan pizza dough.
If I am being really honest, I like a lot of different pizza doughs.
My favorite is when someone else makes it for me =).
I seem to always like food better when someone else makes it. Anyone else?
Anyway, this vegan pizza dough recipe came from my mother-in-law. I am not sure where she got it, but it is SO good.
It's easy to make, but it does use yeast, so you have to take the rise time into account.
This dough pairs perfectly with my soy curl vegan pepperoni.
You could make pizza, calzones, or even garlic knots.
Vegan Pizza Dough Recipe Q&A
Can I use another type of flour?
You can use whole wheat flour, but it will change the recipe's flavor.
You can also use bread flour if you would rather.
Can I make this vegan pizza crust gluten-free?
You can by using all-purpose gluten-free flour in place of white flour.
Do I have to use a pizza stone for cooking homemade pizza?
No, you can use other cooking trays like;
A regular ole baking sheet
Pizza pan or pizza tray (same thing)
Right on the grill
Can I flavor the pizza dough?
This vegan pizza dough tastes like traditional pizza dough, but if you want to add garlic and herbs to the dough, you're more than welcome to.
What's the best vegan cheese?
The best vegan cheese is very subjective.
But my favorites are Violife, Follow Your Heart, Whole Foods brand, Miyokios, or Chao.
You can't go wrong with those brands.
What ingredients do you need for this vegan homemade pizza dough?
Check out the recipe card at the bottom of this post for the full recipe.
Warm Water
Yeast
Sugar
Olive Oil
All purpose flour or bread flour
Salt
Sugar
Garlic Powder
Garlic salt
Cornmeal
That feels like a long list looking at it, but follow along it's not bad, and all simple ingredients you likely have on hand.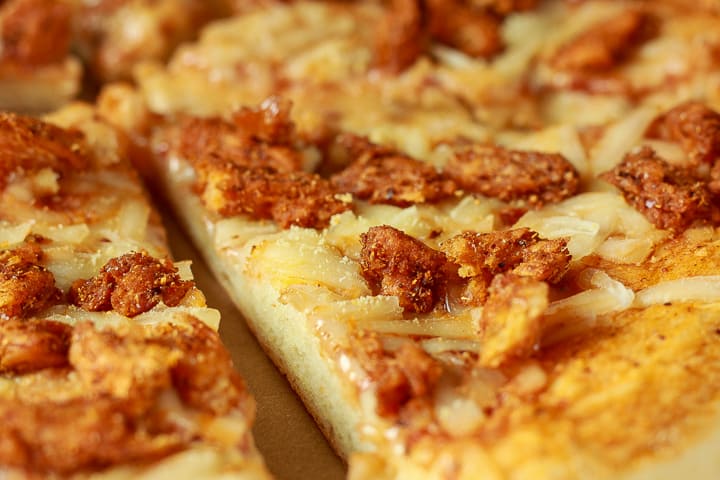 How do you make this easy vegan pizza dough recipe?
You can do this by hand, but I have always used a Kitchen Aid Mixer.
Grab your mixer and make sure the dough hook is on it.
Or grab a large bowl if you don't have a mixer.
Let's start by proofing the dough as this is a yeast pizza dough.
You need warm water, not hot water.
If you have never made your own bread before, here is a little lesson on water temperature.
It makes a huge difference.
If your water is too cold, your yeast won't rise; it will kill the yeast if your water is too hot.
I like to think of my water being bath temperature, and it's always worked well for me.
I use the water from the faucet and test it on my wrist because my fingers can handle a lot more heat than my wrist.
Once it's the right temperature, put your water in your stand mixer or large bowl combine yeast and sugar.
Let that bubble up. This can take anywhere from 5 to 10 minutes.
If after 10 minutes it looks exactly the same, dump it out and try it again.
After it's nice and bubbly, add your oil, salt, and garlic powder.
Then add your flour. Add the 3.5 cups and then knead it a bit; if it's still sticking to the sides and super sticky, add more flour two tablespoons at a time until it barely has a tackiness to it.
It should all pull away from the sides of the mixer.
Then knead on medium for 5 minutes.
If you're doing this with your hands, mix with a wooden spoon and then switch to kneading with your hands. Knead for 10 minutes.
After the 5 minutes, take a greased large bowl and place your dough ball in it.
Cover with a clean kitchen towel and let the pizza dough rise for 1-2 hours.
This all depends on the temperature of your kitchen.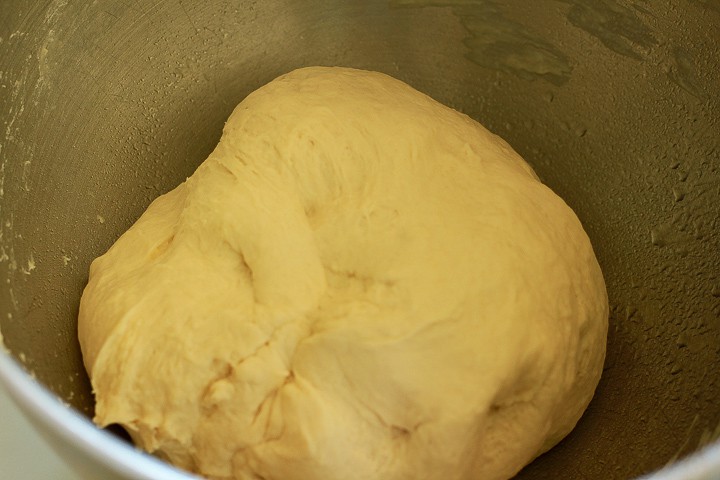 Unless it's summer and hot out, I preheat my oven for about 2 minutes, then shut it off and put it in for a warm little incubator.
Just don't forget to shut it off, or you'll have quite the disaster!
When this dough is ready, you can make two equal dough balls.
Place one ball of dough on parchment paper and the other back in the bowl and cover it with plastic wrap or a clean dishtowel.
The parchment paper makes it easy to roll and easy to not mess up your pizza when you move it.
Just make sure it's the oven-safe high heat type.
Make sure to preheat your oven because it needs to get pretty hot and will take a few minutes.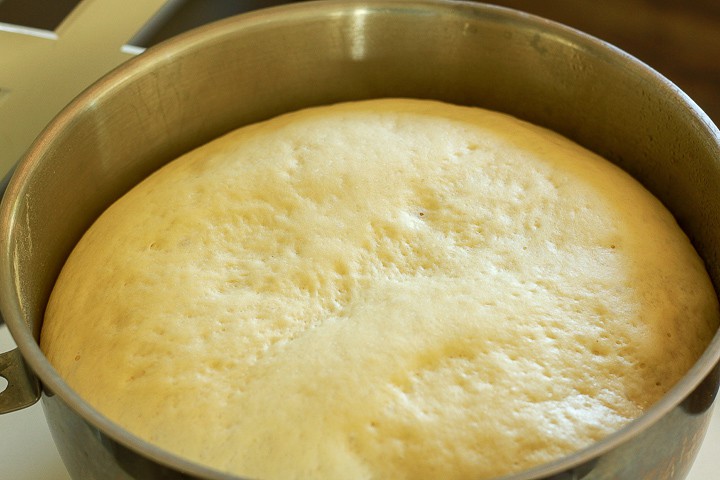 Place cornmeal on the bottom of the parchment paper and then place the dough ball on it.
You can use a rolling pin, but it's better not to.
The better method is to take your ball of dough, place it on the cornmeal, and in a circular motion, spread your dough evenly into a circle or whatever shape you want for this perfect pizza dough.
Once it's the shape you want, brush a layer of olive oil and garlic salt on top, then prick the top with a fork to prevent the pizza from air bubbles while cooking.
Top with whatever toppings you want and cook for 12-15 minutes, depending on the thickness of your pizza.
Repeat with the other ball of dough.
If you want thin crust, make your dough thin; if you want a thick crust, make it thicker.
This makes two medium to large pizzas.
Can you prep homemade pizza dough ahead of time?
Yes, you can make it up to 3 days ahead of time.
Make the dough, and instead of letting it rise, set it in the fridge in an airtight container.
When you're ready to make the pizza take out your dough and place it in a large greased bowl, covered until double in size.
Then proceed with making your pizza.
How do you serve?
Pizza dough is best served cooked with delicious pizza toppings. You can serve cold or warm, but most people like warm pizza more than cold.
Need some pizza topping ideas?
The pizza base, sauces-
Tomato sauce (pizza sauce)
A little olive oil and garlic
BBQ Sauce
Hummus
Vegan Garlic Ranch
Buffalo Sauce
Vegan Pesto
Vegan Alfredo Sauce
Marinara Sauce
Here are some favorite toppings for pizza;
Vegetable/ Fruit toppings-
Red onion
Fresh Basil
Pineapple
Red pepper flakes
Kalamata olives
Black olives
Red and green pepper
Spinach
Mushrooms
Onions
Artichoke hearts
Tomatoes
Zucchini
Vegan protein toppings;
Vegan ham
Vegan sausage (there are tons of great brands these days)
Vegan pepperoni, I have a great easy recipe for this.
Black beans
Chickpeas
Vegan bacon
Vegan cheese toppings;
Vegan mozzarella (like Follow Your Heart, Miyokios, Violife, whatever your favorite is)
Vegan cheddar cheese
Vegan Parmesan (this recipe is easy and tastes amazing on pizza)
Feel free to use your toppings of choice.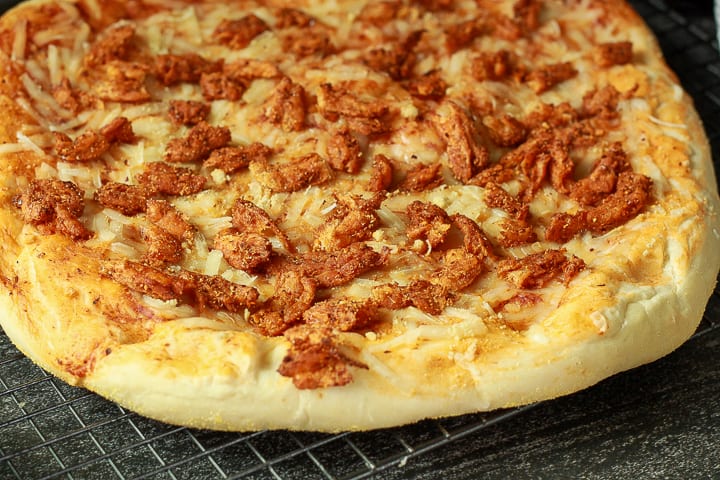 Can you freeze homemade pizza dough?
Yes, you sure can.
Make the dough but don't have it rise; just put it in a freezer-safe bag and freeze it for up to 3 months.
Defrost on the counter at room temperature.
Then let it rise in a warm place until double in size, and then proceed with making your pizza.
Want some other vegan dinner recipes?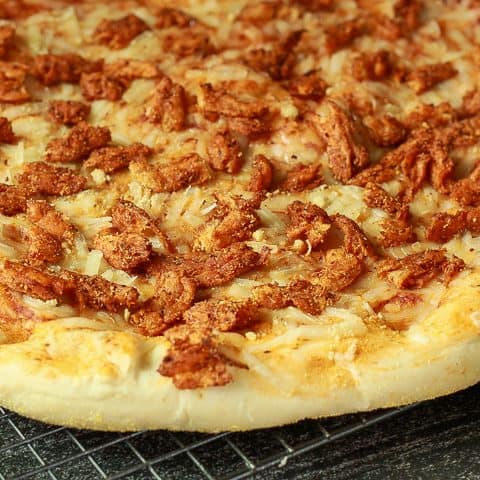 Vegan Pizza Dough
This Pizza dough tastes delicious and makes two delicious pizzas.
Print
Pin
Rate
Ingredients
1 ½

cups

warm water

1

TB

yeast

1

TB

white sugar

1

TB

oil

1

teaspoon

salt

1

teaspoon

garlic powder

3 ½

cups

flour

garlic salt

olive oil

cornmeal for crust
Instructions
Get your stand mixer out and attach the dough hook. In the bowl, add your warm water, yeast, and sugar. Let that bubble for about 10 minutes.

Now add your oil, salt, and flour. With the dough hook, knead. You may need more flour; it should pull away from the sides and not be overly sticky. A very slight stick is what you're looking for. Add 2 TB's of flour at a time if need be. Once you have enough flour, knead the dough for 5 minutes.

Place your dough in a greased bowl and cover with a clean kitchen towel for 1 hour until it doubles in size.

Preheat your oven to 475 degrees.

Once it's doubled in size, divide the dough into two balls. Take two sheets of parchment paper, add some cornmeal onto the parchment paper and roll your dough into the desired shape on top of the cornmeal. Once rolled, brush olive oil over the top of the crust, add an even sprinkle of garlic salt, prick it with a fork to prevent bubbling, then top like you normally would your pizza. Cook for 12-15 minutes, depending on the thickness of the crust.
Notes
See blog post for recipe Q&A
Nutrition
Serving:
1
slice
|
Calories:
149
kcal
|
Carbohydrates:
28
g
|
Protein:
4
g
|
Fat:
2
g
|
Polyunsaturated Fat:
2
g
|
Sodium:
175
mg
|
Fiber:
2
g
|
Sugar:
1
g
If you loved this recipe then give it a 5 star rating and leave a comment! I love to chat with you all. Please feel free to share on social media and tag #courtneyshomestead. I would love to see you over on Instagram or Facebook.