There is something so good about homemade vegan pizza dough. If I am being real honest, I like a lot of different pizza doughs. My favorite is when someone else makes it for me =) . I seem to always like food better when someone else makes it. Anyone else?
Anyway, this vegan pizza dough recipe came from my mother in law. I am not sure where she got it, but it is SO good. It's easy to make, but it does use yeast so you have to take the rise time into account.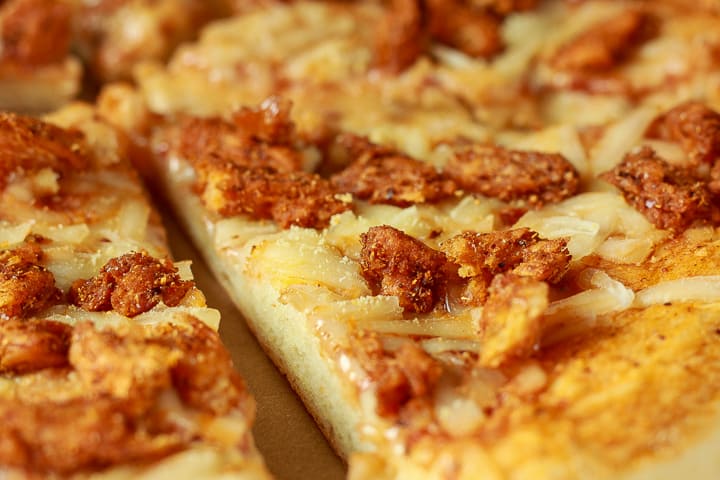 This dough pairs perfectly with my soy curl vegan pepperoni. You could make pizza or calzones with it.
Let's talk vegan cheese for a minute. There are tons of vegan cheese brands out there. So far we have liked Vio Life the best for pizza. Those who have Whole Foods, they recently launched a cheese and I want to try it with this pizza. If you have a favorite cheese- just use that.
What do you need for this awesome vegan pizza dough?
Warm Water
Yeast
Sugar
Olive Oil
Flour
Salt
Sugar
Garlic Powder
Garlic salt
Cornmeal
That feels like a long list looking at it, but follow along it's not bad.
You can do this by hand but I have always used a Kitchen Aid Mixer. Grab your mixer and make sure the dough hook is on it.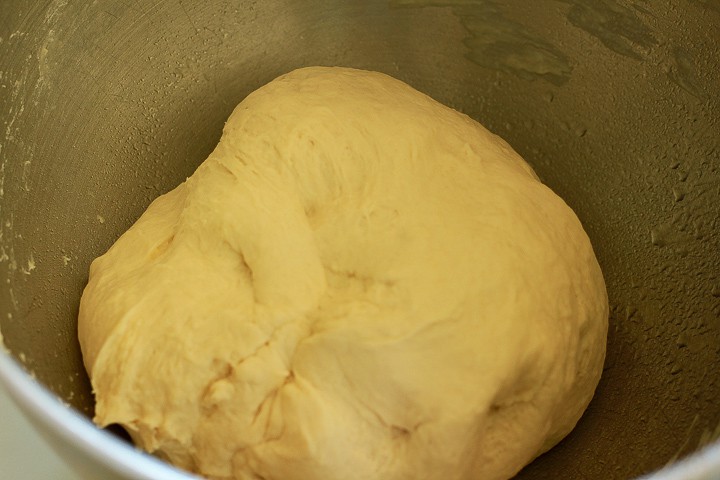 You need warm water. If you have never made your own bread before then here is a little lesson on water temp. It makes a huge difference. If your water is too cold your yeast won't rise, if your water is too hot it will kill the yeast. I like to think of my water being bath temperature and it's always worked well for me. I just use the water from the faucet and I test it on my wrist because my fingers can handle a lot more heat than my wrist.
Once it's the right temperature put your water in your stand mixer, add you yeast, and sugar. Let that bubble up. This can take anywhere from 5 to 10 minutes. If after 10 minutes it looks exactly the same, dump it out and try it again.
After it's nice and bubbly add your oil, salt, and garlic powder. Then add your flour. Add the 3.5 cups and then knead it a bit, if it's still sticking to the sides and super sticky add more flour 2 tablespoons at a time until it barley has a tackiness to it and it's all pulled away from the sides of the mixer. Then knead on medium for 5 minutes.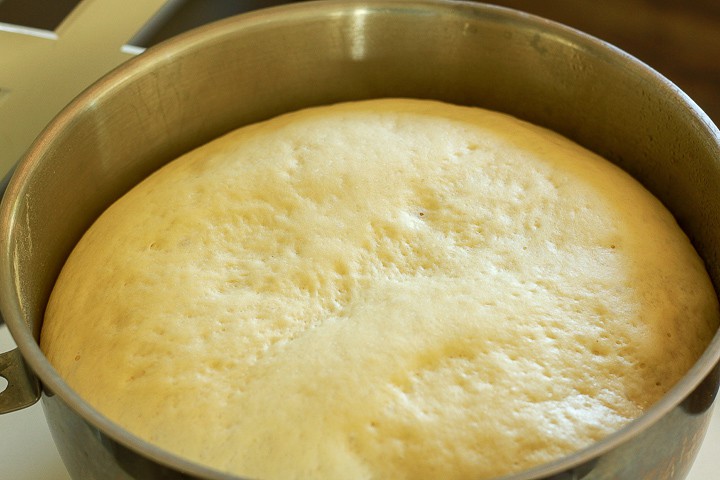 After the 5 minutes take a greased large bowl and place your dough ball in it. Cover with a clean kitchen towel and let rise for 1-2 hours. This all depends on the temperature of your kitchen. Unless it's summer and hot out, I preheat my oven for about 2 minutes and then shut it off and put it in there for a warm little incubator. Just don't forget to shut it off or you'll have quite the disaster!
When this dough is ready you can make two equal dough balls. Place one dough ball on parchment paper and the other back in the bowl and cover it. The parchment paper makes it easy to roll and easy to not mess up your pizza when you move it. Just make sure it's the oven safe high heat type. Make sure to preheat your oven because it needs to get pretty hot and will take a few minutes.
Place cornmeal on the bottom of the parchment paper and then place the dough ball on it. Roll out your pizza ball to your desired thickness on top of the cornmeal. Once it's the shape you want, brush a layer of olive oil, and garlic salt on top then prick the top with a fork to prevent the pizza from bubbling up while cooking.
Top with whatever toppings you want and cook for 12-15 minutes depending on your pizzas thickness.
What's your favorite pizza? Let me know in the comments! <3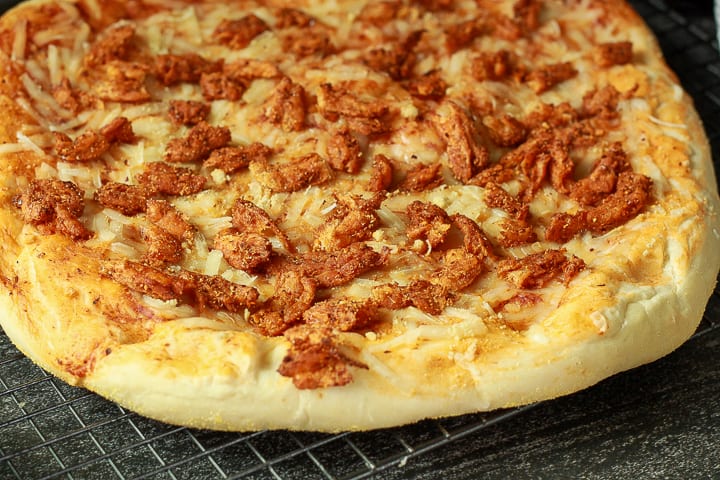 Vegan Pizza Dough
Total Time:
1 hour
33 minutes
This Pizza dough tastes delicious and makes two delicious pizzas.
Ingredients
1 1/2 cups warm water
1 TB yeast
1 TB white sugar
1 TB oil
1 tsp salt
1 tsp garlic powder
3 1/2 cups flour
garlic salt
olive oil
cornmeal for crust
Instructions
Get your stand mixer out and attatch the dough hook. In the bowl add your warm water, yeast and sugar. Let that bubble for about 10 minutes.
Now add your oil, salt, and flour. With the dough hook, knead. You may need more flour, it should pull away from the sides and not be overly sticky. A very slight stick is what you're looking for. Add 2 TB's of flour at a time if need be. Once you have enough flour, knead the dough for 5 minutes.
Place your dough in a greased bowl and cover with a clean kithen towel for 1 hour, until it doubles in size.
Preheat your oven to 475 degrees.
Once it's doubled in size divide the dough into two balls. Take two sheets of parchment paper, add some cornmeal onto the parchment paper and roll your dough into desired shape on top of the cornmeal. Once rolled, brush olive oil over the top of the crust, then add a even sprinkle of garlic salt, prick it with a fork to prevent bubbling, then top like you normally would your pizza. Cook for 12-15 minutes depending on thickness of crust.
Nutrition Information:
Yield:

16
Serving Size:

1 slice
Amount Per Serving:
Calories:

149
Total Fat:

2g
Saturated Fat:

0g
Trans Fat:

0g
Unsaturated Fat:

2g
Cholesterol:

0mg
Sodium:

175mg
Carbohydrates:

28g
Fiber:

2g
Sugar:

1g
Protein:

4g
The calories are computer generated and may not be 100% accurate.

<3 Courtney