This vegan soy curl pepperoni is the perfect addition to your next pizza night. It's simple to make and brings back the classic flavor of a pepperoni pizza. You can use this delicious homemade vegan pizza dough to go with it!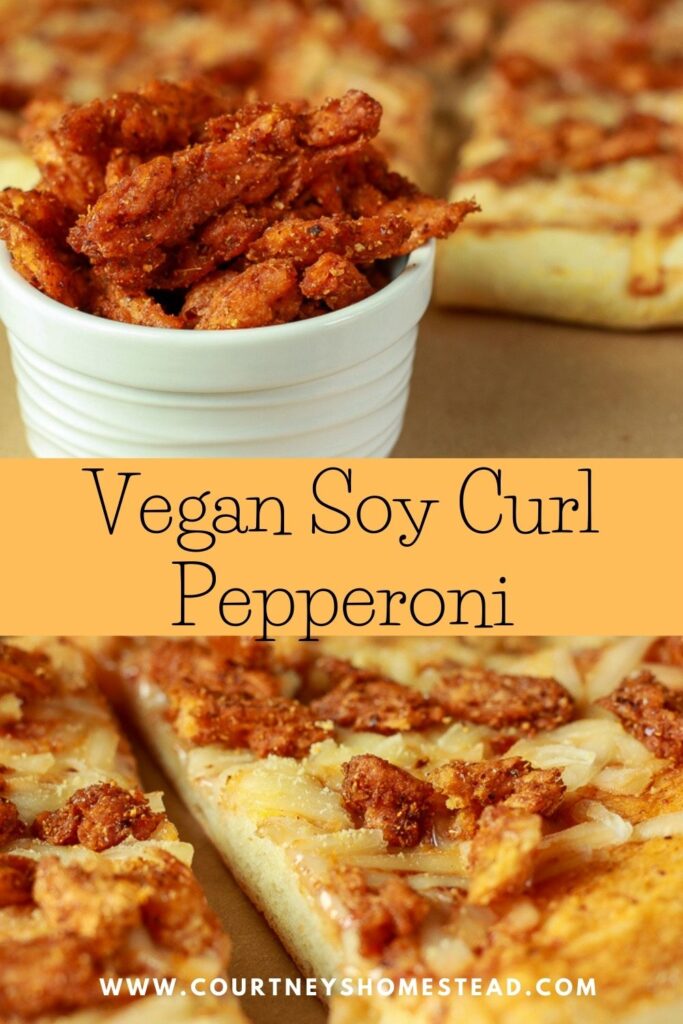 This one day I was scrolling through my Instagram feed and a vegan seitan pepperoni recipe came up.
It looked delicious, and I am sure it is! So, I started thinking about pepperoni and alternative ways to make it and BAM soy curl pepperoni popped in my head.
Seitan recipes can be a little tricky sometimes or just more time-consuming plus it is not gluten-free (it's literally vital wheat gluten) for those who need it to be.
Plus, soy curls have such a great natural meaty texture, it works perfectly for a vegan pepperoni alternative.
That night I started working on my recipe, it took about 4 times to come up with this one.
I still don't love to eat this plain, but it tastes amazing on pizza.
The night I finally nailed the recipe I made one vegan cheese pizza and one vegan pepperoni pizza.
I thought for sure my son would go for the cheese, but the vegan soy curl pepperoni took the cake that night.
If you can't find soy curls I have had readers use TVP (textured vegetable protein) and say it works great for that as well.
This is one of our favorite recipes for homemade vegan pizza night.
If you've never had soy curls you are in for a treat. Soy curls make great fajitas, vegan jerky, vegan beef, and broccoli, so many good things!
Recipe Q&A
What's the best vegan cheese for pizza?
We are lucky that in today's world they have a ton of delicious vegan cheeses out there, but unfortunately, there are still a lot of gross ones also.
Here are some I trust;
Follow Your Heart mozzarella
any Violife
Chao
Miyokos
You really can't go wrong with any of those brands. You can use vegan mozzarella or a mix of cheddar whatever you like on your pizza.
What are soy curls?
Soy curls are dehydrated soy chunks. That's literally the only ingredients. Butlers soy curls are the only brand that I know of and they are the best natural alternative to meat in my personal opinion. They take on any flavor you want them to.
Where do I buy these soy curls?
You can buy them online through Amazon or the company themselves. They also have them at most healthy grocery stores in my local area.
Want some other vegan pizza topping ideas?
red peppers
green peppers
red onion
olive oil
bbq sauce
black olives
green onions
caramelized onions
artichoke hearts
vegan ham
vegan pineapple
marinara sauce or red sauce
fresh basil
any fresh veggies
The list could go on forever topping your favorite vegan pies.
If you want a delicious homemade vegan pizza dough try this one out.
How do you store this?
After it has cooled you can store it in an airtight container in the fridge for up to 5 days or freeze it in the same way for up to 3 months.
What do you need for this Vegan Soy Curl Pepperoni?
2 cups butler soy curls
Fennel seeds
Smoked Paprika
Crushed red pepper flakes
Garlic powder
Salt
Neutral Oil
Coffee grinder or spice grinder
How do you make this great recipe for vegan pepperoni?
Check out these simple steps to making pizza night a little more exciting.
Soak your soy curls-
You start by soaking your soy curls.
If you are new to this, don't worry it's easy.
You throw 2 cups of soy curls into a medium-sized bowl.
Cover them with warm water and let them sit for 10 minutes.
Squeeze your soy curls-
After the 10 minutes is up you drain soy curls and then squeeze all the excess water you can possibly get out of them.
I do this by hand. Just take a handful and squeeze a few times until you don't have any excess liquid coming out and set aside.
Do this for the whole batch.
While the soy curls are rehydrating you can make your seasoning.
Make your pepperoni seasoning-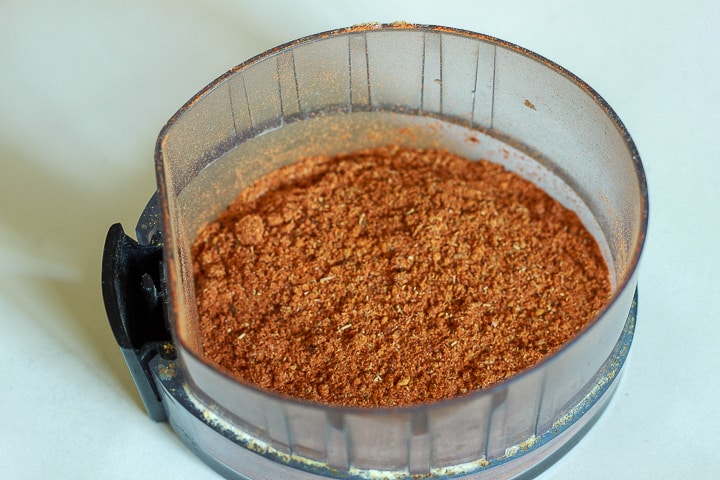 Just throw all your dry ingredients - seasoning into a small coffee grinder or a spice grinder and grind it all together.
Coat the soy curls-
Grab your now-ready soy curls and pour two tablespoons of oil on them.
Mix that oil all over them and then coat with your seasoning.
You want to make sure it's all evenly coated the best you can.
Baking time-
Now you're going to bake the soy curls for 8 minutes. Take a cookie sheet And lightly spray with cooking oil, then spread the seasoned soy curls on the tray. This just makes sure the flavor gets a little more saturated. When it comes out you can add the additional oil to give it a little more of a pepperoni feel.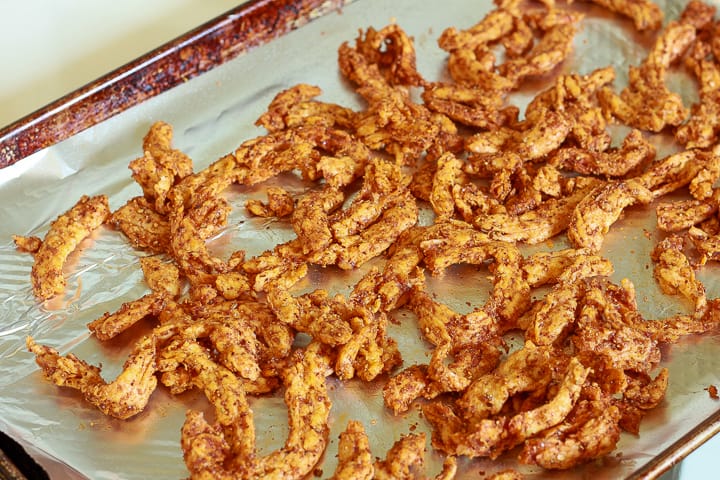 Top this on your favorite pizza and then bake the pizza like you normally would.
What's your favorite pizza topping? Let me know in the comments!
Want some other soy curl vegan dinner recipes?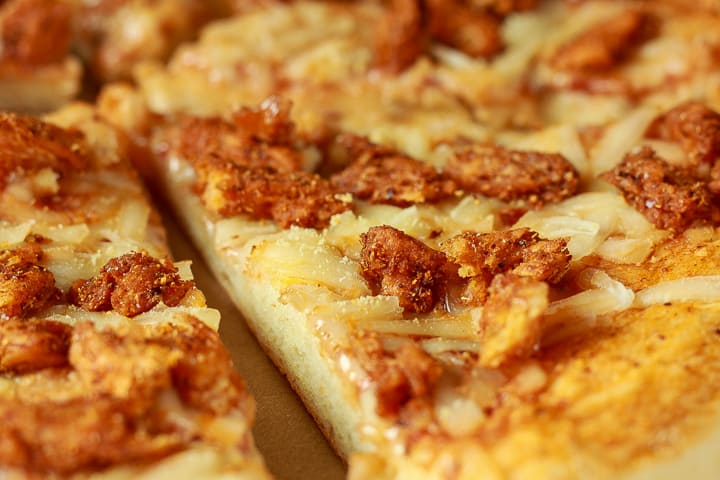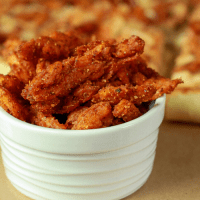 Vegan Soy Curl Pepperoni
This tastes great on a pizza when you're craving that pepperoni flavor without all the grease.
Print
Pin
Rate
Servings:
2
cups ( or 2 pizzas)
Ingredients
2

cups

soy curls

1

TB

fennel seeds

2

teaspoon

smoked paprika

2

teaspoon

crushed red pepper

1

TB

garlic powder

½

teaspoon

salt

4

TB

neutral oil
Instructions
Preheat your oven to 350 degrees. Get a small cookie sheet and spray with cooking spray, set aside.

Get a medium bowl and soak your soy curls in warm water for 10 minutes. Strain them and then squeeze all the water out of them. Set aside.

Take a small coffee grinder and put all your spices into it and grind until mostly smooth.

In a medium bowl mix your soy curls with 2 TB oil, mix, then add your seasoning and mix. Add another 1 TB oil stir. Spread this mixture on the cookie sheet and let cook for 8 minutes in a preheated oven. Then stir the last TB of oil. It can now sit in the fridge until ready to use or put it on your pizza before baking like you would pepperoni.
Nutrition
Calories:
286
kcal
|
Carbohydrates:
7
g
|
Protein:
2
g
|
Fat:
29
g
|
Saturated Fat:
2
g
|
Polyunsaturated Fat:
26
g
|
Sodium:
589
mg
|
Fiber:
3
g
|
Sugar:
1
g
If you loved this recipe then give it a 5 star rating and leave a comment! I love to chat with you all. Please feel free to share on social media and tag #courtneyshomestead. I would love to see you over on Instagram or Facebook.