This one day I was scrolling through my Instagram feed and a vegan seitan pepperoni recipe came up. It looked delicious and I am sure it is! So, I started thinking about pepperoni and alternative ways to make it and BAM soy curl pepperoni popped in my head.
That night I started working on my recipe, it took about 4 times making it to come up with this one. I still don't love to eat this plain, but it tastes amazing on pizza.
The night I finally nailed the recipe I made one vegan cheese pizza and one vegan pepperoni pizza. I thought for sure my son would go for the cheese, but the vegan soy curl pepperoni took the cake that night.
I wouldn't say it tastes exactly like pepperoni, but it's a very good substitute!
What do you need for this Vegan Soy Curl Pepperoni?
2 cups Soy curls
Fennel seeds
Smoked Paprika
Crushed Red Pepper Flakes
Garlic powder
Salt
Neutral Oil
Coffee grinder or spice grinder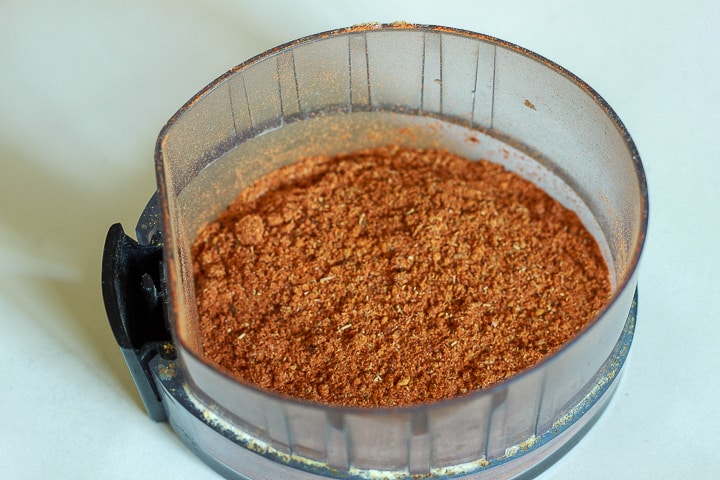 You start by soaking your soy curls. If you are new to this, don't worry it's easy. You throw 2 cups of soy curls into a medium-sized bowl. Cover them with warm water and let them sit for 10 minutes. After the 10 minutes is up you strain them and then squeeze all the water you can possibly get out of them. I do this by hand. Just take a handful and squeeze a few times until you don't have any liquid coming out and set aside. Do this for the whole batch.
While the soy curls are rehydrating you can make your seasoning. Just throw all your seasoning into a small coffee grinder or a spice grinder and grind it alltogether.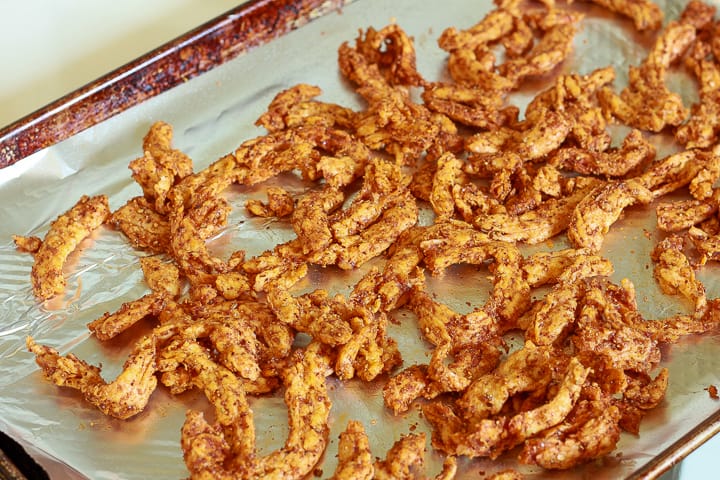 Grab your now ready soy curls and pour two tablespoons of oil on them. Mix that oil all over them and then coat with your seasoning. You want to make sure it's all evenly coated the best you can.
Now you're going to bake the soy curls for 8 minutes. This just makes sure the flavor gets a little more saturated. When it comes out you can add the additional oil to give it a little more of a pepperoni feel. Top this on your favorite pizza and then bake the pizza like you normally would.
What's your favorite pizza topping? Let me know in the comments!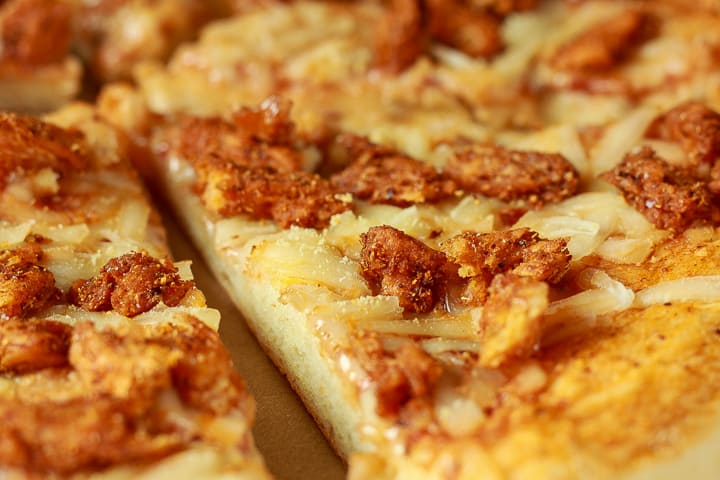 Vegan Soy Curl Pepperoni
Yield:
2 cups ( or 2 pizzas)
This tastes great on a pizza when you're craving that pepperoni flavor without all the grease.
Ingredients
2 cups soy curls
1 TB fennel seeds
2 tsp smoked paprika
2 tsp crushed red pepper
1 TB garlic powder
1/2 tsp salt
4 TB neutral oil
Instructions
Preheat your oven to 350 degrees. Get a small cookie sheet and spray with cooking spray, set aside.
Get a medium bowl and soak your soy curls in warm water for 10 minutes. Strain them and then squeeze all the water out of them. Set aside.
Take a small coffee grinder and put all your spices into it and grind until mostly smooth.
In a medium bowl mix your soy curls with 2 TB oil, mix, then add your seasoning and mix. Add another 1 TB oil stir. Spread this mixture on the cookie sheet and let cook for 8 minutes in a preheated oven. Then stir the last TB of oil. It can now sit in the fridge until ready to use or put it on your pizza before baking like you would pepperoni.
Nutrition Information:
Yield:

2
Serving Size:

half the recipe
Amount Per Serving:
Calories:

286
Total Fat:

29g
Saturated Fat:

2g
Trans Fat:

0g
Unsaturated Fat:

26g
Cholesterol:

0mg
Sodium:

589mg
Carbohydrates:

7g
Fiber:

3g
Sugar:

1g
Protein:

2g
The calories are computer generated and may not be 100% accurate.

<3 Courtney