I love rice, rice of all kinds. It's just about the perfect side dish, you can dress it up or tone it down. It's great when you feel sick and you need something bland, and it's great when you want to spice it up and add flavor to a dish.
This Mexican rice is the perfect side dish to whatever Mexican inspired dish you are having. It's not overly powerful, so it doesn't take away from whatever dish you are serving it with.
Our favorite way of eating this rice is in a burrito. Sometimes my kids just try to pull the rice burrito trick, like a tortilla with only rice in it- doesn't fly around here. They by all means can have at it after they have had one burrito with some bean added. Or you'll find my children just eating this rice straight from the bowl. It's perfect for kids because it's not spicy.
You could also eat the this in a bowl, by itself, in tacos or on top of a salad.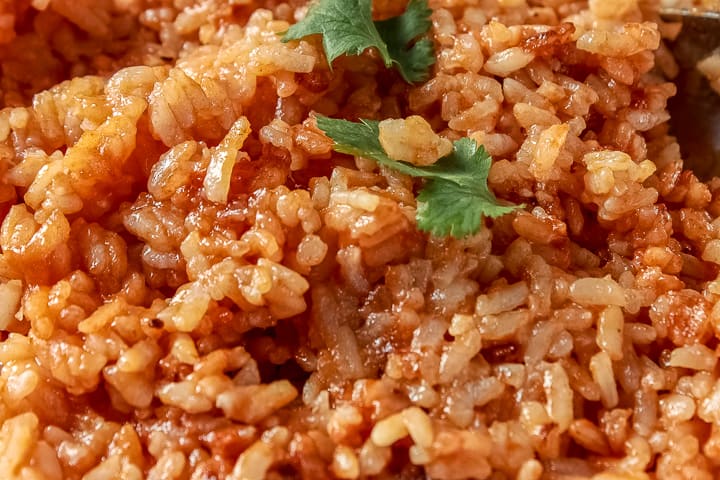 When we make fajitas we often throw this rice into the fajitas. It pairs perfectly with the fajita flavor combo.
I have been making lentil taco "meat" lately and filling burritos with this Mexican rice, the lentil taco "meat" and guacamole. It's the perfect combo and everything involved is kid friendly. You're probably sensing a trend of kid friendly mentions. It can be hard work to feed small mouths, they complain so much, so when I find a hit I want to shout it from the roof tops. Anyone else feel me?
For those who want to spice things up a bit, you could add 1/8 teaspoon of cayenne pepper, or just add some hot sauce to your portion. I bet this would be tasty with some canned jalapenos in it, if you were into spice.
If you have never tried the No Chick'n Bullion, than you should! It's pretty tasty, I love having it on hand to sub out chicken broth in dishes.
What's your favorite rice to accompany your taco or burrito night, are you more a chipotle lime or Mexican style? Let me know in the comments!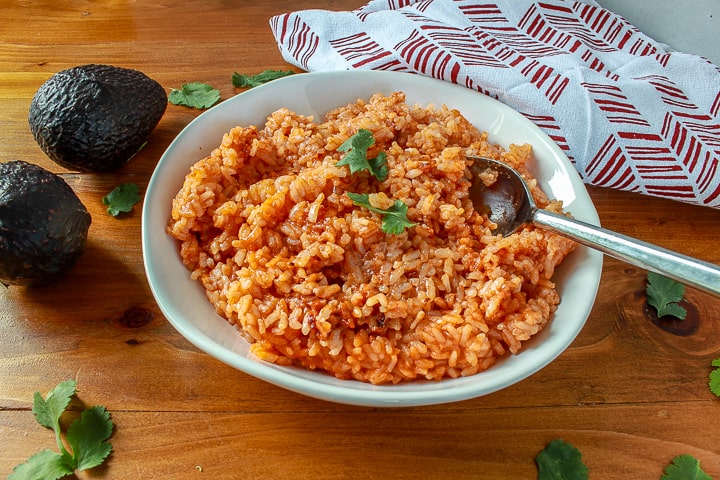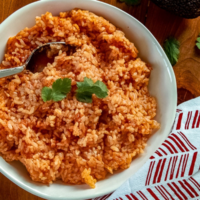 -Mexican inspired Rice-
This is a delicious and easy vegan Mexican Rice.
Ingredients
1.5 TBSP oil
1 cup white rice
1 tsp garlic salt
1 tsp cumin
1/2 cup tomato sauce
2 cups broth, Not Chick'n bullion (1/2 a tab)
1/2 small onion, chopped finely
Instructions
Add all of the ingredients into a rice cooker. Stir. Then hit the cook button. When it's done it may look like it still has some liquid on the top, just stir it into and it should absorb. **I think my rice cooker is going out, but my rice cooker likes to say that it's done when the rest is NOT cooked, so I have to press to cook it twice and then it's done. I don't have another rice cooker to test this on, to know if it's the rice cooker or what, but it does work after two rounds and tastes delicious.
Notes
This recipe was adapted from All Recipes-Mommyto2
Nutrition Information:
Yield:

4
Serving Size:

1 serving
Amount Per Serving:
Calories:

155
Total Fat:

7g
Saturated Fat:

1g
Trans Fat:

0g
Unsaturated Fat:

6g
Cholesterol:

0mg
Sodium:

715mg
Carbohydrates:

18g
Fiber:

1g
Sugar:

3g
Protein:

5g
The calories are computer generated and may not be 100% accurate.
If you tried this and loved it, I would love to hear about it in the comments or #courtneyshomesteadrecipes on social media. Thanks so much for your support! <3 Courtney