Gardner's salsa dip is one of my favorites! Sometimes I just end up eating it with chips for a meal, it's that good and filling. It has very unique flavors that result in a burst of flavor in your mouth.
I love to bring this to parties or potlucks.
It's the perfect potluck food because;
A. it tastes delicious B. It's super easy to make and C. people will be impressed. The colors make it a super pretty dish, and it's gluten free for those who need that. Perfect potluck food people!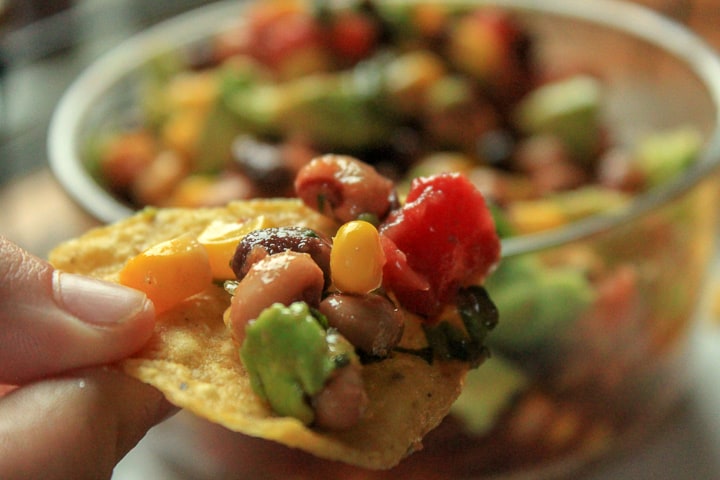 It's always nice to have a go to recipe when you know that you have to bring something to a get together.
I like that i contains black eye'd peas, which helps in the unique flavor profile. I like to use canned tomatoes for this, but you can definitely use fresh if you would prefer.
This dish is pretty kid friendly in my household. It depends if your kid gets weird about "colored" things in their food (like my 5 year old 😉 )My 8 year old crushes this. If he knows I made it, he starts digging in. However, my 5 year old won't even try it.
This dish also works well for a meal. I like to serve it with either my taco salad or my favorite vegan taquitos.
What do you like to bring to potlucks? Let me know in the comments!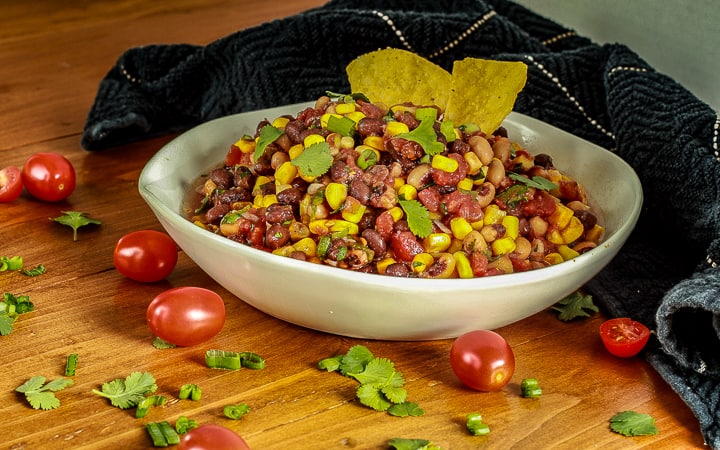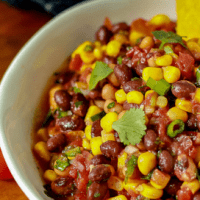 -Gardners Salsa Dip-
This vegan Gardner dip is a family favorite. We eat this as a side dish or sometimes for a quick summer dinner.
Ingredients
1 can black-eyed peas
1 can black beans
1 can corn
1 can petite tomatoes,drained
2/3 cup cilantro,chopped
2/3 cup green onion,chopped
2-3 whole avocado, chunks
Dressing
1/4 cup olive oil
1/4 cup red wine vinegar
1 tablespoon lemon
1/2 teaspoon hot sauce
1/2 teaspoon cumin
1.5 teaspoons salt
2 cloves garlic
Instructions
Strain and rinse the beans and corn. Then add the tomatoes to the strained beans and let sit while you prepare the dressing.
2. Mix all the dressing ingredients together
3. Put the strained bean mixture into a large bowl and pour the dressing over and stir. You can then put this in the fridge to marinate the flavors. Add the chunks of avocado before serving. Serve with chips.
Notes
*This recipe was given to me by my mother in law and I don't know where she got it from, but I have altered it from the original recipe.
Nutrition Information:
Yield:

8
Serving Size:

1 serving
Amount Per Serving:
Calories:

244
Total Fat:

15g
Saturated Fat:

2g
Trans Fat:

0g
Unsaturated Fat:

12g
Cholesterol:

0mg
Sodium:

682mg
Carbohydrates:

23g
Fiber:

9g
Sugar:

2g
Protein:

7g
The calories are computer generated and may not be 100% accurate.
If you made this and loved it, I would love to hear about it in the comments or #courtneyshomestead. Thanks so much for your support! <3 Courtney