This is seriously the best vegan zucchini bread I have ever had. It tastes SO good, I could eat it every day. My kids go crazy over this and I can't really blame them. I love that it makes two loaves so I can share it. If it only made one there would be sharing going down. It's just too good. It's perfect for this time of year when the zucchini plants are running rampet and you are feverishly searching the internet for ways to use it up.
What I love most about this bread is the topping. It has an oatmeal streusel top and it's pairs perfectly with the bread. Oh, and maybe the chocolate chips, I mean who doesn't love chocolate chips. The combination of the cinnamony bread, chocolate chips and streusal topping is just out of this world delicious.
What do you need to make the BEST vegan zucchini bread?
all-purpose flour
salt
baking soda and powder
cinnamon, ground
egg replacer or flax eggs
white and brown sugar
vegetable or canola oil or neutral oil of your choice
vanilla extract
zucchini grated
chocolate chips
oats
vegan butter
nutmeg, ground
How do you make this delicious bread?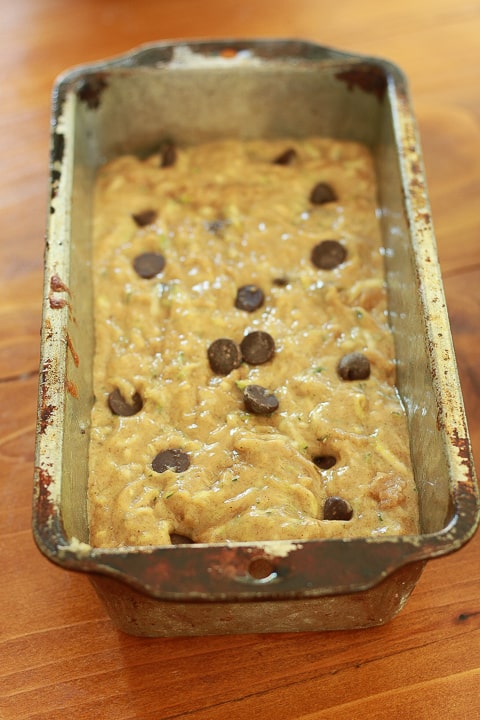 I always use my stand mixer, but you could whip by hand or a hand mixer if that's what you have.
You'll start by mixing your sugars and oil a bit. Then I always like to add the salt, baking soda/powder, cinnamon, egg replacer, vanilla extract and mix. That way I don't have to dirty a dish to mix the dry ingredients. Then add your flour and zucchini and mix until it's all evenly combined.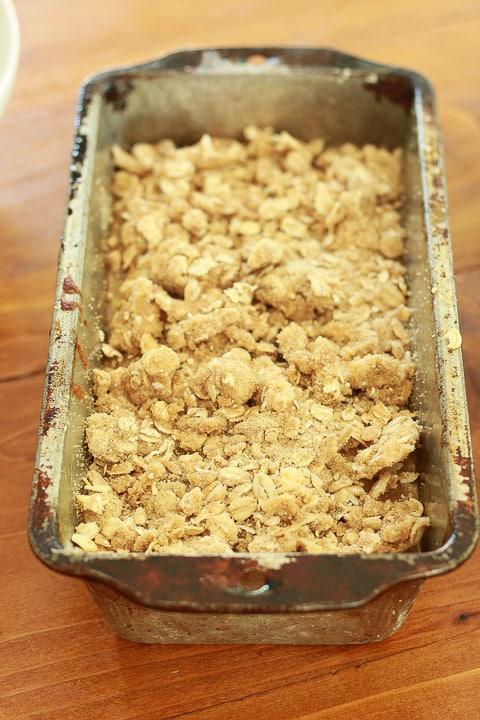 You want to make sure you don't squueze any of the water out of the zucchini, the bread needs the moisture.
Then you'll want to stir in the chocolate chips. Take your mix and pour it into two greased bread pans. I always drop my bread or cakes from a couple of inches off the counter top in order to get it even and not have any air bubbles. Do that a couple of times and then make your topping.
Mix your dry topping ingredients and then you will cut in cold vegan butter with a pastry cutter. Then spread the topping evenly over the two bread loaves and bake. This took about 57 minutes for me. Start checking at 50 and assess from there. It will come out clean with a toothpick when finished.
Have you ever had chocolate chips in your Zucchini bread before? Let me know in the comments! <3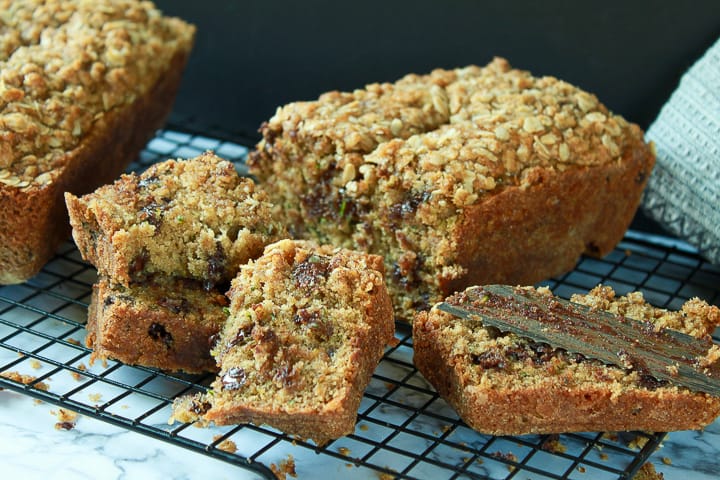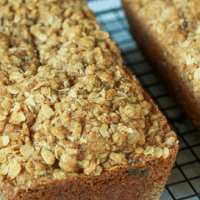 The BEST Vegan Zucchini Bread
Total Time:
1 hour
10 minutes
If you have a lot of summer Zucchini this is a great place to use it up. This bread is seriously tasty, with notes of cinnamon and chocolate chips.
Ingredients
3 cups all purpose flour
1 tsp salt
1 tsp baking soda
1 tsp baking powder
3 tsp cinnamon
3 vegan egg replacer or flax eggs
1 cup neutral oil
1 cup white sugar
1 cup brown sugar
3 tsp vanilla extract
2.5-3 cups zucchini shredded
2 cups chocolate chips
Crumble Topping
1/2 cup oats
1/4 cup brown sugar
1/4 cup all purpose flour
1/4 tsp cinnamon
1/4 cup Earth Balance Vegan Butter
Instructions
Preheat the oven to 325 degrees and grease and flour two bread loaf pans, set aside.
Take a stand mixer fitted with the cookie paddle and put your oil and sugars in and mix. Then add your vanilla, salt, baking powder, baking soda, cinnamon, egg replacer, and shredded zuchinni and mix unti incorporated then add your flour and mix again. Add the chocolate chips and then stir, then add your bread evenly to the bread pans. I drop the bread pans from a couple inches, carefully to the counter to get any air bubbles out and make it spread evenly.
Make your topping by combining all the ingredients and using a pastry cutter to cut in the vegan butter until it's crumbles. Split the topping in half and cover the two loafs with the topping.
Put the bread in the oven for 50-60 minutes until a toothpick comes out clean. Let this sit in the pan for 30 or more minutes until it's strong enough to come out and not break. Slice and enjoy.
Nutrition Information:
Yield:

20
Serving Size:

1 serving
Amount Per Serving:
Calories:

404
Total Fat:

21g
Saturated Fat:

2g
Trans Fat:

0g
Unsaturated Fat:

15g
Cholesterol:

0mg
Sodium:

249mg
Carbohydrates:

52g
Fiber:

3g
Sugar:

32g
Protein:

5g
The calories are computer generated and may not be 100% accurate.

<3 Courtney