I had never had a vegan fruit pizza prior to making this recipe. I always was in awe of them. They are so gorgeous and I loved the idea of them. But just never did it. I hear traditionally they are made with a sugar cookie crust. But I wanted to try it with a shortbread crust. And the flavor was SO good.
SO good that my 8-year-old single handed almost ate the whole batch.
He just kept coming in from playing outside and grabbing them. Then my husband came home from work and it was all over.
These vegan fruit pizzas were gone.
Luckily they are easy to make.
The shortbread dough comes together quickly. I love using Silpats for just about everything in the cooking word and this is no exception.
You have to roll out your dough. I put a Silpat on the bottom and some saran wrap on the top, then roll over the saran wrap.
That way nothing gets stuck and pulled up.
I then used my largest biscuit cutter and cut out circles.
In order to move the circles and keep the best shape, use a spatula and gently remove them to your baking pan.
You cook these for 8-10 minutes depending on your oven and size of circles .
You don't want to overcook, but you don't want them doughy, because they have to hold the fruit on them.
Once these are cooled you can frost them.
The frosting is a little bit delicate at first.
I like to start by making the frosting before I even start the cookie recipe.
I just whip all the frosting ingredients and throw it in the fridge so it has a little time to set up.
While the cookies are cooking you can cut your fruit into whatever shapes or designs you want.
We used strawberries and blueberries.
Any berry would be good.
I feel like bananas would get brown too quickly and it wouldn't look too good.
Make sure all the fruit it dry and set aside.
Take your cooled cookie and spread some frosting on it, then it's ready for the fruit.
Now, the longer the fruit sits on the cookie it tends to weep a little bit. It actually made the cookie taste even better when the juice settles in the cookie, but the presentation got a little messy.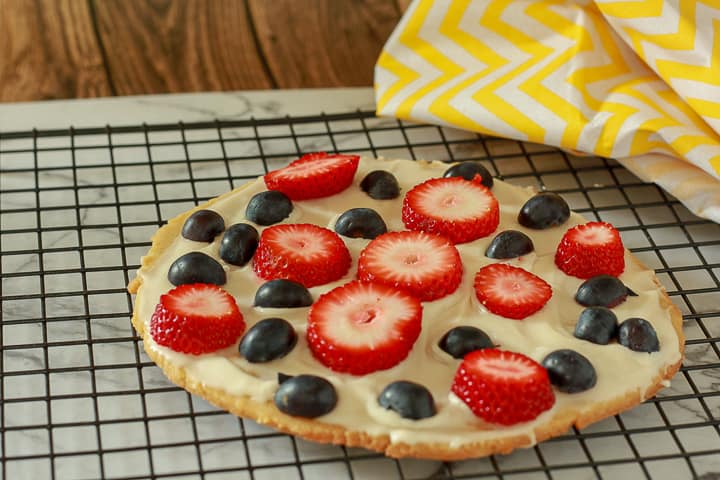 It's best to not put the fruit on the cookie until you're ready to serve it.
I keep the cookie frosted covered in the fridge and then when I am ready to serve I add the fruit.
But like I said, I like the crust saturated with the fruit. Totally up to you.
I add a little almond extract to the shortbread and the frosting. It's very subtle and it adds a complexity to the flavors.
This is the perfect treat for the 4th of July. You can use all the pretty berries and be super festive.
Have you ever had a vegan fruit pizza? Let me know in the comments!
If you want something a little easier to transport try these fruit hand pies!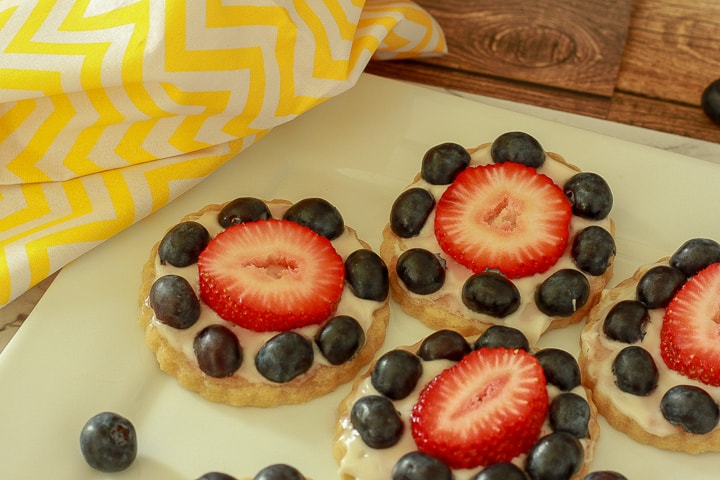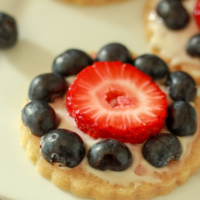 Vegan Dessert Mini Pizzas
Yield:
18 depending on size
These vegan dessert mini pizzas sit on a crazy good crust, with a sweet topping and topped with fruit.
Ingredients
Shortbread crust
1 cup (2 sticks) Earth Balance Vegan Butter,soft
1/2 cup powdered sugar
1/4 cup brown sugar
2 cups all purpose flour
1 TB vanilla extract
Frosting
1/2 cup vegan cream cheese
3 cups powdered sugar
1 tsp vanilla extract
1/4 tsp almond extract
Fruit
2-3 cups chopped fruit- whatever variety you want.
Instructions
Preheat your oven to 350 and get a baking sheet lined with a Silpat and set aside.
Make your shortbread dough by getting your stand mixer, cream together your vegan butter and sugars, mix in your vanilla and then mix in your flour until incorporated.
Take a Silpat and half of your dough. Take a large piece of saran wrap and cover the dough (for less sticking) roll your dough with the rolling pin rolling over the saran wrap (if that makes sense, you just want a barrier for the sticking factor). Roll the dough to about 1/4 to 1/2 inches thick. However thick you want them is how they will stay, they do not rise. You want it thick enough to handle the fruit topping. Use a biscuit cutter or a large mouth cup to cut circles in your dough. Transfer the dough circles to the prepared baking sheet via spatula. Repeat with the remaining the dough. Bake for 8-10 minutes, watch them so they don't get too brown. Let them sit on the baking sheet for 5 minutes before moving to a cooling rack.
Make your frosting. Mix all the ingredients with your stand mixer. Stick this in the fridge while you're waiting for the cookies to cool.
Cut up your fruit into the desired shapes you want to use for your fruit pizza. Make sure all the fruit is super dry. Set aside.
Frost the fruit pizzas and top with the fruit. **Note if you aren't serving these right away, wait to put the fruit on them. After time the fruit will seep some liquid- they still taste amazing, if not even better- but they aren't so easy to handle and the cookie can get very soft. This didn't phase us from gobbling them up. But if you're bringing to an event I would put the fruit on when you get there. Store in the fridge.
Nutrition Information:
Yield:

18
Serving Size:

1 mini pizza
Amount Per Serving:
Calories:

198
Total Fat:

2g
Saturated Fat:

1g
Trans Fat:

0g
Unsaturated Fat:

1g
Cholesterol:

0mg
Sodium:

8mg
Carbohydrates:

43g
Fiber:

1g
Sugar:

29g
Protein:

2g
The calories are computer generated and may not be 100% accurate.
If you loved this recipe let me know in the comments or #courtneyshomestead. Thanks so much for your support!
<3 Courtney