It's BBQ season which means it's time to bust out all your tasty side dishes. I love this Mexican pasta salad because it's not your typical, potato or pasta salad. Don't get me wrong, I LOVE those as well but sometimes you want to spice it up.
I love how colorful this pasta salad is. It would look beautiful on a spread for a potluck or party.
The other thing I love about bringing this dish to a potluck is that it's not mayo based. Which means it's outside life is a little longer than most party dishes. Not that I am condoning leaving it out in the sun, but it's nice to have something not quite as pesky.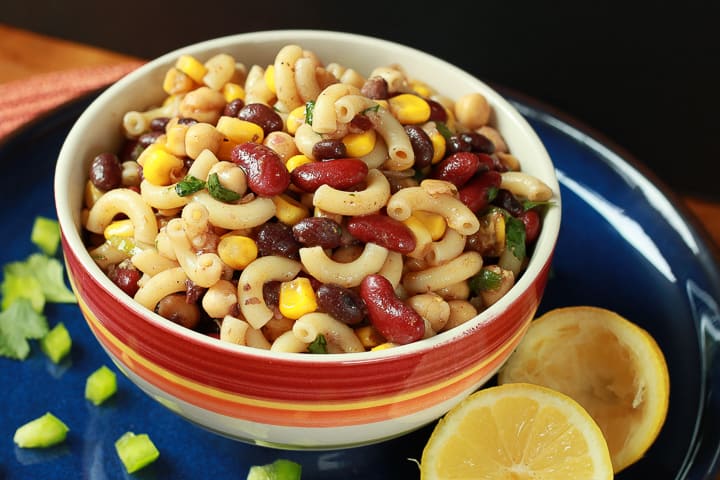 This Mexican Pasta salad isn't only tasty it's hardy. It has three different beans in it. Black beans, kidney beans, and garbanzo beans. You could trade out beans if that's not your favorite combination, but it is tasty!
I use a macaroni noodle, but you could use any noodle you would like. Like with any pasta salad the flavors build. This is best the next day or even 2 days later. We have still eaten it on the same day, but the flavor isn't infused into the beans as much as I would like it if eaten the same day.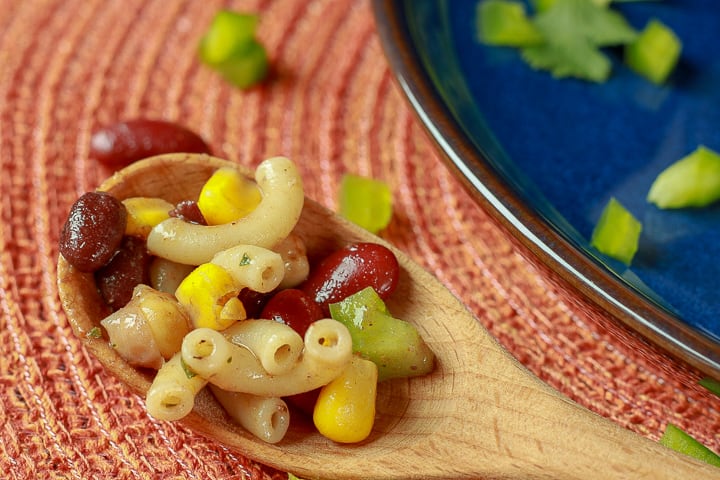 This recipe is super easy to throw together with no weird ingredients. My 8-year-old loves this recipe and like usual my 5-year-old wouldn't even look at it. You know… because if you look at food, you don't like it might jump in your mouth?? I am not real sure, kids….
What is your favorite pasta salad? I feel like there are so many to choose from! Let me know in the comments!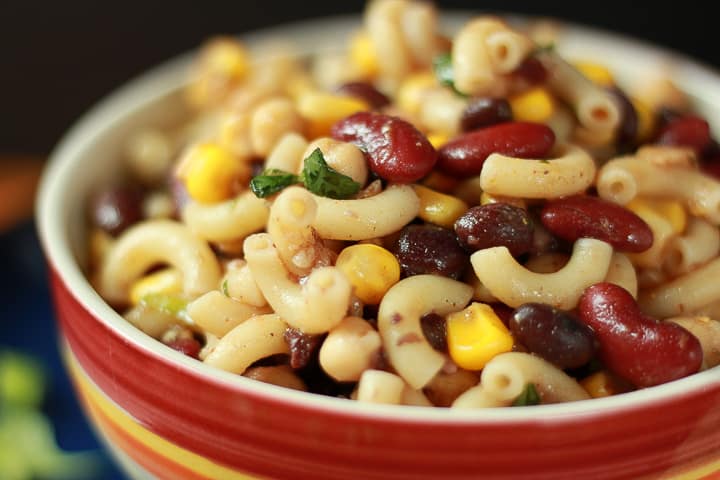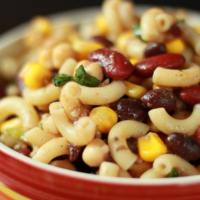 Vegan Mexican 3 Bean Pasta Salad
This mexican 3 bean pasta salad is a delicious change from a classic pasta salad.
Ingredients
1 15 oz can black beans, rinsed and drained
1 15 oz can kindey beans, rinsed and drained
1 15 oz can garbonzo beans, rinsed and drained
1 15 oz can corn, drained
1/4 cup olive oil
1/4 cup red-wine vinegar
3 TB lemon juice
1.5 tsp salt
2 cloves garlic, minced
1 TB chili powder
1 TB cumin, ground
1 tsp oregano, dried
1/4 cup green onion
1/4 cup cilantro, chopped
1/4 cup green pepper, chopped *optional
1 cup macaroni noodles, dry
Instructions
Cook your 1 cup of dry macaroni noodles on the stove according to the package directions (mine took 7 minutes), strain and set aside.
2. Get a large bowl, add your oil, red-wine vinegar, lemon juice, salt, garlic, cilantro, chili, cumin, oregano, green onions, and pepper if using, stir. Then add your rinsed and strained 3 bean mixture and your now cooked noodles. Stir until combined well and put in the fridge for 1-2 hours for the flavors to combine. Overnight is best for flavors, but it's still good the same day.
Nutrition Information:
Yield:

8
Serving Size:

1 serving
Amount Per Serving:
Calories:

280
Total Fat:

8g
Saturated Fat:

1g
Trans Fat:

0g
Unsaturated Fat:

7g
Cholesterol:

0mg
Sodium:

1147mg
Carbohydrates:

46g
Fiber:

10g
Sugar:

11g
Protein:

11g
The calories are computer generated and may not be 100% accurate.
If you loved this recipe let me know in the comments or #courtneyshomestead Thank so much for your support!
<3 Courtney