We did a road trip to Banff National Park in Alberta, Canada this past summer. It was an incredible trip.
When researching Banff it looked expensive, well it is expensive. From accommodations, food, and gas- it all adds up pretty quickly. We were on a fairly long trip and wanted to make this affordable.
So, we camped. I know camping isn't for everyone, but for us it was the cheapest option at roughly $30.00 a day. If you choose to camp make sure you pick Front Country camping and you will be booking through this site here which is the Park Canada website. This is the only website you can book camping reservations on.
I have a camping guide here
Make sure you take a good look at the surrounding areas and photos when picking out a site. Some campgrounds are primitive, meaning a lack of services nearby. Since we were camping for a few days, we wanted simple accommodations including showers and toilets.
We knew we would only be staying at our campsite or hotel for sleeping purposes, and the rest of the time we would be exploring. We didn't want to pay hundreds of dollars to lay our head's somewhere expensive for the night.
However, camping isn't your only cheap option. They also have hostels available, we never looked into them, but they are an option if that's your thing.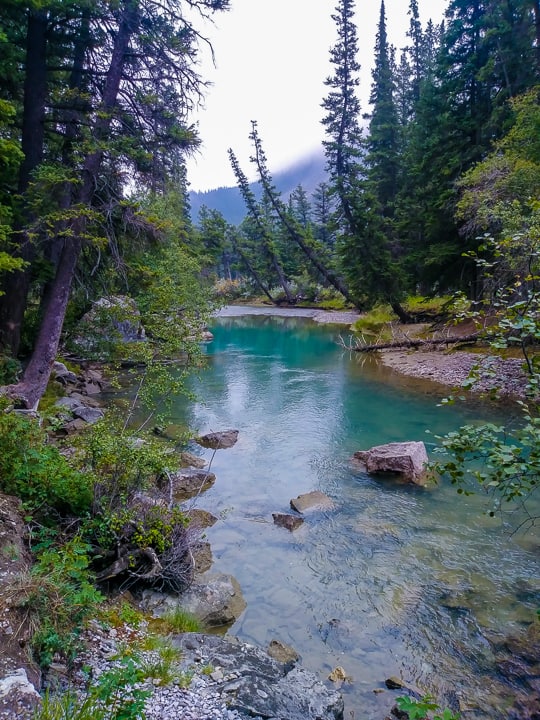 What about food?
We made it easy and did not cook at our campsite. There are strict guidelines for cooking if you should choose to do so, being that it is bear country. If you choose to cook at your site, you need to follow the guidelines that Parks Canada has put in place. You could definitely save money by cooking all your own food, but indulging in local food is one expense we planed for during this trip.
While we did not cook at our campsite, we decided to eat out for dinner only, and otherwise had easy convenient food to eat. We went to the store in Calgary, on our way to Banff. For breakfast we bought dry cereal and plant based milk (don't forget disposable bowls and spoon, unless you want to do the dishes, but on vacation.. this girl hates doing dishes) or Munk Pack squeeze pack oatmeal. They are pretty tasty, super quick, easy, and a healthy snack.
Other foods purchased are snack/lunch items:
protein bars
granola bars
trail mix
fruit leathers
peanut butter and jelly
fruit pouches
Whole fruit
Tasty bites pouches
As mentioned above we ate our dinner out every night. It is always nice to have a hot meal and is fun to try new dishes when you're on vacation. There are a lot of restaurants in Banff to choose from. Our favorite was Mac Lab Bistro they had amazing vegan food- they cater to all diets, and stunning views.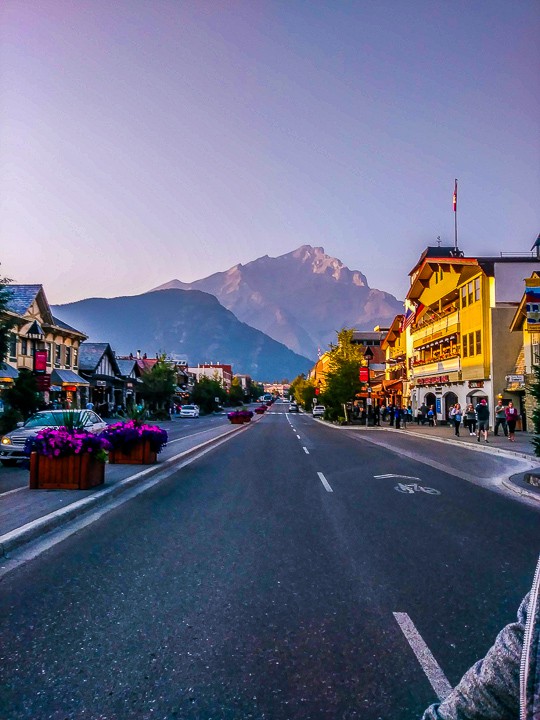 Some fun cheap or free things to do in Banff:
A great way to find out more about Banff and free things to do is to visit the Visitor Information Center, they have one right in the middle of Banff Town-site and the people there are super helpful. They can help you with hiking plans, bear sightings, things to do, etc.

The Banff Gondola
The Banff Gondola is a fun touristy thing to do but it's on the spendy tip, at $58.00 bucks per adult. If this isn't something you want to spend the money on, you have options; you can either hike to it- which starts at Banff Upper Hot Springs, it has a clearly marked trail and will take you 1-2 hours, and 3.4 miles. The other option is to drive up Mount Norquay, which will get you roughly the same view, but from the other side of the valley.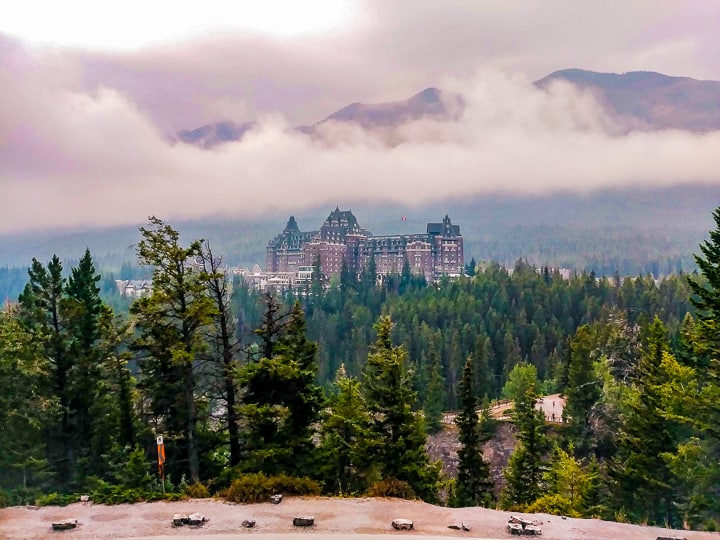 The Banff Springs Hotel
The Banffs Springs hotel is also another fun thing to check out, this place is GORGEOUS, it looks like castle! However, it does not fit into a budget trip category if you wanted to stay here, but it is really cool to check out. They have shops, restaurants, and lounges. Of Note- you do have to park down the street and walk up. Otherwise you will pay to park at the hotel which runs roughly $15 CA. It is not a far walk, so it's not a big deal to park down the hill and walk.
The Cave and Basin
A cheap fun thing to do is checking out the Cave and Basin, it's only $3.90 for adults and children are free. They claim this is the birth place of Parks Canada and they have a fun little museum. One can see the hole that the explorers found which led them to the cave. Additionally, there is a fun hike surrounding the cave that leads to different pools of heated water that feeds the cave. See the picture below;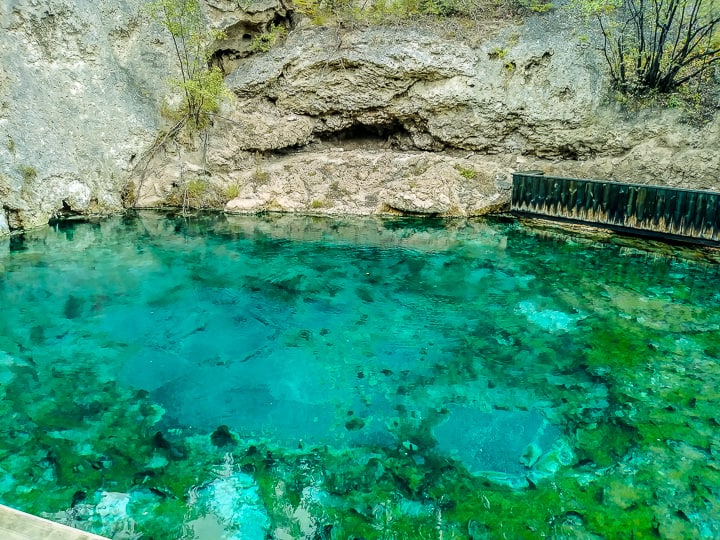 Hiking is always free!
And then there's the obvious reason on why people go to Banff National Park, to hike! Tons of free hiking, I will not list them all here, but the must do's are;
Johnston Canyon Trail- 3.5 miles. This is a great hike and a lot of it is paved, but it gets super crowded during peak season. Great for kids.
Moraine Lake Trail- 1 mile. You have to get here super early in the morning due it's crazy business! If you don't you will miss out like we did.
Lake Agnes-3.5 ish miles- This is a must do hike, but again get there early. More info on this here.
Icefields Parkway- This is an all day event and it's amazing. The views are well worth it and there are a lot of hikes to stop on along the way.
Saving the best for last-
This GypSy guide was something we found out about on the second half of our trip. I wish I had known about it before I went. But basically it's like having a driving guided tour, but on your own time. It tells you about the area and where to stop and what to do. It's worth every penny, but it's cheap! I have a longer post about it here.


One last budget tip-
A note on gas- gas can be very expensive within the Banff town-site and Jasper. Do your best to try to fill up outside of town to get the cheaper rates. The gas stations in town can be quite busy, and do not contain many pumps, so you end up waiting a while to get filled up during peak season.
I hope this little snip-bit helps you plan a fun budget trip to Banff! I would love to hear your budget trips or what your plans are for Banff in the comments! <3